Item Specification
Model / SKU
: HYALURONATE ACID & APPLE STEM CEL HAIR SHAMPOO
Product Description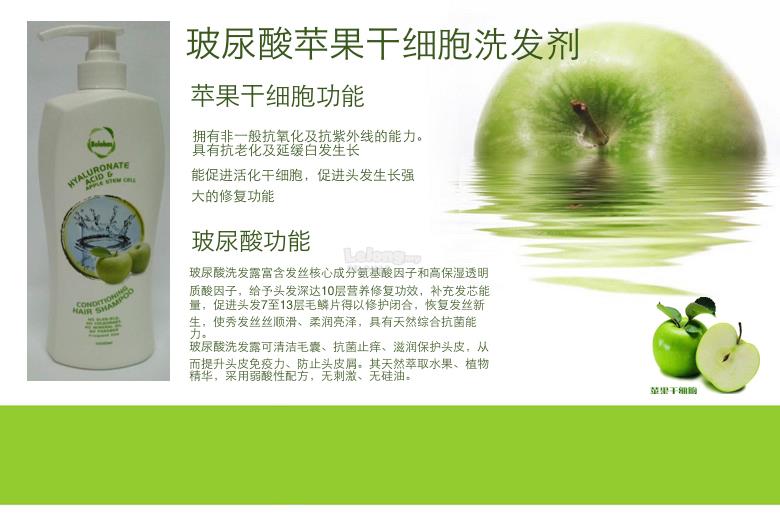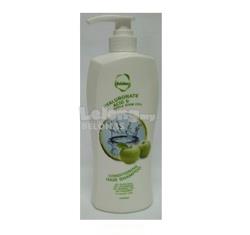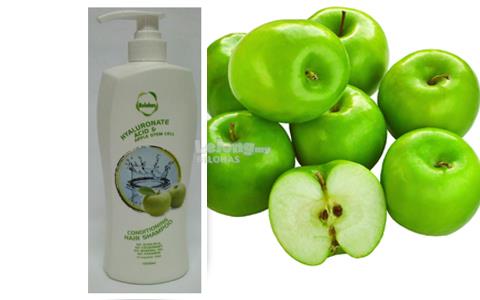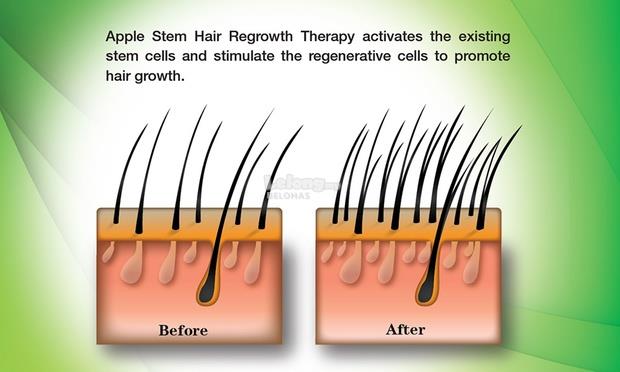 HYALURONATE ACID & APPLE STEM CEL HAIR SHAMPOO
Ingredients: apple stem cells, Polygonum, collagen, hyaluronic acid

(APPLE STEM CELL)
- In clinical trials, the apple stem cells have been shown to stimulate the regeneration of human stem cells and protect the hair stem cells to avoid being destroyed by ultraviolet radiation and mitigation of gene expression caused by aging disease, providing nutrition to the hair follicle stem cells repair the hair follicles to make hair stronger .
Apple stem cell efficacy in hair care areas:
♥  rich in epigenetic factors and metabolic factors, can help prolong the life of hair follicles
♥  prolong the aging process of the hair follicle
♥  promote healthy scalp regeneration and inhibition of aging scalp
♥  help repair damaged hair follicles
♥  capacity for self-renewal and repair
♥  promote aging follicles or scalp cell regeneration
(Polygonum Multiflorum)
-  Polygonum dilation of blood vessels and relieve spasm, can make the skin cells, brain cells get enough blood and hair, is a hair care, hair care, hair growth treasures.
(Hyaluronic Acid)
- To keep the hair moisture, moisturizing and hair care.
Lock the water capacity of hyaluronic acid itself up to several hundred times, 16 times of collagen, 1 gram of hyaluronic acid can absorb moisture and combined 500c.c., therefore, hyaluronic acid supplement, not only can enhance the water retention capacity of the skin, It will help the skin to absorb moisture in the air, so that the collagen and elastin fibers in the watery environment, so the hyaluronic acid is present in the medical literature recognized as the best moisturizing ingredients;
(Collagen)
- Due to the loss of protein shampoo supply protein to promote hair growth.
Medical community believes collagen and hair, bone, muscle, skin, breast supporting, ...... have some relevance to burn fat, and hair, bone, muscle, skin collagen to some extent by the composition, and if so the lack of collagen, hair will 
become dry and easily split ends, nails also become dull and gray
and easy to break;shampoo and hair care both functions; make
your hair more shiny, silky and healthy. can prevent the loss of
scalp oil. With breakthroughs in biotechnology, access to plant
stem cells from Apple can provide nutrients to the stem cells, 
apple stem cell active ingredient, it can prolong hair life and
 repair the hair follicle; and biotin in addition to help repair
 damaged hair, but also to improve the structure of the hair and 
makes the hair tougher and lets you recover thick hair, make hair 
grow healthy, strong and more beautiful.Use  after use of wet hair. 
Gently massage the scalp. Rinse thoroughly with water, if
necessary, repeat. Use daily for best results.
玻尿酸苹果干细胞洗发剂
主要成分:苹果干细胞,何首乌,胶原蛋白,玻尿酸
苹果干细胞萃取物
(Plant Stem Cell)
―在临床实验中,苹果干细胞已证实能够刺激人体干细胞的再生,保护头发干细胞避免被紫外线所摧毁以及减缓基因表达所导致的老化病变,提供营养给发囊干细胞,修复发囊,使头发更坚固。
苹果干细胞在头发护理方面的功效:
♥ 富含表观遗传因子和代谢因子,可协助延长毛囊寿命
♥ 延长毛囊的老化过程
♥ 促进健康头皮的再生以及抑制头皮老化
♥ 有助修复受损毛囊
♥ 自我更新和修复的能力
♥ 促进老化毛囊或头皮细胞的再生
何首乌
(Polygonum Multiflorum)
― 何首乌具有扩张血管以及缓解痉挛的作用,可以使皮肤细胞、脑细胞以及头发获得足够的血量,是一款护发、养发、生发珍品。
玻尿酸
(Hyaluronic Acid)
― 保住头发的水分,滋润及护理头发。
玻尿酸的锁水能力可达本身的数百倍,是胶原蛋白的16倍,1克的玻尿酸可以吸收并结合500c.c.的水份,因此,玻尿酸的补充,不但能增强皮肤的保水能力,还会帮助肌肤吸收空气中的水份,令胶原蛋白及弹力纤维处于充满水份的环境中, 故玻尿酸是目前医学文献中公认的最佳保湿成份;
胶原蛋白
(Collagen)
― 供给蛋白质因洗发而流失的蛋白质,促进头发成长。
医学界相信胶原蛋白与头发、骨骼、肌肉、皮肤、承托乳房、燃烧脂肪……有一定关联,而头发、骨骼、肌肉、皮肤都由一定程度的胶原蛋白组成,若然缺乏胶原蛋白,头发就会变得干枯及容易开叉,指甲亦会变灰暗并无光泽,且容易断裂;兼具洗发和护发功能;让您的秀发更富有光泽、柔滑和健康。也能预防头皮油脂的流失。随着生物科技的突破,从苹果获得植物干细胞能提供营养给干细胞,苹果干细胞活性成份,能够延长头发的寿命以及修复毛囊;而生物素除了帮助修复受损头发,也能改善头发结构以及使头发更坚韧,让你恢复浓密发质,使头发健康成长,强壮及更亮丽。
使用方法 
淋湿头发后使用。轻轻按摩头皮。以清水冲洗干净,若需要可重复。每日使用以获得最佳效果。

Last Updated @ 11/10/2016 11:00:28 AM
Questions & Comments
















---
Post or COD. Item within 2-5 days.
Questions & Answers
Do you have any questions to ask merchant about this product
Ask Seller
| | | |
| --- | --- | --- |
| 5 star | | 0 |
| 4 star | | 0 |
| 3 star | | 0 |
| 2 star | | 0 |
| 1 star | | 0 |
Share your thoughts with others
Write a review
Only buyers who purchased the product may leave a review