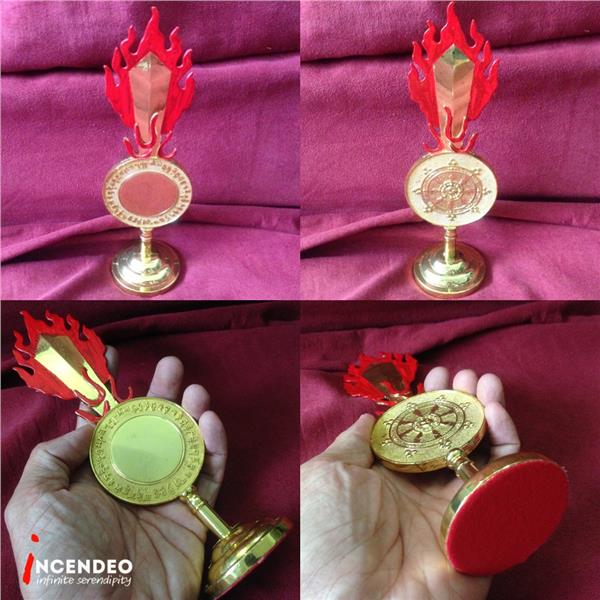 Good condition. Refer to picture.
Follow incendeo on Facebook and Instagram for new items update. Check out my Lelong's Store for more and more items listed for grab, http://incendeo.lelong.my


---
We currently only accept orders within Malaysia, all transactions will be made in Malaysian Ringgit (MYR).
All items including shipping fees must be paid prior delivery. At the moment, no Cash and Carry or Cash on Delivery.
We accept:
- Cheque (must be cleared by the relevant bank before item(s) will be shipped),
- Direct Cash Deposit via Maybank ATM,
- Online Fund Transfer via Maybank2U,
- Paypal,
- Online Fund Transfer from other bank/GIRO (must be cleared by the relevant bank before item(s) will be shipped),
- Lelong iPay/Safetrade (must be notified by lelong.my before item(s) will be shipped),
- Credit Card or Interbank payment via Netpay (additional charges apply, must be notified by Netpay before item(s) will be shipped).
If you are paying with online bank transfer, please avoid using Netpay by selecting other payment method. Netpay will charge for transaction fees for total amount including shipping fees.
Banking Institution : Maybank Berhad (MBB)
Account Name : Incendeo Enterprise
Account Number : 5071-5220-8488
We deliver via Poslaju Malaysia.
All shipping and handling fees are not negotiable and non-refundable. Incendeo Enterprise reserves the right to alter, apply or waive the delivery and packaging charges at our absolute discretion.
Incendeo Enterprise endeavours to get your item(s) shipped to you as fast as possible but we cannot guarantee to meet our scheduled delivery times on all occasions. Delivery times for suburban/remote areas in Malaysia may be longer. Delivery times are indicative only and Incendeo Enterprise does not accept any liability for failure to meet the scheduled delivery times or any inconvenience caused as a consequence.
We will arrange to send your item(s) within 3 working days after payment received, Mondays to Fridays, except public holidays. We will always notify you of any delay prior to processing your payment or delivery.
All risk of damage or loss is transferred to you upon dispatch of the item(s) to the advised mailing address. Incendeo Enterprise undertakes to provide adequate packaging and a reliable delivery service but is not responsible for any damage or loss of your purchase in transit, nor does Incendeo Enterprise insure against loss or damage of your purchase in transit.
Shipping returned caused by incorrect address provided by customer, buyers will have to pay the shipping fees again for item(s) to be re-sent.
Consignment details will be emailed to you after shipment of your order, thus enabling your order to be tracked online via the respective website(s) available at http://web.pos.com.my/v1/?c=/v1/TrackTrace/MainTrack.htm
Incendeo Enterprise provides products and services to you subject to the following terms and conditions.
By accessing, browsing or utilizing any or all of the products and services within Incendeo Lelong Store, you are acknowledging that you understand and agree to terms contained herein together with all the rules, terms and privacy notices listed by Lelong.com.my.
Incendeo Enterprise reserves the right to amend and change this site at its absolute discretion. In addition, we reserve the right to institute changes or amendments (with immediate effect) to any or all of the Terms contained in this document and to which, by your use of this website, you will be bound.
Fraud
Unauthorized use of user account(userid) and/or the provision of a false name and/or personal details will be considered fraudulent. All fraudulent activities will be reported to the relevant authority and subject to prosecution to the fullest extent of the law.
Trademarks
All trademarks (TM/SM), wordmarks, trade names, patents, copyrights, registered names/designs, graphical imagery/inline images and other intellectual property rights embodied in or in connection with this website, products and any related information, documentation, parts or software are the sole property of their respective owners and/or holders.
Any unauthorized usage, misuse, presentation or misrepresentation of the above terms of intellectual property constitutes an unauthorized act of infringement and would be dealt with accordingly.
Manufacturers Warranty
All used items unless noted otherwise, are sold without any manufacturers warranty.
For used items that come with manufacturers warranty, warranty card will be included, all claims for warranty service should directed to the products manufacturer or authorized service centre directly. If you are then directed to return the product from whom you purchased, then you must contact us immediately to arrange the return.
Third Party/Referral Links
Incendeo Lelong Store may display referral advertising hyperlinks. Incendeo Enterprise does not endorse or recommend the products, services or content of the third party site nor does it take any responsibility for the contents of any linked web sites from that site. Incendeo Enterprise is absolved from any responsibility of any results as a consequence of you linking to these sites.
Limited Liability
Incendeo Enterprise will to the extent permitted by law, not be liable to you or any other person under any circumstances for any loss of use, profit, revenue, interest, goodwill or data, or for any injury or death to any person, or for any indirect, incidental or consequential damages sustained or incurred by you, whether such liability arises directly or indirectly as a result of, but not limited to:
- any negligence, omission or wilful misconduct of Incendeo Enterprise or its employees, agents or resellers;
- the supply, performance or use of any products or services; or
- any breach by Incendeo Enterprise of its obligations under these terms and conditions or any relevant sales contract thereof.
- Incendeo Enterprise does not promise that repair facilities or parts will be available in respect of the items.
For Sale(Buy Now) or Auction
All buyers have to conclude their transaction within 3 working days for items purchased or bidded at the published/bidded price including delivery charges specified on Incendeo Lelong Store. Joybidders or buyers who failed to conclude their transaction, will be rated and reported to Lelong for non-paying bid accordingly.
When you purchased or bidded an item at Incendeo Lelong Store, you will receive a confirmation email. We will again notify you once your item(s) has been shipped. If there is any delay in supplying/shipping an item, we will notify you accordingly. Incendeo Enterprise do not accept reservation of item unless buyer pays 10% deposit of the items published price in advance. In this case, we will reserved the item(s) for the maximum of 7 working days, if buyer fails to complete the transaction within the period, we will consfiscate the deposit and relist the item for sale.
Incendeo Enterprise reserve the right to apply or waive the 10% deposit at its absolute discretion. Once the item(s) are delivered and received by you or your authorized signatory, you will own the item(s) and it becomes your responsibility if they are lost, damaged or stolen.
Returns Policy
All goods sold are not returnable, refundable nor exchangeable for cash/store credits. Online buyers beware. Since you cannot inspect the item personally, you are buying at your own risk. Do NOT expect used items to have perfect appearance/condition. There will be some wear and tears unless otherwise specified. All our used items are functioning at the time of testing (when the sellers sell their items to us). We will test the item again before we send it to you. All used items carry no warranty unless otherwise specified.
Please read the item de and #115;cr and #105;ption, specification and package contents CAREFULLY before you decide to purchase. Whilst every effort is made to ensure up-to-date item images and specifications on our site, items that you receive may differ.
We would only provide an exception due to our error the item(s) were supplied incorrectly according to item de and #115;cr and #105;ption, specification and package content listed. In this case, delivery and packaging charges are refundable. The appropriate returns policy must be followed.
All goods returned, will require you to notify us of your intention to return and must include the following information:
- Lelong UserID
- Name and Address Details
- Product De and #115;cr and #105;ption
- Date of Purchase
- Reason for the Return
- Bank Account and Name(if refund required) and
- the product must be returned to the address provided.
Incendeo Enterprise accepts no responsibility for loss or damage occurring during transport of the return.
Unless stated otherwise under this Returns Policy, Incendeo Enterprise reserves the right to refuse any returns that are:
- incomplete or have missing parts,
- are not returned in their original packing,
- either the product or packaging is damaged during transport or
- the customer simply does not want the purchased item.
Selling/Trade-in
We strictly do not buy/trade any stolen items.
Sellers/Customers who trade/sell their item(s) to us will need to be over the age of 18 and will be required to bring along your IC (for Malaysians) or passport (for non-Malaysians) for verification and records.
Value for the item(s) presented will be determined by Incendeo Enterprise depending on the condition and age of item(s) and may vary from time to time. We accept negotiations for fair price.
Incendeo Enterprise reserves the right to refuse any item(s) offered/traded by sellers or customers.
Average Product Rating
0.0 stars out of 5
| | | |
| --- | --- | --- |
| 5 star | | 0 |
| 4 star | | 0 |
| 3 star | | 0 |
| 2 star | | 0 |
| 1 star | | 0 |
Share your thoughts with others
Write a review
Only buyers who purchased the product may leave a review