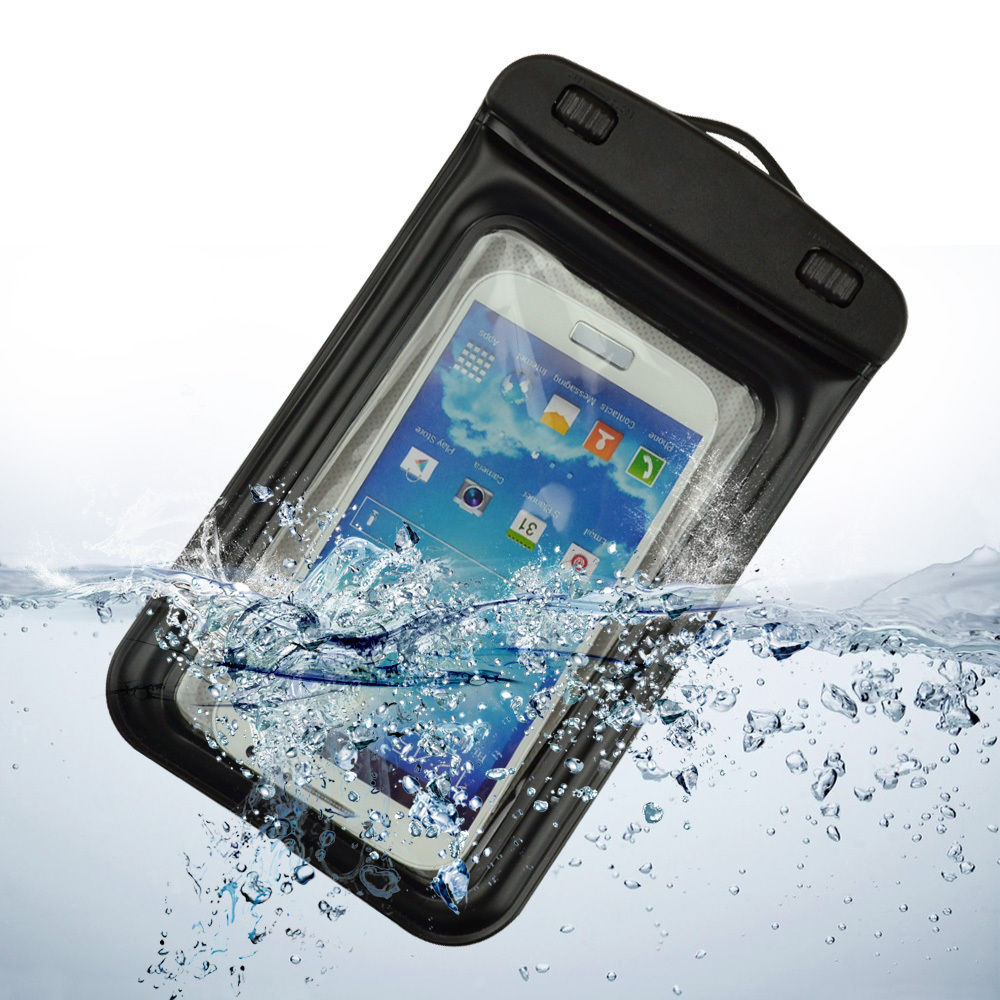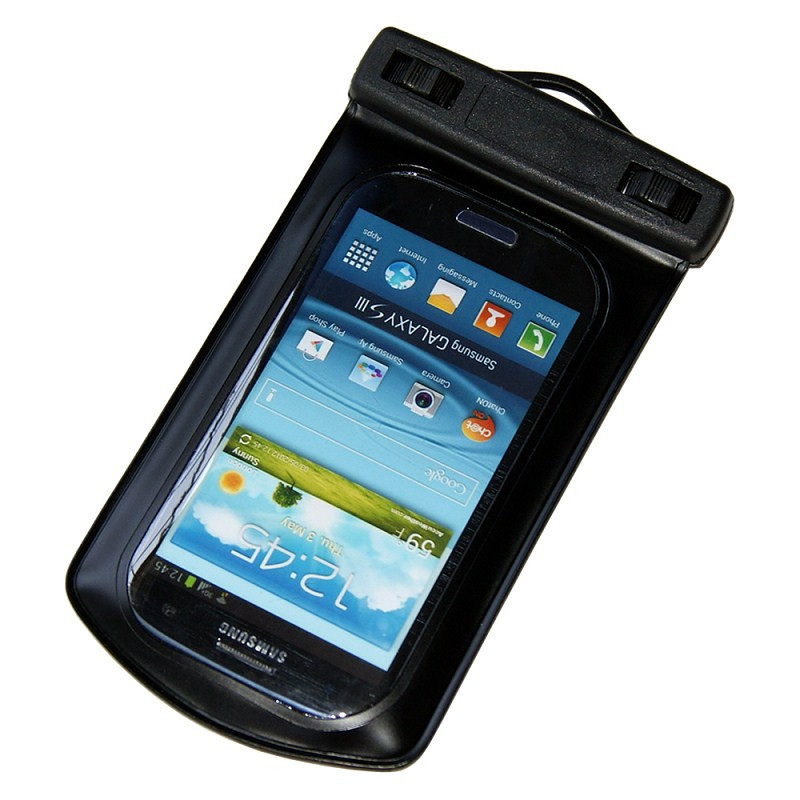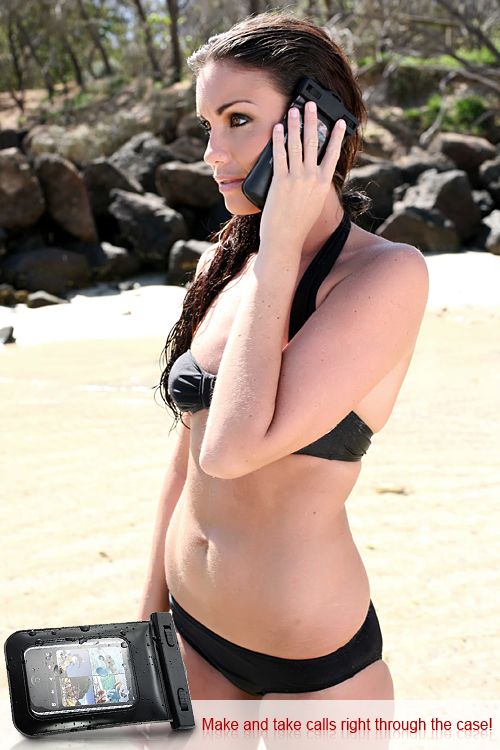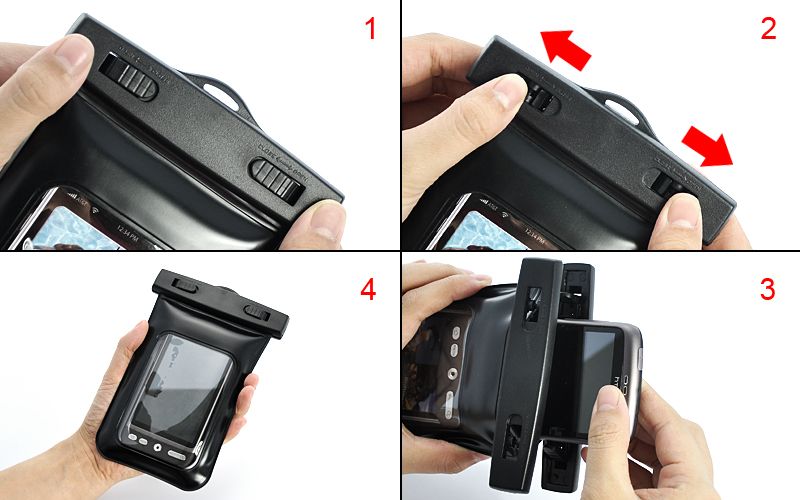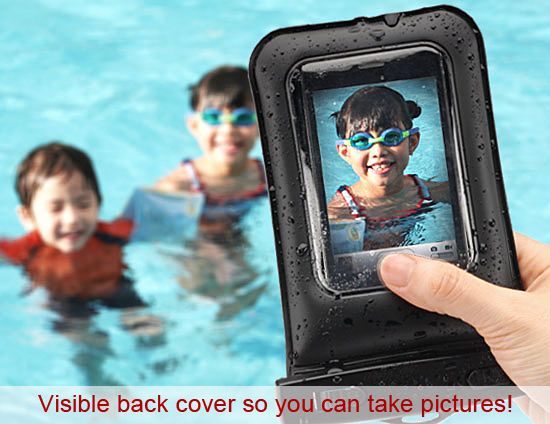 PRODUCT DESCRIPTION:
Material: PVC & ABS.
Nylon lanyard (Size: Fold 40CM * 1CM)
Bag size: 172 * 105MM
Clip Size: 115 * 30MM
Colour:Assorted Color (Black, White, Translucent Blue.)

Features:
1)supports direct touch screen mobile phone,
2) Phone in a bag which can normally take pictures,
3) Phone in a bag which can properly call
4) Support diving photos
5) Dustproof, sandproof, waterproof design, Guaranteed waterproof to 20 meter deep
6) Perfect for underwater pictures and video.
7) Touch Accessibility.Won't affect the operation of your phone.

Instructions:
Notice Before Use
1.Read carefully of the (Notice before use) and check for water impermeability before each use
2.Check properly the bag and accessory if there are any damage, specially the clip and the opening of the bag. Do not expose under the sun for a long time.
3.Check the clips and opening of the bag every time after use to see if any impact happened from any hard object
4.Sudden temperature change might cause humidity in the bag. Do open the bag and let it dry out completely.
5.If mud, dirt or sand in the bag found after use, do wash it away by clean water before storage
6.Do not use in water, spring above 45 degree centigrade temperature.
产品介绍:
材质:ABS+PVC
尼龙挂绳(尺寸:对折40CM*1CM)
尺寸:袋子尺寸:172*105MM
夹子尺寸:115*30MM
颜色:什锦颜色(黑,白,半透明蓝色。)

产品特点:

特性:
1) 支持直接触屏使用手机,
2) 手机放在袋子里面可以正常拍照,
3) 手机放在袋子里面可以正常通话
4) 支持潜水拍照
5) 防尘,防砂,防水设计,保证防水20米深
6) 善的水下照片和视频。
7) 触摸无障, 不影响手机的操作
说明:注意使用前
1.仔细读取(注意使用前)和每次使用前检查防水抗渗
2.检查正确袋及配件是否有损坏,特别是夹子和袋子的开口。不要在阳光下长时间暴露。
3.每一次使用后,检查看看任何硬物造成损害
4.突然的温度变化可能会导致湿度收入囊中。打开袋子,让它完全干燥。
5.如果在使用后发现包里有泥,脏物或沙粒,用清水清洗干净
6.不要使用于水高于45摄氏度的温度。
Please Contact: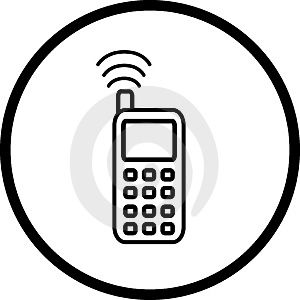 Jesslyn: 016-276 7372
Jimmy: 012-336 9393
"Combine Shipment is allowed"
Why Buy From Us?
1. We are "Buyer Protection Program" qualified seller; your purchases from our store are FULLY protected! http://www.lelong.com.my/BPP/
2. Our price is very competitive due to our large turn over quantity monthly.
3. We have received 100% satisfied feedbacks from happy buyers! (Thanks for their supports!)
4. We are locally based company with dedicated service and repair team, we provide repairing service to dealers.
5. Our products are all shipped with Poslaju service which is reliable and has 100%
6. We are one of the fastest in delivery!!
7. We cater both retails and wholesales deal.
Bank Account:
Maybank Berhad: 5623 8450 8845 Easysmart Network
or
Public Bank Berhad: 4-5581275-30 Ngoh Cheng Loong
or
CIMB Bank Berhad: 12150072479523 Chee Siew Ching