Item Specification
Product Description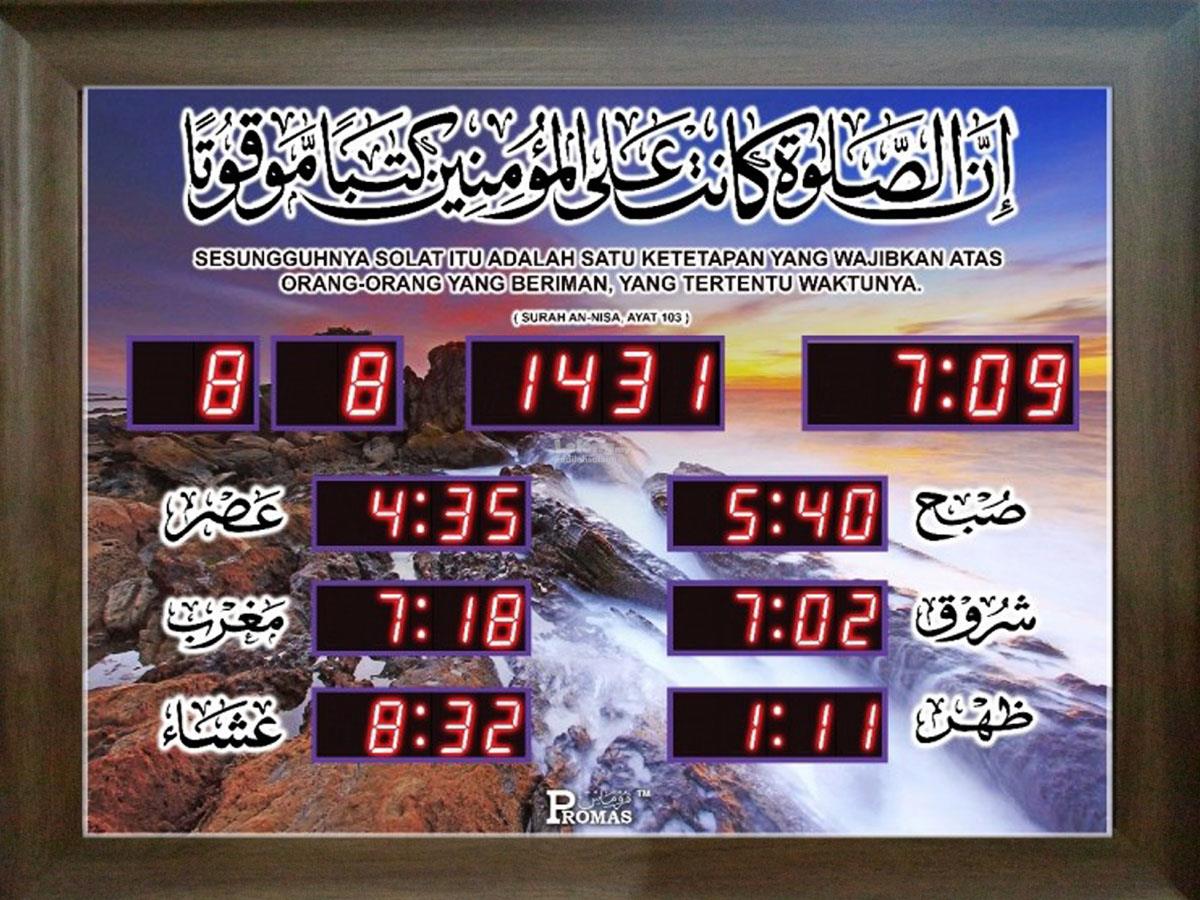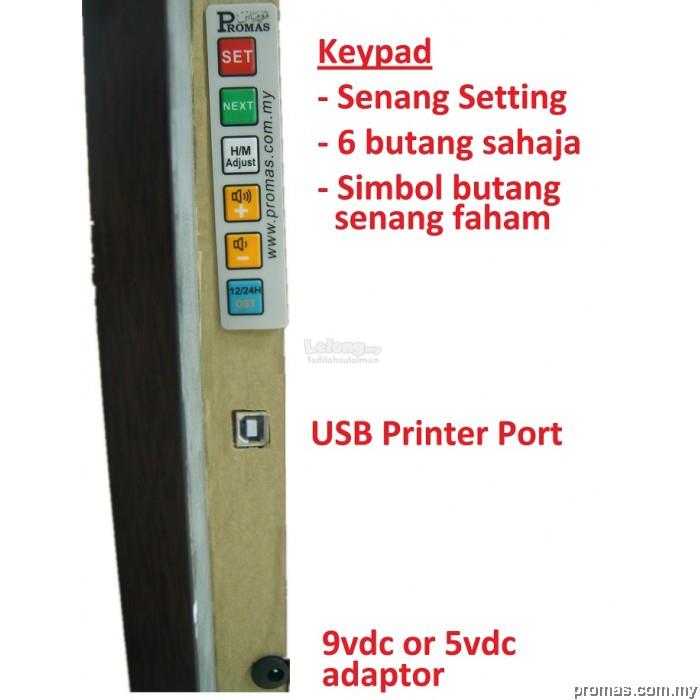 JAM AZAN TAQWIM SOLAT DIGITAL (UNTUK SURAU) PMS9V3 - 22' X 16' (UG )
UNTUK TEMPAHAN DAN MAKLUMAT LANJUT SILA CALL/WHATSAPP 013 3691022
Jam Paparan Waktu Solat

atau

Jam Taqwim Digital

direka khas (sebagai kemudahan) untuk membantu umat Islam dalam penjagaan masa terutama berkaitan waktu solat.
Dilengkapi hiasan tulisan Kaligrafi Islam, ia sesuai dijadikan sebagai hiasan dinding rumah, pejabat, masjid dan surau. Bagi yang suka beramal jariah, Jam Taqwim Digital boleh dijadikan sebagai bahan wakaf untuk Masjid dan Surau.
CIRI-CIRI
*** Bacaan Surah 10minit sebelum masuk Waktu Solat (boleh tutup sekiranya perlu)
*** Alunan Zikir setiap satu jam genap (boleh tutup sekiranya perlu)
*** Semua Suara dalam jam boleh tukar ikut kegemaran anda
Cara Penggunaan
1. Plug & Play sahaja - untuk pengguna yang tak mahir computer dan menggunakan suara yang standard di dalam jam.
2. Tetapan melalui komputer - untuk pengguna yang mempunyai kegemaran laungan azan, surah dan zikir serta mahir dalam komputer.
Butir Terperinci dan Spesifikasi Jam Solat kegunaan Rumah PMS9v3
Automatik laungan Azan semasa masuk waktu solat

Bacaan Surah 10minit sebelum masuk waktu solat

Alunan zikir setiap satu jam genap

Nada bunyi "Beep" semasa masuk waktu solat

Semua suara di atas boleh ubah mengikut kegemaran pengguna

Fungsi MP3 dan setting automatik On mengikut kehendak pengguna

Buang suara dalaman mengikut kesesuaian tempat pengguna

Tetapkan kekuatan suara mengikut setiap satu waktu solat
​
Paparan Luar
Waktu solat TEPAT mengikut kalendar JAKIM/MUFTI setiap tahun

Merangkumi semua zon kawasan Waktu Solat seluruh Malaysia

Copy & Paste sahaja untuk kemaskini waktu solat setiap tahun

Waktu semasa TEPAT mengikut The Malaysian Standard Time SIRIM klik link ini

Boleh syncronize waktu semasa melalui komputer (sekiranya perlu)

Tarikh Hijri dan Masihi TEPAT

Tetapan tidak lari jika kuasa electrik putus
​
Saiz, Tulisan Khat, Sumber Kuasa Electrik dan Manual Pengguna
1.5inch LED Segment untuk Waktu Semasa dan Tarikh, 1inch LED Segment untuk Waktu Solat

Panel 22inch x 16inch

Kaligrafi Bismillah dan terjemahan Surah Ibrahim, ayat ke- 40

Adaptor output 9vdc (juga boleh guna adaptor 5vdc)

Video kaedah penggunaan terdapat di dalam jam (plug&play di komputer)
​
​Azan, Surah dan Zikir (Default dalam jam, boleh ubah ikut kegemaran anda)Klik sini untuk maklumat yang selanjutnya
Azan Subuh = Syeikh Ahmad Khouja (sumber dari youtube)

Azan Biasa = Syeikh Ali Ahmed Mulla (sumber dari youtube)

Surah Subuh = Al Waqiah

Surah Zohor = Surah Al-Fiil, Surah Quraisy, Surah Al-Ma'un, Surah Al-Kauthar, Surah Al-Kafirun, Surah An-Nasr, Surah Al-Lahab, Surah Al-Ikhlas, Surah Al-Falaq & Surah An-Nas

Surah Asar = Al Mu'minum (ayat 1-44)

Surah Maghrib = Al Mulk

Surah Isyak = As Sajadah

Ada 6 jenis Zikir pendek = Bismillah, Astagfirullah, Subhanallah, Lailahaillalah, La Haula Wall, A'uzubillah
​
​Setting dan Kemaskini Data melalui Komputer (D.I.Y)
Plug & Play sahaja, tidak perlu install program khas

Menggunakan USB Printer Port untuk sambung jam ke komputer

Kaedah penggunaan SENANG seperti guna usb pendrive sahaja

Semua data di dalam cuma Copy & Paste ke lokasi yang ditetapkan sahaja

Video manual pengguna ada dalam folder Video Pengguna di dalam Jam

Last Updated @ 1/24/2018 12:52:04 PM

Last Updated @ 2/13/2018 12:19:16 PM

Last Updated @ 3/4/2018 8:30:50 PM

Last Updated @ 3/23/2018 5:55:11 PM


---
Payment can be made via Maybank2u for Maybank customers or CIMBClicks for CIMB Bank customers. Payment can also be made via cash deposit to any of the two banks. For certain items where delivery is near Kajang Area COD can be arranged for certain items.
Normal Delivery: POS Laju
Delivery normally takes 2 to 3 days after full payment received. Tracking number will be updated in lelong.my once item has been posted.
Questions & Answers
Do you have any questions to ask merchant about this product
Ask Seller
| | | |
| --- | --- | --- |
| 5 star | | 0 |
| 4 star | | 0 |
| 3 star | | 0 |
| 2 star | | 0 |
| 1 star | | 0 |
Share your thoughts with others
Write a review
Only buyers who purchased the product may leave a review