VIDEO COLLECTION DVD Description :   
Fire up your metabolism with TV's top trainer, Jillian Michaels, and lose big with her fierce formula that adds strength and ab moves to dynamic cardio for increased fat loss. This 40-minute circuit workout blasts your heart rate with challenging intervals to turn up the burn and peel off the pounds. Whether you're just getting started or ready for a hardcore workout, this program will ignite your metabolism and incinerate fat to reveal a ripped, lean body!


View Promo Video Below :
Product # 2
Jillian Michaels
Shred with Weights Kettle Bells
image is for illustration only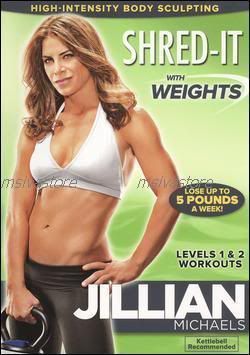 Amazon Price: $16.95
VIDEO COLLECTION DVD Description :
Fans of celebrity fitness trainer Jillian Michaels know that even if one of her workouts is under 30 minutes, it's going to be a challenging one. And Michaels's Shred-It with Weights workout is just that: an efficient, fun, adaptable routine that will show results in less than a week. But don't expect any down time to rest or daydream. Michaels keeps things moving at a brisk pace, even in the beginner version. You'll need a small weight to do the routines. Michaels recommends the trendy kettlebell, but a regular four-pound dumbbell will work just fine. Then get ready to get your heart rate going. Michaels's routines include some cardio moves with weights, like swinging the weight around the body, to keep the heart rate elevated, and to further tone the muscles. She also is a fan of lunges, squats, and leaps, all with the added resistance of the small weight. As always, Michaels offers several options--a modified routine for true beginners, and an even more advanced one for those who truly want to challenge themselves. The DVD also includes an important tutorial by Michaels on how best to handle a kettlebell, to keep it in control and to avoid injury. If your goal is to pack as much toning into one half-hour workout as possible, Jillian Michaels's Shred-It with Weights is the ticket to a more chiseled physique. Ready? Let's go, people! --A.T. Hurley
Product Description
Get ready for a fresh, dynamic way to work out! Jillian Michaels adds extra weight to her hard-core circuit training techniques for a total-body workout designed to burn maximum fat. Using a kettlebell or a single hand weight, Shred-It With Weights helps you build lean muscle and burn mega calories with two 30-minute boot camp workouts. Begin with Level 1 and progress to Level 2 for maximum body- shredding results. Stick with Jillian's program for 30 days and you could see a lean, shredded body.
View Promo Video Below :
Product # 3
Jillian Michaels:
Body Revolution Full Home Course!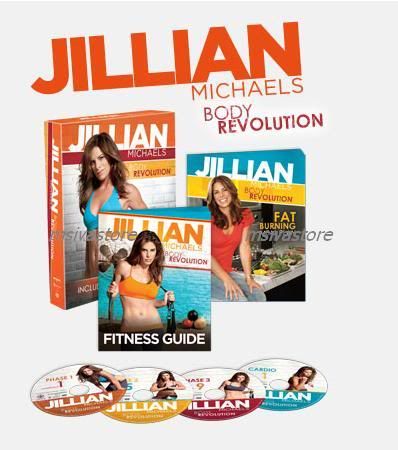 Amazon Price: $129.95
VIDEO COLLECTION DVD Description :
Jillian Michaels Body Revolution lets you get into the best shape of your life with America's toughest trainer. You can transform your body in just 90 days.
You have seen her help others achieve incredible results on The Biggest Loser and now for the first time ever, you can get Jillian's  secrets and the techniques for weight loss at home.
Body Revolution is a 90-Day, 3 Phase weight loss program that gives everything you need to transform your body. It includes one of the most effective diet and fitness plan on the market, developed by Jillian Michaels.
You will have access to the very system, with all the principals, techniques and philosophies, that Jillian has used to help transform her Biggest Loser contestants.
Includes 15 Workout VIDEOS + Fitness Guide + Fat Burning Meal Plan + Intro Booklet ebooks

What will you receive ?
Contents of 2DVDs that you will receive all of the videos + diet manuals stated below: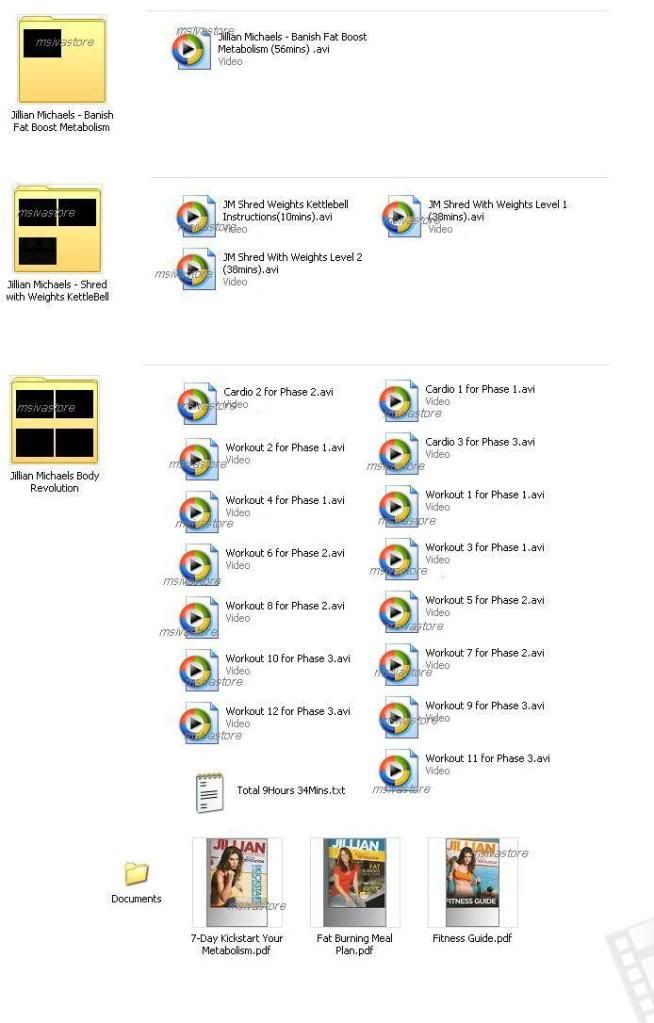 - Language : English
- File Format : .avi DVD video files , for PC, Laptop
using windows media player or divx supported dvd player.
- Winner will receive 2DVDs Containing Jillian Micheals'
 Ultimate Fitness 3-in-1 Complete Videos Course .
Jillian Workout Package Testimonials :
Now, I should mention I have done JM's 30 Day Shred and love love love love it. There's no better way to get in a thorough workout in 22 minutes. This is not The Shred. There are many familiar exercises, but it's a much longer workout and the intensity is modulated to make it possible to keep going for the full 45+ minutes of the workout. I was intent on getting through the whole workout, so I can't speak to what the experience would be like for a beginner and the chapters are designed to allow me to pick the ones I most like (or hate! depending on how tough they are!)

Also, I find Jillian's style to be increasingly more mature with each new dvd. No joke, she's a tough cookie -- that hasn't changed. But her instruction is more precise and her explanations of why certain exercises are paired together is really helpful. I find that knowing why things are good for me (even when they're so hard) is powerful motivation. Oh, I should mention I have very bad asthma and doing these workouts has helped boost my heart strength and capacity to grab more air with each breath. It's silly, I know, but I finish feeling like Mighty Mouse!But in the meantime, I'm a very happy customer!
I just tried Jillian's new workout Banish the Fat Boost Your Metabolism and I have to say I like it. I am a member on her blog and have been using the Shred 30 Program for a little over two months and I have lost a total of 29 pounds. I was worried about hitting a plateau so I was excited to see the release of two new dvds.
And now Jillian came out with her own kettlebell DVD that I've been waiting and longing for, and it's awesome. I LOVE IT! Her terminology for some of the moves confused me the first time through, but I figured it out. What she calls "a rack" is really called "a clean" in the kettlebell world. And instead of using the very simple kettlebell term "alternating swings", she calls them "a squat swing with a pass".
 ~ Don't waste another moment ~ CLICK ON THE BuyNow Button above now .