Item Specification
Product Description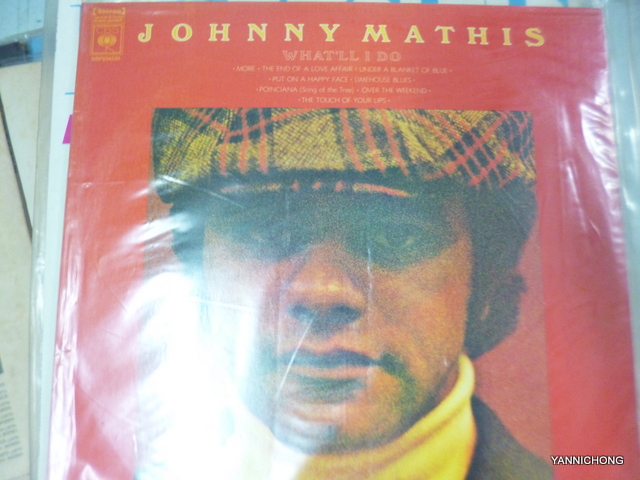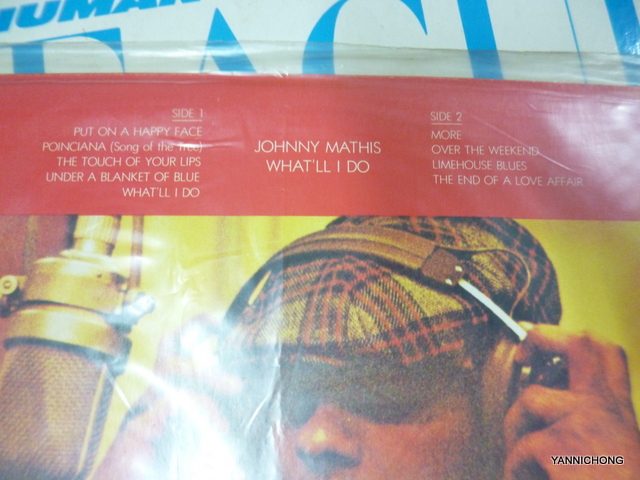 JOHNNY MATHIS ALBUM WHAT'LL I DO VINYL 1974 US PRESSING
THE SMOOTH VOICE OF JOHNNY MATHIS
EXCELLENT CONDITION
VVV
Johnny Mathis has recorded 73 studio albums, 18 of which achieved sales of 500,000 units and were awarded Gold certification by the Recording Industry Association of America.[1] Five of his greatest hits albums also accomplished this, and of these 18 Gold albums, six eventually went Platinum by reaching sales of one million copies.[1] In 1999, sales figures totaled five million for his first holiday LP, Merry Christmas, and three million for Johnny's Greatest Hits,[2] a 1958 collection that has been described as the "original greatest-hits package"[3] and once held the record for most weeks on Billboard magazine's album chart with a total of 490[4] (three of which were spent at number one).[1] His second longest album chart run was the 295 weeks belonging to his Platinum 1959 album Heavenly, which gave him five weeks in the top spot.[1] In a ranking of the top album artists of the last half of the 1950s in terms of Billboard chart performance, he comes in at number two, for the 1960s, number 10,[5] and for the period from 1955 to 2009 he is at number six.[6]
The recurring appearance of Mathis holiday releases on the various album charts in Billboard began with 1958's Merry Christmas, which peaked at number three during the four weeks it spent that holiday season on the magazine's biggest album chart (now known as the Billboard 200) and returned to place at various positions within the top 40 slots there for the next four years.[7] When the magazine first had a separate chart for Christmas albums from 1963 to 1973, Merry Christmas ranked somewhere in the top 10 on it for another seven years, and on the Top Pop Catalog chart that was created for older titles, it had eight return appearances during the 1990s.[7] His Sounds of Christmas LP spent two weeks at number two on the Christmas Albums chart upon its 1963 release and re-charted for the next five years, and 1969's Give Me Your Love for Christmas reached number one there during its first of several annual chart showings before achieving Platinum certification.[7] Other notable holiday projects include Home for Christmas, a 1990 home video special that went platinum,[2] and Sending You a Little Christmas, a 2013 release that earned him a Grammy nomination in the category of Best Traditional Pop Vocal Album.[8]
Mathis also recorded 43 songs that reached Billboard magazine's Hot 100 chart in the United States and another nine that "bubbled under" the Hot 100.[9] Six of these 52 recordings made the top 10, including 1957's "Chances Are" and the 1978 Deniece Williams duet, "Too Much, Too Little, Too Late", which each spent a week at number one,[9] and 32 of them are also on the list of 50 entries that Mathis had on the magazine's Easy Listening chart,[10] which was started in 1961.[11] 19 of those 50 songs made the top 10 on that list, and two of them ("I'm Coming Home" and "Too Much, Too Little, Too Late") went on to number one.[12] The Williams duet also spent four weeks at number one on the magazine's R&B chart[13] and was certified Gold after selling one million copies.[9]
In the UK Mathis spent three weeks at number one on the singles chart in 1976 with "When a Child Is Born" and had two compilations reached the top spot on the albums chart: 1977's The Mathis Collection and 1980's Tears and Laughter.[14] "Too Much, Too Little, Too Late" and "When a Child Is Born" both achieved Silver certification for singles by the British Phonographic Industry for sales of 250,000 units in the UK, and the latter eventually reached the 500,000 mark to earn Gold certification.[15] 16 of his LPs met the 60,000 album sales mark in the UK to be certified Silver, with eight of those going on to sell 100,000 copies for Gold certification and one of those eight (The Johnny Mathis Collection, 1976) making it to the 300,000 total necessary for the Platinum award.[2]


---
PAYMENTS THRU MAYBANK TRANSFERS, OVERSEAS BUYER , PAYPAL OR WESTERN UNION.FOR OVERSEAS BUYER PLEASE CONFIRM WHICH TYPE OF PAYMENT.
DELIVERY THRU POSLAJU , FOR LOCAL TOWN , P. MALAYSIA CHARGES ARE RM9. 00 AND EAST MALAYSIA IS RM11.00 FOR NORMAL BELOW 500 GRAMS MAILING. ABOVE 501 GRAMS , POS LAJU CHARGES ARE AS ACCORDING TO POS LAJU RATES.
FOR OUT SIDE MALAYSIA , SHIPPING CHARGES AS ACCORDING TO POST OFFICE .
PLEASE DO INQUIRE , COMMUNICATE WITH ME , IF YOU ARE NOT SURE ABOUT THE ITEMS, OR ANY MATTER BEFORE BIDDING.I WILL REPLY YOU ASAP.
FOR EXPENSIVE OLD AMULETS , PLEASE MAKE VERY SURE YOU KNOW THE ITEM AND YOU UNDERSTAND THOROUGHLY WHAT YOU ARE BIDDING FOR.
ANY QUESTIONS PLEASE ASK .