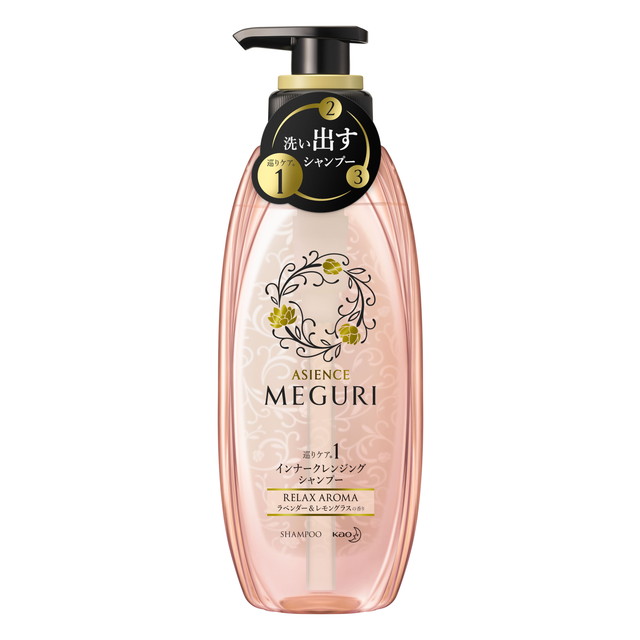 Toyo Beauty Inspiration Care >> * 'Wash Succinic Acid **' will wash out unwanted calcium which causes a towel from hair inside.
● When you want to relax relaxingly [RELAX AROMA] scent of lavender & lemon grass
● non silicone prescription
* Care to wash out unnecessary ones to the hair, give the hair a good ingredient * * Succinic acid, ammonium laureth sulfate - Contents: 300 ml - Country of Origin: Japan - Brand: Asience - Component / Amount: Water, Laureth Sulfate Ammonium, Ethanol, Lauramidopropyl Betaine, Laureth -16, succinic acid, lauryl hydroxysultaine, PPG-3 caprylyl ether, isodecyl glyceryl ether, polyquaternium-10, laureth-3, sodium chloride, K hydroxide, Na benzoate, fragrance


---
All BMJ Products are delivered by international delivery (such as EMS), and from order to delivery may take up to around 21 days.
BUYMEJAPAN GUIDELINES
BuyMeJapan is operated by Interbase Resources Sdn. Bhd. and a part of Lelong.my.
Products displayed on BuyMeJapan ("BMJ Products") are purchased in Japan and delivered to you the consumer ("You" or "Consumer") on Your behalf by transcosmos inc., a registered company in Japan (3-18-25 Shibuya, Shibuya-ku, Tokyo 150-8530, Japan; "We", "Us" or "TCI").
The BuyMeJapan Guidelines and the BuyMeJapan FAQ, which is deemed a part of the Guidelines (collectively the "Guidelines"),is an agreement between You and Us, and by using and accessing BuyMeJapan, you are agreeing to be bound by the Guidelines. If you do not agree to the Guidelines, please stop using BuyMeJapan, as continued use and access to BuyMeJapan will be considered Your acceptance to the Guidelines.
The Guidelines, as well as the Terms and Conditions, and Privacy Policy of Lelong.my (together, "Lelong.my T&C") applies to BuyMeJapan, but where BuyMeJapan Guidelines provide differently to Lelong.my T&C, the Guidelines will apply.
Before You Buy
o BMJ Products are goods sold for circulation within the Japanese market, and some aspects of the BMJ Products may not conform to Malaysian industry standards or related regulations, and manufacturer warranty may not apply in Malaysia. Please buy at Your own risk.
o BMJ Products are purchased from the Japanese market and sent directly to You without changing user manuals, labels or packaging, therefore some of the products may not include English user manual.
o We may provide product description or other information related to the applicable BMJ Product in English on BuyMeJapan pages. However, such description or information is for reference only and We do not take responsibility for the quality or content of such description or information.
o Electric appliances: voltage for the Japanese market (100V), plug shape and other related matters are different to Malaysia. Any problems or damage to product relating to such differences are not a valid reason for product return, refund or exchange.
o Price for BMJ Products are quoted in Malaysia Ringgit (delivery charge exclusive), and all prices are fixed.
o BMJ Products are sold to You for personal use only, and any resale or on-sale of the BMJ Products is prohibited. Any resale or on-sale of the BMJ Products will be a breach of the agreement between You and Us, and We will ask You to compensate for Our loss.
Order and Cancellation of Order
o Once your order has been placed and your payment has been completed, you will receive a payment confirmation (usually email) from Lelong.my, and with the payment confirmation contract between You and Us is established.
o From the point of payment confirmation, You may not cancel your order.
o We reserve the right to cancel Your order even after payment where we are unable to or it is unpractical to deliver the order due to reasons such as but not limited to products becoming out of stock. In such case we will notify and advise you of options available to you such as refund.
Shipping and Acceptance of Delivery
o All BMJ Products are delivered by international delivery (such as EMS), and from order to delivery may take up to around 21 days.
o If the product arrives damaged or broken, or is different to what you ordered, please report to BuyMeJapan by email (BuyMeJapan@lelong.com.my) within 48 hours from the time of the package arriving. Any reports after 48 hours shall NOT be entertained.
o It is Your responsibility to provide the correct shipping information, and any additional charges or failed delivery because of incorrect shipping address will be Your responsibility.
Customs Clearance and Customs Duties
o If the total amount of the BMJ Products you ordered and their shipping fees are over RM 400, they may be subject to customs levy or import taxes. Such levy or taxes are NOT reflected in the shipping cart or order confirmation, and they will be borne by You.
We will NOT be responsible for any orders or items that are unable to clear in the Malaysian customs for whatever reason, and re-delivery or refund will not be available. Therefore, make sure the BMJ Products You order comply with the laws. We recommend that You check with Your local customs office; for further information see http://www.customs.gov.my/en/tp/pages/tp_ie.aspx.
Returns and Refunds:
o Because all BMJ Products are shipped from overseas, no returns, exchange of product or refunds are available once your order is confirmed.
o The only exceptions are:
Ø Defective products (hidden defects or defects not know straight away, not owing to fault or misuse on part of Consumer); or
Ø Wrong item received (different to what you ordered).
** Attributes such as measurement variations of few centimeters as result of mass manufacturing, color variance due to differing monitor resolutions, and difference in prints as result of manufacturing process will NOT be considered as defects or different items.
o Returns for will only be accepted on the following conditions:
Ø Items in original purchase condition, with all tags, documentations and original packing intact;
Ø Original printed Delivery Notice / Receipt returned with items as proof of purchase;
Ø You have notified us via email of the request for return and followed our guidance before sending back the original product;
Ø For wrong item received you must notify us within 48 hours of delivery;
Ø For hidden defects, you must notify us within 3 months from delivery; and
Ø All postage fees incurred in returning the items are borne by Consumer;
o Returned items will be examined and processed within 12 working days.
o We will NOT reimburse any part of original shipping / handling charges.
o All replacement products will be shipped directly from Japan.
o IF YOU FEEL YOU RECEIVED SOMETHING DIFFERENT TO WHAT YOU ORDERED, OR YOUR RECEIVED PRODUCT IS DEFECTIVE, KINDLY REPORT TO BuyMeJapan@lelong.com.my AND WE WILL GUIDE YOU THROUGH THE PROCESS.
o Consumers who do not notify us of the return request before returning the goods will NOT be entertained.
o We regret to inform that we will NOT accept change of mind as a reason for return, exchange of product or refund.
o We reserve the right to offer customer either a direct replacement or alternative version of the item. Consumer may have to bear the cost of return.
Average Product Rating
0.0 stars out of 5
| | | |
| --- | --- | --- |
| 5 star | | 0 |
| 4 star | | 0 |
| 3 star | | 0 |
| 2 star | | 0 |
| 1 star | | 0 |
Share your thoughts with others
Write a review
Only buyers who purchased the product may leave a review