Item Specification
Model / SKU
: Arp Odyssey
Product Description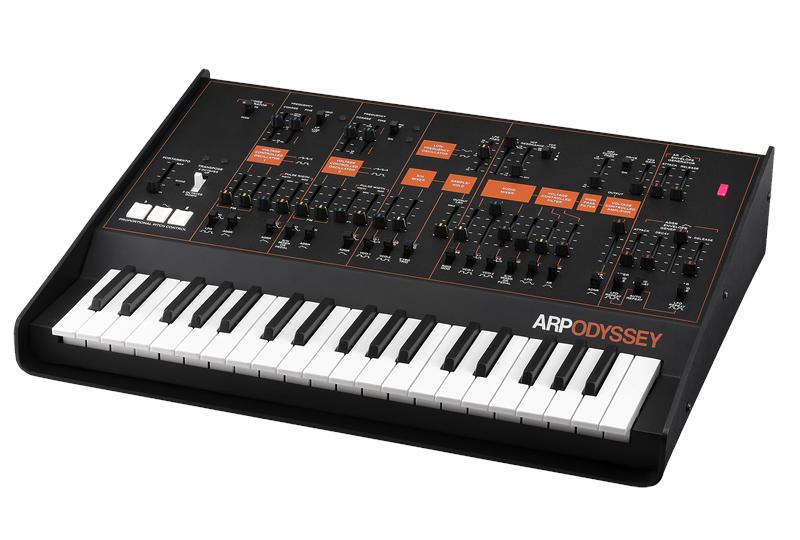 Forty years later, a complete revival - The legendary analog synthesizer that transformed its age.
The ARP Odyssey was an analog synthesizer originally produced in 1972 by the American manufacturer ARP Instruments, Inc. that quickly garnered a faithful following among musicians. Well respected for its high value, ease to play and portability, the ARP Odyssey had undergone several improvements during its history and continued to be a long-seller until manufacturing stopped in 1981 due to economic hardships and the digital surge. Loved by a wide range of musicians as a historical classic, its sound can be heard on numerous classic songs.
Now in 2015, KORG has brought back the ARP Odyssey for today. With the advisory assistance of David Friend, the co-founder of ARP Instruments, KORG has completely reproduced the original circuitry for artists looking to recreate classic sounds and explore new ones. Together the engineers at KORG and Arp were able to nailthe sound and feel of the original. Every detail has been carefully considered to stay true to the quality of the original, down to the sophisticated semi-hard case.
The legendary ARP sound is loved to this day. Long stopped, the wheels of history have again begun to move.
The distinctive synthesis of the ARP Odyssey has been reproduced from the circuit level up.
The original ARP Odyssey was a 2VCO duo-phonic instrument. Its most distinctive feature was its sharp, penetrating sound and its rich range of tonal variation. With a variety of functions and modulation possibilities provided by oscillator sync, sample & hold, pulse width modulation, high-pass filter, two types of envelope generator, and pitch bend using the PPC, it was able to create a versatile range of sounds.
The ARP Odyssey reproduces the sounds of these components at the circuit level. Under the supervision of David Friend, parts were carefully selected and every detail was adjusted to replicate the original unit's distinctive synthesis.
Filters of all three generations are provided
Broadly speaking, there were three versions of the original ARP Odyssey, divided by the date of production, with the major difference being the filter circuit. The ARP Odyssey provides all three of these different filter circuits, and allows you to select one of them with a single switch.
TYPE I (Rev1) is a 12 dB/Oct circuit that produces a sharp, punchy sound. TYPE II (Rev2) is a 24 dB/Oct filter with great-sounding lows. TYPE III (Rev3) maintains excellent stability even when resonance is raised. These distinctive filters have been reproduced just as they originally were.
Portamento behaviors of both Rev1 and Rev2/3 are provided
On the original ARP Odyssey, the behavior of portamento when using the transpose function differed between Rev1 and Rev2/3. The ARP Odyssey reproduces both of these behaviors and lets you select the desired one with a switch.
Compact body, highly operable sliders, and a slim keyboard that's easy to play
The ARP Odyssey has been downsized to 86% of the original ARP Odyssey. Carefully selected parts are used in the familiar slider section, providing an operating feel that's even smoother than the original. The keyboard uses a 37-note slim keyboard that features lighter weight and excellent playability. While making the instrument more compact and easier to use, we have also paid attention to ensuring that the mini-keyboard is uncompromisingly "playable." Although the keyboard has 37 keys, the transpose function lets it cover a broad range of seven octaves.
The new DRIVE switch
In order to deliver a more powerful analog sound, a DRIVE switch is provided as a new function. Turning this switch on makes the VCA distort, generating a rough and raw sound.
Added connectors such as MIDI and headphone output
The connectors provided on the original ARP Odyssey differed by production date, but based on Rev3 of the original, the ARP Odyssey brings the specifications up to a modern standard. In addition to a MIDI IN connector and USB-MIDI port, we've added a headphone jack with adjustable volume (*). The XLR output jacks which had been unbalanced have been changed to noise-resistant balanced outputs.
Patch cables included
Quarter-inch and mini-size patch cables are included. If you connect a patch cable from the newly added headphone jack to the external audio input jack, you can produce a powerful sound by applying self-feedback. If you connect the GATE OUT jack to the TRIG IN jack, the EG won't be retriggered, allowing you to play legato.

Last Updated @ 11/3/2016 8:48:16 PM

Last Updated @ 8/17/2017 3:50:08 PM
Questions & Comments


---
For Paypal (Ringgit payments), 5% Paypal charge applies (to cover the Paypal receipient charge). Also, your mailing address must be Paypal Verified.
In stock items usually ship within 3 business days of payment clearance (unless otherwise stated in my listings). Please allow 3-5 business days to order items in quantity or in your preferred colour.
Shipping methods are Parcel Mail (West Msia, 4 days) Parcel Airmail (East Msia, 4-7 days) and Pos Laju (1-2 days). Alternative postage and costs for East Msia and items weighing more than 20kg apply. Please contact me for overseas shipping costs and details.
- Please read before making your purchase (updated on 1 Dec 2016): -
1. Payment:
a) Malaysian Buyers:
All payments are to be made in Ringgit Malaysia (RM) to our company's Maybank account or via Paypal. Other payment methods may also be offered on our online store (ask for details). Bulk purchase discounts may be available for purchase of 2 or more items (see listing details or ask for details).
Payment via Paypal is for shipping methods (with tracking) only. Strictly no self-collect for items paid with Paypal or equivalent payment methods.
Strictly no Cash on Delivery (COD) for new items.
b) Overseas Buyers from Singapore:
For overseas buyers from Singapore, payment can be made in Singapore Dollar (SGD) into our local Singapore Maybank account. Please note that over-counter-transactions in Singapore incur a SGD5 charge so please add this to your payment if you make over-counter payments from a third-party bank.
We also accept Paypal in SGD for buyers located in Singapore.
c) Overseas Buyers from Other Countries:
For buyers in other countries, preferred payment is via international bank transfer to our company's Maybank account in Malaysia. International telegraphic transfers like Western Union is also accepted.
Payment must be received in Ringgit Malaysia (RM) in the amount stated so please check that you include additional payment to cover bank charges, exchange rate loss, etc. Items cannot be shipped or ordered until payment is fully received in the proper amount so do factor for this time-lag when making payment.
d) Goods & Services Tax (GST):
All prices stated on this website include Malaysian GST where applicable (as of 1 April 2015).
2. Product Specifications & Condition:
a) General:
Unless otherwise stated, all items sold are original, brand new and come in the original packaging. Packages may be opened for pre-delivery inspection and testing (unless requested by the buyer).
All pictures or videos shown are for illustration purposes only but they are as close as possible to the original manufacturer's specifications at the time of listing (pictures are taken from the original manufacturer's websites where applicable).
b) Pre-Owned Items:
Pre-owned items are sold as-is without warranty.
c) Sporting Goods:
Brand new racquets come un-strung from factory. Stringing services are available (ask for details).
3. Warranty:
Unless otherwise stated, all items sold come with the local distributor warranty (where applicable). Distributor terms & conditions apply.
Warranties (if any) are only valid for items bought on Satchman Shops' official online stores only. Distributor terms & conditions apply. Please keep official receipts, invoices, etc for warranty claims (serial number verification is a requirement).
Pre-owned items are sold as-is without warranty.
4. Returns / Exchange / Refunds:
Goods sold are not refundable or exchangeable.
In the event that the product is to be returned to our company for any reason (with prior notice), it must be done within 7 business days of that notification; otherwise it is deemed that the buyer wishes to keep the said item rather than return it. This includes items with a manufacturing defect, under warranty claim or sent to us for servicing.
Returned goods must be in the same condition as initially shipped (i.e. undamaged, in the original box, un-used, unopened, etc), otherwise we reserve the right to refuse the return of goods or a restocking fee may apply.
Proof of shipping to our company is not proof of receipt. Thus, shipping via well-known courier services with insurance and parcel tracking is highly recommended.
Finally, any deposit payments made for pre-orders will only be refundable after 4 weeks of payment clearance. Also, due to adminitrative costs, any refunds for amounts below RM50 may only be refundable through a time-based Discount Voucher, which is usable on our website. Refunds typically take 3 business days to process.
5. Purchasing & Handling:
Due to the nature of online businesses, where items are listed on multiple platforms, please confirm item availability before making your purchase. In-stock goods sold will only be held for 24 hours prior to payment clearance, after which it will be relisted for resale.
Typical handling time is 3 business days for testing and packaging for items available in-stock (on-hand). Items that need to be ordered will take 5-7 business days to arrive to us and a minimum deposit of 30% item value is required for orders to be placed. Items will be shipped or can be self-collected upon payment of balance outstanding.
Clicking on the "Buy It Now" button is a contract to purchase.
6. Shipping & Delivery:
a) Self-Collect:
Self-collect of selected items can be arranged at selected areas in the Klang Valley, only after full payment is received.
Strictly no Cash on Delivery (COD) for new items, except for selected fragile or high-value items.
Strictly no self-collect for items paid with Paypal or equivalent payment methods.
b) Items Requiring Shipping (including those under warranty or servicing):
Delivery times are estimates and depend on shipping method, destination city and customs clearance.
Additional shipping charges may apply for Sabah & Sarawak inland (pedalaman) areas, special handling, bulky items (longer than 50cm) or items weighing more than 10kg. Volumetric weight will be used to calculate shipping charges for special handling or bulky items.
c) Parcel Tracking:
We will provide buyers with basic information on how to track their parcels.
All parcel tracking services (online, phone, etc) are provided by postal or courier services and we do not assume any responsibility for such services rendered.
d) Insurance:
All items are sent at buyer's risk (self-insured by the buyer). Insurance is optional but recommended. Please contact us for details.
e) Duties & Taxes:
For overseas buyers, prices stated on Satchman Shop do not include country specific customs charges or duties. Please check all duties & taxes at your local tax office before purchasing.
7. Additional Information:
All prices and product specifications displayed are correct as best as humanly possible.
However, due to the nature of online businesses, constant manufacturer product / pricing updates, exchange rates, supply, etc, we reserve the right to make changes to any listing or these Terms & Conditions without prior notice. This includes (in only the most rare and extreme circumstances), cancellation of a sale, with full refund to the buyer. If in doubt, please contact one of our friendly sales staff for assistance (see Contact Us section below).
By purchasing on this site, you agree that you have read all the terms & conditions on this site and agree to all terms & conditions stated on his site.
8. Free Gifts & Promotions:
From time to time, Satchman Shop may run special promotions, discounts, purchase with purchase offers or free gifts.
Free gift pictures shown on this site are for illustration purposes only and are only valid while stocks last.
9. Contact Us:
Feel free to contact us via email of phone if you require further assistance or encounter any issues with your purchase (you will receive a response within 48 hours). Contact details can be found on the Contact Us page of this website.
Happy shopping!
Goods sold are not refundable or returnable.
Warranty period for most electronic items is one year (Malaysia only). Distributor terms and conditions apply.
Questions & Answers
Do you have any questions to ask merchant about this product
Ask Seller
| | | |
| --- | --- | --- |
| 5 star | | 0 |
| 4 star | | 0 |
| 3 star | | 0 |
| 2 star | | 0 |
| 1 star | | 0 |
Share your thoughts with others
Write a review
Only buyers who purchased the product may leave a review