Item Specification
Product Description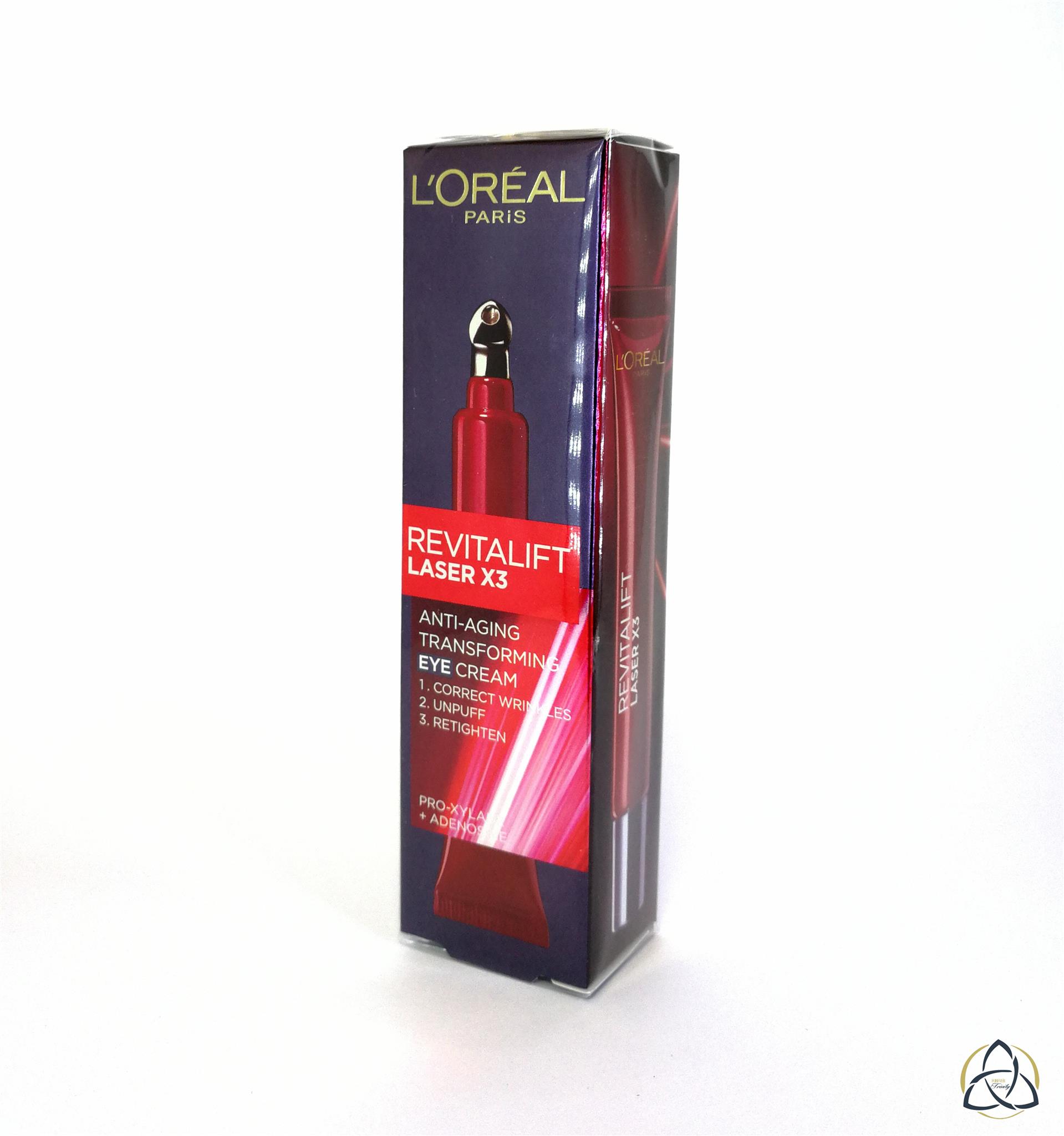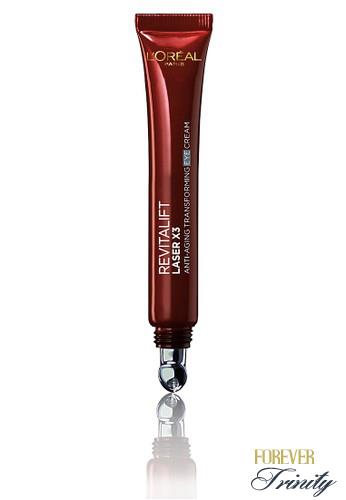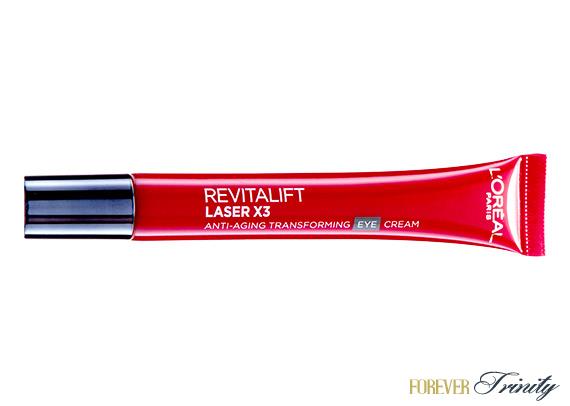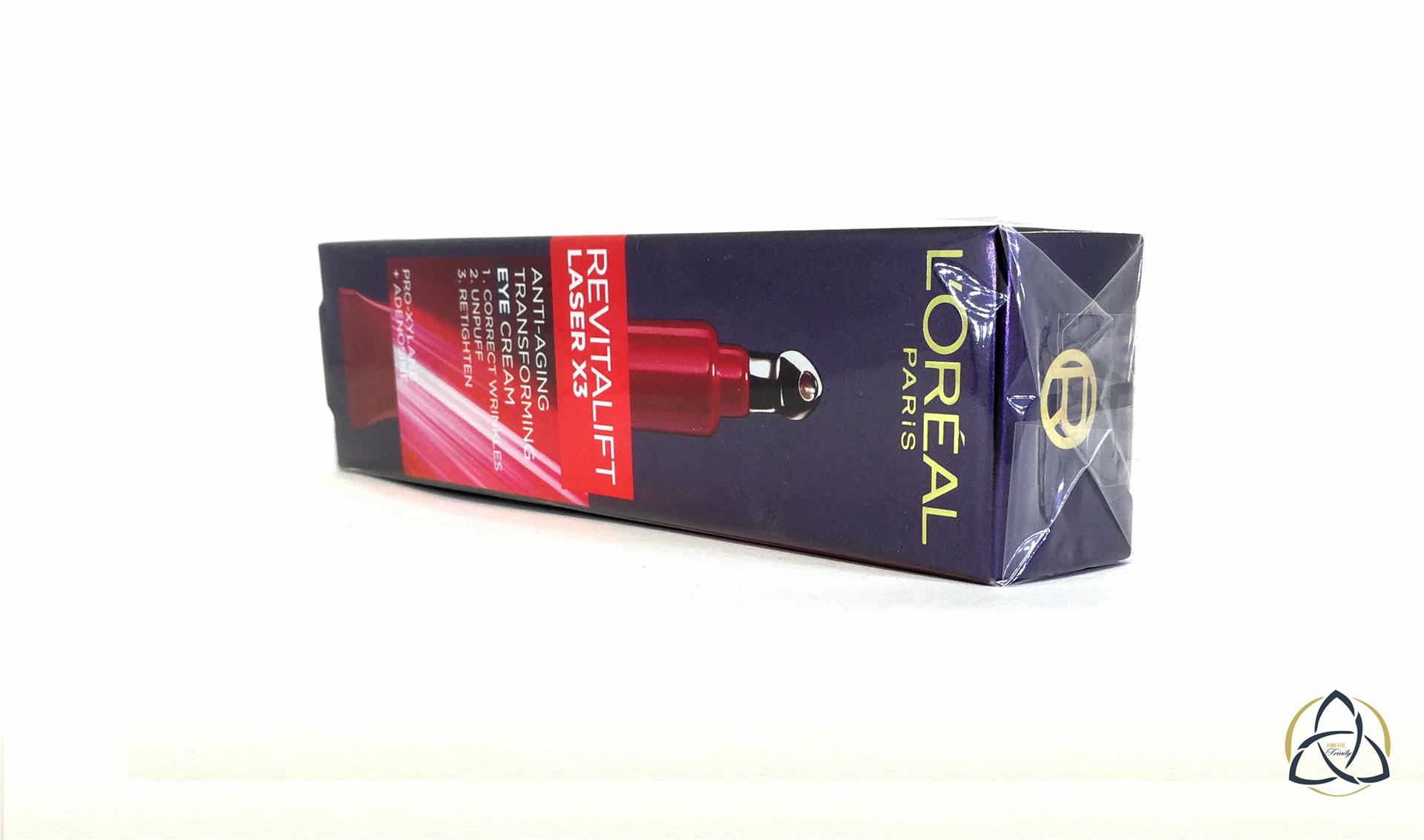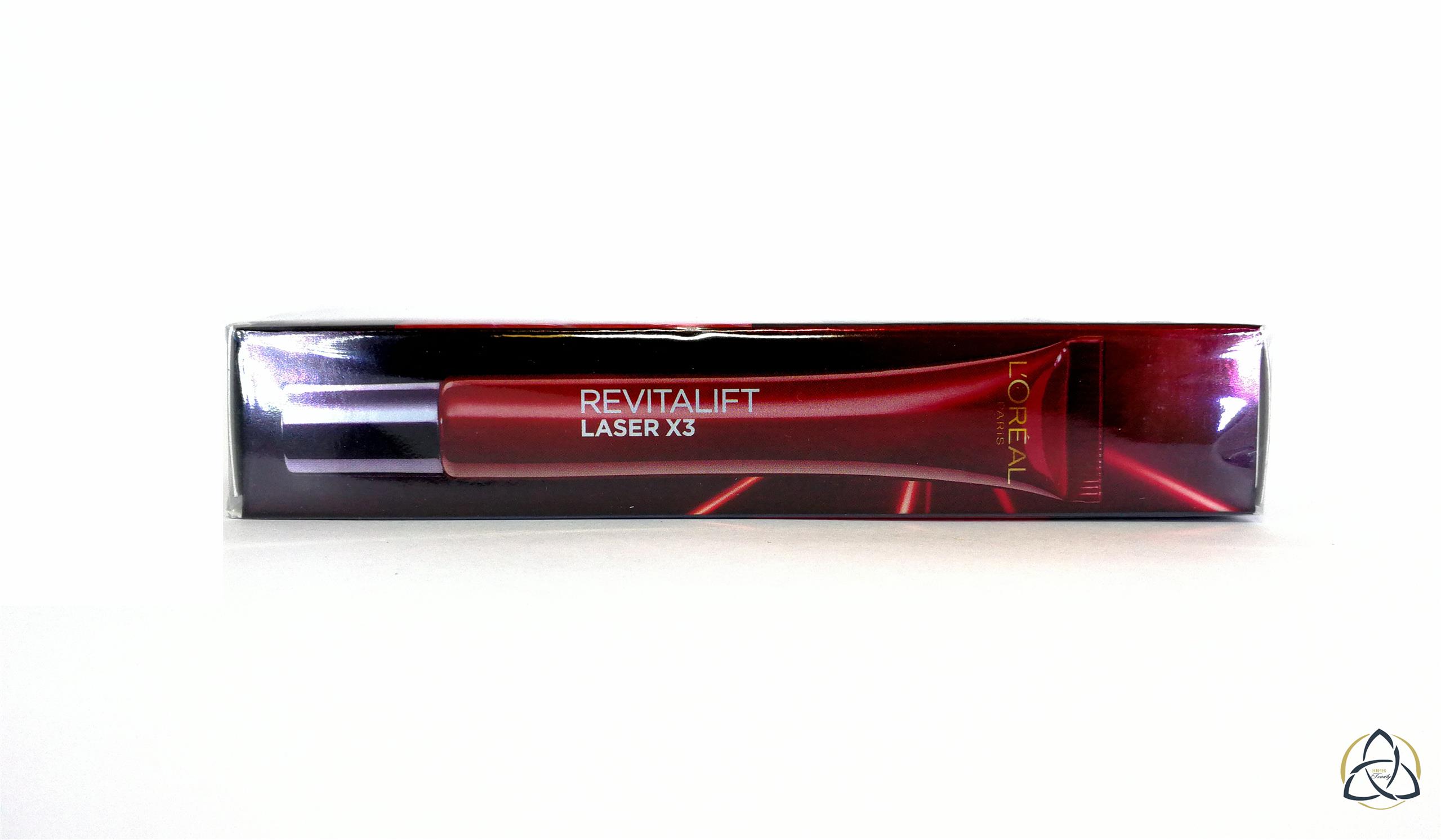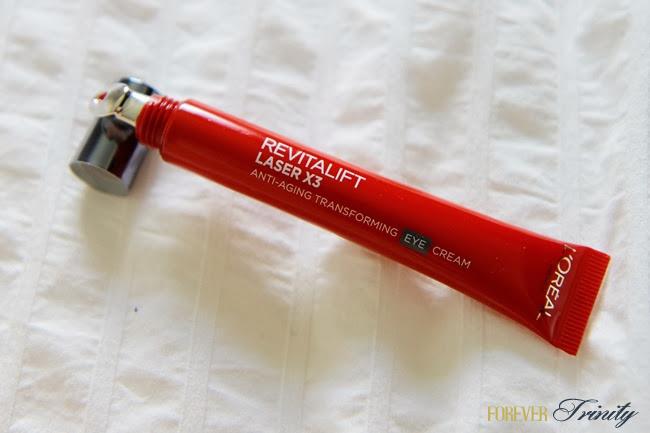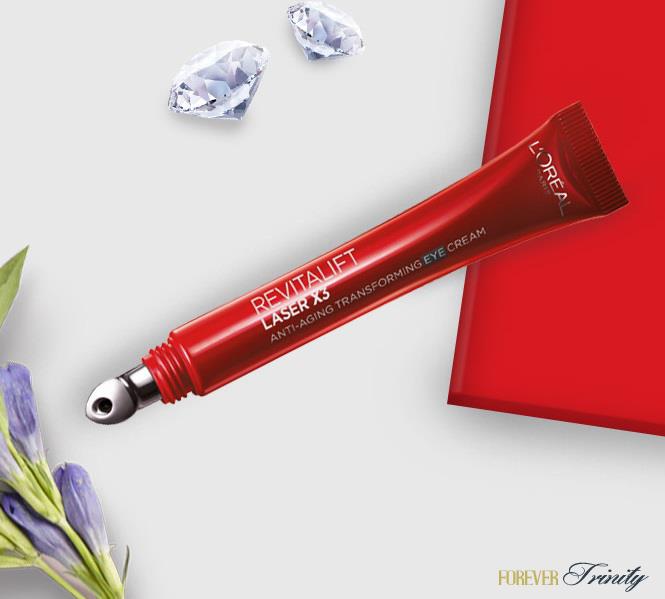 L'Oreal Paris Revitalift Laser X3 Anti-Aging Transforming Eye Cream (15ml)
Youthful skin is not only about dry and fine lines, but also about skin plumpiness. Hyaluronic Acid is an essential and natural component responsible for skin plumpiness, but with time it declines, skin deflates and lines mark more. After 10 years of biological research, L'Oreal Laboratories have invented a revolutionary hyaluronic skin treatment. Discover our 1st extra water-cushion volumizer, an innovative formulate for your advance anti-aging care. Reduces wrinkles and pore size, replump skin and reshape facial contours.
1. Resurface: Promotes exfoliation and cell renewal for skin resurfacing, while reducing pore size
2. Correct lines: Smoothes out wrinkles with Adenosine, a well-known anti-aging ingredient
3. Replump & Redensify: Improves skin plumpness and elasticity by stimulating skin fiber synthesis
Specifications Of L'Oreal Paris Revitalift Laser X3 Anti-Aging Transforming Eye Cream (15ml)
What's in the box: 1x L'Oreal Paris Revitalift Laser X3 Anti-Aging Transforming Eye Cream 15ml
Size (L x W x H): 4 x 3 x 16
Weight: 0.047KG
Skin Type: Normal
Product Volume (ml): 15
Warranty Type: No Warranty

Last Updated @ 9/16/2017 5:29:37 AM

Last Updated @ 9/16/2017 5:31:41 AM

Last Updated @ 9/16/2017 5:33:05 AM

Last Updated @ 9/16/2017 5:34:33 AM

Last Updated @ 9/16/2017 1:55:03 PM

Last Updated @ 9/16/2017 1:58:07 PM

Last Updated @ 9/16/2017 1:59:52 PM

Last Updated @ 9/16/2017 2:23:36 PM

Last Updated @ 9/16/2017 2:27:25 PM

Last Updated @ 9/21/2017 8:49:23 PM

Last Updated @ 9/21/2017 10:03:16 PM

Last Updated @ 9/21/2017 10:04:17 PM

Last Updated @ 9/21/2017 10:05:21 PM

Last Updated @ 9/27/2017 1:09:16 AM

Last Updated @ 9/30/2017 5:10:10 PM

Last Updated @ 9/30/2017 5:16:42 PM

Last Updated @ 9/30/2017 5:17:32 PM

Last Updated @ 9/30/2017 5:18:29 PM

Last Updated @ 10/4/2017 4:45:15 PM

Last Updated @ 10/8/2017 1:55:58 AM

Last Updated @ 10/8/2017 8:35:30 PM

Last Updated @ 10/13/2017 5:21:35 PM










---
How is my order(s) shipped?
At the moment, our primary carrier is Pos Laju. All of the available items in your order(s) will be shipped together.
How do you determine shipping charges for domestic addresses?
Addresses within Malaysia and it's territories are considered domestic addresses. The shipping rates for domestic orders are as follows:-
First 0.50kg - RM7.50
Every Next 0.25kg - Add RM1.50
First 0.50kg - RM10.00
Every Next 0.25kg - Add RM2.00
First 0.50kg - RM10.50
Every Next 0.25kg - Add RM3.00
How do you save on shipping?
We allow Combined Shipping aiding clients to save on the multiple products/orders shipping charges. Kindly refer to the table provided.
When will your orders be shipped out?
Normally, we will ship all orders out on the next business day. We guarantee that we will try our utmost best to do so. If any order(s) are not shipped out within 3 business days, we will issue you a RM5.00 coupon for your inconvenience.
Are services available on weekends or holidays?
Our shipping department operates Monday through Friday, excluding holidays. Except where otherwise specified, shipping and delivery services are not available on weekends or holidays.
What should I do when my package arrives?
When you receive your shipment, please open and inspect the merchandise on the same day as it is delivered. If there are any issues please contact us immediately.
What should I do if my package is lost or damaged in transit?
Please accept our sincerest apologies if the carrier did not deliver your order promptly and in good condition. If you did not receive your order, we ask that you check around your property, in your mailbox and with your neighbors to make sure that the order is not at your location. Just contact us if you are certain that the item was not delivered or if your item arrived damaged. We will file a claim with the carrier and repair, replace or refund your purchase as efficiently as possible.
1. WHO WE ARE
Welcome to forevertrinity.lelong.my. For these terms and conditions, forevertrinity.lelong.my will be collectively referred to as 'FT'. FT provides it's Goods and Services to you subject to the following conditions.
By shopping at forevertrinity.lelong.my, you accept and agree to be unconditionally bound by these Terms and Conditions. FT reserves the right to update or modify these Terms and Conditions at any time without prior notice. For this reason, we encourage you to review these Terms and Conditions whenever you visit the Store.
2. CONDITIONS OF USE
2.1 Use of the Services and Store
The forevertrinity.lelong.my (the "Store") and the goods and services on it are offered to you for your personal and non-commercial use only. Any other use, including the commercial, reproduction, modification, distribution, transmission, republication, display, or performance of content on the Store is strictly prohibited. You agree to comply with all applicable laws, statutes and regulations in connection with the use of the Store and goods (the "Goods") or services (the "Services") obtained via the Store. The Goods and Services are together referred in the Terms and Conditions to as the "Supplies."
2.2 Restrictions on Use
As a condition of your use of this Store and the Supplies you agree that you will not:
(a) reverse engineer or decompile (whether in whole or in part) any software available through the Store (except to the extent expressly permitted by applicable law);
(b) remove, change or obscure any product identification or notices of proprietary rights or any restriction on or in the Supplies and/or the Store;
(c) remove any copyright, trade mark or other intellectual property right notices contained in material on the Store or Supplies;
(d) make copies, modify, reproduce, republish, post, transmit, distribute or alter (including the creation of HTML links to or from the Store) all or any part of the Store or any materials contained on it.
2.3 Unlawful or Improper Use
You must not use the Store or the Supplies for any unlawful purposes or violate the security of the Store. In particular, you must not:
(a) publish, post, upload, distribute, disseminate or otherwise transmit, information or pictures that are obscene or pornographic, threatening, menacing, racist, offensive, defamatory, libelous, or are alleged to be, or are in the opinion of FT, otherwise unlawful;
(b) upload files that contain software or other materials in breach of any intellectual property rights or in breach of confidence;
(c) download any file of materials posted by another user that you know, or reasonably should know cannot be copied or otherwise used legally;
(d) harass, stalk, threaten or otherwise infringe the rights of others;
(e) hack into any web site, deliver viruses or forward chain letters, surveys, contests, pyramid schemes or engage in any other behaviour likely to inhibit any other user from using and enjoying the Store or the Services or that is otherwise likely to damage or destroy the reputation of the Store or FT;
(f) advertise or offer to sell goods or services;
(g) access data not intended for such user or logging onto a server or an account which the user is not authorized to access;
(h) attempt to probe, scan or test the vulnerability of a system or network or breach security or authentications measures without proper authorization;
(i) attempt to interfere with service to any user, host or network, including, without limitation, via a means of submitting a virus to the Store, overloading, "flooding," "spamming," "mail bombing," or "crashing;"
(j) forge any TCP/IP packet header or any part of the header information in any email or newsgroup posting. FT will investigate occurrences that may involve such violations and may involve, and cooperate with, law enforcement authorities in prosecuting users who are involved in such violations.
2.4 Monitoring and disclosure
FT accepts no obligation to (but may in its discretion) monitor the use of the Store and/or the Services by you. FT reserves the right to disclose any information or material which may be provided by you if required by law or regulations and to remove, refuse to post or to edit any such information or material and to take such other action as may be reasonably necessary to prevent any breach of these Terms and Conditions.
3. INTELLECTUAL PROPERTY RIGHTS
All content and materials on the Store, including text, graphics, illustrations, designs, icons, photographs, programs, video clips, audio clips, digital downloads, data compilation and software, is the property of FT. The FT names and logos and related product and service names, design marks and slogans are the trademarks or service marks of FT. All other marks are the property of their respective companies. No trademark or service mark license is granted in connection with the materials contained on the Store.
4. OPERATION OF THE SERVICES AND STORE
FT may at its sole discretion from time to time without notice change the format and content of the Store and/or the Services and suspend the operation of the Store and/or the Services, for example, for repair or maintenance work, or in order to update or upgrade the contents or functionality of the Store and/or the Services. You are responsible for obtaining and updating your own web browser, and for all amounts payable in respect of connection to the internet including any telecommunications charges for time spent online in respect of use of the Store. You will comply with all directions and instructions given by FT in relation to the use of and access to the Store and the Services. FT does not accept responsibility for the security or content of any information which you may supply through the Store or the Services and will not be liable for the content of any communications or messages received by you from other users.
5.DISCLAIMER, LIMITATIONS OF LIABILITY AND INDEMNIFICATION
THIS SITE IS PROVIDED BY FT ON AN "AS IS" AND "AS AVAILABLE" BASIS. FT MAKES NO REPRESENTATIONS OR WARRANTIES OF ANY KIND, EXPRESS OR IMPLIED, AS TO THE OPERATION OF THIS STORE OR THE INFORMATION, CONTENT, MATERIALS OR PRODUCTS INCLUDED ON THIS STORE. YOU EXPRESSLY AGREE THAT YOUR USE OF THIS STORE IS AT YOUR SOLE RISK. TO THE FULLEST EXTENT PERMITTED BY APPLICABLE LAW, FT DISCLAIMS ALL WARRANTIES, EXPRESS OR IMPLIED, INCLUDING, BUT NOT LIMITED TO, IMPLIED WARRANTIES OF MERCHANTABILITY AND FITNESS FOR A PARTICULAR PURPOSE. WITHOUT LIMITING THE FOREGOING, FT DISCLAIMS ANY AND ALL WARRANTIES, EXPRESS OR IMPLIED, FOR ANY MERCHANDISE OFFERED ON THE STORE. THIS DISCLAIMER DOES NOT APPLY TO ANY PRODUCT WARRANTY OFFERED BY THE MANUFACTURER OF THE ITEM. THIS DISCLAIMER CONSTITUTES AN ESSENTIAL PART OF THE TERMS AND CONDITIONS.
UNDER NO CIRCUMSTANCE AND UNDER NO LEGAL OR EQUITABLE THEORY, WHETHER IN TORT, CONTRACT, STRICT LIABILITY OR OTHERWISE, SHALL FT OR ANY OF ITS EMPLOYEES, DIRECTORS, OFFICERS, AGENTS, VENDORS OR SUPPLIERS BE LIABLE TO YOU OR TO ANY OTHER PERSON FOR ANY INDIRECT, SPECIAL, INCIDENTAL OR CONSEQUENTIAL LOSSES OR DAMAGES OF ANY NATURE ARISING OUT OF OR IN CONNECTION WITH THE USE OR INABILITY TO USE THE STORE, INCLUDING, WITHOUT LIMITATION, DAMAGES FOR LOST PROFITS, LOSS OF GOODWILL, LOSS OF DATA, WORK STOPPAGE, ACCURACY OF RESULTS, OR COMPUTER FAILURE OR MALFUNCTION, EVEN IF AN AUTHORIZED REPRESENTATIVE OF FT HAS BEEN ADVISED OR SHOULD HAVE KNOWN OF THE POSSIBILITY OF SUCH DAMAGES. IN NO EVENT WILL FT BE LIABLE FOR ANY DAMAGES IN EXCESS OF THE FEES PAID BY YOU IN CONNECTION WITH YOUR USE OF THE STORE.
You agree to indemnify and keep indemnified FT against any loss or damage arising from your unauthorised use of the Store or your disclosure of any password or username and from all actions, proceedings, claims, demands, costs (including legal costs), awards and damages howsoever arising, directly or indirectly as a result of any breach or non-performance by you of any of your obligations under these Terms and Conditions. FT does not accept responsibility for the security or content of any information which you may supply through the Store or the Services and will not be liable for the content of any communications or messages received by you from other users including any content posted by other users in chat rooms.
You are solely responsible for your use of the Store, Supplies, any username, password and any information made available on the Store from time to time and for any consequences or effects (whether direct or indirect) of such use.
FT does not warrant that the Store or the Supplies will be uninterrupted or error or defect free and shall not be responsible for the non-performance or interruption of the Store or the Services or for any viruses transmitted through the Store or the Services.
Any links from the Store to third party web sites do not constitute an endorsement by FT of any products or services available on such web sites and FT does not necessarily support or approve of them. You use such links entirely at your own risk and FT accepts no responsibility for the content or use of such web sites or information contained in them.
6. BUYING GOODS AND SERVICES ON THE STORE
6.1 Contracting party
You may be able to purchase Supplies via the Store either direct from FT or from third parties. You must ensure that, if you do intend to make any purchases, you know the identity of the company with which you will be contracting. Any contract you conclude with third parties will be on their Terms and Conditions and FT will accept no liability whatsoever in respect of such contracts. Third party Terms and Conditions should be available in the checkout or other appropriate section of the relevant FT or third party web site. The following paragraphs of this clause 6 contain Terms and Conditions relating solely to any sale or provision of Supplies direct to you by FT, not by any third party.
6.2 Prices
The prices of all Goods are clearly marked in their description and are in Ringgit Malaysia. All shipment charges are also displayed on the Store.
6.3 Conclusion of Contract of Sale
Any Supplies and prices of Supplies displayed on the Store constitute an invitation to enter into a contract for said Supplies. Once you go the checkout section of the Store and click to purchase any Supplies, this constitutes an offer made by you to FT. Acceptance of your offer only occurs once you receive notification from FT of acceptance of your order.
6.4 Period of Offer
Prices of any Supplies may be changed by FT at any time before the conclusion of an agreement to sell (i.e., once you receive notification from FT of acceptance of your order).
6.5 Payment
Payment is to be made by credit or debit card and all credit and debit card information will be encrypted for security.
6.6 Shipment
Delivery of any Goods will be by courier or post depending on the size and nature of the Goods to be supplied. The Goods will normally be delivered within 3 days of the placement of the order. If delivery is delayed beyond 3 days, we will notify you that this is the case and you will have an option to cancel your order if the delay is unacceptable. Most orders will ship in one to three days if shipped to a Malaysia address. Product descriptions usually include an estimate of the delivery delay.
6.7 Substitutes
Should the Goods you order not be available, substitute goods may be provided by FT, subject to your approval. If you should decide that any substitution of Goods is unacceptable, FT will pay for the cost of returning the Goods and will also provide you with a full refund.
6.8 Cancellation
You may cancel your order at any time before delivery, without affecting the continuance of this agreement between FT and you in relation to use of the Store. If any money has been collected from your credit or debit card, this will be refunded. Notification of cancellation must be emailed to forevertrinity@yahoo.com.
7. CONTACT
You may contact FT about any problems, questions or comments regarding the Store at forevertrinity@yahoo.com
8. USER COMMENTS, FEEDBACK, POSTCARDS AND OTHER SUBMISSIONS
FT welcomes your comments as to the Store. All comments, feedback, postcards, suggestions, ideas and other submissions disclosed, submitted or offered to FT on or by the Store or otherwise disclosed, submitted or offered in connection with the use of the Store (collectively, the "Comments") shall be and remain the property of FT. Such disclosure, submission or offer of any Comments shall constitute an assignment to FT of all worldwide rights, titles and interests in all copyrights and other intellectual properties in the Comments. Thus, FT will own exclusively such rights, titles and interests and shall not be limited in any way in its use, commercial or otherwise, of any Comments. FT is and shall be under no obligation (1) to maintain the Comments in confidence; (2) to pay to user any compensation for any Comments; or (3) to respond to any user comments. You are and shall remain solely responsible for the content of any Comments you make.
9. GENERAL
These Terms and Conditions shall be governed by and interpreted in accordance with the laws of Malaysia and you consent to the exclusive jurisdiction of the Malaysia courts in all disputes arising out of or relating to the use of the Store or the provision of Supplies by FT. FT makes no representation that information or material contained at the Store is appropriate for use in other jurisdictions. Users who access the Store from other jurisdictions do so at their own initiative and are responsible for compliance with any local laws.
You agree that FT may subcontract the performance of any of its obligations or may assign these Terms and Conditions or any of its rights or obligations under them without notice. FT may delay enforcing its rights under these Terms and Conditions without waiving them. If any provision of these Terms and Conditions is found to be unenforceable, this shall not affect the validity of any other provision. FT may amend, vary or supplement these Terms and Conditions at any time. FT will post a notice of any such amendments on the Store and such amended Terms and Conditions will automatically be effective. These Terms and Conditions (as varied from time to time) form the entire agreement of the parties and supersede all previous agreements, understandings and representations relating to their subject matter.
Questions & Answers
Do you have any questions to ask merchant about this product
Ask Seller
| | | |
| --- | --- | --- |
| 5 star | | 0 |
| 4 star | | 0 |
| 3 star | | 0 |
| 2 star | | 0 |
| 1 star | | 0 |
Share your thoughts with others
Write a review
Only buyers who purchased the product may leave a review