Item Specification
Model / SKU
: LC-LC-SX-SM-XXX
Product Description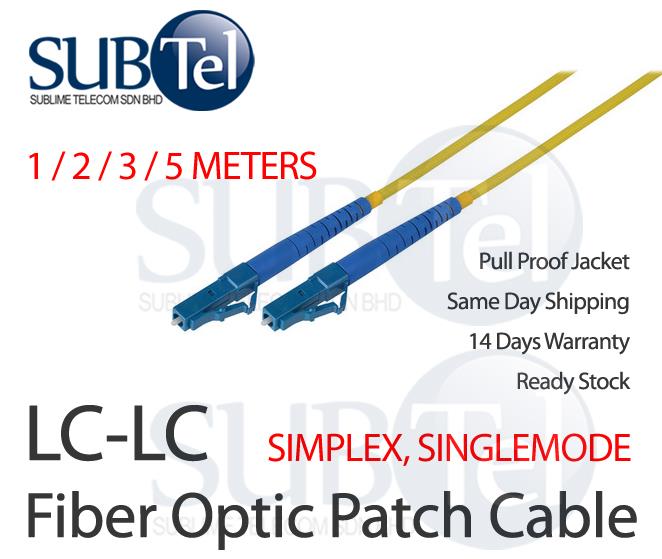 LC-LC Simplex Single Mode Optical Fiber Patch Cord Cable LAN CCTV FTTH - 1m 2m 3m 5m
Main Features
 • Low insert loss
 • Excellent repeatibility
 • Perfect interchangeability
 • High return loss
 • Pull Proof Jacket
 • Temperature balanced
 • Environmentally stable
 • ROHS Compliant
 • Suitable for applications in Telecommunications, TM Unifi, Maxis Fiber, Time Fiber, LAN, FTTH, Optic fiber sensors, Testing instruments and others
Product Description
Original LC/PC-LC/PC 9/125 Simplex LC-LC-Single Mode Optical Fiber Patch Cord (Yellow)
With LC to LC termination, this high quality fiber optic patch cable is specifically designed for gigabit ethernet applications. The patented injection molding process provides each connection greater durability in resisting pulls, strains and impacts from cabling installs.It is ideal for patching singlemode backbones to high-speed network devices and used to connect patch panels and/or network devices.The fiber Optic Patch Cable is manufactured with high quality components and fully tested to ensure reliable performance in critical applications.
Product Specifications
SenTec LC-LC-SX-SM-010/20/30/50
Condition
New
Color
Yellow
Internal layer Diameter
9/125μm 
Fiber type
Simplex
Diameter
3mm/2mm 
Length
1/2/3/5 meter
Working Temperature
-40°C ~ +75°C
Storage Temperature:
-50°C ~ +85°C 
Return Loss
≥50dB
Repeat Insert Times
1000 Times 
Humidity
<0.2(-25℃~65℃、93%)
Package Contents
LC/UPC-LC/UPC 1M/2m/3m/5m 9/125 Simplex Single Mode Optical Fiber Patch Cord
No retail box
Contact Us
PM on Lelong
Email: sublimemalaysia@gmail.com
SMS/Whatsapp: +6 016-420-5987
Update
We have ready stock at our warehouse in Kuala Lumpur!
We can manufacture custom fiber optic patch cords with lead time of 7-10 days. Please, contact us with your requirements.
We provide warranty (14 days against manufacturer defect) and best prices in Malaysia.

With our precision manufacturing equipment and our skilled workers, our fiber optic patch cables are reliable and 100% tested according to industrial and international standards, these patch cords are with flexible customization, good prices and very prompt delivery.

Contact us or click Buy Now.

How to choose the right Fiber Optic Cable Type?