Dual input lithium battery charger with 5V and 3.3V outputs
This board is a power management device with LiPO/Li-ion charger and a power supply with a DC-DC converter. The charger works with either DC wall adapter or USB.
The DC input operates from 4.15V to 16V with up to 20V protection.
The USB input has a range of 4.1V to 6.3V with up to 8V protection.
It is suitable for all Lithium cell batteries and has an end-of-charge voltage of 4.2V.
The 5V DC-DC boost converter provides a power supply output powered by either a battery or from DC and USB inputs. It can supply more than 1.2 A at 5V and provides high efficiency power conversion of more than 90%.
The 3.3V output is powered by a high efficiency XC6210 linear voltage regulator, which can supply more than 700mA.
When no DC or USB inputs are present, the output is powered by battery. It works as uninterruptible power supply (UPS). Both outputs have undervoltage protection and are turned off if the battery voltage drops below 3V. They both also have short-circuit protection.
There are two status LEDs. One is for input, the other indicates charging. The two charging resistors on the board set the currents.
Rchg sets the battery charging current and
Rin limits the overall input DC current (to reduce current draw if solar panel is used to charge the battery).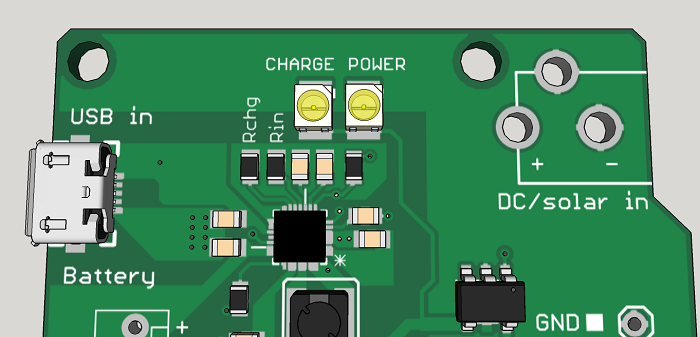 Iin limit = 1.227A
Ichg = 550mA
For other values, send us a message.
5V output max current 2000mA
3.3V ouput max current 800mA
Dimensions: 48mm x 42mm
This board combines battery management functionalities with power supply and UPS in one tiny package.
PURCHASE AND PAYMENT
· If you need the item urgently, please pay using Netpay
· Payment directly to our Maybank account or Public Bank account will have to wait until payment is cleared
· We provide combine shipping for most of the item so you can save shipping cost
· Payment must be made within 24 hours. Order not paid within 24 hours will be cancelled automatically
· Please inform about your payment to us immediately to avoid cancelation of order via SMS / WhatApps / Email
SHIPPING AND TRACKING
· Please take note that we only process the order once the money is transfer successfully and amount reflected in our account
· Payment receipt only act as indication that payment has been made
· Item will be dispatched within 2-3 working day once payment is cleared
· Order made on Sat or Sun will be sent on next working day once payment is cleared
· Order made on public holiday will be sent on next working day once payment is cleared
· Item normally dispatched from 9:00AM to 9:30AM everyday but not guaranteed
· Item send by Pos Laju with tracking number. Customer will be advised if item send by other means. Please take note that Pos Laju takes some time to update their system with the tracking number
· Invoice will be provided via email upon request
OFFICAL RECEIPT
· You can download a receipt from order page. This is a default receipt provided by Lelong
· If you require official receipt from us, please leave your request when placing the order
· We require a minimum of 5 working days to prepare the receipt
· Official receipt will be sent to your email address. We will not provide a hard copy
COD (CASH ON DELIVERY)
· COD in Butterworth area Pulau Pinang, preferably at KFC/Pizza Hut Sungai Dua
· Mon – Fri (6:00PM – 7:00PM / 9:30PM – 10:30PM)
· Sat/Sun (10:00AM – 12:00PM / 9:30PM – 10:30PM)
· Please SMS / WhatApps for meeting location & time
WARRANTY & RETURN POLICY
· 7 days warranty from the date of purchase
· Goods sold are non-refundable, we will replace instead
· Faulty item need to be returned to us for replacement within 7 days of receiving
· Item return must not shown symptom of abuse or modification from its original state
· Customer will bear the return shipping cost
· In any case of refund, the amount will exclude the original shipping cost
· No refund for item purchased and cannot be used due to configuration issues, etc. If you are not sure, please contact us before commit to purchase
· Replacement item will be sent once we received the faulty item
BUSINESS HOURS
· Our store is open 24x7
· Store closed will be announced via our announcement board
· Item order on Sat/Sun/Holiday will be processed the next working day
· Questions or queries will be dealt within the same day/next day
· For faster respond, please SMS/ Whatsapp
ABOUT US
· Questions or queries, please PM or email to us at ubitronix.inc@gmail.com
· SMS / Whatapps to 012 4288 534 (No call please)

Last Updated @ 9/4/2017 12:23:19 PM