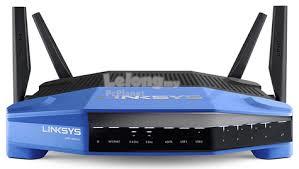 Engineered to deliver best-in-class networking performance, the Linksys WRT1900AC Dual Band Gigabit Wi-Fi Router delivers an unmatched user experience and ultimate Wi-Fi coverage for your home. We've upgraded the iconic Linksys blue-and-black design and outfitted the router with the latest Wireless-AC platform along with the industry's first four antenna configuration with a powerful 1.2 GHz dual-core ARM to provide exceptional signal strength and range to simultaneously support multiple users. We also added a unique dual eSATA/USB 2.0 and a USB 3.0 port to the Linksys WRT1900AC to conveniently connect an array of devices and experience lightning-fast transfer speeds.
The WRT1900AC features exclusive SMART Wi-Fi software to monitor and control your network anywhere and anytime. It's our first router to offer the Network Map smart tool, providing an intuitive at-a-glance view of your entire network. For advanced users who want to customize their firmware, the WRT1900AC stays true to its lineage by offering an Open WRT compatible firmware with Open Source ready capabilities that allow advanced users to expand the capabilities of the Router.
Eliminate dead zones--even in large multistory homes--with four adjustable external antennas. View larger.
To provide strong, reliable Wi-Fi coverage throughout your home, the WRT1900AC is the first router in the market to feature four external adjustable antennas that ensures your Wi-Fi signal is always at maximum strength, keeping everyone simultaneously gaming, downloading and streaming without lag. The antennas also enhance 2.4 GHz and 5 GHz simultaneous dual wireless bands performance for a strong, reliable Wi-Fi signal that eliminates dead zones even in multistory homes. The antennas can be detached for future upgrades.
Leveraging the Wireless-AC standard, the WRT1900AC delivers innovative Beamforming technology enabling the router to strengthen the wireless signal to specific devices, rather than simply sending out Wi-Fi in a general direction. Now you can experience faster network speeds, better wireless range, reduced interference from other devices, and stronger Wi-Fi connections.
With a professional-grade, 1.2 GHz dual-core ARM CPU the WRT1900AC is one of the most powerful Wireless-AC routers in its class capable of moving data at unprecedented rates in even the busiest of networks. Pushing wired and wireless speeds to their ultimate capabilities, the Linksys WRT1900AC router can easily support multiple users at once--whether they're streaming music, watching HD videos, or playing online games.
Ideal for downloading and transferring huge video/photo libaries with four Gigabit Ethernet ports, a USB 3.0 port, and dual eSATA/USB 2.0 ports. View larger.
For blazing-fast performance, we equipped the WRT1900AC with four Gigabit Ethernet ports--which are 10 times faster than Fast Ethernet to provide the fastest wired speeds. Using the USB 3.0 port, you can add external storage or other devices to share content across your network. For those with an external SATA storage device, the WRT1900AC is outfitted with a unique eSATA port for added convenience and optimal data transfer rates; it can also serve as a USB 2.0 port.
Monitor and Control Your Network--Anywhere, Anytime With the industry-leading SMART Wi-Fi software you can monitor and control a home network from anywhere, anytime using a PC or mobile device. You can set parental controls to restrict Internet access during certain times of the day and create secure Wi-Fi passwords for your guests. You can also monitor activity on your home network, add new devices, and check upload and download speeds. In addition, Linksys SMART Wi-Fi allows you to prioritize which devices on your network receive the most bandwidth to reduce lag times and buffering when you're streaming HD media or gaming. Your Linksys Smart Wi-Fi account also gives you access to apps that provide additional ways to control and interact with your home Wi-Fi network.
WRT1900AC is the first Linksys router to incorporate the Network Map tool in SMART Wi-Fi when using your SMART Wi-Fi account. Network Map provides a visual overview of your network allowing you to see all devices on your network, their online status and signal strength, and also measure how much bandwidth they're using at any time. It also allows you to create personalized identifiable names so that you can identify your connected devices.
While the Linksys WRT1900AC provides an outstanding experience via SMART Wi-Fi immediately out of the box, advanced users can further modify the router, which will have Open Source firmware available. Developed for use with OpenWRT, an open source, Linux-based operating system, the router offers an additional layer of customization to suit an individual's needs.
To keep unauthorized users from accessing your data, the WRT1900AC offers Wi-Fi Protected Setup along with WPA2 encryption and an SPI firewall for maximum network security. Parental controls enable you to restrict Internet access for children.
For router setup and Linksys Smart Wi-Fi access, the WRT1900AC requires Internet Explorer 8, Safari 5, Firefox 8, or Google Chrome. For printer sharing and user documentation, it requires a Wi-Fi-enabled PC that has a CD or DVD drive and that runs Windows XP SP3, Windows Vista SP1 or later, Windows 7, or Windows 8; or a Wi-Fi-enabled Mac that has a CD or DVD drive and that runs Mac OS X Leopard 10.5.8 or later, Snow Leopard 10.6.1 or later, Lion 10.7 or later, or Mountain Lion 10.8 or later.
WRT1900AC Dual-Band Gigabit Wi-Fi Router
4 antennas
Ethernet cable
Power adapter
Quick start guide
CD-ROM with documentation
OUR PROMISE
---
PACKAGE CONTENTS
---
What Your Purchase Includes
Linksys Dual Band Gigabit Wi-Fi Router AC1900, WRT1900AC

4 External, Dual Band, Detachable Antennas

Ethernet Cable

Quick Start Guide

Power Adapter

Power Cord
TECHNICAL SPECIFICATIONS
---
Model:

Linksys WRT1900AC

Technology:

Wireless-N & AC

Bands:

2.4 & 5 GHz

Processor:

1.2 GHz dual-core ARM-based

Antennas:

External antennas 4x

Ports:

4 x Gigabit LAN, 1 x Gigabit WAN, 1 x USB 3.0 + 1x eSATA/USB 2.0

Power Adapter:

100-240V -50-60- Hz

Storage File System Support:

FAT,NTFS,and HFS+

LEDS:

Power, Internet, 2.4 GHz, 5 GHz, LAN (10/100 Mbps or 1 Gbps), USB 3.0, USB 2.0, eSATA, Wi-Fi Protected Setup

VPN Support:

PPTP IPSec pass-through

Media Specifications:

UPnP Server

Memory: 128MB Flash, 256MB DDR3 RAM

Warranty:

1 year hardware limited warranty

OS compatibility:

Windows, Mac

Wireless:

802.11b: up to 11 Mbps, 802.11a/g: up to 54 Mbps, 802.11n (2.4 GHz): up to 600 Mbps, 802.11ac (5 GHz): up to 1.3 Gbps, Simultaneous Dual-Band 2.4 GHz and 5 GHz Next-Generation Wireless-AC Technology For Powerful Networking.

IPv6 support:

Native IPv6 and 6rd support
MINIMUM SYSTEM REQUIREMENTS
---
PC:

Wi-Fi enabled PC with CD or DVD drive, running Windows XP SP3, Windows Vista SP1, Windows 7 or Windows 8

Mac:

Wi-Fi enabled Mac with CD or DVD drive, running OS X Leopard 10.5.8, Snow Leopard 10.6.1, Lion 10.7 or later

Web Browser:

Internet Explorer 8, Safari 5 (for Mac), Firefox 8, or Chrome configuration

HD/3D Video Streaming:

Requires a minimum of 100 Mbps transfer speed, actual performance may vary
| | | | |
| --- | --- | --- | --- |
| | | | |

Come with Full New Standard Package
*3 Year Distributor Limited Warranty & Full Manufacturer Warranty*






---
How to Buy?
Method 1: Netpay
NETPAY

Recommended for online Credit Card payment only. If local bank payment please use pay direct seller.
(Total price include shipping)
---
Method 2: Direct Payment To Seller
Buyer can click on other payment method then pay direct to seller. After you had made the payment, please upload the payment detail. Buyer also can email or whatsapp us to make a order. Please follow the order format below or else order will not be proceed delivery. We dont really need the payment slip. Keep the slip upon request only.
1. Product Title:
2. Date of Payment:
3. Amount Paid (Balance if any):
4. Which bank you transfer to (Maybank / CIMB / Interbank):
5. Parcel Receiver Name:
6. Shipping address:
7. Contact Number:
Q: I can not find the "OTHER PAYMENT METHODS" to upload my payment details/banking receipts. How?
A: If you can not find the

button

for

"Other Payment Methods"

at the check-out section, please follow the

steps

below:
Step 1. Use this link to fix the Bug: http://bit.ly/2cszQAc <== (Copy and Paste, then press ENTER on your browser)
Step 2. Click "Make Payment"
Payment Method
Pc Planet IT Store Sdn Bhd
RHB Bank: 21437000042992
Bank Address : OUG
Choo Chiang Yong
Maybank: 106070491116
CIMB Bank: 8001007096
Method 3: For Walk-In Self Collect
1. Items available to buy directly at our Retail Shop but additional surcharge RM3.00 TO RM30.00 per item.
2. Credit Card payment charge extra 2.5%.

3. Cheque must be cleared before collection
4. Please call to check stock availability in store before walk-in collection.
***We apologize due to time and stock constraints, all COD/Self-collect orders require at least 1-working day for arrangement and deposit is required to confirm order***
HQ Sri Petaling

Address
:
Lot 3-079 , 3-083, 3rd Floor Endah Parade
No 1, Jln 1/149E,
Bandar Baru Sri Petaling,
57000 Kuala Lumpur

Copy and paste this link to show location
http://goo.gl/maps/bEqC6
Tel
:
03 - 9543 1050
Fax
:
03 - 9543 0753
Email
:
pcplanetitstore@gmail.com

Puchong Tesco

Address
:
Lot No 5A, 1st Floor Tesco Hypermarket
Puchong, Selangor 47100

Copy and paste this link to show location.
http://goo.gl/maps/xlJft
Tel
:
03-80706648
Email
:
pcplanetitstore@gmail.com

Bangi Kipmall
Address
:
Lot 2.29, 2nd Flr Bangi Kipmall,
No,1 Jln Medan Bangi, Off Persiaran Kemajuan
Sek 6, 43650 Bdr Baru Bangi

Copy and paste this link to show location
http://goo.gl/maps/t7k4t
Tel
:
03-8912 2852
Email
:
pcplanetitstore@gmail.com

Ampang AeonBig
Address
:
Ampang Aeon Big


Lot F1.02, Jln Putra, Tmn Dagang Permai




68000 Ampang Selangor.



Copy and paste this link to show location.
http://goo.gl/maps/jgiUV
Tel
:
03-42969871
Email
:
pcplanetitstore@gmail.com
IMPORTANT!!
-Please read our Terms Condition before making a purchase. Please do not purchase if you are not agree with our Terms Condition.
-For International shipping please make a order and we will calculate the shipping charges and update to you.
-Receipt will only be given upon request only. You can download/print invoice in your buynow order.
---
By Poslaju, Parcel Services, Gdex, Citylink, kangaroo, Skynet, Airpak Express
Pos Laju - 1-3days depends on location.
Pos Malaysia Parcel Service - 5-7days depends on location.
Gdex, Citylink, Kangaroo, Skynet, Airpak Express - 1-3days depends on location.

We do not use sea parcel because this is taking too long for delivery. Optional sea parcel for to save shipping cost.
Shipping will be done on SAME DAY/NEXT DAY once payment have been make except 1st saturday, sunday public holiday (base on POS LAJU KL working day).

Please refer to our shipping method, you may request to change shipping method.

The cost of the postage is not just the cost of a stamp, it covers: Processing, packaging, materials and delivery to sorting office

In case if the shipping date falls on a holiday, we will be shipping the item on the following day. Shipping date will mainly base on POS MALAYSIA working day (KL).

We will always ensure that all items are wrap nicely or 100% sealed by original packaging before shipping. If the item is broken seal please check your item first before you sign or call us immediately.

Please leave us a good rating after you had received your item to let us ensure that you have been received your item in good condition. Thanks
Shipping Methods
Please make sure your shipping Address and Contact are Correct
Once payment has been received we will Pick Pack Ship the products according to the Ship Within" days". Please refer to the products you purchase.
All shipment will be carefully packed to avoid damage during the transit.
Shipment is traceable during delivery.
We Use Pos Laju / Pos Daftar to Ship our Products.
POS LAJU SHIPPING FEE
http://www.pos.com.my/pos/appl/fast_mail_rate.asp
Combine Shipping?
We allowed combine shipping
Lelong system automated combine shipping. For item not over 1kg only. Lets explain with an example:-
Buyer buys 3 items using the Shopping Cart:
Item A: Shipping fee RM8
Item B: Shipping fee RM20
Item C: Shipping fee RM12
System will pick up the most expensive Shipping fee, which is RM20 in this case, and add RM3 to each additional items.
In this example, the total shipping fee will be:
RM20 + RM3 + RM3
For light below 100g and heavy/big over 1kg product, We will not follow the system automated combine shipping. We will calculate the actual shipping fees and pm to you. Shipping charge will be depends on product weight and dimension. No combine shipping available for CPU SET, ATX CASING, PRINTER, MONITOR, SPEAKER, UPS, MOTHERBOARD, DISPLAY CARD, HDD AND MORE..........
Please contact for more info about combine shipping.
You are agree to the terms and conditions when you bidding/buy on this item.
1) Due to the dynamic nature of the computer industry, description may not reflect current technical information. Any typographical or photographic errors in the product specifications or errors in the pricing or offers are subject to correction. Product accuracy will be depends on the title or product model on title.
2) All confirmed order or paid order is not final. Our management will have the rights to cancel the order and refund even you had paid.
3) Please make payment within 3 days after confirmed an order. Buyer who has dishonored payment for 3 times will be blacklisted and reported to Lelong.
4) Please allow 1 to 3 working days to prepare the product delivery after payment. A confirmation email will be sent out with the tracking number.
5) If item is out of stock (this may happen occasionally as we listing more than hundred of items, it is hard for us to control our stock), we will contact you immediately for a refund or exchange, or wait for the new stock arrive. Anyway, we may replace some similar item should you agree. A last we will refund back your money should you wish not to change or wait for the item arrive.
6) We will check and do the best to make sure the item in good condition before send out. Any inquiries please contact us through email.
7) Prices, specifications, information and availability of products are subject to change without prior notice.
1) We accept return if item is defective upon received.
2) All items comes with warranty and official receipt. Anything can contact back seller.
3) Upon receiving the items, if there is any defect/damage, please email to notify us in writing or SMS within a day upon receiving the shipment. Otherwise NO defect/damage claim will be allowed.
4) Buyer shall bare on all courier charges if parcel was rejected or failed delivery by courier company.Transportations of goods and all costs incurred will be borne by the purchaser.
5) We will not accept return of product(s) that are been used, not compatible with your system configuration or damaged during shipment. Only manufacturer defect is accepted.
6) Shipping and handling charges, insurance and other fees are not refundable in any case. Please keep all packing material and documentation in the event of your equipment that has to be serviced, repaired or returned. The buyer holds the responsibility for the package until it arrives at our location.
7) Goods sold are not refundable or exchangeable.
8) The warranty may not apply or void if:
a) All warranty will be immediately invalidated if unauthorized repairs are made or attempted by unauthorized personnel or the documents have been altered in any way or made illegible or the model or production number on the product has been altered, deleted, removed or made illegible.
b) This warranty does not cover accident, misuse, incorrect line voltage, improper installation, transport damage, altered serial number, connection to non compatible hardware and the like.
c) This warranty does not cover customer self physical damage.
d) We shall not be liable for any indirect, special or consequential damage (including without limitation any loss of profits) arising from use of the product purchased or any breach of this warranty.
e) Defects caused by abuse or misuse of the product.
f) Transportations of goods and all costs incurred will be borne by the purchaser.
g) If customer is unable to provide the Proof of Purchase.
9) Seller will not responsible for lost and damaged during delivery by courier service. All claims of damage/lost in transit will inform the buyer if the claim is successful. However, buyer has the right to claim from the courier company.
10) PCPLANET IT STORE SDN BHD reserves all rights to changes without prior notification.
Average Product Rating
0.0 stars out of 5
| | | |
| --- | --- | --- |
| 5 star | | 0 |
| 4 star | | 0 |
| 3 star | | 0 |
| 2 star | | 0 |
| 1 star | | 0 |
Share your thoughts with others
Write a review
Only buyers who purchased the product may leave a review