Item Specification
Product Description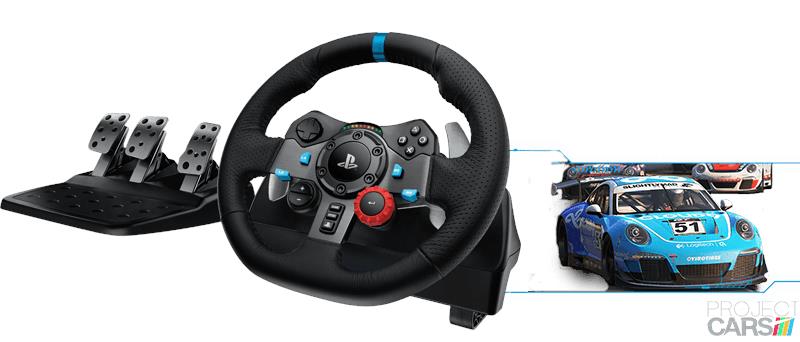 G29
DRIVING FORCE
RACING WHEEL FOR PLAYSTATION 3 AND PLAYSTATION 4
FEATURES
FOR PLAYSTATION 3 AND PLAYSTATION 4
Enhance your console experience
You will never want to race with a regular controller again after you add Driving Force to your controller selection.

G29 game steering wheel is designed for the latest racing games for your PlayStation®4 or PlayStation®3 console. G29 Driving Force also works on your PC using Logitech Gaming Software.

Download Logitech Gaming Software
DUAL-MOTOR FORCE FEEDBACK
Feel every weight shift, and tire slip
Feel your tires on every turn and type of terrain, sense under- or over-steer drifting and more. Powerful dual-motor force feedback realistically simulates force effects so you can respond with precision.
QUALITY CONSTRUCTION
Race-ready materials that can handle it all
Driving Force handles the stress of racing action and is built for long-lasting reliability. G29 has solid steel ball bearings in the wheel shaft and stainless steel paddle shifters and pedals. The race wheel is covered in high-quality, hand-stitched leather, giving it the look and feel of a high-performance racecar wheel and giving you a more comfortable, durable experience.
HELICAL GEARING WITH ANTI-BACKLASH
Tight, smooth, precise control
You get an exceptionally smooth, quiet steering action. Helical gears are modeled after gears used in automotive transmissions to reduce unwanted noise and vibration. Anti-backlash keeps the wheel and pedals tight, maximizing your control. G29 Driving Force Racing Wheel features a long lasting, reliable hall-effect steering sensor, using magnetic fields to sense the position of the wheel.
EASY-ACCESS GAME CONTROLS
Control right at your fingertips
All your controls are where you can reach them. The D-Pad, buttons and paddle shifters are incorporated into the racing wheel. LED indicator lights positioned just above the center of the wheel tell you exactly when to up- or down-shift. You maintain maximum acceleration without taking your eyes off the track. A 24-point selection dial and the +/- buttons on the front of the wheel let you further fine-tune your driving preferences.
RESPONSIVE FLOOR PEDAL UNIT
Adjustable for maximum control
Maintain a more realistic driving body position with the separate floor pedal unit with integrated throttle, brake, and clutch pedals. G29 Driving Force lets you comfortably accelerate, brake and change gears with the feel of an actual car.

The nonlinear brake pedal mimics the performance of a pressure-sensitive brake system for a more responsive, accurate braking feel. For even finer control, reposition the pedal faces to make heel-toe maneuvers easier to perform.

Rubber feet for hard surfaces and a patented retractable carpet grip system help your pedals stay right where you put them.
MOUNTS SECURELY
Performance that stays where you want it
Drive fearlessly knowing the wheel won't shift during aggressive maneuvers. The racing wheel mounts securely to your table or racing rig via built-in clamps or screw mounting points.

Take your racing to the next level with a Playseat® racing simulation cockpit.
900° STEERING
For realistic turns on the track
The 900-degree lock-to-lock rotation of the G29 Driving Force means you can turn the wheel two and a half times. It's the same degree of motion as a steering wheel inside a car.
STEERING WHEEL STRIPE
Stay oriented in the right direction
Easily see if your steering is dialed in using a visual cue within your peripheral vision. The steering wheel stripe is a visual indicator of which direction the wheel is pointing.
GAME COMPATIBILITY
To ensure compatibility, we work closely with game developers to ensure compatibility with our wheels. To see a list of tested games,click here.
SPECIFICATIONS
PART NUMBER
941-000110
WARRANTY INFORMATION
2-Year Limited Hardware Warranty
SYSTEM REQUIREMENTS
Playstation®4 or Playstation®3
Powered USB port

OR

Windows® 8.1, Windows 8 or Windows 7

Powered USB Port
Internet connection and 150MB hard drive space (for optional software download)
Games that support Logitech® force feedback racing wheel
PACKAGE CONTENTS
Steering wheel
Pedals
Power adapter
User documentation
PHYSICAL SPECIFICATIONS
Wheel

Height: 270 mm (10.63 in)
Width: 260 mm (10.24 in)
Length: 278 mm (10.94 in)
Weight without cables: 2.25 kg (4.96 lb)

Pedal

Height: 167 mm (6.57 in)
Width: 428.5 mm (16.87 in)
Depth: 311 mm (12.24 in)
Weight without cables: 3.1 kg (6.83 lb)
TECHNICAL SPECIFICATIONS
Software Support (at release): Logitech Gaming Software
Connection Type: USB
USB VID_PID: 046D_C24F (PC Mode)
USB Protocol: USB 2.0
USB Speed: Full Speed
Indicator Lights (LED): Yes

Wheel
Rotation: 900 degrees lock-to-lock
Hall-effect steering sensor
Dual-Motor Force Feedback
Overheat safeguard

Pedals
Nonlinear brake pedal
Patented carpet grip system
Textured heel grip
Self-calibrating

Materials
Wheel spokes: Anodized aluminum
Wheel cover Hand-stitched leather
Steering shaft: Steel
Shifter paddles: Brushed stainless steel
Mounting clamps: Glass-filled nylon
Pedal frames and arms: cold rolled steel
Pedal faces: Brushed stainless steel
Pedal piston sleeves: Polyoxymethylene thermoplastic (POM)
GAME COMPATIBILITY
| PLAYSTATION®4 | PC |
| --- | --- |
| F1 2015 | Assetto Corsa |
| Drive club | F1 2015 |
| Project Cars | Project Cars |
| Dirt Rally | Dirt Rally |
| | iRacing |
| | Eurotruck Simulator 2 |
| | Need for Speed Hot Pursuit |
| | rFactor 2 |
| | Grid Autosport |
| | Shift 2 Unleashed |
| | American Truck Simulator |
| | Need For Speed 2016 |

Last Updated @ 5/17/2018 10:58:22 AM
Buy with confidence
| | | | |
| --- | --- | --- | --- |
| Buyer | Item ID | Date | Ratings |
| ei**** | 199235774 | 7/19/2018 5:06:00 PM | - |
| ei**** | 195857434 | 7/18/2018 6:06:00 PM | - |
| ga**** | 195485128 | 7/18/2018 10:08:00 AM | - |
| jo**** | 195496745 | 7/17/2018 5:57:00 PM | - |
| me**** | 205714529 | 7/17/2018 1:51:00 PM | - |
| ne**** | 205638192 | 7/16/2018 9:30:00 PM | - |
| tc**** | 205638192 | 7/14/2018 6:05:00 PM | Installed it and it works well. Expected. Great product. |
| te**** | 195496745 | 7/14/2018 2:07:00 PM | Good Service , arrive at expected time , genuine product , fair price , well done , keep the service like that |




















---
Please Go Through @ Read This Carefully; It Contains Very Important Information About Your Rights And Obligations, As Well As Limitations And Exclusions That May Apply To You Behalf Of This Purchase.

*Goods Sold / Paid / Delivered Are Not Refundable, Returnable And Exchangeable. All Items Sold Carried 1 Year In-House Warranty. Extended Warranty By Manufacturer Or Distributor After The First Year, Processing And Delivery Charges Will Be Imposed. Cancellation Fee (20%) Will Be Imposed On Orders Which Customer Require Refund Under The Condition Of Last Minutes Cancellation
*Deposit For Advance / Pre Order Is Not Refundable. Transportation / Courier Of Goods / Orders And All Cost Will Be Borne By Purchaser. For Self Collect Order, Shipping Fee Is Non-Refundable
*Buyer / Purchaser Bear The Risk For Postage / Courier Orders. Mishandling, Damaged Or Missing Parcels / Orders Are To Be Claimed With Respective Courier Company According To Their Term And Condition (Insurance Is Optional For Item Value More Than RM500 For Extra Liability Coverage)

*Please Keep Any Purchase Receipt For Warranty Purposes. Dotatech IT Enterprise Holds To The Right To Reject Any Claim Without The Presence Of Purchase Receipt. Please Request Our Official Tax Invoice In Case You Didn't Receive Them Within 7-Working Days Of Purchase FOC. In Case You Lost Or Misplaced The Invoice After That, Penalty RM15 Will Be Imposed To Reissue The Document

*Warranty On All Products Sold Is Considered Null And Void Under Any One Of The Following Conditions:

1) Warranty Claim Do Not Come With Original Proof Of Purchase/Receipt.
2) Warranty Seal/Sticker Is Tear, Broken Or Tempered.
3) Misuse, Mishandling, Natural Disaster Or Unauthorized Disassembly.
4) Burn Mark Or Any Physical Defect/Damage Caused By End User Or During Deliver / Postage / Courier.
5) Modification, Personal Repair Or Excessive Over Clocking Resulting Malfunction.
*Please Check Carefully When You Send In Defective Part(s) For RMA/Warranty. If We Checked The Product Are Issue-Free, Handling and Service Charges Incur Starting From RM35.
**DoTaTech is not liable for any loss or corruption of data of your confidential, proprietary or personal information. You are advise to back up all your data before bring in the hardware/system for repair.

**All system that send in for services are at YOUR OWN RISK.

**DotaTech will not charge any charges to customer for the any hardware service/inspection within the one (1) year warranty period excluding courier charges for outstation buyer. Charges shall applied to the customer after one (1) year period and hardware that not purchase from Dotatech including handling and delivery fees.

**All defective products that need one to one exchange within 7 days from the date of purchase are depends on stock availability and condition of the particular items.
**Please Check Carefully When You Send In Defective Part(s) For RMA/Warranty. If We Checked The Product Are Issue-Free, Handling and Service Charges Incur Starting From RM35


DotaTech reserves the right to revise, amend or modify this terms of conditions at any time and any manner without prior notice and shall not responsible for any unlicensed software that comes with hardware/system.

Hardware/System after repair that have not claimed within the sixty (60) days after being notified, it will consider your system abandoned . We may dispose of your system without any prior notice to you .
Questions & Answers
Do you have any questions to ask merchant about this product
Ask Seller
| | | |
| --- | --- | --- |
| 5 star | | 0 |
| 4 star | | 0 |
| 3 star | | 0 |
| 2 star | | 0 |
| 1 star | | 0 |
Share your thoughts with others
Write a review
Only buyers who purchased the product may leave a review