Item Specification
Product Description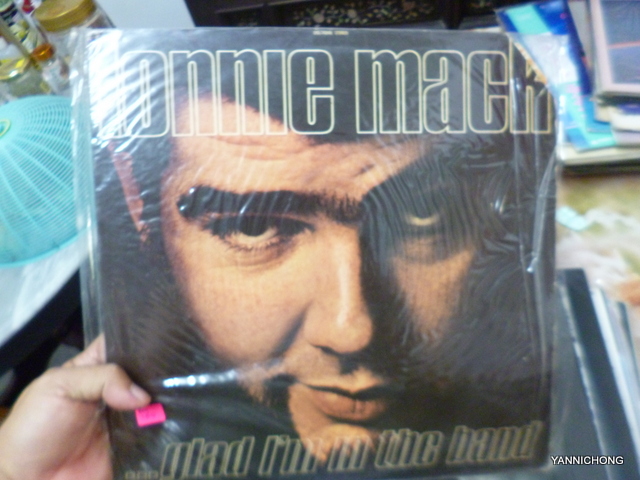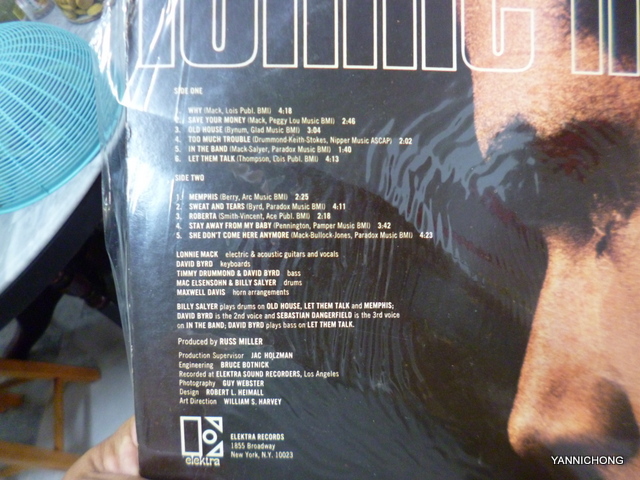 LONNIE MACK ALBUM GLAD I'M IN THE BAND BLUES VINYL
US PRESSING EX CONDITION
Lonnie McIntosh (July 18, 1941 – April 21, 2016), known as Lonnie Mack, was an American singer-guitarist. He performed and recorded in a broad range of popular genres, including roots-rock, blues, R&B, country, gospel, bluegrass, and soul. He is most widely recognized, however, as an influential pioneer of blues-rock music and rock guitar melodic soloing.
Mack emerged in 1963 with the LP, The Wham of that Memphis Man.[1] The album earned him lasting renown as both a blue-eyed soul singer[2] and a rock guitar innovator.[3] In the album's instrumental tracks, Mack introduced "edgy, aggressive, loud, and fast" blues melodies and runs to the chords-and-riffs format of early rock guitar.[4] These tracks elevated the standard for rock guitar proficiency[5] and led early in the electric guitar's rise to the top of melodic soloing instruments in rock.[4] As the 1960s progressed, Mack's guitar style served as a prototype[6] for lead guitarists of two new genres, blues-rock[7] and its stylistic cousin, Southern rock.[8]
Shortly after the album's release, however, the massively popular "British Invasion" hit American shores, and Mack's career "withered on the vine".[9] He marked time until 1968, when Rolling Stone magazine rediscovered him and Elektra Records signed him to a three-album contract. He was soon performing in major venues, but his multi-genre Elektra albums downplayed his blues-rock appeal and record sales were modest.[10] Mack left Elektra in 1971. He spent the next fourteen years as a low-profile country music recording artist, roadhouse performer, sideman, and music-venue proprietor.[11]
In 1985, Mack resurfaced[12] with a successful blues-rock LP, Strike Like Lightning, a promotional tour featuring celebrity guitarist sit-ins,[13] and a concert at Carnegie Hall with guitarists Roy Buchanan and Albert Collins.[14] In 1990, he released another well-received blues-rock album, Lonnie Mack Live! Attack of the Killer V,[15] then retired from recording. He continued to perform, mostly in smaller venues, until 2004.[1]


---
PAYMENTS THRU MAYBANK TRANSFERS, OVERSEAS BUYER , PAYPAL OR WESTERN UNION.FOR OVERSEAS BUYER PLEASE CONFIRM WHICH TYPE OF PAYMENT.
DELIVERY THRU POSLAJU , FOR LOCAL TOWN , P. MALAYSIA CHARGES ARE RM9. 00 AND EAST MALAYSIA IS RM11.00 FOR NORMAL BELOW 500 GRAMS MAILING. ABOVE 501 GRAMS , POS LAJU CHARGES ARE AS ACCORDING TO POS LAJU RATES.
FOR OUT SIDE MALAYSIA , SHIPPING CHARGES AS ACCORDING TO POST OFFICE .
PLEASE DO INQUIRE , COMMUNICATE WITH ME , IF YOU ARE NOT SURE ABOUT THE ITEMS, OR ANY MATTER BEFORE BIDDING.I WILL REPLY YOU ASAP.
FOR EXPENSIVE OLD AMULETS , PLEASE MAKE VERY SURE YOU KNOW THE ITEM AND YOU UNDERSTAND THOROUGHLY WHAT YOU ARE BIDDING FOR.
ANY QUESTIONS PLEASE ASK .