M4 Lock Receiver with 4 Keys Wireless Remote Control, 2262/2272 Four Ways Wireless Remote Control Kit
2262/2272 Four Ways Wireless Remote Control Kit,M4 the lock Receiver with 4 Keys Wireless Remote Control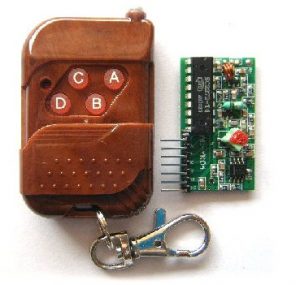 Specification:
Operating voltage (V): DC5V

Quiescent Current (mA): 4.5MA

Modulation: AM (OOK)

Operating Temperature: -10 ° C to +70 ° C

Receiver sensitivity (dBm):-105DB

Operating frequency (MHz): 315 MHz (266-433MHZ frequency segment can be optional)

Encoding: the pad code (fixed code)

Dimensions (L * W * H): 41 * 23 * 7mm
Working: M4 (Jog: Press and hold let go on the output, let go to stop the output), L4 (interlock: four at the same time there can be only one output), T4 (self-locking: four independent outputs are not mutually the impact of click output and then click stop output)
Product Features:
The super-regenerative receiver module using the LC oscillator circuit containing amplifier shaping, the output data signal is decoded high signal, extremely easy to use and inexpensive, so widely used. With four decoder output (can be changed to six-way jog or interlock output), easy to use; frequency debugging easy, short lead times; consistency of product quality, cost-effective.
Receiver module has a wide receiver bandwidth, typically ± 10MHz, factory general tone in the 315MHz (if there are special requirements for adjustable frequency, the frequency adjustment range is 266MHz to 433MHz.) The receiver module is generally DC5V power supply, and any special requirements to adjust the voltage range.
Pin and instructions for use:
Prior to use to connect the 50 ohm 1/4 wavelength antenna, and antenna should be straight in order to achieve the best reception, wavelength = speed of light / frequency.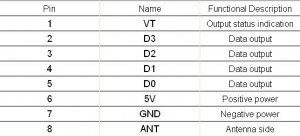 Remote control
Operating voltage: DC12V ( 27A/12V a battery)

Operating Current: 10mA _AT_ 12V

Radiated power: 10mw _AT_ 12V

Modulation: ASK (Amplitude Modulation)

Transmitter frequency: 315MHZ (, SAW frequency stabilization)

Transmission distance: 50-100M (open, receiving device sensitivity for a negative of100dbm )

Encoder types: fixed code

Size: 6.6 * 22 * 41mm
With decoding receiver board
The operating voltage of DC5V receiver sensitivity is -98db . 7 a pin, are VT , D3 , D2, D1 , D0 , +5 V and GND . VT is a valid signal high output pin Upon receiving a valid signal, the pin output high, may also drive the relay.
The remote control has four buttons, respectively, corresponding to the four data bits to the receiving board output pin D0 , D1 , D2 , D3 . Press the buttons transmit signals, the corresponding data bit is output high