This machine is a cleaver piece of engineering that makes it exceptionally easy to churn out tablets at a low cost and in almost any location that has a flat working space. The design is compact and eminently storable when not being used, yet it is highly effective in operation. Stable, surprisingly efficient in its conversion of manual energy into tabletting pressure, and simple to maintain, this is the ideal tablet press for small scale tabletting where the cost and space associated with larger machines cannot be justified. Yet it produces excellent tablets that are strong and durable.
Parameter:
1.Max.pressure(kN):15
2.Max.depth of fill(mm):12
3.Thickness of largest tablet(mm):6
4.Net weight(kg):26
5.Production capacity(pcs/min):30-60
Description:
Our Tablet Press is an advanced, manually operated table pill press that is able to press round tablets up to 6,8,10,12mm diameter thick without the need for electrical power.
Thanks to its compact dimensions, light weight and manual operation  is popular in applications that require portability and simplicity of use, including field applications and on work carried out on location.
With interchangeable dies and a useful 15 Kn of pressure, it makes it easy to produce high quality tablets for use in universities, hospitals, laboratories and research institutes in the pharmaceutical, food and chemical industries. It is also ideal for any user who needs for pressing different kinds of granular raw materials into tablets. It is applicable to trial manuafacturing in lab or batch production in small amount of milk tablets, calcium tablets, medicine tablets... 
Main benefits :
Small and light weight, making it far more portable than electric powered tablet presses
Advanced engineering makes it easy to produce high quality tablets without electricity
Up to 12mm diameter round tablets
Easy to use and maintain
Interchangeable dies
Well engineered, reliable machine for a wide range of applications
With no ongoing expenses beyond the occasional drop of lubricating oil, it is highly cost effective. Yet it can take a wide range of dies, and produce properly compacted tablets of a high standard.
Before using the machine, you might imagine that it would require a lot of effort, but nothing could be further from the truth. Once you have installed the die and filled the machine with powder you simply crank the handle. It only takes a modest amount of effort, yet produces first rate tablets. It is easy enough to turn out twenty tablets a minute, and with a little practise you can readily manage forty a minute.
If you want to adjust the tablet thickness or hardness , both are easy to achieve with just a couple of movements. 
This machine is used to press all kinds of granular raw materials into tablets, as well as is used widely in making small lots of tablets, sugar tablets, calcium tablets and heterogeneous tablets in pharmaceutical, chemical industry, foodstuff factory and science research unit of hospital, etc. 
Raw materials criteria that suitable for pill pressing:
1. Dry powder: Raw materials should be dry powder with moisture content within 5% and below
2. Fluidity: Raw materials should have good fluidity, ideal particles fineness is within 20-60 mesh
3. Low grease content: High grease content raw material is hard to press it into a fix shape, so materials should have low grease content
4. Adhesion: Raw materials should have good adhesion so powder can stick togther after pressure. You can add eg: maltodextrin, starch, sugar...to increase adhesion 
Note:
- This product will ship by standard sea shipping, delivery time is 20-30 days after payment
- If you need customise mold/die, please message us
Package included:
1x Manual Tablet Pressing Machine (with 1 round mold size 6/8/10/12mm by your optional)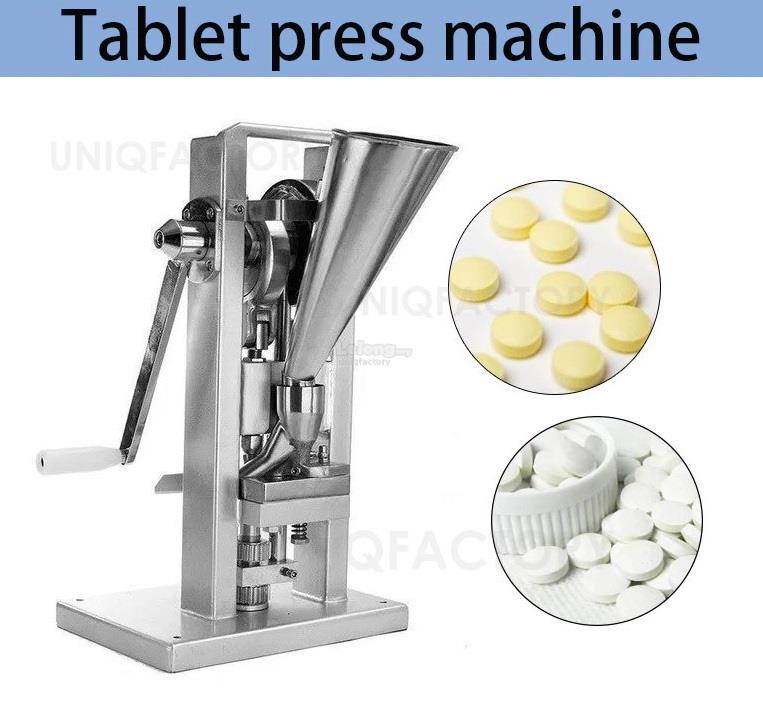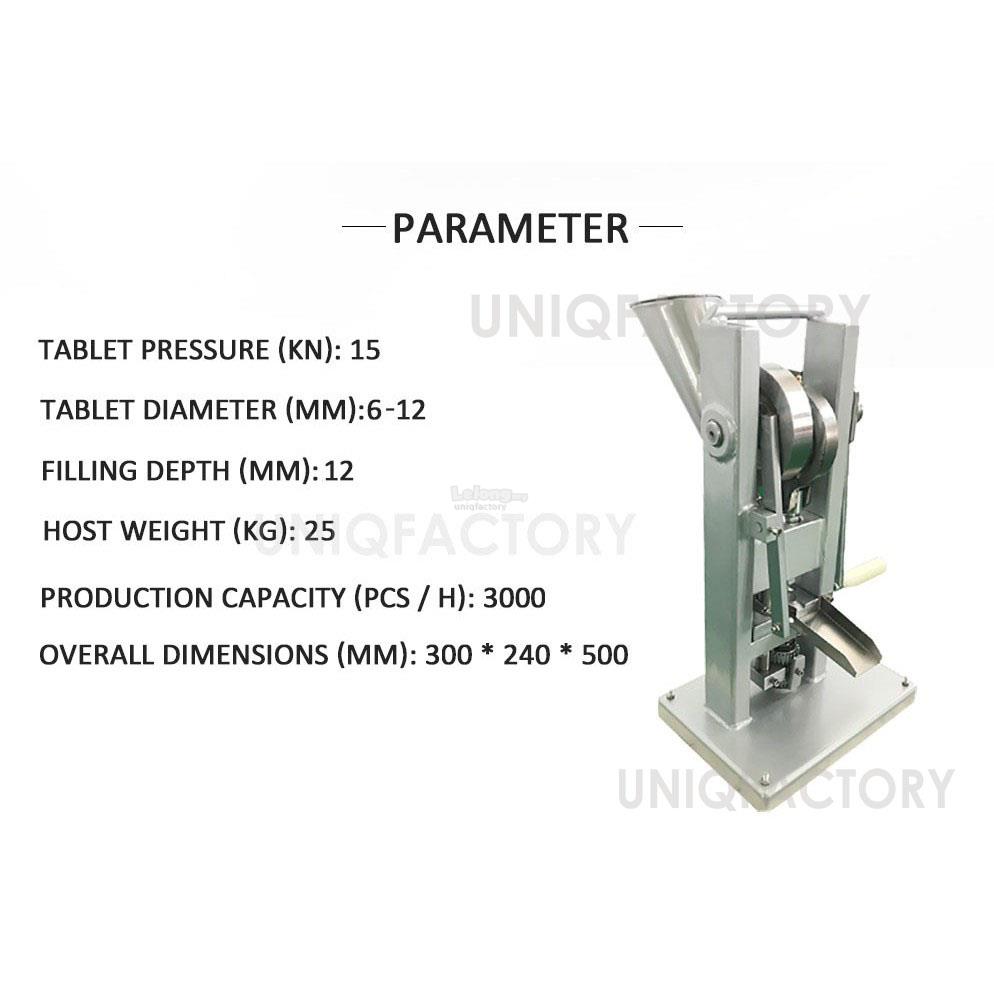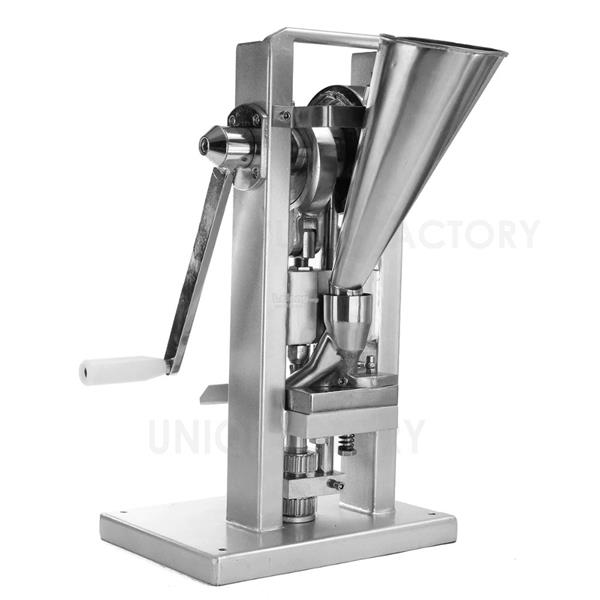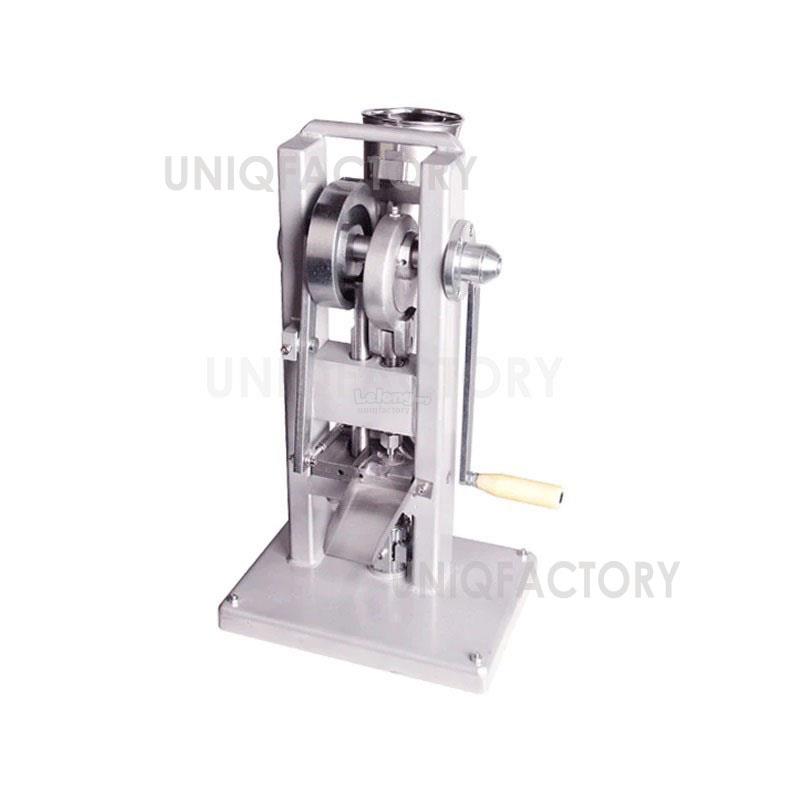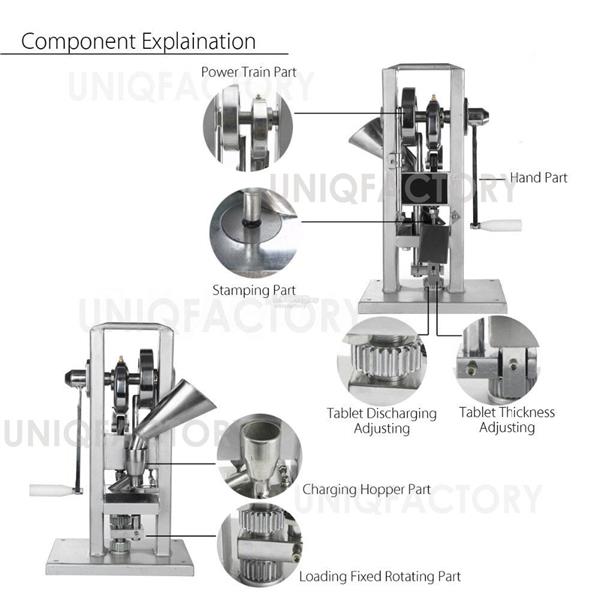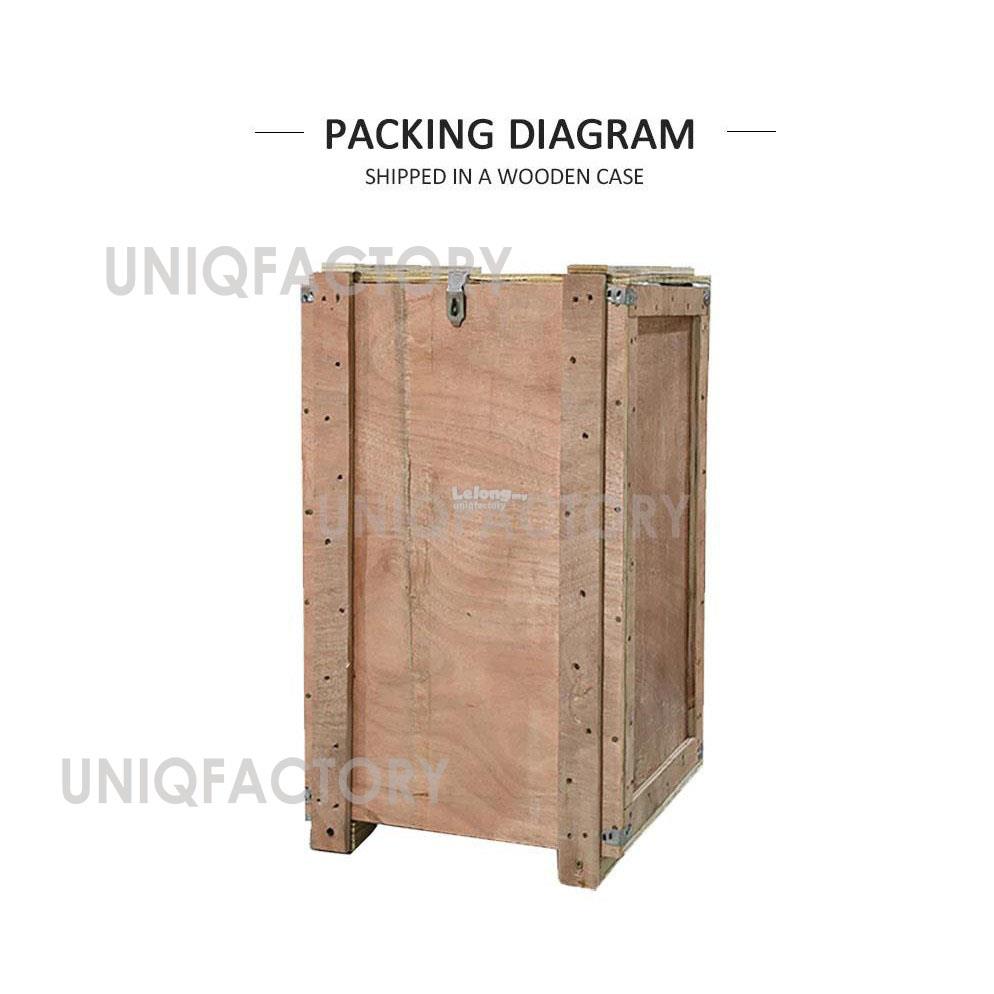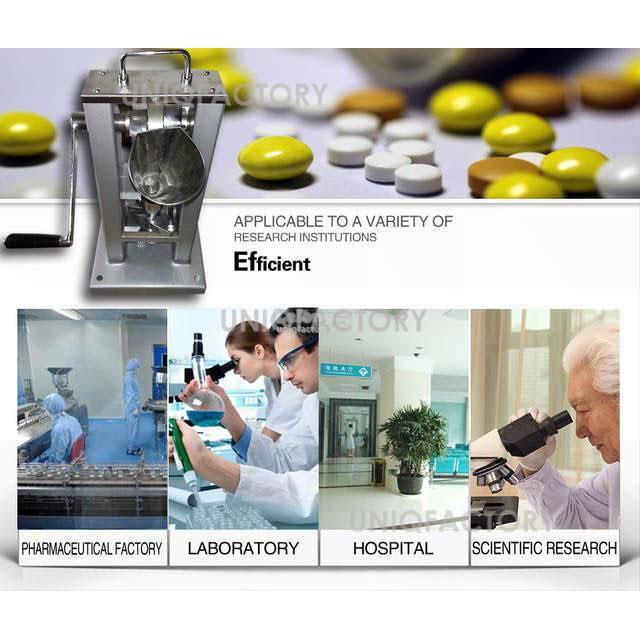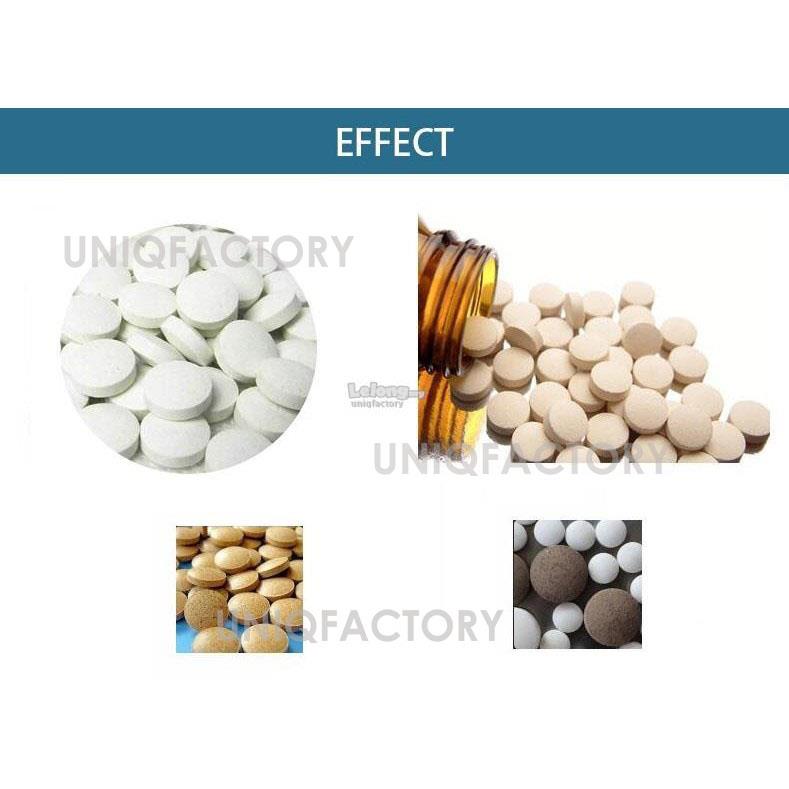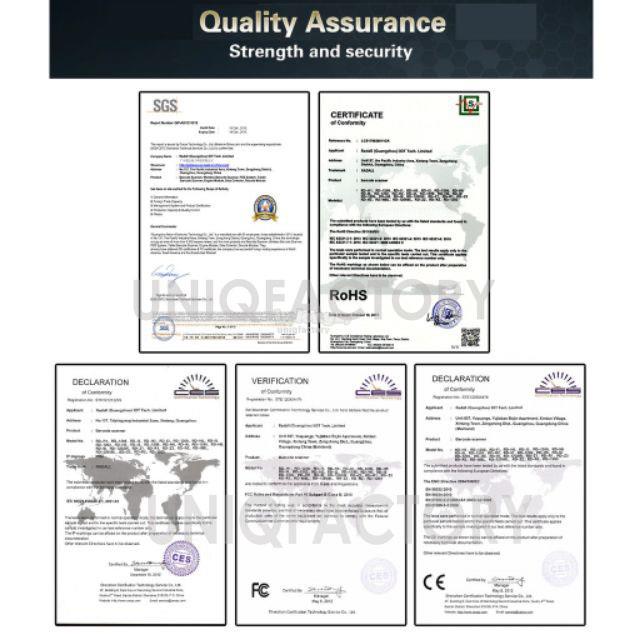 Last Updated @ 10/10/2020 12:48:04 PM