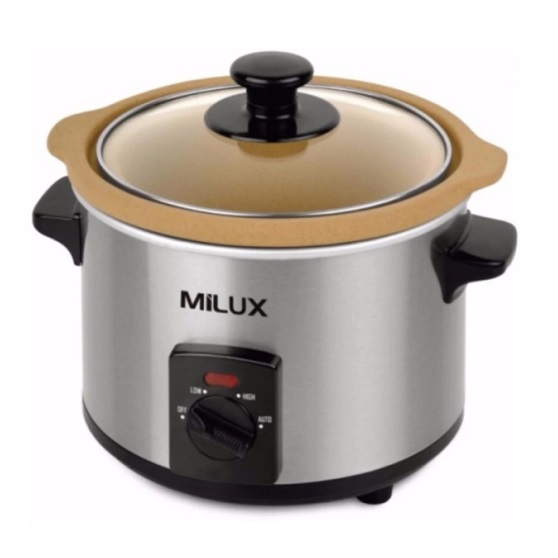 <p><span style="font-size:14px"><span style="font-family:trebuchet ms,helvetica,sans-serif">Milux Ceramic Slow Cooker Description :</span></span></p> <ul> <li><span style="font-size:14px"><span style="font-family:trebuchet ms,helvetica,sans-serif">Capacity - 1500ml</span></span></li> <li><span style="font-size:14px"><span style="font-family:trebuchet ms,helvetica,sans-serif">Power : 120w</span></span></li> <li><span style="font-size:14px"><span style="font-family:trebuchet ms,helvetica,sans-serif">Voltage : 220-240V~50/60Hz</span></span></li> <li><span style="font-size:14px"><span style="font-family:trebuchet ms,helvetica,sans-serif">100% Ceramic Inner Pot </span></span></li> <li><span style="font-size:14px"><span style="font-family:trebuchet ms,helvetica,sans-serif">Low/ High/ Auto Heating Selection</span></span></li> <li><span style="font-size:14px"><span style="font-family:trebuchet ms,helvetica,sans-serif">Transparent Glass Lid</span></span></li> <li><span style="font-size:14px"><span style="font-family:trebuchet ms,helvetica,sans-serif">Multi-Functional for Stew, Soup, Porriage and etc</span></span></li> <li><span style="font-size:14px"><span style="font-family:trebuchet ms,helvetica,sans-serif">Detachable for easy cleaning</span></span></li> <li><span style="font-size:14px"><span style="font-family:trebuchet ms,helvetica,sans-serif">Net Weight 2.33kg</span></span></li> <li><span style="font-size:14px"><span style="font-family:trebuchet ms,helvetica,sans-serif">Measurement - 23.3cm x 20.8cm x 20.2cm</span></span></li> </ul>

---
Delivery Charges are calculated as follows:
Peninsular Malaysia
0-1kg RM 8
Each additional 1kg or part thereof - RM 2
Sabah/Sarawak/Labuan
0-1kg RM 12
For more than 1kg, each additional 1kg or part thereof - RM 11
All goods delivery will be done through appointed courier services. Sorry that NO Cash On Delivery is available.
Delivery time is subject to stock availability and orders load. Orders will be delivered to you within 2-7 working days after the payment has been confirmed (Not counted from the date of order). The arrival date of all orders is only an estimation and subject to change from time to time due to many unforeseen circumstances which might occur from time to time before or during the delivery that are not within our control. Sorry that there is no same day delivery. So, please plan your order accordingly.
If you have queries regarding the delivery zones and charges, please give us a private message for more information. For item which does not stated its shipping fee (especially International Shipping), please drop us a private message (item interested and destination place) so that we could help you to arrange cheapest possible shipping fee.
Please be informed that we will not be able to accommodate on the time of delivery because we engage the courier company to deliver all our orders. The courier company will not call you unless needed. Please do not expect a call from Courier Company before the delivery. However, we will do our best to service your request.
We encourage our buyers to do Combine Shipping- It saves you even more!
We calculate combine shipping by adding up the item weights. Please see example below:
Eg:
Item A - 0.5kg
Item B - 0.3kg
Item C - 0.7kg
Total weight = 1.5kg
If your location is within peninsular malaysia,
Without combine shipping, delivery charge is RM 24
With combine shipping, deliver charge isRM 10 for 3 items!! You save RM 14!
SO, THE MORE YOU BUY, THE MORE YOU SAVE!!
Information Disclaimer

PotsKitchenware tries our best effort to ensure the accuracy of the information contained in Lelong. However, PotsKitchenware does not warranty accuracy of the information, and no liability or responsibility is assumed for any errors or omissions in its contents. PotsKitchenware reserves the right to change product(s), product detail(s), and availability, prices at any time without prior notice or obligation. We apologize for any inconvenience caused.
Comment
The comments stated in product details are just owners' personal opinion or based on customers' reviews, and may differ from yours. We hope the suggestion could help our customer to make decisions. The comments do not carry any discrimination or obligation as the final decision is still up to our valued customers. There is no intention to damage/ tarnish the reputation of any said brand.
Emails

Kindly note that PotsKitchenware is extending our extra service to assist customers enquiries via email. While we strive to keep the replies accurate, complete, and up-to-date, PotsKitchenware cannot guarantee, and is not responsible for the accuracy, reliability of any opinions, advice or statements made in emails.
PotsKitchenware shall have the right at any time to change or modify these terms and conditions, or any part thereof, or to impose new conditions. Such changes, modifications, additions or deletions shall be effective immediately upon notice thereof, which may be given by any means including, but not limited to, posting online. Your continued use of this Site after such notice shall be deemed to constitute your acceptance of such changes, modifications or additions.
Privacy Policy
PotsKitchenware is committed to protecting the privacy of our online customers. We guarantee that our customer database will not be sold or marketed for any reason whatsoever to third parties. Any discretionary information submitted is handled with utmost care and urgency, and will be treated with due respect even in administrative representation. We limit access to personal information about you to employees who we believe reasonably need to come into contact with that information to provide products or services to you or in order to do their job. We will not send you any unsolicited e-mail
Indemnification

You agree to defend, indemnify and hold harmless PotsKitchenware and its affiliates and their respective directors, officers, employees and agents from and against all claims and expenses, including legal fees, arising out of your use of this Site.
Prices

All prices displayed for the products on PotsKitchenware represent the recommended retail price by the manufacturer or supplier.
PotsKitchenware reserves the right to make adjustments to any published price of any product due to input error, product discontinuation, and stock clearance, under the instruction of manufacturers and distributors, and errors in advertising.
Return Policy

We accept return for damaged items only. Kindly email/contact us within 3 days of receiving your items if you wish to return the item purchased. We will issue you a Product Return Confirmation Email and the return items must reach us within 10 days from the date of the Product Return Confirmation Email.

The following conditions apply:-

1. We will issue you PotsKitchenware cash voucher via email for the returned item based on the product purchase price. Please note that we will deduct a 25% restocking fee for the returned item.

2. Returned item must be in complete and original packing. Item returned in stained, washed, or used condition will NOT be eligible for return.

3. Delivery charges are not refundable and if your items were shipped with free shipping, we will deduct the shipping charges from your refund.

4. Delivery cost incurred for returning the item will be borned by the customer. Re-shipping charges for exchanged item(s) will be applied.
Damage Items
PotsKitchenware will check item(s) before delivering them to customers to ensure everything is in good condition. However, if you find that item(s) delivered to you is (are) damaged, broken or defective, kindly contact us within 3 days of receiving the product(s). We will either replace the broken part if possible or deliver a new one completely at our cost only after receiving the damage item(s) from you within 10 days. Please pack the damage products/parts and courier it back to us for investigation before we replace the item to you. Simply email us and we will do everything possible to rectify the problem and make your shopping experience a positive one.We will only exchange for damaged products.
Warranty
PotsKitchenware minimize the trouble of sending the product back for warranty by selling and distributing good quality products. Please refer to the guidelines or manuals that come with the product before usage so that the product is properly installed to ensure it reaches the maximum performance. If you find any problem in using the product, you are most welcomed to contact us for guidance.
For items under warranty with warranty card, kindly refer to the details of the importer / manufacturer for warranty claim. We extend our service to assist you in sending back to our supplier on warranty but it will take longer time. Please understand that it will take more than 15 working days as this involves 4 times of shipping.
Average Product Rating
0.0 stars out of 5
| | | |
| --- | --- | --- |
| 5 star | | 0 |
| 4 star | | 0 |
| 3 star | | 0 |
| 2 star | | 0 |
| 1 star | | 0 |
Share your thoughts with others
Write a review
Only buyers who purchased the product may leave a review