Product ID : 213367093
Model / SKU : AAR-AA-B2SEBATT
Warranty : 1 Week(s)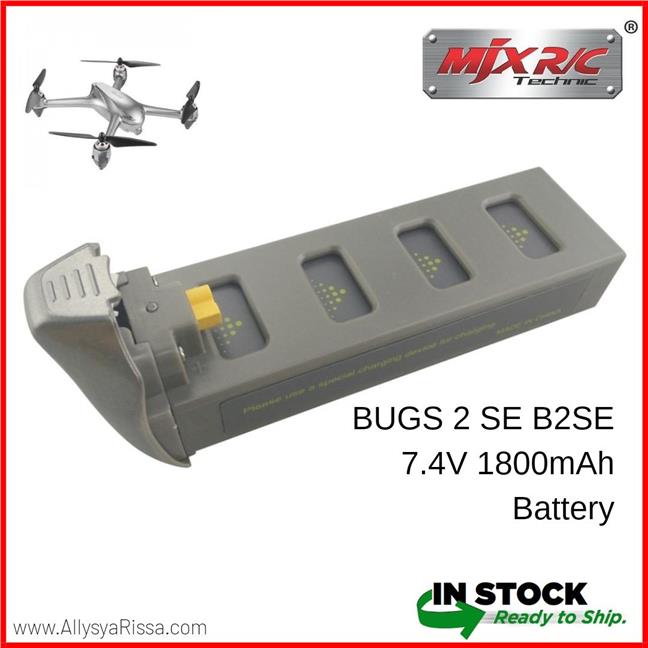 Description:
Brand: MJX
Item Name: 7.4V 1800mAh 25C Lipo Battery
Flight Time: About 16-17 minutes
Charging Time: About 5h
Usage: For MJX Bugs 2 SE B2SE RC Drone
Package Included:
1 x Battery
Note:
New & never use
Give cheap price due to selefon tape got sticked and cannot clean (refer picture)



















---
Bahasa Malaysia
1) Kami menggalakkan anda mengunakan khidmat

untuk pembayaran yang mudah, tetapi anda masih boleh mengunakan perbankan atas talian yg biasa.
2) Kami akan batalkan pesanan jika tidak menerima bayaran selepas 3 hari pesanan dibuat.
Untuk perbankan atas talian:
Sila masukkan alamat e-mail lelong@allysyarissa.com
Sila masukkan order ID untuk rujukan dan proses segera
---
English
1) We encourage you to use

for ease of mind transactions, but we still accept the classic way of online banking. You decide.
2) We will cancel order if not receiving any payment after 3 days.
For online online banking transactions:
Please add our e-mail lelong@allysyarissa.com
Please add your order ID as a reference for faster processing
Bahasa Malaysia
Kami akan proses pesanan dalam masa 24 jam selepas pembayaran dibuat (tidak termasuk hujung minggu dan cuti umum)

Pembayaran diterima sebelum pukul 12 tengahari (

tidak termasuk hujung minggu dan cuti umum) akan kami utamakan untuk penghantaran hari yang sama, tertakluk kepada stok

Pesanan dihantar mengunakan khidmat

atau kurier lain jika perlu.

Nombor rujukan penghantaran akan diberi melalui e-mail rasmi Lelong

Beri masa beberapa jam sebelum merujuk laman web PosLaju/Nationwide Express seperti di bawah untuk memeriksa status transit barangan

Penghantaran: Isnin-Jumaaat (tertakluk kepada status pembayaran dan waktu operasi PosLaju atau kurier lain)

Tiada penghantaran: Hujung minggu dan cuti umum (untuk mengelakkan kerosakan dan kehilangan barangan)

Sila beri 2-3 hari sebelum barangan diterima untuk Semenanjung Malaysia. Penghantaran ke Sabah/Sarawak mungkin akan mengambil masa yang lebih lama

Kami tidak bertanggungjawab ke atas kelewatan yang disebabkan oleh pihak PosLaju/Nationwide Express (atau pihak kurier yang lain)

Jika parcel dipulangkan kepada kami kerana PosLaju

(atau pihak kurier yang lain)

tidak dapat menghubungi anda untuk penghantaran, kos untuk pengeposan semula adalah tanggungjawab anda
---
English
We will process your orders within 24 hours once payment confirmed (excluding weekends and Public Holiday)

Payment received before 12 noon

(excluding weekends and Public Holiday) will be priotized for same day delivery, subject to stock availibility

Orders will be delivered via

or

other courier services whenever required

Tracking number will be provided via Lelong communication e-mail

Once we provide tracking number to you, please allow few hours before checking on tracking site per given below

Shipments: Monday-Friday (based on payment status and PosLaju/Nationwide Express/other courier services business hours)

No shipments: Saturday, Sunday and Public Holidays (to avoid parcel damage or lost)

Please allow 2-3 days to receive parcel for Peninsular Malaysia and expect a longer shipments for delivery to Sabah/Sarawak.

Were not responsible for any late delivery once parcel is with courier company tracking numbers are given, as it is beyond our control.

If your parcel being returned to us due to you're

not contactable by PosLaju (or other courier services) during delivery process, the cost of re-delivery will be your responsibility
---
Tracking site:
www.tracking.my
---
Bahasa Malaysia
Stok
Untuk makluman, kami membuat jualan di dalam dan di luar internet dan barang jualan di dalam talian mungkin akan kehabisan stok di kala anda membuat pembayaran

Jika ini berlaku, kami akan segera menghubungi anda; terpulang kepada anda untuk menggantikan dengan barangan/warna/corak lain (jika harga kurang daripada yang asal, kami akan memulangkan perbezaan, jika lebih anda harus bayar perbezaan) atau kami sedia memulangkan bayaran penuh kepada anda

Kami akan sentiasa memastikan stok di dalam talian adalah terkini
Saiz/Warna
Kurier
Kami tidak bertanggungjawab atas kerosakan barangan ketika dalam transit oleh pihak PosLaju (atau pihak kurier yang lain)
---
English
Stock
For your information, were doing online and also offline sales, and the item you bought may be out of stock after payment has been made

If such case happen, we will immediately contact you and it will be up to you whether to replace it with other item (if lesser price, we will refund the different or if more than you should pay the different) or get a full refund

Were always make sure our stock level are up to date
Size/Color
The given measurement is estimation only, a small different may apply

Color may be different due to lighting effect
Courier
Were not responsible for parcel damage during PosLaju (or any other courier) transit
Return Policy
Bahasa Malaysia
Pemeriksaan ke atas barangan akan dibuat sebelum ianya dihantar kepada pelanggan untuk memastikan tiada kerosakan. Oleh itu tiada pemulangan barangan dibenarkan.

Pemulangan pakaian (berkenaan saiz sahaja) adalah dibenarkan tertakluk syarat-syarat di bawah:
untuk PRE-ORDER, tiada pemulangan dibenarkan

sila maklumkan kepada kami dalam masa 1 hari selepas barang diterima (tidak melebihi 4 hari selepas barang dihantar, 6 hari untuk Sabah/Sarawak)

bergantung kepada stok. ketiadaan stok akan menyebabkan kelewatan dalam menghantar saiz yang baru, diharap dapat bersabar

pelanggan harus memulangkan terlebih dahulu pakaian yang hendak ditukar dalam keadaan asal (tanpa kekotoran/kerosakan dan sebagainya beserta tag, jika ada) sebelum kami menghantar saiz yang diingini

kami tidak akan menukar pakaian yang kotor, rosak, berbau dan tanpa tag asal yg elok (jika ada)

kos penghantaran ditanggung pelanggan
---
English
We will throughly check ordered items before we send to customer (for any defect), and customer shall receive the same (without any defect), thus no goods return allowed.

For clothings, changes of size is possible (base on below rules):
no returned allowed for PRE-ORDER items

let us know within a day after receiving parcel (not more than 4 days after we send out the parcel, 6 days for Sabah/Sarawak)

depending on available stock, it may take longer time to ship the new size

customer must return items and we receive in good condition (without any stain/damage,etc and with original tag if included) before we ship out the new size

customer pay shipping cost

we wont make any replacement due to dirty, damage or

smelly returned clothing and without original tag (if any)
Average Product Rating
0.0 stars out of 5
| | | |
| --- | --- | --- |
| 5 star | | 0 |
| 4 star | | 0 |
| 3 star | | 0 |
| 2 star | | 0 |
| 1 star | | 0 |
Share your thoughts with others
Write a review
Only buyers who purchased the product may leave a review