Item Specification
Product Description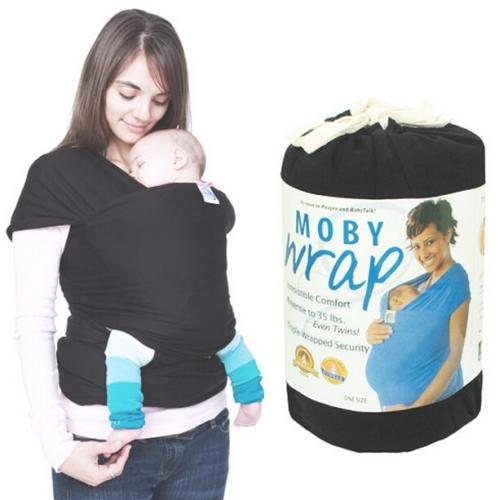 Moby Wrap Original 100% Cotton Baby Carrier
WHY MOBY?
Recommended by lactation consultants, pediatricians and chiropractors

100% ultra soft, breathable cotton is machine washable

Ideal for skin-to-skin care with preemies

No straps, belts, or buckles

Allows for discreet breastfeeding

Closed contact soothes fussy, tired infants; upright position helps alleviate colic and acid reflux

For babies from birth to 35lbs

One size versatility-perfect for sharing
Brand: Moby Wrap
Colours Available: Red, Deep Pink, Light Pink, Orange, Chocolate, Sky Blue, Deep Blue
Product Specs: 5.5 metre 100% soft cotton
Package Info: As shown below (Convenient carrying bag, instruction manual + FREE instruction CD)
Instruction:
Colours Available:
FAQ:
(1) What size/age range/weight can a Moby Wrap hold?
Moby Wraps can hold babies up to 35lbs., which is typically a 3 year old child.
(2) Can you describe the differences between the Moby Wrap and other carriers?
There are many different baby carriers on the market today: front packs, slings, wraps, mei tais and many more. The big difference between slings and wraps is that a wrap uses both shoulders, as well as your back, to distribute the weight of your baby. Slings are worn diagonally across just one shoulder placing the weight of the baby on that one shoulder. Most front packs have narrow straps, buckles, or rings, which often cause discomfort or can bend/break. There are several wrap carriers available with a variety of special features: stretchy vs. non-stretch, cotton vs. cotton-lycra blend, solids vs. patterns, basic vs. embellished, expensive vs. economical, square vs. tapered ends, etc. Our advice would be to look for the features that are most important to you and choose your baby carrier accordingly. The Moby Wrap is made of 100% soft cotton. The edges are tapered, making it easy to tie. The Moby Wrap is currently available in a variety of solid colors, prints, UVs, batiks, and organics.
(3) What is the difference between the Moby Wrap and the Moby d?
The main difference between the Moby Wrap and the Moby d is the distinctive fabric panel in the center of the Moby d. The panel is created from woven cotton or Asian silk. In addition to adding aesthetically to the look of a Moby, the woven and silk fabric panels add a section of non-stretch fabric to help support the baby. The edges of the Moby d are seamed rather than over-locked, ensuring that the Moby d will hold its shape after extended use. We also designed the ends of the Moby d with asymmetrical lengths so that the knot would be at the wearer's side instead of the front or back. Read more about the differences between the Moby Wrap and the Moby d.
(4) The center panel of my new Moby d is not in the middle of the wrap. Is it defective?
No, not at all. We purposely placed the panel off-center, so that the knot would land at the wearer's side, rather than your front or your back.
(5) What are the washing instructions for my Moby Wrap?
The Moby Wrap is easy to clean. Prewashing before first use is recommended. You can machine wash your Moby Wrap in cold water and air-dry or tumble dry on low. Your Moby Wrap may shrink slightly in the dryer, but will stretch out again after being worn. Please note that the Moby d hand-woven cotton is not color fast and should be washed separately, or with like colors. Moby d Wraps with silk should be washed and handled gently. Washing instructions are located on the back of the Moby tag sewn into your Moby Wrap.
(6) How does the UV protected Moby Wrap work?
The turquoise, sand, fuchsia, wisteria and Almond Blossom fabrics are treated with the Rayosan™ process by Clariant. This technology increases the Sun Protection Factor (SPF) without changing the appearance, handle or breathability of the fabric. You can imagine how excited we are to have this technology be part of the Moby Wrap fabric, which offers another layer of protection for baby's sensitive skin, especially before the age recommended for sunscreen use.
(7) I washed my Moby Wrap according to the washing instructions and it shrank. Is that normal?
It is perfectly normal for your Moby Wrap to experience slight shrinkage since is made of 100% cotton. We have designed our Moby Wraps with extra length built in to accommodate for first wash shrinkage. If you are unable to bring the ends back to the front, try tying the wrap in the back: Moby Wraps are designed to be tied either at the wearer's front or back – both are equally safe and comfortable.
(8) I live in a very warm climate. Can I use a Moby Wrap?
Yes, you can. Moby Wrap is made of 100% cotton and the natural fabric breathes keeping you cool in warmer climates. Wearing a baby in any carrier will create extra heat, so we recommend dressing yourself and your baby lightly and keeping exposure to high temperatures to a minimum whenever possible. Additionally we recommend wrapping baby in lighter shades including our Natural Moby Wrap (a creamy off-white), the Coconut Organic (100% organic cotton in an unbleached cream color) or one of our UV styles that offer SPF 50+ protection for delicate baby skin.
(9) I am a plus-size mom. Will the Moby Wrap fit me?
Yes it will. The Moby Wrap is 5.5 meters long and will fit larger moms and dads as well. When wrapping, you would simply tie a knot at your back.
(10) I am petite. Will a Moby Wrap work for me?
Moby Wrap offers a petite-length. Our wraps are designed to be "one size fits most", but we do make a shorter length for adults who are smaller and prefer less fabric. The great thing about a Moby is that it completely conforms to your individual shape when worn, so you will be able to achieve an extremely comfortable and ergonomic carrying position for both you and your baby. You can also try the original Moby Wrap - extra fabric can simply be wrapped one more time around yourself before knotting it off!
(11) Do you use organic cotton?
We offer a line of Moby Wraps made with 100% Organic Exchange OE100 Certified Cotton. We also offer coordinating Moby Blankets and Knot Hats made from organic cotton.
Link for Video

Last Updated @ 12/26/2014 8:00:25 PM
Questions & Comments




















---
Bestbuy Online Store aims to deliver within the time agreed upon at purchase, as mentioned on the product page. However, if you are unavailable to take delivery or collection, we may leave a card giving you instructions on either re-delivery or collection from the carrier.
Bestbuy Online Store
is legally registered under Akta Pendaftaran Perniagaan 1956 (Pindaan 1978) with SSM and are well established in Malaysia for more than 5 years. We act with integrity and seek for long-term constructive relationship with the community.
The following terms and conditions listed below will apply between you and Tate Online Shop for the sale and purchase of the items contained in your basket. The terms do not affect your statutory rights.
Availability of Goods and Prices
Goods will be sent to the address given by you in your order and stated in the Order Confirmation. Please note that occasionally goods ordered may, be sent to you in instalments. We will make every effort to advise you (by email) if this is the case.
We make every attempt to ensure that all prices on our website are accurate, however discrepancies may occur. If we discover an error in the price of goods already ordered we will inform you as soon as possible and ask that you reconfirm your order at the correct price, whilst also giving you the option to cancel it. If we are unsuccessful in contacting you we will consider the order cancelled. If we cancel your order, you will receive a full refund.
Our Warranty
Whenever defects occur within the warranty period, our seller will repair or replace the item in question. The warranty is not available on certain products, such as flowers books music movies magazine health products perfumes etc. The warranty is limited and is only valid when the product is used for the purpose it was intended under normal conditions. The warranty does not cover any damage caused by normal wear tear, neglect, misuse, abrasion, exposure to extreme temperatures, acids or solvents; nor does it cover damage caused by third parties during transportation. All returns are subject to inspection and approval by the seller before any repair or replacement is authorised. Information on service centres may vary from time to time.
Returns and Refunds Policy
Our return policy allows for item(s) return and your choice of a full refund or replacement item(s). However, we do have a couple simple requirements for processing a return.
You may return your order or items for any of the following reasons:
You received a damaged item from the courier. Your item is faulty within fourteen (14) days of receipt (if problems arise after this period, do not worry as most of our items come with original manufacturer's warranty). The item(s) shipped to you is not what you ordered.
Unless otherwise stated in the product description, the general requirements for returns are as follows:
It is within fourteen (14) days from the delivery date. You have proof of purchase (order number, delivery note, bank statement). The goods must be in an "as new" condition and returned in the ORIGINAL, undamaged packaging along with the accessories (including manuals, warranty cards, certificate of authenticity) and free gifts received with it.The product must not have been used or installed or had any data inputted. All sealed items must not be opened. In case you have opened the seal, please refer for assistance to the relevant service center indicated on the warranty information.
How can I return an item?
Bestbuy Online Store is committed to your happiness. We want you to be as pleased with your purchase as we are in serving you. If you're not happy for any reason, we will gladly accept your return within 14 days of the delivery date. If the goods you receive are damaged or faulty in any way, or not what you originally ordered we will be happy to exchange the items or offer you a refund. Please notify us immediately by calling our Customer Service Team on 012-688 1356 (Mon-Fri: 9 am to 9 pm). To assure prompt resolution, please provide the order number and keep the box, packing materials and the damaged items for inspection by the courier service personnel. We will conduct an evaluation within two (2) business days of receiving your returned items.
Do you cover the shipment costs for returns?
Please be informed that shipment cost will be paid by you and once we have received the item we will process and refund the amount paid for the shipment of the returns.
Questions & Answers
Do you have any questions to ask merchant about this product
Ask Seller
| | | |
| --- | --- | --- |
| 5 star | | 0 |
| 4 star | | 0 |
| 3 star | | 0 |
| 2 star | | 0 |
| 1 star | | 0 |
Share your thoughts with others
Write a review
Only buyers who purchased the product may leave a review