Item Specification
Product Description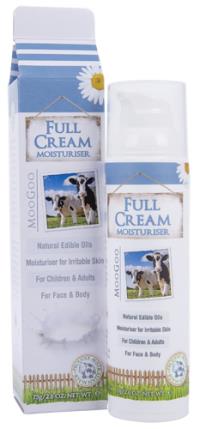 Full Cream Moisturiser
Product Description
Available in 270g Pump or 75g Airless Travel Pump
This is a "creamier" version of the original Udder Cream moisturiser. It is designed to moisturise easily irritated skin using natural ingredients. The base oil of the cream is Sweet Almond Oil. This is high in the types of fatty acids needed for troubled skin.

Also raw Coconut Oil which naturopaths often use as a skin soothing oil. Other ingredients include pasteurised honey (so safe for babies). The pH is balanced to the skin through the use of Apple Cider Vinegar. Naturally, the apple and honey give the cream a wonderful fragrance and there is no need for us to add any other fragrance.
Ingredients:
Aqua, Prunus Amygdalus Dulcis (Sweet Almond) Oil, Olea Europaea (Olive) Fruit Oil, Cetearyl Alcohol,Cocos Nucifera (Coconut) Oil, Squalene (Olive), Hydrolized Milk Protein, Aloe Barbadensis Leaf Juice (Aloe Vera), Allantoin, Tocopherol (Natural Vitamin E), Piroctone Olamine, Guar Hydroxypropyltrimonium Chloride (Guar Gum), Polysorbate 60 (Food Grade Emulsifier), Mel (Honey),Acetum (Apple Cider Vinegar), Pyrus Communis (Pear) Extract, Humulus Lupulus (Hops) Extract.
Ingredient

Description

Aqua

When we were told that we have to call our purified water "Aqua" we thought they were kidding. But we can't fight bureaucracy. So we aren't trying to be fancy, but we do need to call our water "Aqua" sometimes.

Prunus Amygdalus Dulcis (Sweet Almond) Oil

High in the types of fatty acids needed for troubled skin.

Olea Europaea (Olive) Fruit Oil

Wonderfully healthy for the skin. So many benefits, it might be best to Google "Olive Oil Skin" instead.

Cetearyl Alcohol

Creams are made from a mix of purified water and oils so as to be more moisturising than oil alone. To hold water and oils together, they need an emulsifying wax. We use a plant based wax that allows the water and oils to stay together.

Cocos Nucifera (Coconut) Oil

We used coconut oil as a stabiliser, it also helps to moisturise the skin

Squalene (Olive)

One of our favourite moisturising oils. It helps leave your skin moisturised and dewy. It is good for all skin types, including acne prone skin.

Our body produces a small amount of squalene, but the amount diminishes when we get older, starting in our twenties. Squalene is required for our skin to keep it moisturised and fight aging. It is also a unique antioxidant from olives that protects our skin from free-radical damages.

Since Olive squalene's composition is very similar to human sebum, it can penetrate our skin very quickly to help our skin to fight dryness. It enhances skin elasticity and moisture retention.

Hydrolized Milk Protein

Cognis research found that milk protein in a cream increased skin elasticity by around 20% compared to the same cream without. Skin elasticity ensures lines and wrinkles are minimized after any movement of the skin. 

For people with Lactose intolerance this is no problem. However for people that are allergic to Milk Protein itself, this ingredient would not be suitable. If in doubt, all natural products should be patch tested before use.

Aloe Barbadensis Leaf Juice (Aloe Vera)

Aloe Vera. Most people already know the healing and soothing benefits of Aloe Vera. We loved it before we made skin care, and we love it in our creams.

Allantoin

Comfrey Root has long been known as a healing plant. Allantoin was identified as the part of the plant that performed this function and it has since been synthesised to make it more concentrated and effective. So the allantoin we use is the pure ingredient. Allantoin has been termed a cell proliferant in texts such as the "United States Dispensatory". It is said to clean away dead tissue, hastening the growth of new healthy tissue. Allantoin has been also termed a counter irritant. Allantoin produces its desirable effects by promoting and speeding up the healthy, natural processes of the body. It helps the skin to help itself. It is also promoted as preventing lines and wrinkles by assisting skin repair.

Tocopherol (Natural Vitamin E)

We use the more expensive, natural Vitamin E in our creams, not synthetic. Natural Vitamin E has up to twice the bioavailability of synthetic forms. Vitamin E has antioxidant action as well as free radical scavenger properties. Abundant assortments of researchers from diversified medical fields have theorized that this can slow the aging process. (Sources: Skin Pharmacology and Applied Skin Physiology, November-December 2001, and Free Radical Biology and Medicine, October 1999).

Piroctone Olamine

Piroctone Olamine is an anti-yeast ingredient. Non-irritating, it also helps keep the cream free from bacteria and mould.

Guar Hydroxypropyltrimonium Chloride (Guar Gum)

The Guar bean is a legume. We use a modified guar ingredient sometimes called Guar Silk. It helps make the skin nice and smooth after using our creams.

Polysorbate 60 (Food Grade Emulsifier)

A lot of our customers are small. So small in fact that they have sometimes mistaken the creams their mums or dad's put on the nappy change table for food. So we always choose the most edible ingredients we can. Polysorbates are used in a lot of foods like Mayonnaise, Ice-cream etc to hold the cream and water together. We use them to help with the same thing.

Mel (Honey)

Honey is great for the skin and a natural anti-bacterial. However, we love it most for the balance it gives to the Apple Cider Vinegar which we also use. This makes for a beautiful smelling cream without fragrance.

Acetum (Apple Cider Vinegar)

We added this originally to lower pH to that of the skin. But we also love the smell of the cream with this and honey.

Pyrus Communis (Pear) Extract

We have learned over the years that although Essential Oils can be great for some people, some people are highly sensitive. For this reason we tend to avoid them in our creams. We add Pear Extract instead. This is especially to help parents who use our creams on their children. They tend to be much more willing if they like how something smells.

Humulus Lupulus (Hops) Extract

Cosmetic creams need to stay pure from bacteria. That is why ingredients like Parabens etc are used by a lot of companies. These work great at achieving their aim, but a lot of our "customers" are very young children. Sometimes accidents happen and so we aim to make our creams as food like as possible. We worked for over a year to develop a preservation system based on Hop Extract. All our creams have now been checked for preservative efficacy using the British Pharmacopeia test. We are very proud that we are probably one of the first companies to develop this natural and edible anti-bacterial system into our creams.
Buy with confidence
| | | | |
| --- | --- | --- | --- |
| Buyer | Item ID | Date | Ratings |
| si**** | 176584390 | 5/10/2017 10:59:00 AM | - |
| si**** | 176584369 | 5/10/2017 10:59:00 AM | - |
| ac**** | 176581845 | 4/7/2017 5:23:00 PM | - |
| Yo**** | 178896933 | 2/27/2017 1:41:00 PM | - |
| ab**** | 171555246 | 10/26/2016 12:22:00 PM | - |
| Yo**** | 170686549 | 10/25/2016 6:51:00 PM | Fast delivery .thanks |
| Yo**** | 178896933 | 9/7/2016 9:04:00 AM | - |
| az**** | 176582646 | 6/14/2016 9:49:00 AM | SUPER FAST Delivery. I LIKE !! |

---
Choose your products, message us at fb or email us at organiclifetoyou@gmail.com about your order.You can even fax to us at 04828 7015 stated your name and contact number.
| | |
| --- | --- |
| | Click to add to Chart. |
| | Click to purchase more products. |
| | At top-right of the webpage, click to view for your shopping basket. |
| | Tick on the check box to remove product(s) from your basket. |
| | Click to update ur shopping basket. |
| | Click to complete your order. |
You can sign up an account before you place an order or after complete your order. You are required to provide your personal and billing information if you are a new customer. After completing, click on 'Proceed'. Your order should include product brand, product description,product volume or weight measurement if any (if can be seen from the photo uploaded), its retail price, quantity you order.
CIMB Bank
Account Holder: Organic Life
Account No.: 8007149954
* The shipping charge that we will charge you is according to the the weight and your place.
*Delivery charges its free when the order in a single transaction is rm200 and above (applicable to Peninsular Malaysia only, not applicable for Sabah and Sarawak). All delivery its thru courier service.
*Payment can be through cheque, atm transfer and cash deposit.We do not accept cash deposit into our account unless the figure its a round figure and it should be round to the nearest higher figure at all times. For eg. rm28.80 should be round as rm30.00 (there would be no refund of balancechange if you choose to deposit with cash in round figure through ATM)
*For overseas order, you can email us your country name and your currency money so we can convert it for you. You can transfer your money using paypal. Thank you!
*Please make your payment within 7 days, otherwise your order will be automatically canceled.
Once your payment has been successfully made, please provide us the following payment details via email at organiclifetoyou@gmail.com
Information that we need:
1. Order number
2. Amount of transferred money (please include your courier cost)
3. Bank Name
4. Payment date and time
You will receive our confirmation email once your order payment had been verified. Another notification email will be send once your product(s) have been shipped out.
Your product(s) will usually arrive within 1-3 weeks upon received of payment.
Your product(s) will usually arrive within 3 to 10 working days upon receipt of payment. You can always email us at organiclifetoyou@gmail for delivery status of your order. All by courier. Delivery are free for purchase of rm200and above for Peninsular Malaysia only . As for East Malaysia ( Sabah annd Sarawak), we do not give this benefits as courier cost to these areas is high and differ. We open to international market too thru Pay Pal. For buyers outside Malaysia, please use Pay Pal for your shopping.
We will launch international market soon.
Buy with Confidence!
The Organic Life 7 Day Money Back Guarantee protects all purchases made from our website.
1. The 7 Day Money Back Guarantee period will commence from the date that the customer receives their product. If there is no receipt of delivery, the date shall be assumed to be 10 business days from the date of dispatch from our shop.
2. Where a product is within the 7 day period and a refund is requested, Organic Life will refund the original product purchase price. The following fees and/or charges will not be reimbursed or absorb by :
Delivery charges from courier company to Organic Life.

Cost to return the product to Organic Life
3. Orders cancelled after the goods have been dispatched will be treated as per the terms of our 7 Day Money Back Guarantee.
4. Returned goods must be in their original packaging with all accessories, and be in original condition. Please state the defect on a piece of paper alongside the said item.
5. Where an item is found to be faulty, Organic Life will provide a replacement along with the necessary service and support.
6. Where the customer selects to receive a refund instead of a replacement, the reimbursed amount will be as outlined no. 2 which Organic Life will not absorb the courier fees of the return good sent by customer to us, however we ill refund the full amount of product price.
7. We need to received the returned product before any replacement or refund its made. Our return policy stated cleary that returned goods from buyer must with a valid reason for the said product to be returned or else we will not entertain any redemption if found the reasons its invalid for the said returned item.
7. Organic Life reserves the rights to make changes to these terms and conditions without notice.
8. Products feature subject to availability. We will alway inform your side when there is no stock for certain order, and total sum will be deduct for that items.
The 7 Day Money Back Guarantee protects all purchases made from our websites. We want you to have happy life and be happy.
Questions & Answers
Do you have any questions to ask merchant about this product
Ask Seller
| | | |
| --- | --- | --- |
| 5 star | | 0 |
| 4 star | | 0 |
| 3 star | | 0 |
| 2 star | | 0 |
| 1 star | | 0 |
Share your thoughts with others
Write a review
Only buyers who purchased the product may leave a review