Product Features:
More than a portfolio. Built in 5000mAh power bank, you can charge your device when you are in the meeting or travel for work.
Two ways of charging. You can use the USB cable(included) to charge your device. Or you can use the wireless charging function to charge, if your phone supports wireless charging(Not compatible with Apple Watch)
Everything you need in one. It has a tansformable tablet/phone stand, a built-in power bank, business card pockets, a removable clipboard, a phone pocket, tablet/documents pocket, plenty of space for pens and accessories. Help you to organize your daily work.
A4 size conference folder. 33cm x 26cm x3.8cm (12.9in x 10.2in x 1.5in), accommodate standard letter size writing pad, resume, document, magazine, ipad, kindle etc. Make you looks professional in business travel, conference or interview.
Compartments:
An expandable pocket can hold 1 inch thicken A4 size paper or document. It can also be used to store your tablet or laptop (up to 13 inch)

A4 size writing pad holder. (It is designed for removable clipboard or writing pad, but not paper or document)

One phone pocket, fits up to 6.1 inch phone

Four business card pockets

An elastic band for cable/earphones

Pen holder

Tablet/phone stand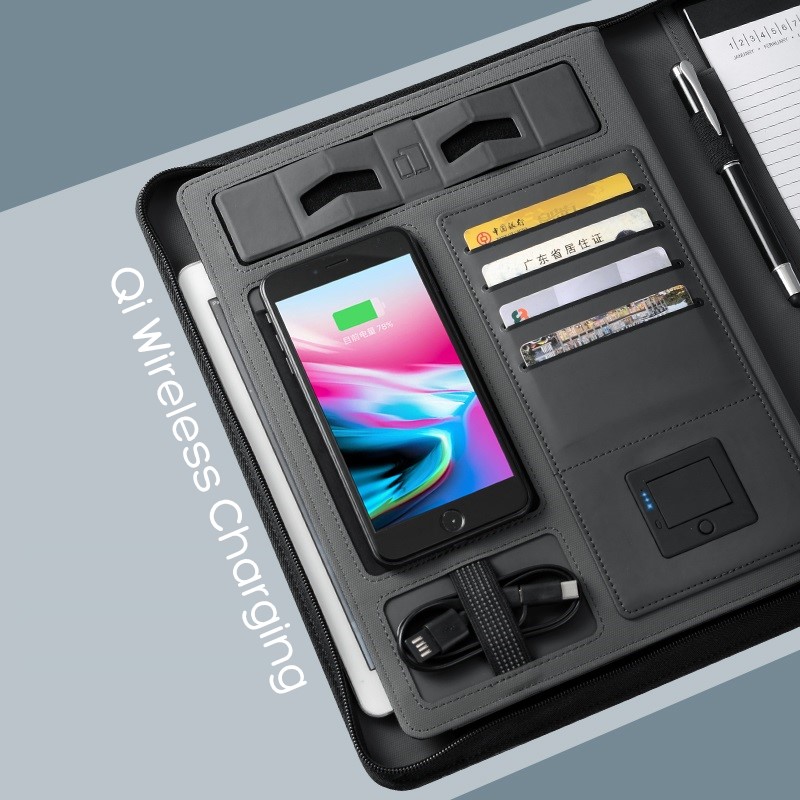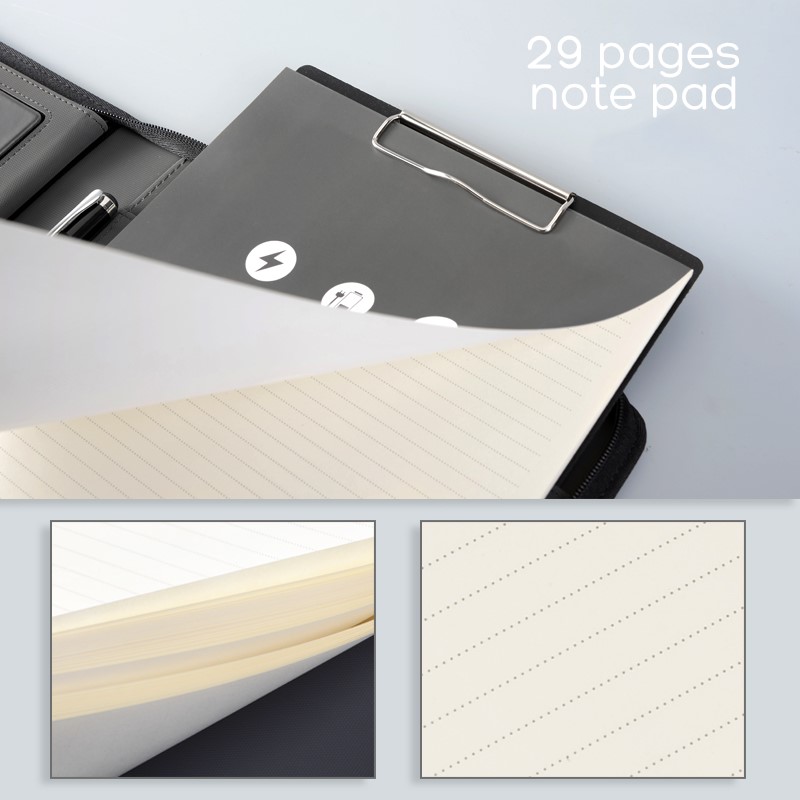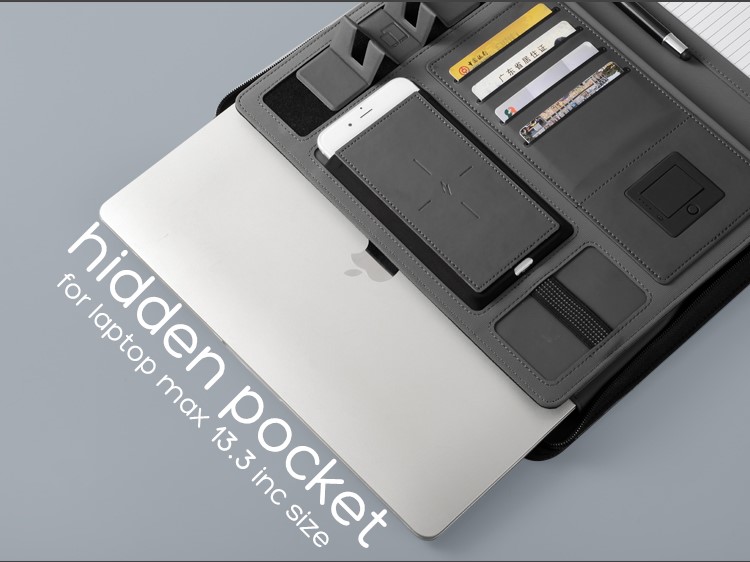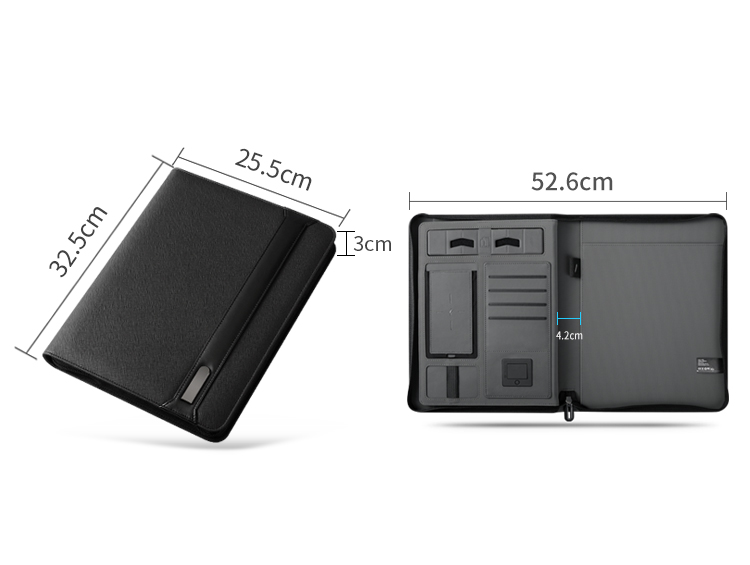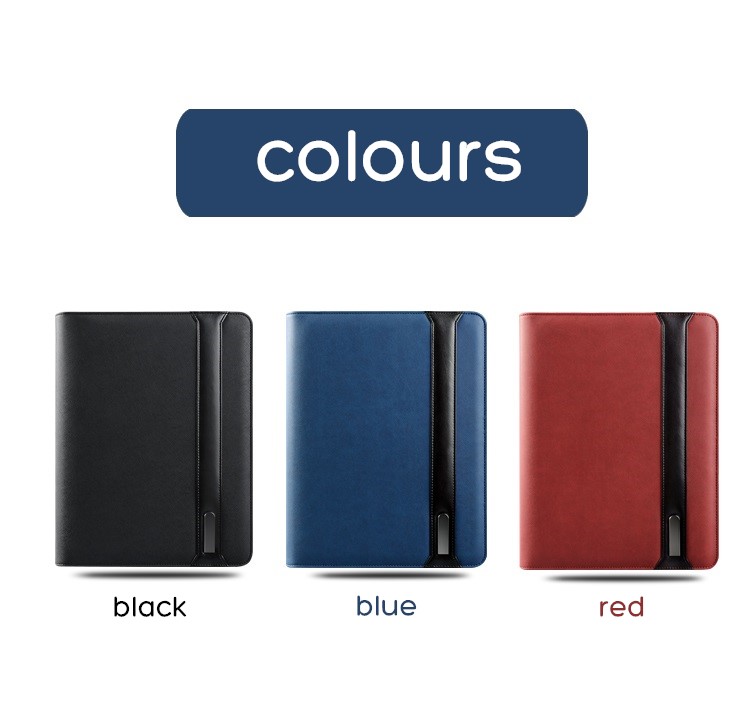 Built-in Power Bank Specifications:
Battery type:Lithium Polymer

Battery capacity:5000mAh

Charge time:5h (0% to 100%)

Charge input current:1A

Charge input voltage:5V

Wire charge output current:2.1A

Wire charge output voltage:5V

Wireless charge output current:1A

Wireless charge output voltage:5V

Operating T:0 to 40 C/32 to 102 F

Storage&Transportation T:-20 to 50 C/-4 to 122 F
Package Includes:
Power bank portfolio x1

3 in1 USB cable x1

Removeable clipboard x1

A4 legal pad x1

User manual x1
Note:
1.If you want to use wireless charging function, please make sure your phone supports wireless charging and ensure your phone case thicker than 3mm.
2.Please do not place any metal or magnetic object between your phone and wireless charger, otherwise the charger will not work.
3.The wireless charging function is NOT for Apple watch.
4.Please read user manual carefully before you start using the product.
CUSTOMER SERVICE AND SUPPORTS:
This product come with 1 months manufacturer warranty (1 to 1 exchange.)
Warranty only applicable for manufacturer defect. All purchased items will be checked and sealed before ship out to customers.
Any exchange or refund will not entertained unless below conditions:
Wrong item sent.

Missing parcel due to delivery by courier services.

Manufacturer defect upon receipt (within 3 days)
Any request of exchange or refund must be made within below time frame:
Within 3 days of parcel receipt OR

Within warranty period upon date of parcel receipt.
Please send any request of exchange, refund or product/services inquiry to SOTHINGGOOD customer services:
Email : sothinggood@gmail.com

WHATSAPP / WECHAT to +6011-16260021
****NO CALL WILL ENTERTAINED****