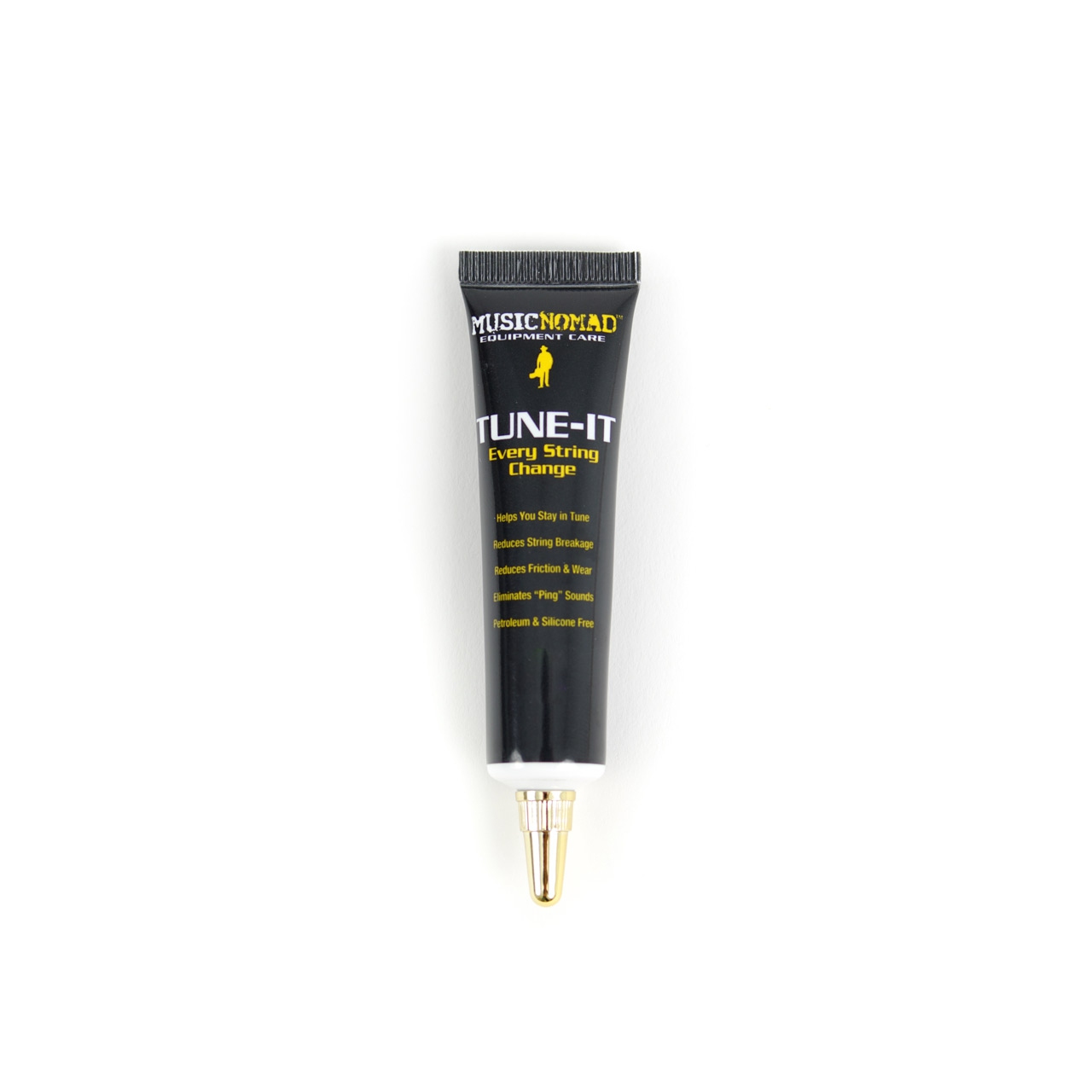 TUNE-IT - String Instrument Lubricant

• Ideal for Nut Slots, Bridge, Saddle, String Guides and Any Moving Parts
• Helps you Stay in Tune
• Reduces String Breakage
• Reduces Friction & Wear
• Eliminates "Ping" Sounds
• Petroleum & Silicone Free
• Small Fine Tip Applicator Included to apply TUNE-IT in any hard to reach or tight areas
• Biodegradable, Odorless, Non-Staining
• Non Melting, Water & Steam Resistant
• Protects against Rust & Corrosion
• Low Coefficient of Friction
• Specially designed Syringe like Orifice Distributes Gel Evenly and Finite
• Perfect for Guitar, Bass, Mandolin, Banjo, Ukulele

Product Story

Stop tuning between every song! Music Nomad's TUNE-IT is your personal guitar tech to stay in tune longer & reduce string breakage. Our pro strength biodegradable formulation is like no other & contains anti-wear, anti oxidants & anti corrosion additives fortified with PTFE. Odorless, non-staining & silicone free. Apply to Nut Slot, Bridge, Saddle and String Guides every string change. Most importantly, it does not affect the sound or sustain of the strings. Great for moving parts, such as open tuners & tremolo bars. A little goes a long way to help you sound the best.

 
 
 
 


---
Shipping and Delivery
All shipping charges are based on standard Pos Malaysia rate. Shipping charges will be determined by dimension (Width x Height x Length), weight of parcel and area of shipment. Items will ship within 3 business days of payment clearance.
Shipment method will be Pos Malaysia for West Malaysia (5-7 working days) and Pos Laju for East Malaysia (6-8 working days). Please be informed that Pos Laju rate will be higher than Pos Malaysia. Alternative postage and costs for East Malaysia and items weighing more than 20kg apply. Kindly contact us directly if Express service is required. Thank you for your interest in our products.
*** East Malaysia customers who prefer cheaper Pos Malaysia rate must be prepared for extended time delivery.
** All the orders after 2pm will consider next day order.
Terms of Sale

By placing an order you are offering to purchase a product on and subject to the following terms and conditions. All orders are subject to availability and confirmation of the order price.

Dispatch times may vary according to availability and subject to any delays resulting from postal delays or force majeure for which we will not be responsible.

In order to contract with CK Music you must be over 18 years of age and possess a valid credit or debit card issued by a bank acceptable to us. CK Music retains the right to refuse any request made by you. If your order is accepted we will inform you by email and we will confirm the identity of the party which you have contracted with. This will usually be CK Music or may in some cases be a third party. Where a contract is made with a third party CK Music is not acting as either agent or principal and the contract is made between yourself and that third party and will be subject to the terms of sale which they supply you. When placing an order you undertake that all details you provide to us are true and accurate, that you are an authorised user of the credit or debit card used to place your order and that there are sufficient funds to cover the cost of the goods. The cost of foreign products and services may fluctuate. All prices advertised are subject to such changes.

Disclaimer of Liability
The material displayed at Lelong is provided without any guarantees, conditions or warranties as to its accuracy. Unless expressly stated to the contrary to the fullest extent permitted by law CK Music and its suppliers, content providers and advertisers hereby expressly exclude all conditions, warranties and other terms which might otherwise be implied by statute, common law or the law of equity and shall not be liable for any damages whatsoever, including but without limitation to any direct, indirect, special, consequential, punitive or incidental damages, or damages for loss of use, profits, data or other intangibles, damage to goodwill or reputation, or the cost of procurement of substitute goods and services, arising out of or related to the use, inability to use, performance or failures of this Webstore or the Linked Sites and any materials posted thereon, irrespective of whether such damages were foreseeable or arise in contract, tort, equity, restitution, by statute, at common law or otherwise. This does not affect CK Musics liability for death or personal injury arising from its negligence, fraudulent misrepresentation, misrepresentation as to a fundamental matter or any other liability which cannot be excluded or limited under applicable law.
Average Product Rating
0.0 stars out of 5
| | | |
| --- | --- | --- |
| 5 star | | 0 |
| 4 star | | 0 |
| 3 star | | 0 |
| 2 star | | 0 |
| 1 star | | 0 |
Share your thoughts with others
Write a review
Only buyers who purchased the product may leave a review