Item Specification
Product Description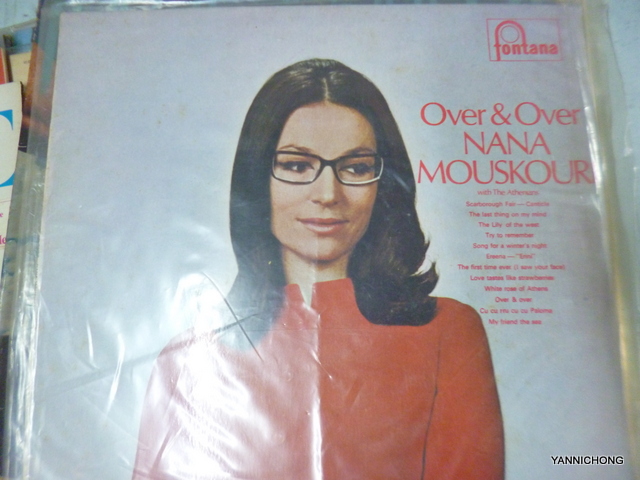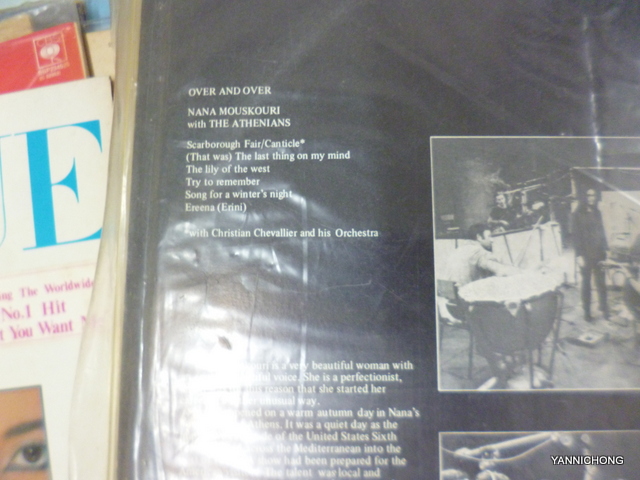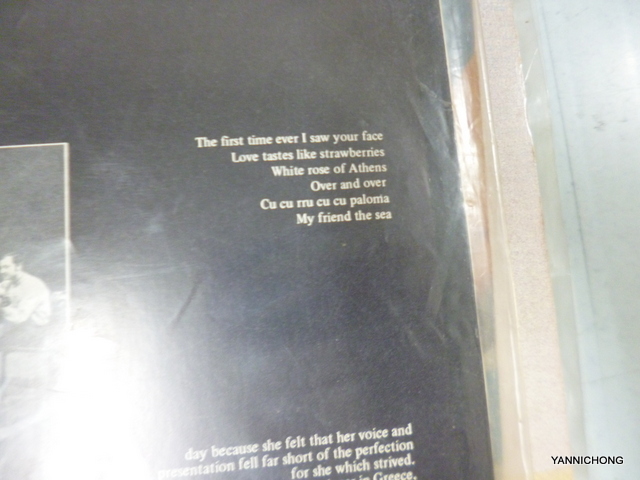 NANA MOUSKOURI ALBUM OVER AND OVER VINYL
AUSSIE PRESSING EXCELLENT CONDITION
VVVVVVVVVV
oanna "Nana" Mouskouri (Greek: Ιωάννα "Νάνα" Μούσχουρη [ioˈana ˈmusxuri]; born October 13, 1934) is a Greek singer. Over the span of her career, she has released over 200 albums in at least twelve languages, including Greek, French, English, German, Dutch, Italian, Portuguese, Spanish, Hebrew, Welsh, Mandarin Chinese and Corsican.[1]
Mouskouri became well known throughout Europe for the song "The White Rose of Athens", recorded first in German as "Weiße Rosen aus Athen" as an adaptation of her Greek song "Σαν σφυρίξεις τρείς φορές" (San sfyríxeis tris forés, "When you whistle three times"). It became her first record to sell over one million copies.[2]
Later in 1963, she represented Luxembourg at the Eurovision Song Contest with the song "À force de prier". Her friendship with the composer Michel Legrand led to the recording by Mouskouri of the theme song of the Oscar-nominated film The Umbrellas of Cherbourg. From 1968 to 1976, she hosted her own TV show produced by BBC, Presenting Nana Mouskouri. Her popularity as a multilingual television personality and distinctive image, owing to the then unusual signature black-rimmed glasses, turned Mouskouri into an international star.
"Je chante avec toi Liberté", recorded in 1981, is perhaps her biggest hit to date, performed in at least five languages[3] – French,[4] English as "Song for Liberty",[5] German as "Lied der Freiheit",[6] Spanish as "Libertad"[7] and Portuguese as "Liberdade".[8] "Only Love", a song recorded in 1985 as the theme song of TV series Mistral's Daughter, gained worldwide popularity along with its other versions in French (as "L'Amour en Héritage"), Italian (as "Come un'eredità"), Spanish (as "La dicha del amor"), and German (as "Aber die Liebe bleibt"). It became her only UK hit single when it reached number two in February 1986.[9][10]
Mouskouri became a spokesperson for UNICEF in 1993 and was elected to the European Parliament as a Greek deputy from 1994 to 1999.[11][12]
In 2015 she was awarded the Echo Music Prize for Outstanding achievements by the German music association Deutsche Phono-Akademie.[13]


---
PAYMENTS THRU MAYBANK TRANSFERS, OVERSEAS BUYER , PAYPAL OR WESTERN UNION.FOR OVERSEAS BUYER PLEASE CONFIRM WHICH TYPE OF PAYMENT.
DELIVERY THRU POSLAJU , FOR LOCAL TOWN , P. MALAYSIA CHARGES ARE RM9. 00 AND EAST MALAYSIA IS RM11.00 FOR NORMAL BELOW 500 GRAMS MAILING. ABOVE 501 GRAMS , POS LAJU CHARGES ARE AS ACCORDING TO POS LAJU RATES.
FOR OUT SIDE MALAYSIA , SHIPPING CHARGES AS ACCORDING TO POST OFFICE .
PLEASE DO INQUIRE , COMMUNICATE WITH ME , IF YOU ARE NOT SURE ABOUT THE ITEMS, OR ANY MATTER BEFORE BIDDING.I WILL REPLY YOU ASAP.
FOR EXPENSIVE OLD AMULETS , PLEASE MAKE VERY SURE YOU KNOW THE ITEM AND YOU UNDERSTAND THOROUGHLY WHAT YOU ARE BIDDING FOR.
ANY QUESTIONS PLEASE ASK .