Neocell, Glow Matrix, Advanced Skin Hydrator,
90 Capsules, Made in USA
Description
The True Science of Collagen

Platinum Matrix Collection

Clinically Tested Ceramides + Pine Bark + Glow Matrix Blend

Helps improve skin moisture & elasticity* reduced signs if aging
in just 15 days †


What is Glow Matrix?
- An environment or surrounding substance within which something else
originates,
takes form, or develops.
- The formative cells or tissue of a specialized structure such
as a hair, nail, or bone.

† Based on a randomized double blind vs placebo clinical study held on women.
NeoCell's Platinum Matrix Collection is a premium line of nutraceuticals scientifically
crafted to support collagen health on a systemic level, targeting specific wellness
concerns


Collagen Matrix & Ceramides
Ceramides are a clinically-tested multifunctional nutricosmetic that fortify the skin's
outermost
layer and act as a water barrier to prevent the evaporation of moisture through
the epidermis,
keeping the skin hydrated and supple. Ceramides also prevent the
breakdown of the skin's
collagen matrix by inhibiting collagenase, an enzyme tha
t
degrades collagen.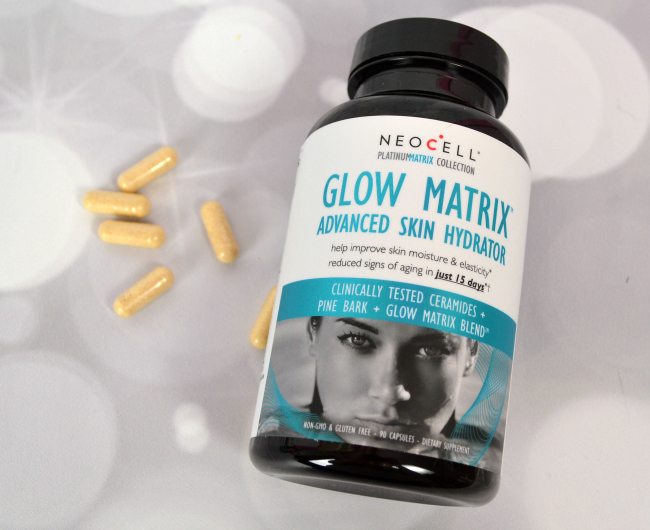 Moisture evaporates from the skin

Ceramides create barrier to keep moisture in ceramides
Glow Matrix provides scientifically advanced ingredients designed to internally
hydrate the
skin. This premium formula supports the skin's lipid barrier which helps
to lock in moisture
and smooth the skin. Like all NeoCell products, Glow Matrix is
standardized to be both
bioavailable and bioactive for maximum absorption and
efficacy.


Ceramosides Ceramides
Ceramides are specific lipids naturally present in the skin essential to the lipid
barrier or
moisture barrier. Ceramosides ceramides are clinically tested to increase
smoothness,
moisture, and elasticity in just 15 days.


Glow Matrix Blend
Key ingredients: Hyaluronic Acid, Pine Bark Extract, Astaxanthin, Lutein & Coconut
water
Powder. A scientifically crafted blend of nutrients, promoting hydration in the
skin while
combating free radicals for hydrated and glowing skin, and a healthy
collagen matrix.
† Based on a randomized double blind vs placebo clinical study held on women.
Supplement Facts
Supplement Facts
Serving Size: 3 Capsules
Servings Per Container: 30
Amount Per Serving
% Daily Value
Vitamin A (as Palmitate & Beta Carotene)
1100 IU
122%
Vitamin C (as Ascorbic Acid)
45 mg
50%
Vitamin D (as Cholecalciferol)
20 mcg
100%
Vitamin E (as D-alpha Tocopherol)
23 mg
153%
Vitamin B2 (as Riboflavin Sodium Phosphate)
21.5 mg
1654%
Vitamin B6 (as Pyridoxal 5-Phosphate)
8.5 mg
500%
Selenium (as Selenomethionine)
45 mcg
82%
Dried Coconut Water
500 mg
†
Hyaluronic Acid (as Sodium Hyaluronate)
70 mg
†
Triticum Vulgare Seed Extract (containing Ceramides)
30 mg
†
Masson Pine Bark Extract
25 mg
†
Gamma Linolenic Acid (from Borage Seed Extract)
22.5 mg
†
Amla Fruit Extract
2.4 mg
†
Vitamin K2 (as Menaquinone-7)
120 mcg
†
†Daily Value (DV) not established.

Suggested Use
Take three (3) capsules daily.
Other Ingredients
Vegetable capsule and vegetable magnesium stearate.
Does not contain: Lactose, starch,
y
east, or artificial flavors.
Gluten Free.
Allergy Warning: Contains wheat.
Keep out of reach of children. If you are pregnant, nursing, or have a medical condition,
consult your physician before using this product.

Last Updated @ 5/21/2019 11:02:22 AM

Last Updated @ 9/19/2019 7:26:33 PM