Information:
NewCo Colostrum Booster is formulated with100% pure bovine colostrum collected during the first 24-hour lactation of New Zealand cows. This product is intended to for boosting immune system attributed to its richness in immunoglobulins, lactoferrin, growth factors and calcium. Each 300 mg colostrum capsule contains an average of 20% IgG antibodies. Compared to the common colostrum powder, the product that comes in a convenient capsule form is not only easy to take and store but also favours those who dislike the icky smell of colostrum but desire to reap its benefits.
新康初乳因子
新康初乳因子是100%纯纽西兰牛初乳提取物,采集首24小时分泌的乳汁。由于其丰富的免疫球蛋白,乳铁蛋白,生长因子,溶菌酶和钙,此产品易作为提升免疫系统产品使用。每300毫克牛初乳胶囊含有平均20%的IgG抗体。该产品的胶囊形式易于食用和方便储存,特别适合不喜初乳味道但想受益的朋友。
功能和好处
促进人体整体健康。
修补体内各器官受损细胞。
有效增强免疫系统,抵抗病毒。
消除敏感症状,改善过敏体质。
改善虚弱体质,病体创伤复原。
燃烧体内过多脂肪,助长肌肉,增强活力。
Ingredients:Each capsule contains bovine colostrum extract 300mg.
Recommended Dosage:Children (2-12 years old)----------- 1 - 2 capsule(s) per day
Adult--------------------------------------2 - 3 capsules per day
For those with low immunity-------6 - 9 capsules per day.
Direction of Use: Take with lukewarm water (below 40°C).
成份 :每顆胶囊含有牛初乳提取物300毫克。

建议用量 :儿童(2-12岁)---------每天1-2顆胶囊。
成人-----------------每天2-3顆胶囊。
低免疫力者-----------每天6-9顆胶囊。
服用说明 : 以40°C以下温水送服。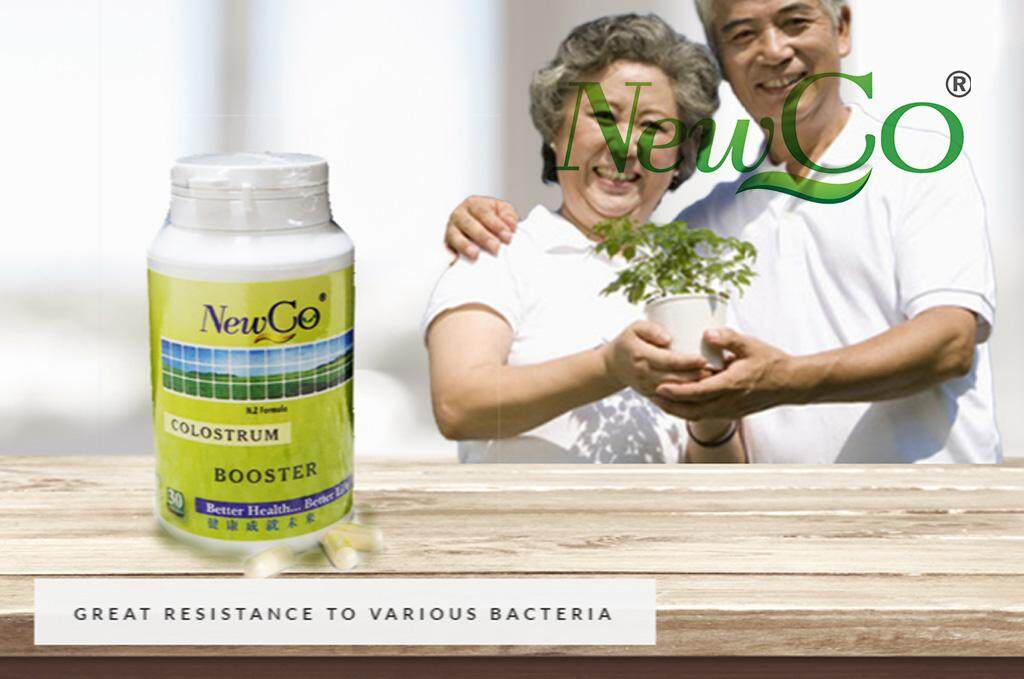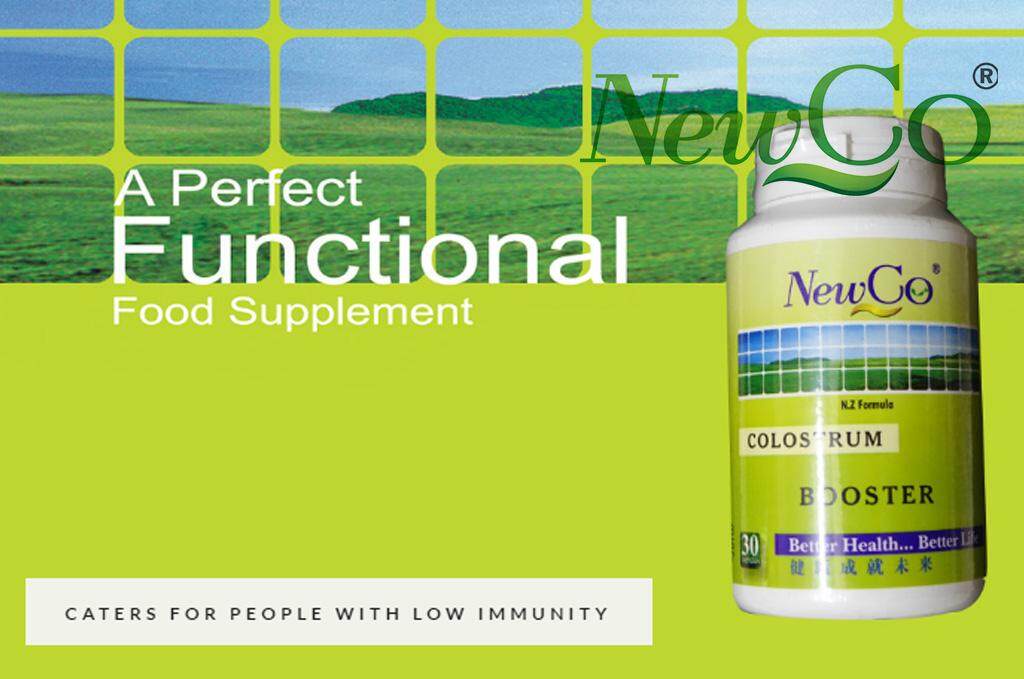 Feeling exhausted, no appetite, constant fatigue, susceptible to colds? These are the symptoms of reduced immunity. Modern busy life and unhealthy living habits such as unbalanced diets, lacking of sleep and exercises are the causing factors for mental fatigue, physical aging and abnormal immune system, ultimately leading to low resistance to bacteria, viruses and diseases. NewCo lgG plus that is fortified with additional lgG specially caters for people with low immunity. Immunoglobulin G (IgG) is the most prominent antibody in the human serum, accounting for 70-80% of the total antibodies. It is the major antibody with great resistance to various bacteria and viruses. Supplementation of lgG supports the body's own resistance to disease in order to cope with the challenge brought by pressure of life and unhealthy foods on the immune function wherein the active IgG plays a key role.

Contact Us 联络我们:
Phone:+605-5292020
Fax: +605-5292021
Email : marketing@newco2u.com.my
Email : alicia@tstinfo.com
Shipping & Delivery:
1. If the product ordered is out-of-stock, we will contact you to confirm a new delivery date or other instructions.
2. All items delivered are ensured at the best quality. Customer must inspect product immediately upon arrival to ensure item is good in condition.