Introduction :
Tongkat Ali is known as Malaysia's national treasure. It has been used as a traditional folk medicine and tonic for several hundred years. Through the efforts of our research team pursuing the spirit of excellence, we finally developed a unique Tongkat Ali coffee with a refreshingly mellow flavor and strong aroma. This product is a special blend of fine coffee beans, natural creamy milk, prebiotic oligosaccharides and Tongkat Ali.
Malaysia white coffee enriched with Tongkat Ali is a great pick-me-up to maintain your vitality throughout the day!

介绍说明:
东革阿里被誉为马来西亚的国家宝级保健品 。其功效源远流长,在东南亚的民间乡村作为传统药物和慈补品已有数百年历史 . 本产品是采用精选上等的咖啡豆, 天然香滑的纽西兰优质奶粉 , 有益肠胃的健康寡糖及东革阿里研究而成 , 再经过我们科研团队长时间的努力和精益求精的精神 ,终于研究出这独特的东革阿里白咖啡. "NewCo 马来西亚东革阿里白咖啡"不仅香浓美味并且还能提神醒脑 , 强身健体 ,让生活试试刻刻充满活力!
Pengenalan :
Tongkat Ali dikenali sebagai produk penjagaan kesihatan nasional Malaysia. Keberkesanannya mempunyai sejarah yang panjang. Ia telah digunakan sebagai ubat tradisional dan tonik di perkampungan rakyat di Asia Tenggara selama beratus-ratus tahun. Produk ini diperbuat daripada biji kopi berkualiti tinggi terpilih, serbuk susu berkualiti tinggi dan semula jadi New Zealand, oligosakarida yang sihat dan timur Diteliti oleh Ge Ali, dan setelah sekian lama bekerja keras oleh pasukan penyelidikan ilmiah kami dan semangat cemerlang, kami akhirnya mengembangkan kopi putih Tongkat Ali yang unik ini. "Kopi Putih Tongkat Ali NewCo Malaysia" bukan sahaja harum dan enak, tetapi juga menyegarkan Otak, kuatkan badan, biarkan hidup penuh semangat setiap saat!

Benefits :
-Low sugar /Low fat
-Enhance energy
-Anti-fatigue
-Promote blood circulation
-Suitable for busy working and stay up all night and easily fatigue (unisex)
好处及功效 :
-低糖 / 低脂肪
-增强能量
-抗疲劳及促进血液循环
-适合于工作忙碌
-熬夜及容易疲劳者(男女皆可)
Faedah :
-Gula rendah / rendah lemak
-Meningkatkan tenaga
-Anti-keletihan dan melancarkan peredaran darah
-Sesuai untuk kesibukan bekerja
-Mereka yang bangun lewat dan mudah letih (lelaki dan wanita)
Ingredients :
Instant whole milk powder , Instant coffee powder , Tongkat ali powder , Oligosaccharide , Cane sugar , Fructose .
成分:
速溶全脂奶粉 , 速溶咖啡粉 ,东革阿里粉 , 低聚糖 ,蔗糖 ,果糖 。
Kandungan:
Segera serbuk susu , Serbuk kopi segera , Tongkat ali powder , Oligosakarida , Cane gula , Fruktosa
Packing form:
10s x 30g
包装形成:
10 包 x 30克
Penbungkusan :
10sachets x 30g
Recommend Dosage:
1 saachet Per day
建议用量:
一天饮用1包
Dos yang disyorkan :
Minum 1 sachet sehari
Direction of use :
Pour the NewCo Tongkat Ali Coffee contents of the stick into a cup . Add 135ml-150ml hot water (85°c-90°c) . Stir a cup of NewCo Tongkat Ali Coffee is ready to serve .
使用方式:
将整包 NewCo Tongkat Ali Coffee 之容量倒入杯中,加入约(135ml-150ml)毫升热水(85°c-90°c) . 搅均,即可享用。
Cara penggunaan :
Tuangkan seluruh isi kandungan NewCo Tongkat Ali Coffee . Tambahkan 135ml-150ml air panas (85°c-90°c). Selepas campur , secawan NewCo Tongkat Ali Coffee sedia untuk dinikmati .
Storage :
Store in cool and dry place
储存方式:
存放于干燥和阴凉处 。
Penyimpanan :
Simpan di tempat yang kering dan sejuk.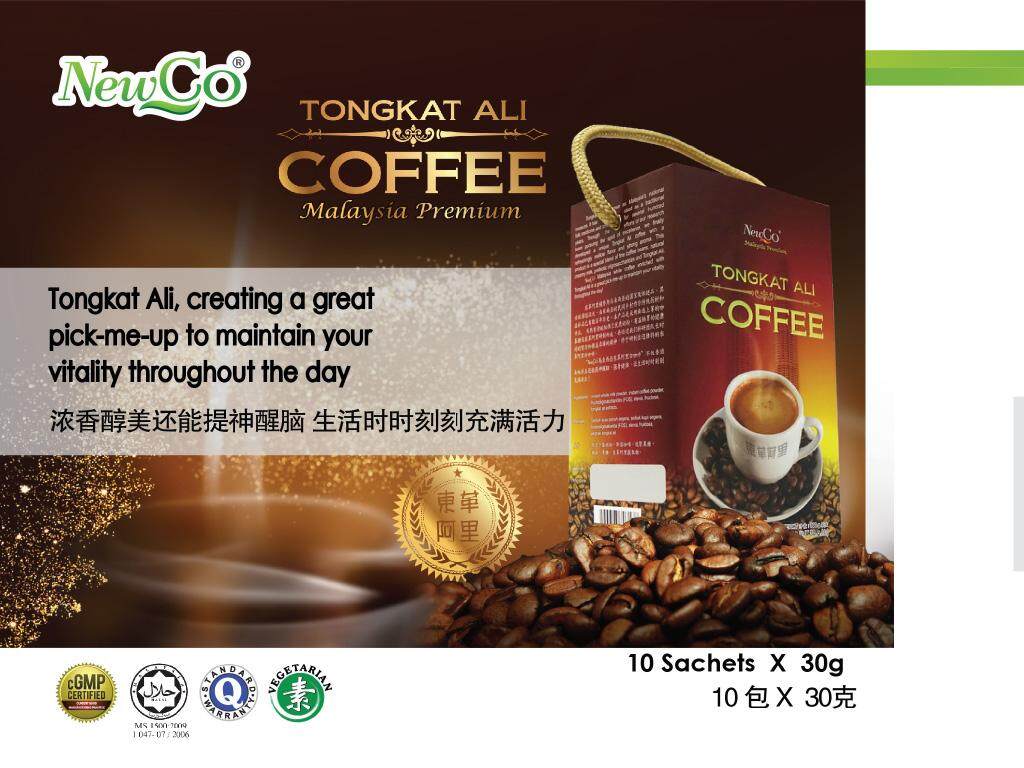 Last Updated @ 28/7/2020 3:56:20 PM