Item Specification
Product Description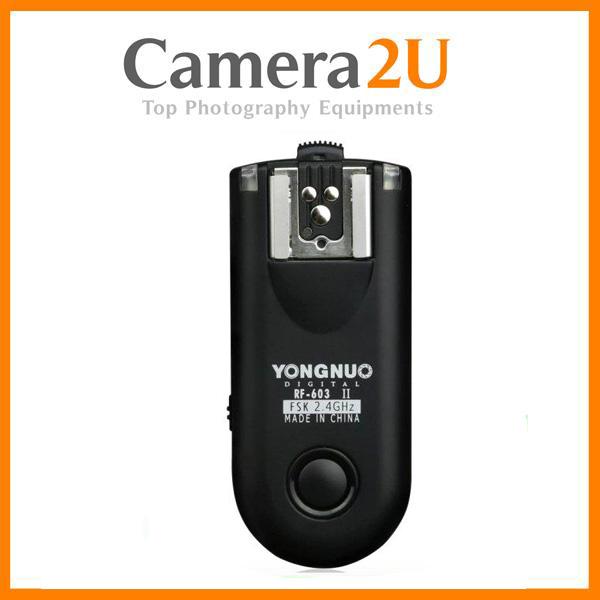 New Yongnuo Flash Trigger RF-603 II
Warranty: 7 days 1 to 1 exchange
Content: 1 x Transceivers.
Ready Stock
Product Description:
YongNuo have released the long awaited updated RF-603 II manual flash triggers. The RF-603 II are the follow up to the original and very popular inexpensive RF-603 flash triggers. And the MK II finally rectify many of the basic shortcomings of the original RF603 and RF-602 triggers.
Improved Features -
•Higher Sync Speeds, up to 1/320th  (RF-602 were slow, RF-603 were very slow)
•Locking Rings on trigger foot  (RF-603 and flash on top would fall off the camera)
•Pass Through Hotshoe now usable  (see point above) though still manual only no TTL
•Power Switch Finally Moved to the Side  (was blocked by the flash on 602 & 603)
•Compatible with non Canon/Nikon and single firing pin cameras  (RF-603 was not)
•Test Fire Button works off the camera hotshoe (for taking light meter readings)  (RF-603 did not)
•300v Safe Trigger Voltage (for hotshoe and PC sync port)  (602/603 where low 12 volt safe limit)
Sync Speed -
Low sync speed was always one of the main shortcomings of the RF-602, and even worse with the RF-603. Now that this is improved with the RF-603 II, it simply means you should be able to get a clean frame without any shutter (or black band) showing in the frame at your cameras maximum sync speed (1/250th etc). Though the Canon 5D series sometimes have to drop to 1/160th even with an instant sync cord. YongNuo are stating this as 1/320th maximum
Locking Rings - 
The original RF-603 has no locking rings on the foot. This was a major oversight now that a flash could be mounted on top of the transmitter on the camera. They would both simply fall off the camera hotshoe! The RF-603 II now has locking ring and locking pin.
The RF-603 II is still manual pass through hotshoe only though (the extra contacts seen on the hotshoe are only for the flash wake up feature).
Power and TX / TRX Switch -
Firstly the power switch has finally been moved to the side of the case, so that you don't have to remove the flash from the trigger to switch it on and off like the RF-602 and 603 require. This alone would enough reason for many people to want to update.
More significant functionally though is the new TX – TRX option switch. The RF-603 are transceivers, meaning they are the same unit for transmitter and receiver, and can switch automatically between transmitting and receiving mode. This ability caused a number of extra issues in the original RF-603 though, like not being able to fire on non Canon/Nikon cameras, or fire the test fire button off the camera hotshoe.
So to help resolve these issues YongNuo have added a switch to the new FR-603 II allowing you to set them as either TX or TRX. TX being set to transmitter mode only, and TRX as self switching. TX mode is used when the transmitter is held in hand for taking light meter readings with the test fire button, or when used as transmitter only on the camera. If using combined flash and shutter release TRX mode would be used. Receivers would always need to be set to TRX.
Compatible with Non Canon / Nikon and Single Firing Pin Cameras - 
With the rise of alternate brand mirrorless cameras its becoming increasingly important for radio triggers to be as universal, and compatible, as possible with non Canon/Nikon and single firing pin cameras. The original RF-603 would not fire at all unless attached to a Canon or Nikon camera with full TTL contacts on the hotshoe. The RF-603 II will now work on most cameras provided they have a standard (non Sony) style hotshoe.
Specifications -
Type: FSK 2.4GHz wireless remote control system
Transmission distance: 100cm
Channels: 16 channels
Shutter release: half-press, full-press
Shutter interface: 2.5mm socket Studio flash light interface: standard PC socket
Max Sync Speed: 1/320 second
Battery: AAA x 2(not include)
 
Free Shipping

Now you can enjoy free shipping within Malaysia. No more hassle about hidden charges and handling fees. The price you see is the price you pay.

 
Pay With Confidence

Have a peace of mind when you make payment to us. We accept payment via bank transfer, bank-in and SafeTrade. We also have Cash on Delivery (COD) to allow you to inspect first before paying.

 
Better Support

Not sure if the item is right for you? Need more detail information before you decide? Contact us and we will help you out. Email: sales@camera2u.com or Call: +012-6714590.

 
Satisfaction Guaranteed

All items are carefully inspected and personally hand packed to perfection before shipping out. We also ensure every order is safely delivered right to your door step.

 
Join Us

Be part of our community. Join thousands of other photography enthusiasts in Malaysia. Get latest updates and tips in the photography world. Like us on Facebook or follow us onTwitter.

Last Updated @ 4/12/2016 10:33:34 PM