Product ID : 217425950
Warranty : No Warranty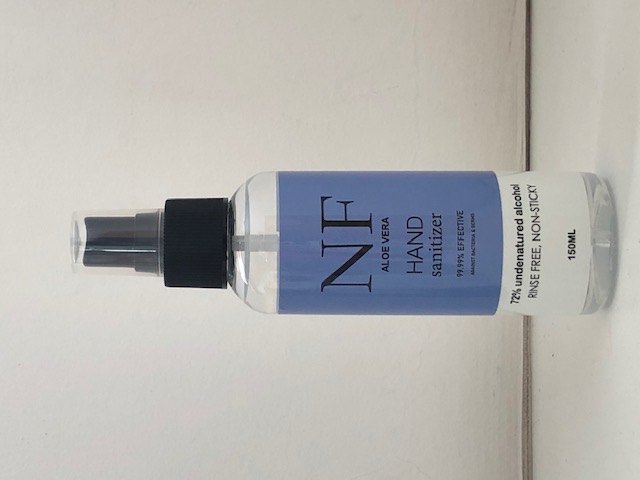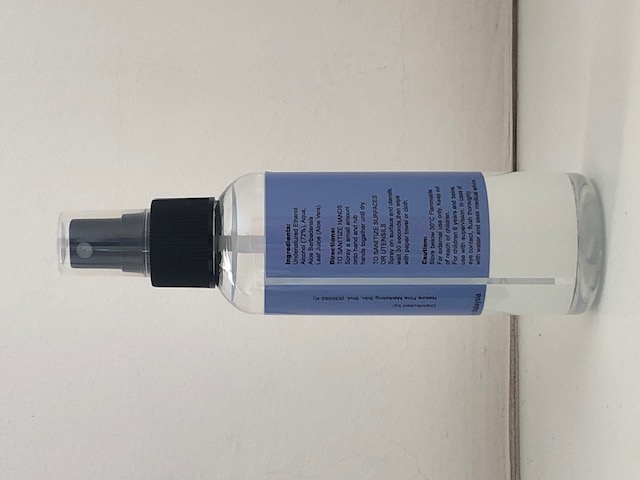 Liquid contains Ethanol at concentration of 70%:
- Instantly kills 99.9% of germs on hands and prevents spread of harmful germs.
- Rinse-free, non-sticky and quick-drying formula.
- Convenient to use.
- Use on multi surface such as Toilet Bowl, Door Knob, Trolley Handle, etc.
- Undenatured alcohol.



















---
Order & Payment
After you have added your items to the Shopping Cart, just follow the simple checkout steps and we'll get your order processed right away. You can also save items in your Shopping Cart or to your Wishlist to access at a later date.
How can I check the status of my order?
We process your order within 3 business days of receiving it. After it has been processed and approved, you will receive email notification when your order has been shipped. This will contain carrier and tracking information for you to refer.
You may also access "My Account" from the Ease Adventure website. This link is located in the upper right corner of the website.
Can I modify or cancel my order?
Please contact us within 24 hours after placing your order should you need to cancel or modify it. If the order has already been shipped, it is unlikely we will be able to cancel it or make changes. In that event, you may need to return the item within our 5-day policy and/or incur a cancellation fee. Please contact us if you have any questions.
Is there a warranty on the products I purchase?
All products sold on www.easeadventure.com are subject to our warranty policies. Please contact us to inquire about specific products.
Payment Options : Currency & Pricing
The currency currently used for transactions at Ease Adventure is Malaysia Ringgit (MYR).
Am I safe to pay using credit cards at Superbuy?
When you submit your details to us over the Internet, you will be directed to a secured site under the industry-standard SSL.
Under certain circumstances, further details such as credit card holder's name, credit card number, and fixed line number will be requested by Ease Adventure management for further verification.
Ease Adventure would not request any passwords either through e-mail or phone call.
Ease Adventure reserves the rights to cancel or reject any transactions when the purchaser or credit card holder's fails to produce any verifications.
Payment Methods & Options
Payment Method 1 : Bank Transfer / Internet Banking
You can pay for your order through an automatic debit to our bank accounts with Internet Banking. With this option, you can cash in to any of the following banks:
Maybank (Maybank2u)
RHB bank (RHB Online)
To pay for the Items purchased at Ease Adventure:
Add the products to your shopping cart and check-out.

Choose Payment Method as "Maybank2u" or "RHB Online" Bank transfer or.

Choose "Cash Bank-In" for offline bank-in or interbank transfer. Bank account number will be given upon confirmation.

Check your order and "Confirm" it. You will receive a confirmation e-mail from Ease Adventure within minutes.
Payment Method 2 : Credit Card
Credit card Accepted: MasterCard and Visa Card.
Your credit card will be charged only when your order is processed and confirmed.
To pay for the Items purchased at Ease Adventure:
Add the products to your shopping cart and check-out.

Choose Payment Method as "MASTER" or "VISA" for Bank transfer
Kindly take note that you must obtain your 3D secure password/pin before proceeding to pay if you are using a credit card issued by the following bank:
In most cases, your order is shipped directly from the Superbuy warehouse or supplier to you via Poslaju or any other reputable courier service.
Same Day Shipping*
In most cases we are able to ship the same day (Monday - Friday), provided the order is placed before 3.00pm (GMT +08.00). We cannot guarantee this but make every efforts to do so.
Same day shipping doesn't apply to:
Orders placed on Saturdays, Sundays, or holidays.

Orders for large props or Special Order items.
How are shipping and handling charges determined?
Shipping and handling rates are RM6 for West Malaysia and RM10 for Ease Malaysia. Free shipping available for selected items with a promotion and will be clearly indicated on the product posting.
In all domestic shipping options, Business Days are weekdays, Monday-Friday, excluding Saturday, Sunday and holidays.

Domestic shipment (Within Malaysia): Shipping may take 1-2 business days from the date of shipment.
Damages & Missing Items
If you have received an item that has been damaged or have missing items from your order, contact us by phone at 04-2836188 or email within 3 business days of receipt. Keep all items, boxes, and packing material shipped to you for inspection. For damages, you will need to provide us a description and photos of the damage to the item as well as the condition of any packaging via email. In the event that an order contains damaged or defective items for which a customer does not wish a replacement, the customer will be responsible for returning the items according to the return policy.
For missing items, please make sure you have removed all packing material from the shipping box to confirm that the item was not hidden from view. Sometimes small items are shipped inside other items to protect them during shipping. If your order required multiple boxes to ship, it may be helpful to check the tracking information to confirm that all packages have been delivered.
How to arrange for self collect item?
Ease Adventure warehouse is located at Jelutong, Malaysia. Appointment with Ease Adventure must be made 3 business days prior collection. Any walk-in customer without appointment will not be entertained.
Please refer to our business hours and contact us for appointment.
Out-of-Stock Products
We take every measure to ensure that the products we offer are in stock. However, from time-to-time we may sell out situation for a particular item. If the item you ordered is out of stock, we will notify you within one business day of your order.
If you have any concerns, questions or comments, please contact us at:
Terms of Use
Please read the following Terms of Use carefully before using this website. Your use of Ease Adventure (operating under Nature Fine Marketing Sdn Bhd) website constitutes your agreement to following rules. Ease Adventure reserves the right, at any time, to modify, alter or update these Terms. You agree to be bound by any modifications, alterations or updates.

Copyrights & Trademarks
The Ease Adventure website, design, text and graphics © 2019 easeadventure.com and the Ease Adventure logo are service marks of Nature Fine Marketing Sdn Bhd. The Ease Adventure name, website and logo may not be used in any way without prior, written permission from Ease Adventure. Some product materials, company names and logos contained within this site are Copyright by the original owner and may be Trademarks of their respective owners.
Use of the Site
Ease Adventure grants permission to view this site and to print hard copy portions of this site for your personal use. By doing so, you agree to all Ease Adventure policies and the rules stated within our Terms of Use. You are prohibited from reproducing, modifying, distributing, publishing, translating, aggregating, collecting, selling, gathering and mining any information and/or data contained within this site. This site should only be used as a shopping and information resource. Your interactions with individuals and/or organizations found on this site (including interactions from using the Classifieds section), are solely between you and such organizations and/or individuals. This includes, but is not limited to, payment and delivery of goods, terms, conditions and/or warranties. Ease Adventure permits you to display or create a hyperlink on your website or personal web blog to individual postings as long as it is for non-commercial purposes only. Ease Adventure reserves the right to refuse or remove any submission or posting that violates our standards.
Product Information & Orders
The information on this site may contain typographical errors or inaccuracies and may not be complete or current. Such errors, inaccuracies or omissions may relate to product description, product picture, pricing and availability. In the event an error occurs, it will be corrected immediately. Ease Adventure reserves the right to revoke any stated offer and to correct any errors, inaccuracies or omissions (including after an order has been submitted).
Pricing Error Policy
If we found any errors on the price for any items listed in easeadventure.com, Ease Adventure reserves the right to amend the price of the products even the order has been paid. We will then request buyers to confirm again if they agreed to the newly revised prices. If they do not agreed to the revised price, order will be cancel and money will be refunded to buyer in full.
External Links
Ease Adventure may contain links to other external sites. Ease Adventure is not responsible for the privacy practices of such sites and accepts no responsibility regarding the quality, nature, and reliability of such sites.
Return & Exchange Policy
Product Quality Assurance
WE ARE PROUD TO ASSURE THE QUALITY of everything we sell. All products sold at Ease Adventure are 100% authentic and original. If you encounter any product quality issues, manufacturing defects, or an mistake on our or suppliers part, please contact us. We will give you a choice of a replacement or exchange for your purchases. For all returns, please read the following information clearly. If you do not fully agree or understand the following information, please contact us before purchasing.

Policy Against Fake / Replica / Imitation Products
At Ease Adventure, we do not sell fake / replica or imitation goods. We assure buyers that what you buy are from genuine goods. We only work with distributors / manufacturers who sell genuine products or are authorized to distribute the goods in Malaysia.

Superbuy Return Policy
Any return received with missing items or without original packaging will not be credited.

The following items are NEVER returnable:

Any item that has been worn, used or altered

Items that require special delivery

Products that have been opened or have a broken seal

Any product missing the serial number or UPC

Some health and personal care items
If you attempt to return an item, which is not returnable, the item will be shipped back to you, and you will be charged the cost of shipping for sending it back.
When Your Order Arrives
Upon receiving your order, please open and inspect all products on the same day as delivered. If there are any issues, please contact us immediately.

Package / Merchandise that arrived damaged in transit must be reported to us on the same day. Please have the delivery driver to make a note if the package they'd deliver shows signs of damage before signing it.
Return & Exchange Instructions
Subject to the Ease Adventure Return Policy above, if something needs to be returned, please contact our customer service within 3 days after receiving your product. Please include the order number, e-mail address, pictures of the product, and the problem in all correspondence.
Returns can be made via courier or through our office.
For courier returns...
Product(s) must be sent back to us only via reliable and traceable shipping methods within 7 days after reporting to our customer service. Ease Adventure will not be responsible for refunding any untraceable packaged products. All return shipping costs will be borned by the purchaser of the product.
Nature Fine Marketing Sdn Bhd
65, Lintang Sungai Pinang,
Jelutong 11600
Penang.
Refunds will be made for the cost of the product that was paid. Ease Adventure does not refund any shipping and handling charges that was made initially by the purchaser.
Ease Adventure will NOT accept any return of products with obvious signs of use. If you return products in used condition, you will be responsible for the cost to have them shipped back to you.
Refunds
Refunds will be issued in the same method of payment as the original payment. Purchase made with cash: a cash refund will be issued. Purchase made with a credit card: a credit will be issued to the original card.

Once we received your return package, your refund will be processed within 7-10 working days. Please allow another 2-4 working days for the credit to be posted to your credit card account, and an additional 1 to 2 billing cycles for the credit to appear on your billing statement as each bank's processing time varies. Credit will be issued for the original amount that was paid for the merchandise, excluding shipping fees. Refunds will be issued in the original form of payment only.
Average Product Rating
0.0 stars out of 5
| | | |
| --- | --- | --- |
| 5 star | | 0 |
| 4 star | | 0 |
| 3 star | | 0 |
| 2 star | | 0 |
| 1 star | | 0 |
Share your thoughts with others
Write a review
Only buyers who purchased the product may leave a review