nGroove Snap 3 - The latest most versatile car mount from Mountek for Small Tablets, Phablets, Mobile Phones, GPS and other mobile devices
Just wedge, tighten, snap and drive!

Mountek introduces the nGroove Snap 3, the upgraded latest version of the popular nGroove Snap for seamless digital device mounting. The new product maintains the best features of its predecessor, the nGroove Snap 2, but has been enhanced aesthetically and functionality with newly designed front rubberised magnetic adapter and metal badges.
 Mountek's nGroove Snap 3 neatly inserts into vehicle CD slots or existing dashboard grooves to provide a firm, stable mount for protecting and displaying digital devices on the road. Smartphones, GPS devices and other consumer electronics securely attach to the mount's magnetic-reinforced badge, p
ermitting hands-free use while driving. Because of the patented blade-support system, installation requires no suction cups, no clips, no screw, no adhesives and no glue. New features of the nGroove Snap 3 include: rubber magnetic adapter encasement to replace silicone sticker, 2 new shapes and sizes of metal badges for smartphones and tablets, overall improvements for more reliable installation and grip.
Its unique design places your phone at the center of your dashboard where you can easily and comfortably see it while driving - right in your CD slot. The design is so cool, that the effect is a beautiful, seamless, invisible mount that makes your device looks like it's "floating". Now your mobile devices will look like it's part of your car.
Mountek USA had worked for years to make a mount without any visible or permanent braces, brackets, or clips. The result is a patented design with a microblade small enough to fit into the slot of your CD player or seams of your dashboard, narrow enough to hide behind your tablets or phone, and sturdy enough to withstand the rockiest of roads. It uses (Neudymium) to secure your mobile devices via a very thin metal badge attached to your devices. 
The Mountek designed the blade is such that it does not go far enough into your CD slot to activate the CD player mechanism, so that means you can still have a CD in your player while the mount is installed.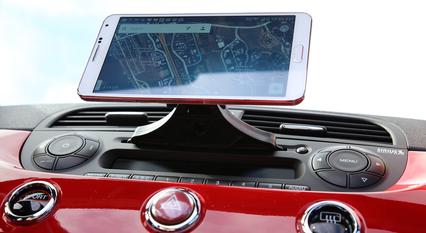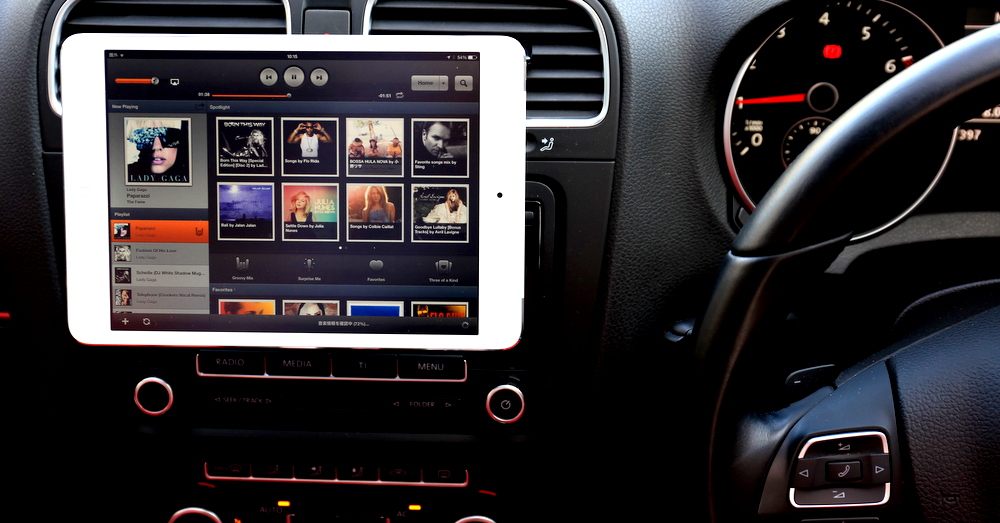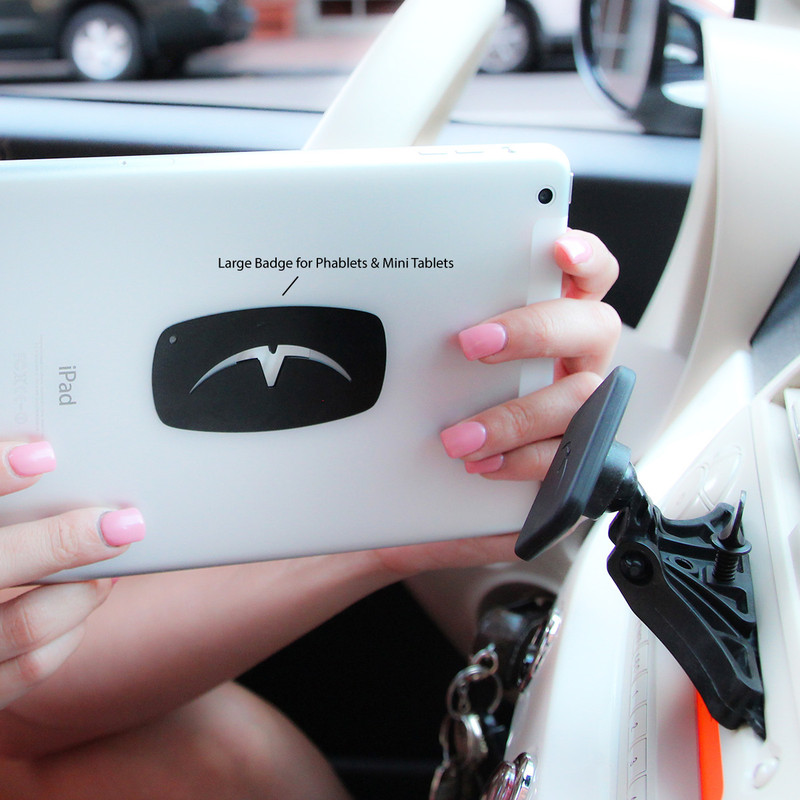 This magnetic mobile device mount with a sleek patented nGroove blade that easily wedges into CD slots and dashboard seams, the optimal location for driver accessibility. 
The nGroove Snap's pre-assembled blade has made car mount installation simple and effortless. Forget suction cups, clips, screws, and adhesives. No more sticky stains or residue on your dashboard. Just wedge, tighten, and drive. It's that simple! 
The nGroove Snap is Mountek's most versatile mount yet. It functions as a CD Slot Mount, Dashboard Seam Mount, Desktop Stand, Tripod Mount, Monitor Clip, and a Selfie Stick Adapter.
.
| | | |
| --- | --- | --- |
| Mount position at narrow dashboard seams/grooves. | As a Desktop Stand. | Selfie Stick Adapter. |
| Mount to Tripods. | Mount to Tripods. | Clip/attach to your Computer Monitor/Screen. |
How does it work?
The nGroove Snap is a 2-piece removable blade system that expands in and out of place with a simple knob.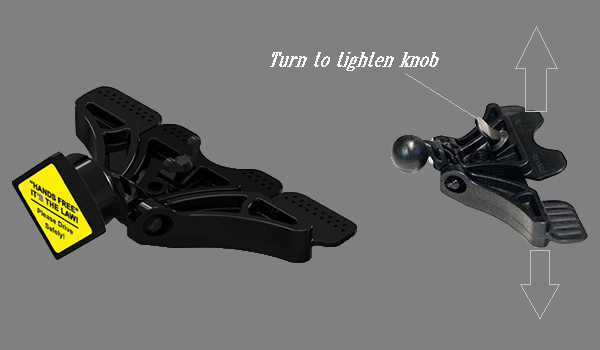 2. nGroove Snap 3 comes with 2 low profile metal badges with removable, non-permanent adhesive backing for your devices, 1 large badge (with 0.5mm thickness) & 1 small badge (with 0.25mm thickness). The larger badge provides stronger holding strength. Please note that for small tablets, you should use the larger badge. The low profile badge is what snaps to the magnet on the nGroove Snap.
If your phone has a case, the badge is thin enough to stick it or just place it to the inside of the case for a completely invisible look.
3. The low profile badge snaps to powerful rare earth magnets that holds your tablet or phone steady.
nGroove Snap Features:-
Universal - Firmly and Safely Mounts:-
- Small Tablets (up to 8") such as iPad Mini, Nexus 7, Galaxy Tab, Kindle Fire, Asus FonePad/MemoPad, Acer Iconia A1, etc. (Please note that although full size 10" Tablets maybe mounted on nGroove Snap, however, Mountek Do Not advise/recommend using the mount for such Tablets as it may not be firmly secured and may dislodged during sudden bumps on the road due to its weight.) 

- Mobile Phones such as iPhone, Samsung, Motorola, HTC, Blackberry, Nokia, Sony, Huawei, ZTE, etc. 
 
Flexible - Swivel Lets You Easily Position Your Device at Any Angle.
Easy Installation - Easily Wedges Into CD Player Slots, Dashboard Seams & Other Tight Grooves Without Suction Cups, Screws, Adhesives, Glue, or Other Tools.
Versatile - Securely Fits Into the Tightest Seams & Grooves in Autos, Planes, Boats, & More.  Installs into CD Slots and Dashboard Seams, Works as a Desktop Stand, Connects to Tripods, Clips to Laptop Monitors.
Patented CD Slot Mounting Technology. U.S. Patent ID: 8,505,795.