Item Specification
Product Description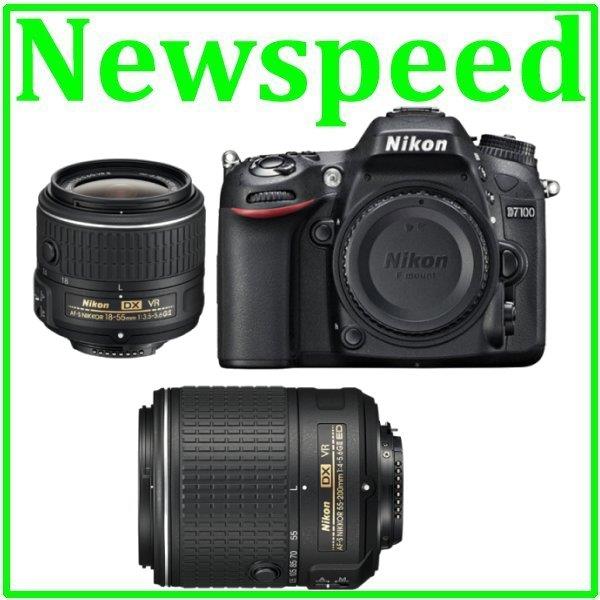 Professional Online Seller since 2004, over 10,000 Happy Customer
03-61406188 / 017-2216188
CAMERA VALLEY
B-10-2, GIZA MALL, JLN PJU5/14, KOTA DAMANSARA,
47810 PETALING JAYA, SELANGOR.
Nikon D7100 + 18-55mm VR II Lens + 55-200mm VR II Lens Kit
1 Year Warranty
Content: Nikon D7100 Body, Nikon 18-55mm VR II Lens, Nikon DX 55-200mm F/4-5.6G ED VR II Lens, Li-ion Battery, Charger, Eyepiece Cap, Rubber Eyecup, USB Cable, Neck Strap, Body Cap, Accessory Shoe Cover, Software and Manual CD-ROM
Product Description:
Nikon D7100 key features
•24.1MP DX format CMOS sensor, with no OLPF
•EXPEED 3 processing
•ISO 100-6400 standard, up to 25600 expanded
•Max 6 fps continuous shooting in DX mode, 7fps in 1.3X crop mode
•51 point AF system, 15 sensors cross type
•2016 pixel RGB metering sensor
•Spot white balance in live view mode
•1080 60i/30p video recording, built-in stereo mic, mic jack and audio monitoring jack
•Pentaprism with 100% coverage and 0.94X magnification
•3.2", 1.2m-dot LCD screen (640 x 480 X RGBW)
•Front and rear IR receivers
•Equivalent water and dust resistance to D800/D300S
The arrival of the 24MP D7100 comes two-and-a-half years after the announcement of its predecessor the D7000, and it's a pretty serious upgrade. Significantly, Nikon Europe's presentation of the camera describes the D7100 as the company's 'flagship DX model', and omitted mention of the D300S in the company's DSLR lineup. Certainly, the gap between the D7100 and D600 now leaves little obvious room for a 'D400.'
 
It was only a matter of time before 24MP resolution became standard across Nikon's entire range of DX-format APS-C DSLRs, and lo and behold - the 24MP D7100 is the latest in the series, but this isn't just the sensor from a D5200 packaged a newer body. In fact, this would be a fundamental misunderstanding of the new camera.
 
The critical thing here is that despite the fact that the D7100 is Nikon's third DX-format 24MP DSLR, its sensor is new, and unique in Nikon's stable. In a first for Nikon, the D7100's sensor lacks an optical low-pass filter (OLPF). The D800E, Nikon's highest-resolution DSLR has the effect of its OLPF 'cancelled out', but the D7100, like the Pentax K-5 IIs, omits it altogether. The result should be higher resolution than is possible from the conventional 24MP sensors in the D5200 and D3200, and Nikon clearly feels comfortable with the associated higher risk of moiré in fine patterns - one of the few black marks against the 36MP D800E when we tested it last year.
Compared to its predecessor the D7000, the D7100 doesn't just offer an upgraded sensor with a higher pixel-count. It also features a significantly upgraded AF system, with 51 AF points (15 cross type) as opposed to 39 in the older model. It shares these specifications, and the Multi-Cam 3500DX designation with the D300S, but Nikon promises the autofocus algorithms from the D4 which could, in part, explain the extended sensitivity range (with the D7100 able to focus in light as low as -2EV, according to its specifications).
 
The AF points cover a wider proportion of the D7100's frame, as well as offering greater definition within this area which, combined with those D4-derived algorithms should make the D7100 a more versatile camera when faced with capturing sports or fast action. The D7100's processing should also live up to the D4's standards - offering better color reproduction and improved noise reduction - helping earn it the Expeed 3 name.
 
The improvements aren't limited to still image capture - the D7100 also offers a nicely upgraded movie mode compared to the D7000. It gains 1080p30 shooting, rather than 24p, a built-in stereo microphones and an optional 1.3X crop mode, giving an effective focal length increase of 2X (making a 50mm lens behave like a 100mm). In this crop mode 50/60i movie recording is available, which suggests it comes from 50/60p, rather than being 25/30p capture which is then segmented, but Nikon is not clear on the distinction. Certainly the cropped mode allows faster frame-rates, since stills capture (now at 15MP) increases a touch, to 7fps.
 
The D7100 also supports Nikon's WU-1a Wi-Fi unit, which plugs into the camera's accessory terminal and allows images to be transmitted wirelessly to a smartphone or tablet for uploading to social networks. The device can also be used as a remote control for the camera, complete with Live View, which is potentially a neat way of setting up self-portraits or group shots. If flash is your thing, the D7100's built-in flash can be used either as the sole source of illumination or as a commander for a group of Speedlites.
 
A logical and welcome improvement to the D7100 compared to the D7000 is the addition of the same improved Auto ISO program that we first saw on the D800, and latterly the D5200. This adds the ability to set the minimum shutter speed automatically based on the focal length of the lens in use, with a choice of five settings that bias towards faster or slower speeds. This fixes one of our biggest criticisms of older Nikon DSLRs, and makes Auto ISO more suitable for use with zoom lenses.
 
New in the D7100 is a 'spot white balance' feature, which allows you to set white balance when shooting in live view mode quickly and easy, by simply selecting an area of the scene from which to take the reading. This promises to be much easier than the conventional Nikon approach to setting custom white balance, which is far from intuitive, to say the least...
 
Type of camera

Single-lens reflex digital camera

Lens mount

Nikon F mount (with AF coupling and AF contacts)

Effective angle of view

Nikon DX format; focal length in 35mm [135] format equivalent to approx. 1.5x that of lenses with FX-format angle of view

Effective pixels

Effective pixels

24.1 million

Image sensor

Image sensor

23.5 x 15.6 mm CMOS sensor

Total pixels

24.71 million

Dust-reduction system

Image Sensor Cleaning, Image Dust Off reference data
(optional Capture NX 2 software required)

Storage

Image size (pixels)

DX (24x16) image area: 6000 x 4000 [L], 4496 x 3000 [M], 2992 x 2000 [S]
1.3x (18x12) image area: 4800 x 3200 [L], 3600 x 2400 [M], 2400 x 1600 [S]
Photographs with image area of DX (24x16) taken in movie live view: 6000 x 3368 [L], 4496 x 2528 [M], 2992 x 1680 [S]
Photographs with image area of 1.3x (18x12) taken in movie live view: 4800 x 2696 [L], 3600 x 2024 [M], 2400 x 1344 [S]

File format

NEF (RAW): 12 or 14 bit, lossless compressed or compressed
JPEG: JPEG-Baseline compliant with fine (approx. 1:4), normal (approx. 1:8) or basic (approx. 1:16) compression (Size priority); Optimal quality compression available
NEF (RAW)+JPEG: Single photograph recorded in both NEF (RAW) and JPEG formats

Picture Control System

Standard, Neutral, Vivid, Monochrome, Portrait, Landscape; selected Picture Control can be modified; storage for custom Picture Controls

Media

SD (Secure Digital) and UHS-I compliant SDHC and SDXC memory cards

Double slot

Slot 2 can be used for overflow or backup storage or for separate storage of copies created using NEF+JPEG; pictures can be copied between cards

File system

DCF (Design Rule for Camera File System) 2.0, DPOF (Digital Print Order Format), Exif (Exchangeable Image File Format for Digital Still Cameras) 2.3, PictBridge

Viewfinder

Viewfinder

Eye-level pentaprism single-lens reflex viewfinder

Frame coverage

Approx. 100% horizontal and 100% vertical

Magnification

Approx. 0.94x (50 mm f/1.4 lens at infinity, -1.0 m-1)

Eyepoint

19.5 mm (-1.0 m-1; from center surface of viewfinder eyepiece lens)

Diopter adjustment

-2 to +1 m-1

Focusing screen

Type B BriteView Clear Matte Mark II screen with AF area brackets (framing grid can be displayed)

Reflex mirror

Quick return

Depth-of-field preview

Pressing depth-of-field preview button stops lens aperture down to value selected by user

Lens aperture

Instant return, electronically controlled

Lens

Compatible lenses

Compatible with AF NIKKOR lenses, including type G and D lenses (some restrictions apply to PC lenses) and DX lenses, AI-P NIKKOR lenses, IX-NIKKOR lenses, lenses for the F3AF, and non-AI lenses cannot be used
The electronic rangefinder can be used with lenses that have a maximum aperture of f/5.6 or faster (the electronic rangefinder supports the center focus point with lenses that have a maximum aperture of f/8 or faster)

Shutter

Type

Electronically controlled vertical-travel focal-plane shutter

Speed

1/8000 to 30 s in steps of 1/3 or 1/2 EV, bulb, time, X250

Flash sync speed

X=1/250 s; synchronizes with shutter at 1/320 s or slower (flash range drops at speeds between 1/250 and 1/320 s)

Release

Release modes

S (single frame), CL (continuous low speed), CH (continuous high speed), Q (quiet shutter release),  (self-timer), MUP (mirror up); interval timer photography supported

Approximate frame advance rate

JPEG and 12-bit NEF (RAW) images recorded with DX (24x16) selected for image area: CL 1 to 6 fps, CH 6 fps
JPEG and 12-bit NEF (RAW) images recorded with 1.3x (18x12) selected for image area: CL 1 to 6 fps, CH 7 fps
14-bit NEF (RAW) images recorded with DX (24x16) selected for image area: CL 1 to 5 fps, CH 5 fps
14-bit NEF (RAW) images recorded with 1.3x (18x12) selected for image area: CL 1 to 6 fps, CH 6 fps

Self-timer

2 s, 5 s, 10 s, 20 s; 1 to 9 exposures at intervals of 0.5, 1, 2 or 3 s

Remote control modes (ML-L3)

Delayed remote, quick-response remote, remote mirror-up

Exposure

Metering mode

TTL exposure metering using 2016-pixel RGB sensor

Metering method

Matrix: 3D color matrix metering II (type G and D lenses); color matrix metering II (other CPU lenses); color matrix metering available with non-CPU lenses if user provides lens data
Center-weighted: Weight of 75% given to 8-mm circle in center of frame; diameter of circle can be changed to 6, 10, or 13 mm, or weighting can be based on average of entire frame (non-CPU lenses use 8-mm circle)
Spot: Meters 3.5-mm circle (about 2.5% of frame) centered on selected focus point (on center focus point when non-CPU lens is used)

Range
(ISO 100, f/1.4 lens, 20°C/68°F)

Matrix or center-weighted metering: 0 to 20 EV
Spot metering: 2 to 20 EV

Exposure meter coupling

Combined CPU and AI

Exposure modes

Auto modes; programmed auto with flexible program; shutter-priority auto; aperture-priority auto; manual; scene modes: portrait;  landscape;  child;  sports;  close up;  night portrait;  night landscape;  party/indoor;  beach/snow;  sunset;  dusk/dawn;  pet portrait;  candlelight;  blossom;  autumn colors;  food); special effects modes ( night vision;  color sketch;  miniature effect;  selective color;  silhouette;  high key;  low key);  user settings 1);  user settings 2)

Exposure compensation

Can be adjusted by -5 to +5 EV in increments of 1/3 or 1/2 EV

Exposure bracketing

2 to 5 frames in steps of 1/3, 1/2, 2/3, 1, 2 or 3 EV

Exposure lock

Luminosity locked at detected value with E-L/AF-L button

ISO sensitivity
(Recommended Exposure Index)

ISO 100 to 6400 in steps of 1/3 EV; can also be set to approx. 0.3, 0.5, 0.7, 1 or 2 EV (ISO 25600 equivalent) above ISO 6400; auto ISO sensitivity control available

Active D-Lighting

Auto, extra high, high, normal, low, off

ADL bracketing

2 frames using selected value for one frame or 3 frames using preset values for all frames

Focus

Autofocus

Nikon Advanced Multi-CAM 3500DX autofocus sensor module with TTL phase detection, fine-tuning, 51 focus points (including 15 cross-type sensors; the center point is available at apertures slower than f/5.6 and faster than f/8 or at f/8), and AF-assist illuminator (range approx. 0.5 to 3 m/1 ft 8 in. to 9 ft 10 in.)

Detection range

-2 to +19 EV (ISO 100, 20°C/68°F)

Lens servo

Autofocus (AF): Single-servo AF (AF-S); continuous-servo AF (AF-C); auto AF-S/AF-C selection (AF-A); predictive focus tracking activated automatically according to subject status
Manual focus (M): Electronic rangefinder can be used

Focus point

Can be selected from 51 or 11 focus points

AF-area modes

Single-point AF, 9-, 21- or 51-point dynamic-area AF, 3D-tracking, auto-area AF

Focus lock

Focus can be locked by pressing shutter-release button halfway (single-servo AF) or by pressing

AE-L/AF-L button

Flash

Built-in flash

 Auto flash with auto pop-up
Manual pop-up with button release

Guide number

Approx. 12/39, 12/39 with manual flash (m/ft, ISO 100, 20°C/68°F)

Flash control

TTL: i-TTL flash control using 2016-pixel RGB sensor is available with built-in flash and SB-910, SB-900, SB-800, SB-700, SB-600 or SB-400; i-TTL balanced fill-flash for digital SLR is used with matrix and center-weighted metering, standard i-TTL flash for digital SLR with spot metering

Flash modes

Auto, auto with red-eye reduction, auto slow sync, auto slow sync with red-eye reduction, fill-flash, red-eye reduction, slow sync, slow sync with red-eye reduction, rear-curtain with slow sync, rear-curtain sync, off; Auto FP High-Speed Sync supported

Flash compensation

-3 to +1 EV in increments of 1/3 or 1/2 EV

Flash bracketing

2 to 5 frames in steps of 1/3, 1/2, 2/3, 1, 2 or 3 EV

Flash-ready indicator

Lights when built-in flash or optional flash unit is fully charged; flashes after flash is fired at full output

Accessory shoe

ISO 518 hot-shoe with sync and data contacts and safety lock

Nikon Creative Lighting
System (CLS)

Advanced Wireless Lighting supported with: SB-910, SB-900, SB-800 or SB-700 as a master flash and SB-600 or SB-R200 as remotes or SU-800 as commander; built-in flash can serve as master flash in commander mode
Auto FP High-Speed Sync and modeling illumination supported with all CLS-compatible flash units except SB-400; Flash Color Information Communication and FV lock supported with all CLS-compatible flash units

Sync terminal

AS-15 Sync Terminal Adapter (available separately)

White balance

White balance

Auto (2 types), incandescent, fluorescent (7 types), direct sunlight, flash, cloudy, shade, preset manual (up to 6 values can be stored, Spot White Balance measurement available during live view), choose color temperature (2500 K to 10000 K), all with fine-tuning

White balance bracketing

2 to 5 frames in steps of 1, 2 or 3

Live View

Modes

Live view photography (still images), movie live view (movies)

Lens servo

Autofocus (AF): Single-servo AF (AF-S); full-time servo AF (AF-F)
Manual focus (M)

AF-area modes

Face-priority AF, wide-area AF, normal-area AF, subject-tracking AF

Autofocus

Contrast-detect AF anywhere in frame (camera selects focus point automatically when face-priority AF or subject-tracking AF is selected)

Movie

Metering

TTL exposure metering using main image sensor

Metering method

Matrix

Frame size (pixels)
and frame rate

1920 x 1080; 60i (59.94 fields/s)/50i (50 fields/s)*
1920 x 1080; 30p (progressive), 25p, 24p
1280 x 720; 60p, 50p

Actual frame rates for 60p, 50p, 30p, 25p and 24p are 59.94, 50, 29.97, 25 and 23.976 fps respectively; options support both high and normal image quality
*Available only when 1.3x (18x12) is selected for image area; sensor output is about 60 or 50 fps

File format

MOV

Video compression

H.264/MPEG-4 Advanced Video Coding

Audio recording format

Linear PCM

Audio recording device

Built-in or external stereo microphone; sensitivity adjustable

Maximum length

29 min. 59 s

Monitor

Monitor

8-cm/3.2-in., approx. 1229k-dot (VGA; 640 x 480 x 4 = 1,228,800 dots), TFT monitor with approx. 170° viewing angle, approx. 100% frame coverage and brightness adjustment

Playback

Playback

Full-frame and thumbnail (4, 9, or 72 images or calendar) playback with playback zoom, movie playback, photo and/or movie slide shows, histogram display, highlights, photo information, GPS data display and auto image rotation

Interface

USB

Hi-Speed USB

HDMI output

HDMI mini connector (Type C)

Accessory terminal

Wireless remote controller: WR-1 and WR-R10 (available separately), Remote cord: MC-DC2 (available separately), GPS unit: GP-1/GP-1A (available separately)

Audio input

Stereo mini-pin jack (3.5-mm diameter; plug-in power supported)

Audio output

Stereo mini-pin jack (3.5-mm diameter)

Power source

Battery

One EN-EL15 Rechargeable Li-ion Battery

Battery pack

Optional MB-D15 Multi-Power Battery Pack with one EN-EL15 Rechargeable Li-ion Battery or six AA-size alkaline, Ni-MH or lithium batteries

AC adapter

EH-5b AC Adapter; requires EP-5B Power Connector (available separately)

Tripod socket

Tripod socket

1/4 in. (ISO 1222)

Dimensions / weight

Dimensions
(W x H x D)

Approx. 135.5 x 106.5 x 76 mm/5.3 x 4.2 x 3.0 in.

Weight

Approx. 765 g/1 lb 11.0 oz with battery and memory card but without body cap; approx. 675 g/1 lb 7.8 oz (camera body only)

Operating environment

Operating environment

Temperature: 0 to 40°C/32 to 104°F; humidity: 85% or less (no condensation)
Buy with confidence
| | | | |
| --- | --- | --- | --- |
| Buyer | Item ID | Date | Ratings |
| vo**** | 200355775 | 1/23/2018 4:11:00 PM | fast delivery, great seller |
| re**** | 200355729 | 1/23/2018 3:55:00 PM | very fast response and delivery! awesome price |
| na**** | 200094951 | 1/19/2018 1:15:00 PM | Very fast shipment! The very next day. Very reliable and Efficient Seller. Just ask if they have stock before buying. |
| ch**** | 200094157 | 1/17/2018 11:10:00 AM | - |
| er**** | 200096270 | 1/16/2018 1:23:00 PM | Highly recommended seller! Will purchase again. Thanks! |
| er**** | 200095423 | 1/16/2018 1:23:00 PM | Highly recommended seller! Will purchase again. Thanks! |
| er**** | 200096177 | 1/16/2018 1:23:00 PM | Highly recommended seller! Will purchase again. Thanks! |
| ad**** | 200094337 | 1/13/2018 1:43:00 PM | Fantastic seller. Fast delivery within 2 days included Saturday received the items order. Thank you so much and 5 star for packaging and delivery. |




















---
100% SAFE WITH NEWSPEED STORE
WE HAVE OVER 10000+ HAPPY CUSTOMER ONLINE
Easy Transaction, 3 Step Only:
1. ORDER
2. PAYMENT
3. EMAIL DETAILS TO US
PAYMENT OPTION :
1. Retail purchase (walk in) are welcome at out retail shop.
2. Maybank2u / Online bank transfer / Cash Deposit / ATM / Giro / Cheque / Wang Pos

For maybank2u transfer:
Please PAY TO:
Lim Kian Tick, Maybank Account No:512231785699
Key in your ORDER ID.
In the email address key in newspeedstore@gmail.com so that we know you already paid and proceed your order.
IMPORTANT!!
AFTER you had made the payment, please email us your payment slip together with the following details to speed up delivery:

1. Order ID / Item number:
2. Date of Payment:
3. Total Amount Paid:
4. Method of payment (ATM Deposit/Transfer/Counter/InterBank Transfer / Credit card... etc):
5. Items purchased:
6. Name and delivery address:
7. Telephone:
*Tips for fast and easy payment recognition: You may add few cents in your payment,
Example: Instead of RM550, pay RM550.02, RM550.34 this way we can easily know this is your payment.
3. Credit Card Payment :
Card payment subject to credit card surcharge.
Easy Payment / Installment available at our retail shop.
100% SAFE WITH NEWSPEED STORE
WE HAVE OVER 6000+ HAPPY CUSTOMER ONLINE
Poslaju / Courier Delivery:
- We had sent thousands of parcel all over the world, and we provide good packing as you may read our customer feedback.
- For defective on arrival (D.O.A) items, we provide 1 to 1 exchange, but subject to official report from Poslaju / Courier.
- Your items will be ship out around 1-3 working days for ready stock items, 5-10 days for Pre-order items.
- Shipping charges are clearly stated in item page.
- Shipping charges are not refundable.
If you do not agree our terms and conditions, please do not bid. No cancellation of bid is allowed.
Please contact us to resolve any question before bidding. You should understand that your bid is a contract, if you win the bid for this item, you have to proceed to purchase this item.
Non-Paying Bidder / Joy bidder will be reported to lelong and will be blacklisted.
-Winner will received email from lelong after auction closed, payment info is included in the email. Please made payment within 2 days.
-If winner did not pay within 3 days we reserve the right to cancel the deal and resell the item without prior notice.
-As we are selling all over the world, if an item was out of stock, we may replace with a similar or same value item to buyer or refund.
-Non-Paying Bidder will be blacklisted, to remove from blacklist RM20 admin fees apply.
- Buyer pay postage for returning faulty item. Item returned and found not to be defective will be returned at buyers expenses.
-Item sold are not refundable and not exchangeable for Auction Item.
-Shipping charges are not refundable.
-We do not cover lost or damage during shipment. It will fall under Poslaju / Courier compensation, up to maximum value determined by Poslaju / Courier.
-For full insurance coverage, please add 2.15% of total sum insured, please email us if you need to buy insurance.
-Warranty start from the date of delivery.
-Most accessories do not cover under warranty.
-Feature and Specifications are for reference only.
-Lens and High end model are back to back order basis, item delivery may take 5-10 working days.
-Specifications are subject to change without notice. We are not responsible for any change of specifications and design by the manufacturer.
-Water immerse / leakage was not cover under warranty even for waterproof item.
-All pictures/colors are for illustration only, unless otherwise specified.
We offer professional, affordable solution of photograpghy equipment in the market through both online and retail channel which youll hardly find in the market!
We ensure that all our customers will get the best service from us.

We wont serve customers with attitude of "because-this-is-my-job" Well make sure customers will feel comfortable throughout their shopping. If they require our assistance during their shopping, well provide them the best support they can find online.
7 Days Return Policy
The returned goods / products should be in the original condition. If the goods / products has been used or found to be damaged by the user, there will not be any exchange / refund. All decision on all question relating to complaints as to defects either of workmanship or material shall be final and conclusive and the purchaser shall agree to abide by such decision. We will also not be responsible if your shipment is lost during the return transit.
Warranty Policy
All warranty is limited to repair of defects in material and / or workmanship only. In no event shall be liable for other expenses of inconvenience, or for consequential damages occasioned by the product or by breach of an expressed or implied warranty with respect thereto.
All transportation charges and insurance to and fro incurred are at the expense of the owner.
All decision on all question relating to complaints as to defects either of workmanship or material shall be final and conclusive and the purchaser shall agree to abide by such decision.
If you have any doubts / suggestions / comments about us, our products or our site, do not hestitate to contact us! We can be contacted through newspeedstore@gmail.com
Questions & Answers
Do you have any questions to ask merchant about this product
Ask Seller
| | | |
| --- | --- | --- |
| 5 star | | 0 |
| 4 star | | 0 |
| 3 star | | 0 |
| 2 star | | 0 |
| 1 star | | 0 |
Share your thoughts with others
Write a review
Only buyers who purchased the product may leave a review