This webpage is best viewed at 1280 x 1024 Resolution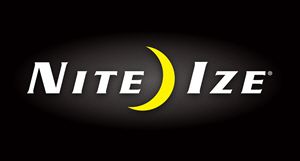 ---
Warranty:
Nite Ize warrants that following purchase, each Nite Ize Product will be free from defects in materials and workmanship under normal use for the reasonable lifetime of the Product. The reasonable lifetime of each Product varies, but in no event will Nite Ize deem any Product's reasonable life to be less than two (2) years. Nite Ize is not responsible for any damage or failure resulting from any abuse, misuse, accident, or negligent act or omission by you or by any third party, or for acts of nature. Nite Ize shall, at its sole and exclusive discretion, replace any Product returned to Nite Ize not meeting Nite Ize's "Limited Warranty". This represents consumers' sole warranty remedy. The Nite Ize warranty does not cover the replacement or cost of any electronic device or personal property used in conjunction with a Nite Ize Product, any damages or defects in accessories or components not manufactured by Nite Ize, or against damages resulting from such non-Nite Ize made products or components. Nite Ize passes on to Buyer the warranty it received (if any) from the maker thereof for such non-Nite Ize made products or components.
Seller Notes:
100% genuine products supplied by local authorized distributor.

We offer +1.5% insurance service to cover for lost & damage during transit. *Optional*

We offer worldwide international shipping by urgent courier with additional shipping cost borne by buyer.

We selling Nite Ize products & accessories through internet channel only.

Stock quantity appears in the sales posting may not reflects realtime stock status. If the quantity you wish to order more, please contact us, we can adjusting up the quantity. Some out of stock item or special item, you also can place a pre-order with us.

We do not reserved the stock unless you have clicked "BuyNow" and make your payment on time.

We accept Money transfer via banking system, Credit Card Payment Gateway & PayPal. Click here.

All shipping times on this page are estimates. Delivery times may vary depending on product availability.
---
Product Description:
When it comes to wrapping and bundling small items, it's time for an upgrade. BetterBands stretch up to 2X their size and feature an adjustable locking slider to create the perfect snug fit around all your items. Plus, the TPU material is waterproof, stretchy, and durable.

The endlessly useful BetterBand is made from stretchy, durable TPU material and features a KnotBone Cord Lock for quick size adjustments. With its thin, flat shape and grippy, waterproof material that is easy to clean and endlessly reusable, the BetterBand can do everything a rubber band does, but better! The BetterBand comes in a variety of sizes that can be customized even further by sliding the Knotbone Cord Lock into position. Unlike spring-activated cord locks, the KnotBone has no moving parts that can slip, jam, or rust. Its simple design allows you to secure the BetterBand at the exact length and tension you need, and keeps it absolutely locked in place until you release it. It's not just the BetterBand, it's the best!

The 5" size is perfect for wrapping, attaching, or bundling small items like cords, pens, posters, stacks of business cards, and much more.

Product Details
Durable, stretchy TPU bands for bundling, attaching, and organizing

Stretches 2X its length

KnotBone Cord Lock included for size adjustment

Grippy material and flat shape for easy bundling of just about anything

Waterproof and safe for use in fresh or salt water without damage

UV resistant - will not be damaged or destroyed by extended sun exposure

Available in packs of two in 5" size
---
Photo(s) Gallery:
* No contents included.
* Colour and model may be different from the illustration.
* All specifications and prices are subject to change without prior notice.