This webpage is best viewed at 1280 x 1024 Resolution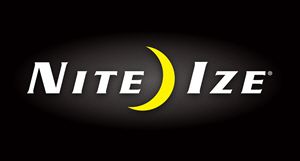 ---
Warranty:
Nite Ize warrants that following purchase, each Nite Ize Product will be free from defects in materials and workmanship under normal use for the reasonable lifetime of the Product. The reasonable lifetime of each Product varies, but in no event will Nite Ize deem any Product's reasonable life to be less than two (2) years. Nite Ize is not responsible for any damage or failure resulting from any abuse, misuse, accident, or negligent act or omission by you or by any third party, or for acts of nature. Nite Ize shall, at its sole and exclusive discretion, replace any Product returned to Nite Ize not meeting Nite Ize's "Limited Warranty". This represents consumers' sole warranty remedy. The Nite Ize warranty does not cover the replacement or cost of any electronic device or personal property used in conjunction with a Nite Ize Product, any damages or defects in accessories or components not manufactured by Nite Ize, or against damages resulting from such non-Nite Ize made products or components. Nite Ize passes on to Buyer the warranty it received (if any) from the maker thereof for such non-Nite Ize made products or components.
Seller Notes:
100% genuine products supplied by local authorized distributor.

We offer +1.5% insurance service to cover for lost & damage during transit. *Optional*

We offer worldwide international shipping by urgent courier with additional shipping cost borne by buyer.

We selling Nite Ize products & accessories through internet channel only.

Stock quantity appears in the sales posting may not reflects realtime stock status. If the quantity you wish to order more, please contact us, we can adjusting up the quantity. Some out of stock item or special item, you also can place a pre-order with us.

We do not reserved the stock unless you have clicked "BuyNow" and make your payment on time.

We accept Money transfer via banking system, Credit Card Payment Gateway & PayPal. Click here.

All shipping times on this page are estimates. Delivery times may vary depending on product availability.
---
Product Description:
This high-quality 1" webbing tie down system is designed to make securing serious loads simple. Built for ease-of-use and functionality, these straps feature a proprietary zinc-alloy 1" cam buckle and a high-density webbing strap, resulting in the ability to confidently secure working loads up to 700lbs in either a looped or lockout configuration.

When we have heavy loads to bear, keeping them secure and exactly where we want them is critical. The CamJam Tie Down Strap features an elegant design & high quality materials. It was built for functionality, ease of use, and ultra-security for your heavy loads. The CamJam Tie Down features a high density weave polypropylene 1" wide strap that is securely attached with 4 bar tack stitches for high strength to a sturdy cast zinc alloy cam mechanism with an integrated protective pad underneath. The non-slip buckle on the cam mechanism not only latches securely, it also provides the ability to gradually release even under high tension, eliminating sudden and dangerous unloading. The CamJam Tie Down can be used in many versatile configurations, including a Loop Configuration and Lockout Configuration. The webbing strap features an angled end for easy threading and intuitive operation in any configuration. All totaled, the detailed features and innovative design of the CamJam Tie Down Strap allows you to confidently secure loads such as - kayaks, surfboards, paddleboards, motorcycles, equipment, lumber, furniture, and appliances - easily, securely, and safely.

Primary Configurations:

Loop Configuration: This fixed size loop configuration can be created when the free end of the webbing is constrained by the CamJam mechanism creating a loop to secure your load. This configuration is the basic and primary configuration and is similar to those produced by other general purpose cam-lock devices.

Lockout Configuration: The Lockout configuration extends the utility of the loop configuration by enabling the selective positioning of the CamJam mechanism along the webbing loop. Most other general purpose cam-lock devices are incapable of creating this type of configuration. The lockout configuration also allows the device to be anchored to a location without requiring the engagement of the CamJam mechanism. For example, the lockout configuration enables the strap assembly to be positioned and secured to a vehicle roof rack prior to and irrespective of securing objects onto the rack. It prevents the inadvertent movement or sliding of the strap assembly while arranging objects on the rack, or while tensioning the strap. This configuration enables locking tension to be applied to the webbing with up to a 3-to-1 mechanical tensioning advantage. This feature is similar to, and within the working load levels induced by ratchet type devices. For example, drawing webbing through the device with an applied force of 100 lbs can induce up to 300 lbs of tension in the secured webbing. General purpose cam-lock devices lack this feature and typically are limited to tensioning capabilities far less than even a 2-to-1 mechanical tensioning advantage.

Heavy duty tie down straps available in 3 sizes - 6', 12', and 18' | 1.83m, 3.66m, and 5.48m

Die-cast zinc alloy CamJam tensioning mechanism with nickel plate finish and protective pad

High strength 1" | 2.54cm wide waterproof, high density weave, polypropylene webbing

Sewn-in, color coded & numerically labeled tags allows for easy identification of strap length

Premium quality die-cast zinc alloy CamJam tensioning mechanism with nickel plate finish

The CamJam mechanism features a die-cast zinc alloy housing, and center pivot pin with a stainless steel torsion spring that activates the center hub with integrated webbing capture ring.

The webbing capture ring on the cam mechanism enables the controlled release of tension to any applied load. This is very important when high load force has been applied to the webbing and is a significant improvement over the webbing release behavior of more conventional cam-lock devices that have a tendency to suddenly and dangerously release tension.

Easy to achieve high tension, adjust and control the release without sudden, dangerous unloading

Multiple Tie-Down configurations for versatility - Loop Configuration & Lockout Configuration

Working Load Limit 700lb. | 318kg

Break Strength 2100lb. | 953kg
---
Photo(s) Gallery:
* All specifications and prices are subject to change without prior notice.