This webpage is best viewed at 1280 x 1024 Resolution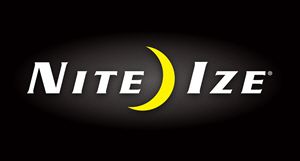 ---
Warranty:
Nite Ize warrants that following purchase, each Nite Ize Product will be free from defects in materials and workmanship under normal use for the reasonable lifetime of the Product. The reasonable lifetime of each Product varies, but in no event will Nite Ize deem any Product's reasonable life to be less than two (2) years. Nite Ize is not responsible for any damage or failure resulting from any abuse, misuse, accident, or negligent act or omission by you or by any third party, or for acts of nature. Nite Ize shall, at its sole and exclusive discretion, replace any Product returned to Nite Ize not meeting Nite Ize's "Limited Warranty". This represents consumers' sole warranty remedy. The Nite Ize warranty does not cover the replacement or cost of any electronic device or personal property used in conjunction with a Nite Ize Product, any damages or defects in accessories or components not manufactured by Nite Ize, or against damages resulting from such non-Nite Ize made products or components. Nite Ize passes on to Buyer the warranty it received (if any) from the maker thereof for such non-Nite Ize made products or components.
Seller Notes:
100% genuine products supplied by local authorized distributor.

We offer +1.5% insurance service to cover for lost & damage during transit. *Optional*

We selling Nite Ize products & accessories through internet channel only.

Stock quantity appears in the sales posting may not reflects realtime stock status. If the quantity you wish to order more, please contact us, we can adjusting up the quantity. Some out of stock item or special item, you also can place a pre-order with us.

We accept Money transfer via banking system, Credit Card Payment Gateway & PayPal. Click here.
---
Product Description:
Our Clip Pock-Its XL Holster carries your mini flashlight, multi-tool, and a few of your other smaller necessities as well-conveniently and dependably.
Made of durable, weather-resistant materials and backed with a strong, secure clip, our Clip Pock-Its XL Utility Holster is the perfect choice for people who want to keep their most-used tools and personal essentials all in one convenient place. Designed with multiple interior pockets that hold pens, credit cards, and IDs, the Clip Pock-Its XL also has front pockets that fit full size flashlights and multi-tools of almost every make, as well as an expandable pocket for accessories, keys, and batteries. Its super-strong "over and under" clip attaches securely to belts and waistbands.
Product Details
Pockets for full size flashlight and full size multi-tool

Strong, secure, easy to remove clip - fits belts up to 2 3/8"

Multiple interior pockets for pens, credit cards, licenses, IDs and more

Expandable Front Pocket

Dimensions: 7.25" x 4.59" x 1.78" | 184.15mm x 116.59mm x 45.31mm

Weight: 3.28oz | 93.00g
---
Photo(s) Gallery: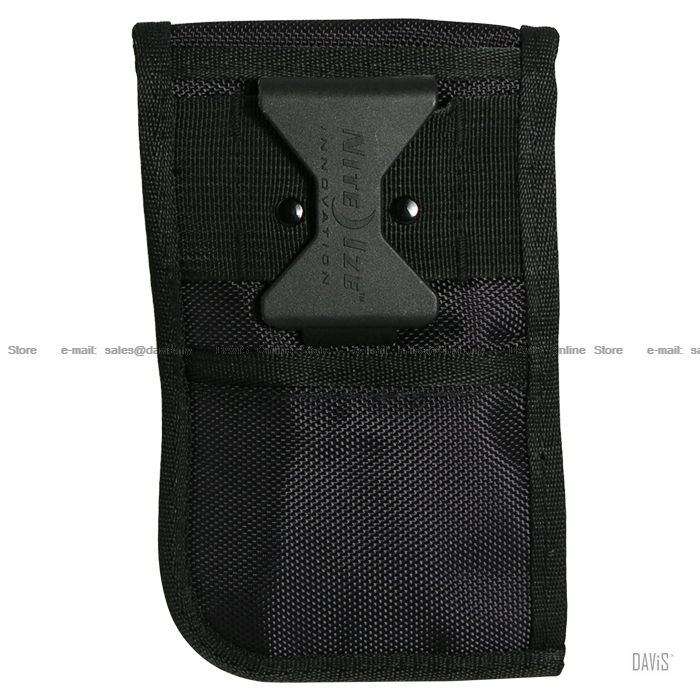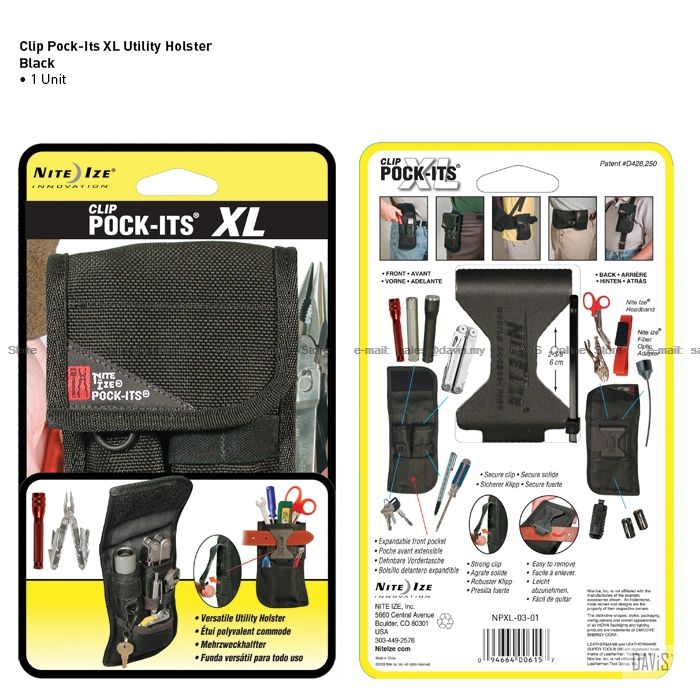 * No contents included.
* Colour and model may be different from the illustration.
* All specifications and prices are subject to change without notice.