Item Specification
Product Description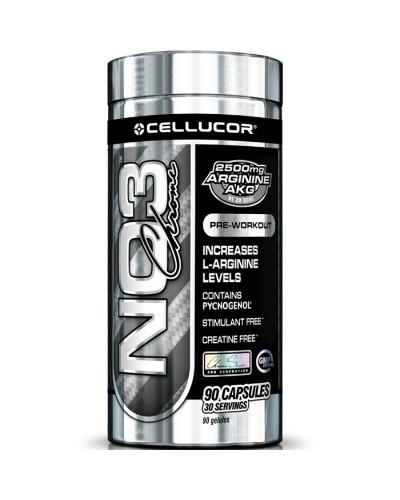 Nitric Oxide Pump Amplifier
Contains Pycnogenol®
Stimulant Free*
Creatine Free*
GMP Certified
By now you know that NO3 is Nitrate—an advanced compound that delivers unbelievable muscle pumps and amplifies the effectiveness of anything it's co-ingested with. NO3 Chrome utilizes NO3 in the form of Arginine Nitrate—a fusion of L-Arginine and Nitric Acid. Combining these two efficient and powerful vasodilators generates unmatched NO levels in the body, giving you the long lasting, unbelievable pumps you've been waiting for.*
No Feeling Is Greater Than Muscle Pumps That Last All Day
Arnold famously described the pump as 'the greatest feeling you can get in the gym'—the sure signal that the body is growing, fast. And let's be honest, isn't getting an incredible pump the point of working out?!
We've all read countless ads announcing the supposed latest and greatest nitric oxide amplifiers: "mind blowing pumps," "massive pumps"—stop me if you've heard it before!! The science seems straightforward, the goal simple enough, so why has there never been a perfect 'pump' product?!
Incomplete products dominate the shelves—expensive ingredients are typically left out. Label after label lists the same basic ingredients, their dosages hidden behind proprietary blends.
What's in the product that actually stimulates a better pump? Is there really enough of anything else in the product to matter? Is it worth the price tag?!
If the answers seem unclear, it's probably because they are. Since bursting on the scene in the early 90s, nitric oxide has quickly become a term every supplement fan and gym goer knows—'NO' is synonymous with 'pumps'—NO is everywhere.
10 years ago, NO2 hit market, marking a huge advancement in the pump product world. NO2 was great; we were all taking it, we all loved it—but that was 10 years ago... has nothing changed, no research done since to develop an even better NO?
Finally! After an extensive customer and fan driven beta testing process, Cellucor is ready to deliver the first news-worthy pump product in over a decade! Cellucor's NO3 Chrome is a pre-workout additive, the only Nitric Oxide pump product of its kind, harnessing NO3 technology and high doses of the most potent vasodilators available—in fact, NO3 Chrome contains more Arginine Nitrate than the entire proprietary blend of 'comparable' products!!*
No feeling is greater than muscle pumps that last all day; nothing more motivating than seeing veins in the gym mirrors you never knew you had. There is no other NO product—NO3 Chrome is the product that you've been promised for decades.
More Than Just Another Nitrate Product
Arginine Nitrate
Arginine Nitrate is a fusion of L-Arginine and Nitric Acid. Arginine is a potent precursor of nitric oxide that stimulates eNOS production inside your body, supports vascularity and strength, and promotes healthy growth hormone levels.*
Nitrate is a highly absorbable form of nitric acid. Nitrates dilate the smooth muscle tissue found in your veins and arteries. Unlike skeletal muscle tissue, smooth muscle is involuntary—you can't contract or control it. Nitrate activates these muscles, enlarging the arteries, veins, and capillaries that pump blood into your biceps, triceps, and quads, maximizing blood flow and providing more efficient nutrient delivery.*
Combining these two efficient and powerful vasodilators generates unmatched NO levels in the body, giving you the long lasting, unbelievable pumps you've been waiting for.*
Pycnogenol®
Pycnogenol® is an exclusive component of NO3 Chrome that sets Cellucor's formula apart from anything else on the market today. Pycnogenol® is naturally derived from the French Maritime Pine Tree. Pycnogenol® stimulates eNOS in arterial cell walls, expanding blood vessels up to 78.4%! In several clinical trials, Pycnogenol® was found to greatly enhance blood flow and oxygen transport to the muscles, augmenting athletic and exercise performance and endurance over 21%!*
Pycnogenol also reduces muscle soreness and cramps, specifically in contact sport athletes. It is a potent antioxidant that has been found to strengthen blood vessels and expedite tissue recuperation.*
L-Norvaline
NO3 Chrome also contains Norvaline, an integral ingredient typically left out of other NO boosters due to its high cost! Norvaline is an amino acid that binds to Arginase. Arginase is an enzyme that interrupts NO synthesis by breaking down Arginine in the body. Norvaline inhibits Arginase, causing Arginine levels to increase which also increases NO. Without norvaline, your body cannot maximize nitric oxide production from the other precursors you're taking—you're wasting time and money!*
Grape Seed Extract
Grape seed extract is a naturally occurring antioxidant that has a free radical scavenging effect 20 times more potent than vitamin C or vitamin E. Grape seed has similar metabolic pathways to NO and enhances vasodilation while protecting the body from free radical by-products of NO production. Grape seed extract's numerous holistic health benefits include increased metabolism and testosterone levels, cardiac and blood vessel maintenance, and cancer risk reduction.*
Calcium Ascorbate
Calcium Ascorbate is a natural form of Vitamin C. Vitamin C promotes an anabolic physical state, reducing the stress hormone Cortisol and enhancing the Testosterone to Cortisol Ratio. Research indicates that Vitamin C greatly reduces Nitrate Tolerance while supplementing with Nitrates.*
Vitamin C also possesses a multitude of holistic health benefits, augmenting the body's defenses as it boosts immune system function, eradicates free radicals, strengthens bones and connective tissues, and expedites wound healing.*
Citrulline Malate
Citrulline is a precursor of Arginine and an integral part of the NO cycle. When co-ingested, Arginine and Citrulline work synergistically to enhance and extend Nitric Oxide production, resulting in amplified vasodilatation—increased blood flow, nutrient delivery, and bigger, longer-lasting muscle pumps.*
Unparalleled Label Transparency
Cellucor has set another industry first by drastically improving label transparency. Beginning with the "Chrome Series" line, Cellucor has clearly labeled all key ingredient dosages - no more confusing proprietary blends, no more wondering what you're actually taking. It is our firm belief that greater information accessibility will allow us to deliver greater results.
Stacking with NO3 Chrome
NO3 Chrome is a stimulant-free and Creatine-free product that stacks perfectly with any of Cellucor's products. Stack with C4 Extreme for intense energy and even greater pumps!*
Cellucor NO3 Chrome Frequently Asked Questions
How do I take NO3 Chrome?
To take NO3, simply follow the dosing chart under the nutritional info tab or on the bottle—we advise to never exceed 3 capsules when taking NO3 Chrome with another preworkout.
Should I take NO3 Chrome with food?
For maximum results, NO3 Chrome should be taken on an empty stomach.
Can I take NO3 Chrome with other Cellucor products?
NO3 Chrome amplifies the effectiveness of whatever you take with it! NO3 can be taken with any Cellucor product for enhanced results.*
I am currently on prescription medication, can I take NO3 Chrome?
If you are currently taken a prescribed medication and/or suffer from a previously diagnosed medical condition, we request that you consult your physician prior to using any Cellucor product. Product labels and supplement facts are available on our website for your physician's review.
I am a drug-tested athlete, can I take NO3 Chrome?
Although none of our products contain illegal substances, the answer to this question depends on what the specific athletic governing body is testing for. The NCAA, for example, prohibits the use of stimulants (such as Caffeine). We advise that athletes consult with their respective governing bodies to ensure their supplement regimen is within guidelines and obtain clearance prior to using any Cellucor product.
Questions & Comments




---
Payment Method
Maybank Account : 5084 3010 8315
Name :Nutrition Pro Fitness Sdn Bhd
Public Bank Account : 31783 08314
Name : Nutrition Pro Fitness Sdn Bhd
CIMB Account : 80050 57847
Name: Nutrition Pro Fitness Sdn Bhd

Once payment made, SMS name, addresss, order item, payment to which bank to 010-2112 430
City-link Express (1-2 working days)
-CALL 03-5565 8399 or check tracking at this website. http://www.citylinkexpress.com/
Speedline Logistic (1-3 working days)
check tracking by calling this no. 605 312 1975
Copyright

All Web site design, text, graphics, the selection and arrangement thereof, and all software Copyright, nutritionpro.com.my ALL RIGHTS RESERVED. Permission is granted to electronically copy and to print in hard copy portions of this Web site for the sole purpose of placing an order with nutritionpro.com or using this Web site as a shopping resource. Any other use of materials on this Web without the permission of nutritionpro.com.my is strictly prohibited. We will not hesitate to take legal action on it.


Disclaimer:

Products' pictures, labeling, and descriptions are subject to change by the manufacturers without notice. www.nutritionpro.com.my is not responsible for any incorrect or outdated product descriptions and/or images; as they do not necessarily reflect the latest information available from the manufacturer. Please consult the manufacturer's website for the latest product(s) information. None of the statements in this website have been evaluated by the Drug Control Authority (DCA) or National Pharmaceutical Control Bureau (BPFK) of Malaysia. All products on this site are not intended to diagnose, treat, cure, or prevent any disease.

Price and availability information on this site is subject to change without prior notice.

Quality of our Products

Quality of all our products are guaranteed and original! MONEY BACK GUARANTEED! We ensure that our products are in good condition and not nearing an expiry date (a min. of 6 months) before it reaches your hands. There are lots of fraud and fake supplements on the market. Always buy from a reputable seller like nutritonpro!
Questions & Answers
Do you have any questions to ask merchant about this product
Ask Seller
| | | |
| --- | --- | --- |
| 5 star | | 0 |
| 4 star | | 0 |
| 3 star | | 0 |
| 2 star | | 0 |
| 1 star | | 0 |
Share your thoughts with others
Write a review
Only buyers who purchased the product may leave a review