This is twice pressing machine, you can do 3mm, 5mm wide face, but also can make dumpling!
When using the pro Please note: you must stick clockwise operation, please see the instructions before use! !
Household pressing machine, hand pressing machine, household noodle machine introduced;
The made of imported materials, full metal chrome, compact, clean, nice, clean sanitation, use of a machine, can suppress the thickness of noodles, dumpling skin, steamed buns skin and ravioli and other diverse pasta, shape and tidy, thickness and symmetry, is modern family is a good helper. The machine clean health, easy to operate, can suppress the width of two noodles and wonton skin, face leaf
1. The dough thickness of several six-speed gear with thick, thin, circular noodles knife roll, the aircraft in addition to suppression of coarse and fine noodles outside, but also pressing dough, dumpling skin, steamed buns skin, wonton skins and other diverse pasta machine, neat shape, thickness symmetry.
2. Hand motive, no electricity, safe and economical, general household staff to operate the machine, very safe and reliable, it is suitable for no electricity, less electricity and frequent power cuts in urban and rural households, field workers and small restaurant use.
3. fast, easy to operate, saving time, the aircraft design capacity pressed noodles five kilograms per hour.
4. durable. The machine selected imported materials, full metal chrome manufacture, compact, clean, nice, clean sanitation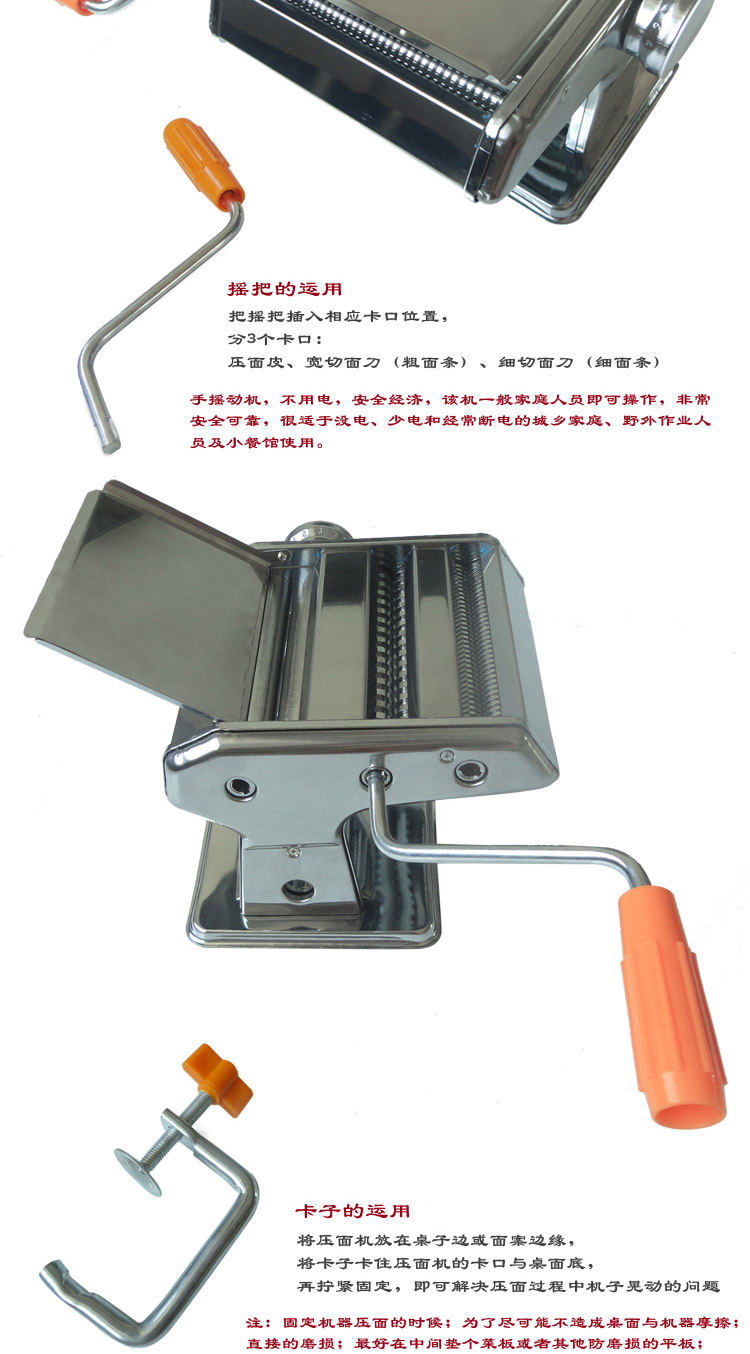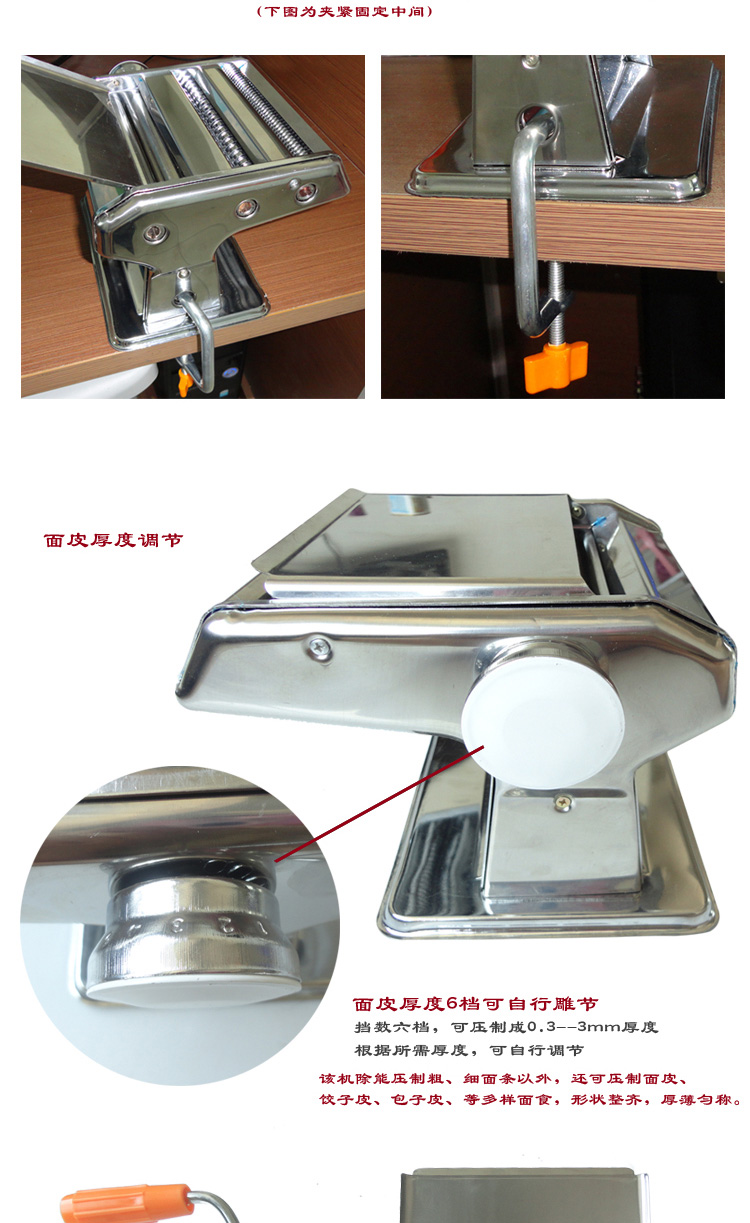 ѹÃæ»ú³ß´ç
1. The pressing machine on the table edge or face case edges firmly with the clamp card, flour and water (5: 2), water may be appropriate to put some salt, should the egg and then the egg surface when placed in planes, in .2 reconcile basin together would reconcile dough cut into slices (about 10 mm), sprinkle some dry flour, roll into the pressure surface, with the handle shaking .3 according to the order using the dough grade knob pressed noodles use 1-5 stalls, pressing wonton skin file using 1-6 .4 has a thick, thin noodles knife, can be arbitrarily chosen .5, dough width of 155 mm, made wonton skin can fold the dough stacked up with. Note the machine items: 1. prohibited in order to avoid damage to parts iron hard debris mixed within the plane fell into the machine or .2 after use, with a brush or cloth to clean the parts, solid surface to prevent more than hard, do. Do not use water to clean .3 pressure noodles, dough thickness should be less than 1.5mm (about 2-5 files) otherwise shapeless dough thick noodles .4 pressure. Do not shake down