Panther - Quad Band Touchscreen Mobile Phone Watch + Keypad
With Free Bluetooth Kit
Model No: MB-02B

The New Panther— one of the most powerful quad band watch phones ever!
The Panther watch phone comes with features such as quad band GSM connectivity, colorful 1.3 inch touch screen, Bluetooth support, discreet camera, multimedia MP3/MP4 playback and free bluetooth kit.

Features:
One size fits all
Fully unlocked no contract
Digital still and video camera
MP3/MP4 media player functions
Lightweight and durable design
Perfect for outdoor adventures
Hands-free Bluetooth communication
Competitively priced for resale market
Comes with bonus Bluetooth kit.
Quad band (850MHz, 900MHz, 1800MHz, 1900MHz) unlocked watch phone

Product Description: Quadband 1.3 inch touch-screen watch-phone with 4 GB of memory
GSM Compatibility: Quad Band 850Mhz, 900MHz, 1800MHz, 1900Mhz
Display: 1.3 inch TFT LCD Touchscreen
Message Types: SMS, MMS, Voicemail Server, Chat
- SMS = Text messaging (300 message storage)
- MMS = Picture messaging, Video messaging, Audio Messaging (100 message storage)
SIM Card Slots: 1
Compatible SIM Card Types: 2G, 2.5G
Supports GPRS and WAP
Bluetooth: YES
Bluetooth Profiles: Handsfree, Headset
Included Bluetooth Headset:
- Description: Bluetooth Headset
- Bluetooth CSR Original V2.0
Call Setting Options: Call Waiting, Caller ID, Call Divert, Call Barring, Auto Redial,
Security Setting Options: Phone Lock, Auto Keypad Lock, SIM Lock, Fixed Dial, Barred Dial
Phonebook Features:
- 500 Contact Storage
- Caller Picture
- Caller Ringtone
- Caller Group
Languages: English, French, Spanish, Italian, German, Arabic, Chinese
Battery Type: Rechargeable Li-ion
Battery Life:
- Talk Time: Up to 3 hours
- Media Playback: Up to 7.5 hours
- Stand By: Up to 150 hours (depending on settings)
Strap Length - 186mm
Dimensions: Watch Face: 50mm x 63mm x 13mm (L,W,D)
Multimedia
Photo Camera
- Capture Format: JPEG
- Resolution: 1280x1024/640x480/320X240/160X120/80X60/128X160
- Picture Settings: Quality, Timer, Continuous Shot, Zoom, Color Effect, EV, White Balance
Video Camera
- Capture Format: 3GP
- Resolution: 176X144
- Picture Settings: Quality, Zoom, Color Effect, EV, White Balance
FM Radio: YES
Radio Features: Loudspeaker, Favorites, Use earphones as antenna
Video Player: YES - 3GP, MP4
Audio Player: YES - MP3, WAV
Sound Recorder: YES - AMR, WAV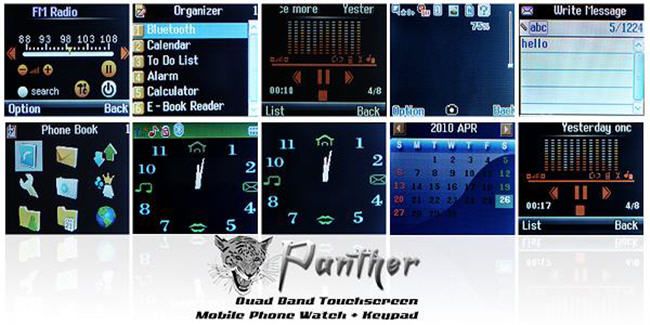 Unlocked watchphone can be used with any carrier and SIM card.
Pre-loaded software tools include; Calendar, Alarm, To-Do List, E-Book Reader, Image Viewer, WAP
Built-in speaker and MIC
This is a weatherproof model. Can be used in most weather conditions, but should not be soaked in sustained water or submerged.
Great opportunities to also use as spy watch.

Package Contents:
1 x Panther Quadband Digital Touchscreen Cell Phone Watch
1 x Bluetooth head piece with clip (Free Bonus!)
1 x USB Bluetooth kit charging cable
1 x USB charging/data transfer cable
1 x Wired earphones
2 x Battery 600mAh
1 x Power adapter (100-240V)
1 x User Manual