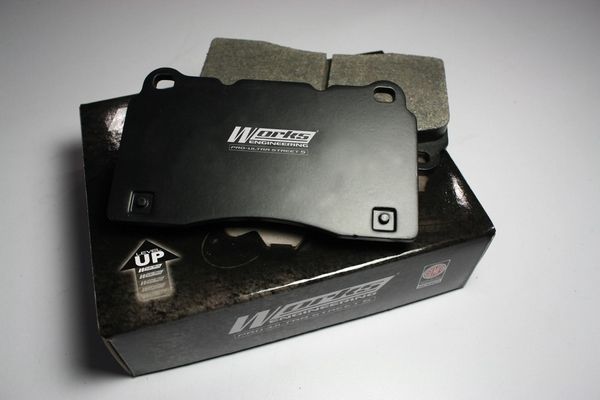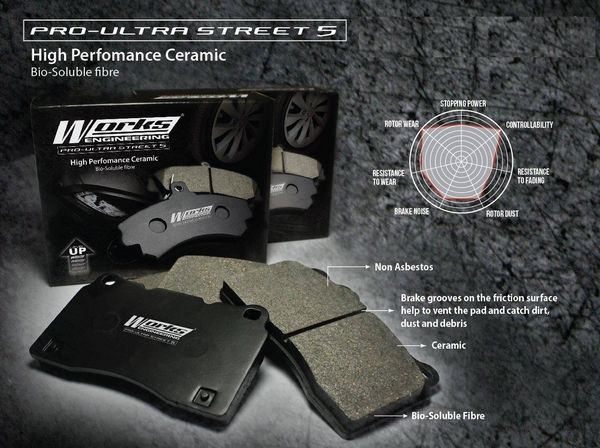 (MOST CARS) WORKS ENGINEERING USA 500ºC PRO-ULTRA STREET 5 High Performance Ceramic Bio-Soluble Fibre Racing Brake Pads
WORKS ENGINEERING is the professional ultra street ceramic Bio-Soluble Fiber compound developed for extreme speeds and power. WORKS ENGINEERING is our latest development with lots of technology and effort in it to cope the demands of a extreme street compound. It is suited for use in a power brake system with or without ABS and EPS. WORKS ENGINEERING Brake Pads is a high heat resistance compound which can also be used for circuit racing, like a sports car club race day. There is no need to change pads for such an event. The initial bite and response is excellent even at very high speed and so also the pedal feel and brake balance. The compound is not agressive towards the discs.
*Different Car Model Different Price, Please Choose Car Model to check for actual price*
Friction value: 0.37 - 0.47

Advance Friction Technology

High Perfomance Ceramic

Material: Ceramic Bio-Soluble Fibre

Maximum Speed Support 200 - 250 Km/h

Recommended for Street & Track

High performance ceramic pads reduce noise, fade and dust

Designed specifically to enhance braking

Performance in street driving conditions

Weight: 2Kg
Notice for Pads Installation:
Check the clips that solidify the pads to see if out of shape.

Remove the bolts from calipers and refill proper oil.

Move the pads to assure the glide of pads.

Assure every related screws that have been tighten up.
Car Model Available:
DAIHATSU MIRA COURE L700S Turbo, L900S Turbo [D0034]

DAIHATSU MIRA L200S 660 Turbo 1998 [D0015M]

DAIHATSU MIRA L500S 660 Turbo, L502S 13', DAIHATSU L600S 1999 [D0026]

DAIHATSU YR-V M201G 1.3T [D9029]
HONDA ACCORD CF4 (SSO), INTEGRA DC2 1994 [D5060M]

HONDA ACCORD EXL 2.4/ 3.5 2013 - 2017 [D5214M]

HONDA CITY GM1/ 2, JAZZ/ FIT GE8, INSIGHT ZE2, CRZ 2008 - 2013 [D5168]

HONDA CIVIC EG, CITY IDSI, JAZZ/ FIT GD 2003 - 2007 [D5073M]

HONDA CIVIC EG, SR3, SR4 Vtec 1991 - 2000, STREAM RN1/ RN2 1.7 2000 - 2006, CIVIC 1.7 2001 - 2005 [D5070M]

HONDA CIVIC EP3, S2000 AP1/ AP2, INTEGRA DC5 [D5119M]

HONDA CIVIC FD2 2.0 2006 - 2011, STREAM RSZ RN3/ RN4 2.0 2000 - 2006 , ODYSSEY RB1/ RB2 2003 -2007 [D5113M]

HONDA CRV RE S9A 2.0/ 2.3 i-Vtec 2002 - 2006 [D5900M]
ISUZU D-MAX 2WD 2500, 2700 4WD 2004 - 2011 [D4902S]
MAZDA RX8 [D3130]

MAZDA BT-50 2011 - 2017 [BP51001]
MITSUBISHI EVO 5/ 6/ 7/ 8/ 9 (Brembo) [D6901]

MITSUBHISHI LANCER GT/ AIRTREK (Invecs-II), VR4 Single Pot [D6108]

MITSUBISHI TRITON 2.5 [D6905]
NISSAN GRAND LIVINA, LATIO 1.6 [D1904]

NISSAN MARCH K12, AK12, BK12, ANZ10, TIIDA LATIO 1.8, SYLPHY [D1250M]

NISSAN NAVARA 2.5 [D1903]

NISSAN SKYLINE R32 GTS [D1199M]

NISSAN SKYLINE R33 / R34 GTR (Brembo) [D1900]
PERODUA ALZA 1.5 (Facelift) 2014 - 2017 [D2252]

PERODUA ALZA 1.5 (First Gen) 2009 - 2013 [D6802]

PERODUA KELISA, KENARI [D0038M]

PERODUA MYVI 1.0/ 1.3 2005 - 2010 [D0100M]

PERODUA MYVI Lagi Best/ ICON 1.3/ 1.5 2011 - 2017 [D0101M]

PERODUA VIVA 660/ 850/ 1.0 [D6100]
PEUGEOT 308 1.6/ 2.0 (4Speed) 2007 - 2017 [WVA23588]
PROTON EXORA 1.6 [D6806M]

PROTON GEN2, PERSONA 1.6, SATRIA NEO 1.6 [D6804]

PROTON INSPIRA, VR4 Single Pot [D6108]

PROTON JUARA 1.1 [D6100]

PROTON PREVE 1.6 CFE, SUPRIMA S, EXORA BOLD 1.6 [D6807M]

PROTON SATRIA 1.5, WIRA 1.3/ 1.5 , ISWARA 1.3/ 1.5 [D6070]

PROTON SAVVY, SAGA BLM FL FLX SV 1.3 2008 - 2017 [DK8201]

PROTON WAJA 1.6 [D6802]

PROTON WIRA 1.6, PERDANA 2.0, PUTRA 1.8, SATRIA 1.6 [D6043M]
SUBARU IMPREZA WRX (Non-Sti) [D1199M]
SUMITOMO 4 pot/ Works Engineering 4 pot [D1199M]
SUZUKI SWIFT 1.3/ 1.5 2004 - 2012 [D9030M]
TOYOTA ALTIS 1.6 / 1.8 2002 - 2007, VIOS 1.5 NCP42, MR2 2003 - 2006 [D2183M]

TOYOTA CALDINA AZT241W 2002, Celica ZZT231 1999 [D2180]

TOYOTA CAMRY ACV30 2.0/ 2.4 2002 - 2006, WISH ZNEIOG, 14G 2004 - 2008 [D2222]

TOYOTA CAMRY L4 2.4 2007 - 2011 [D2270]

TOYOTA ESTIMA ACR50W/ 55W, GSR50W/ 55 2006, ALPHARD/ VELLFIRE ANH20 2.4/ 3.5 2008 [D2265]

TOYOTA ESTIMA MCV/ ACR30 3.0 2000, ALPHARD ANH10 2.4/ 3.5 2003 [D2223]

TOYOTA HARRIER 2003 - 2008, COROLLA 1.8, ESTIMA 300, AERAS 2000 - 2005 [D2166]

TOYOTA HILUX 2.5 Kun25, FORTUNER 2005 [D2215M]

TOYOTA HILUX 3.0, VIGO Kun26 2005 [D2918]

TOYOTA VIOS 1.5 NCP93 J-Spec (RR use brake shoe) 2007 - 2012 [D2252]

TOYOTA VIOS NCP150 J-Spec, YARIS NCP151L/ NCP152R 2013 - 2017 [DB8560]

TOYOTA YARIS S1.3, Vios 1.5 NCP93 G-Spec, NCP150 G-Spec 2007 - 2017 [D2253]
VOLKSWAGEN GOLF MK3 1.8/ 2.0 1992 - 1998, PASSAT B5/ B6 2.0 2005 - 2014 [WVA23588]