Item Specification
Product Description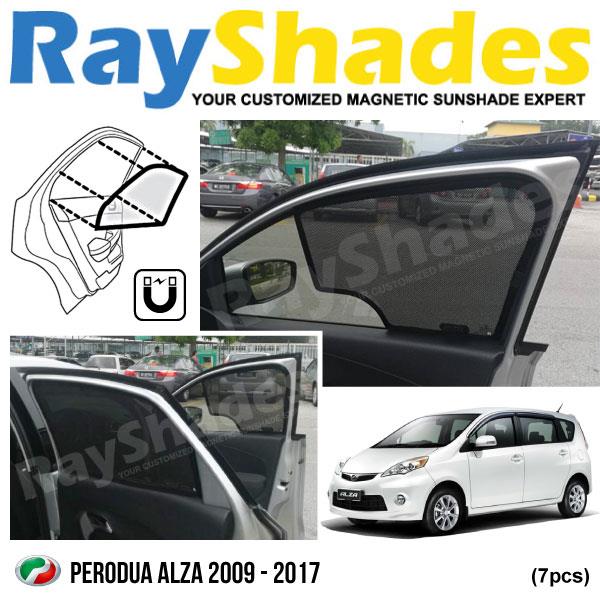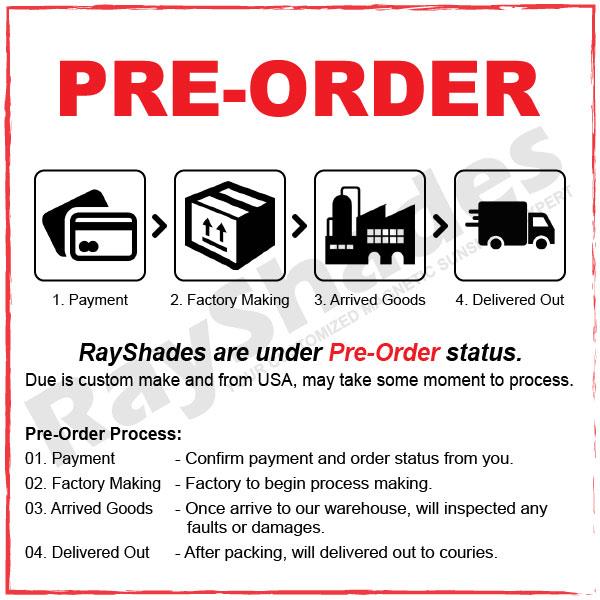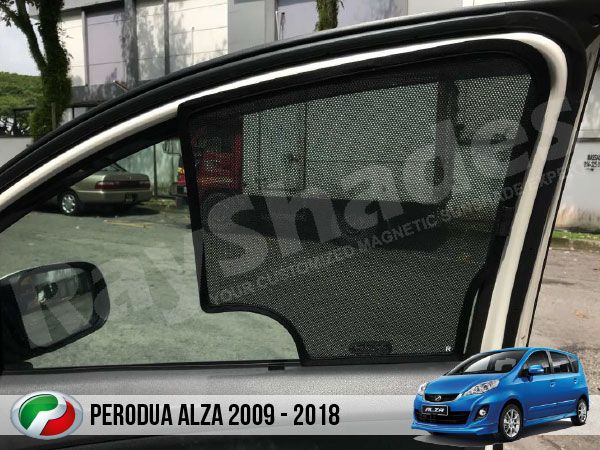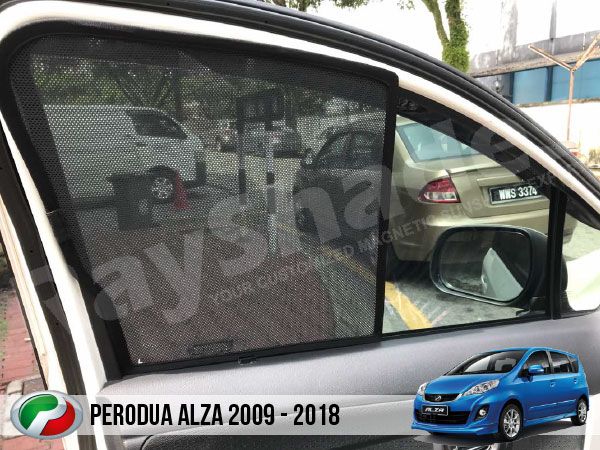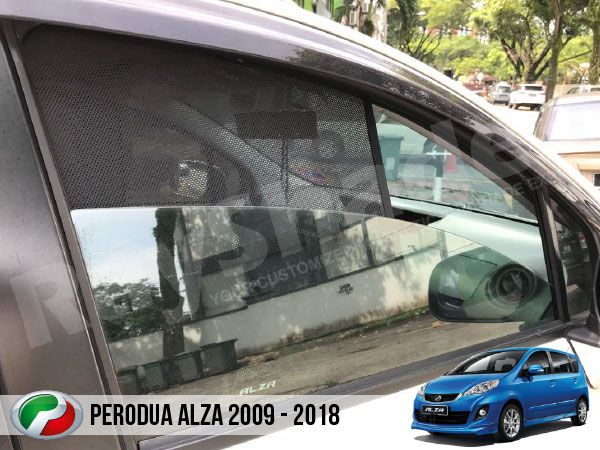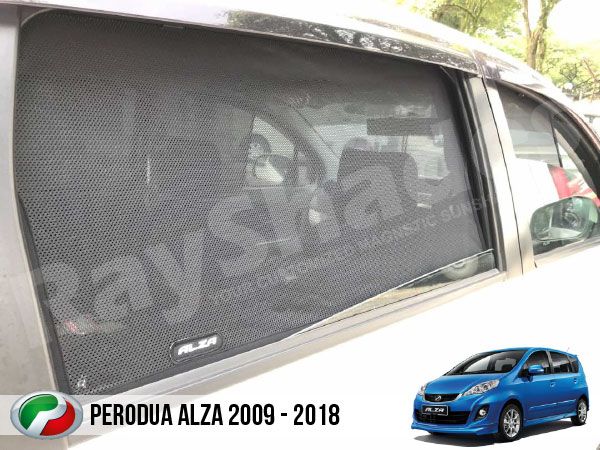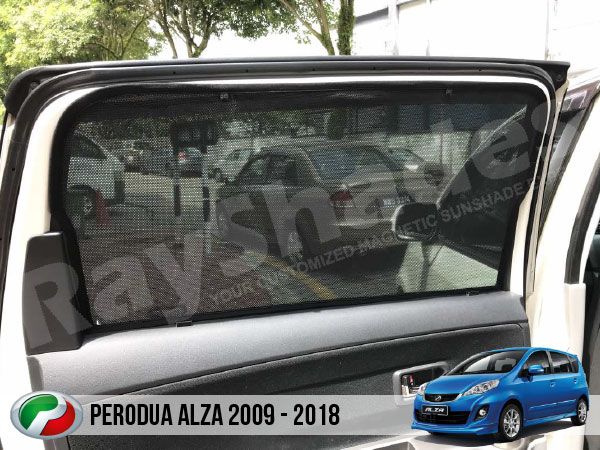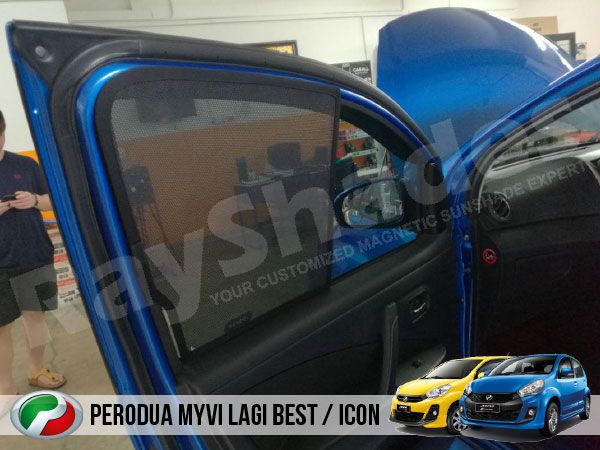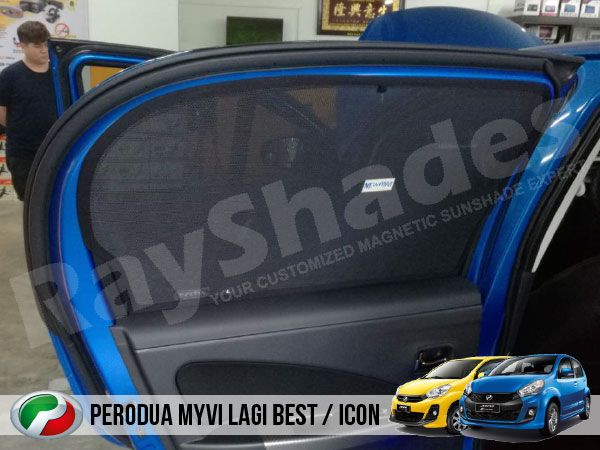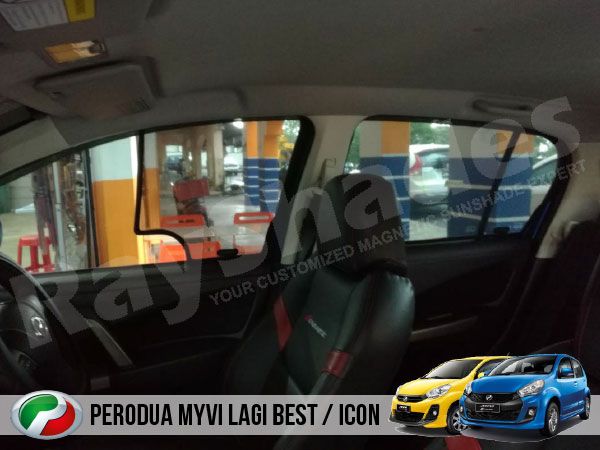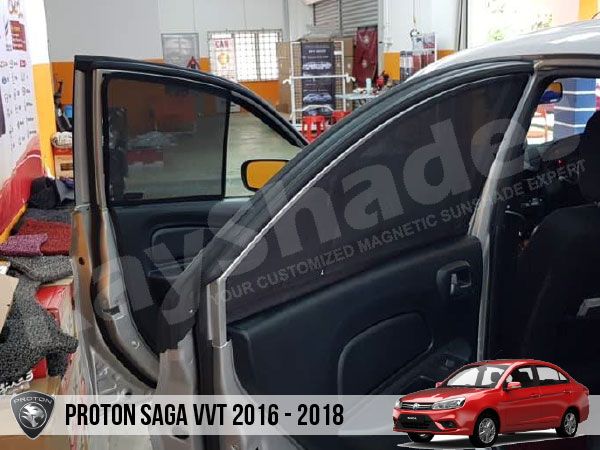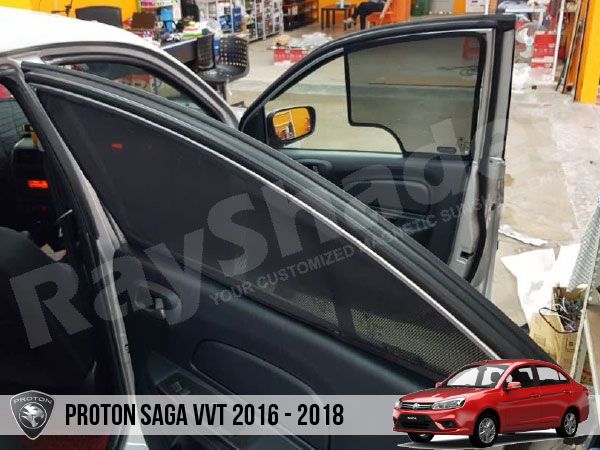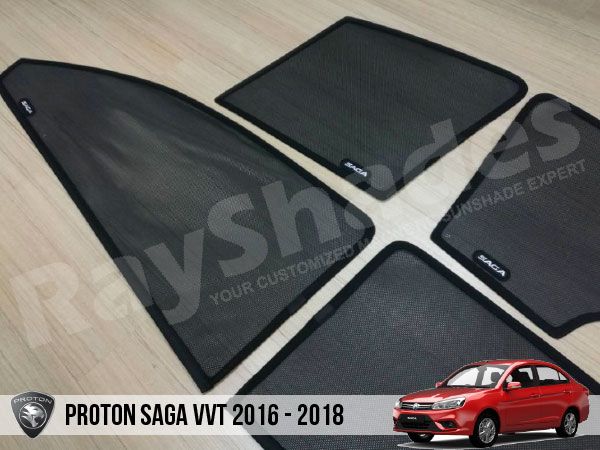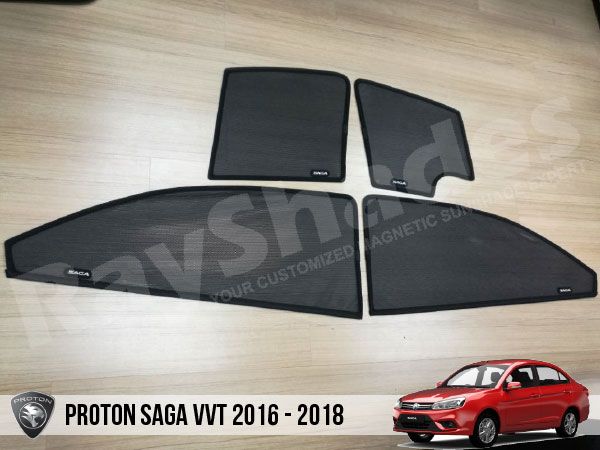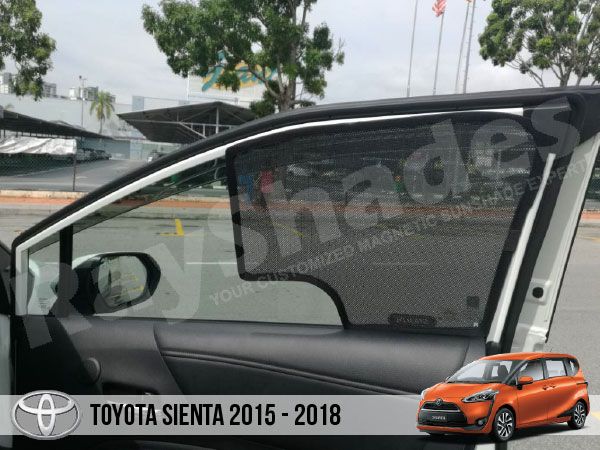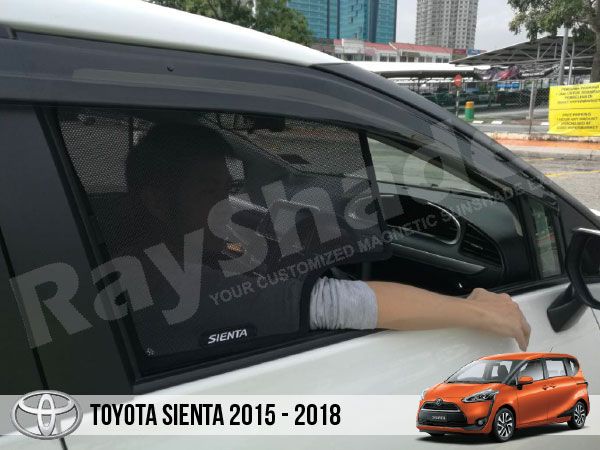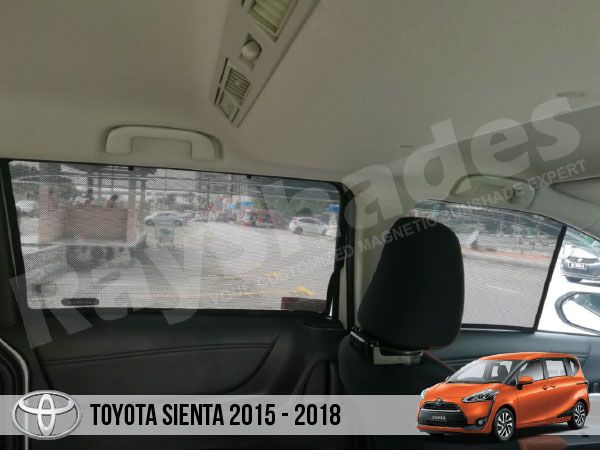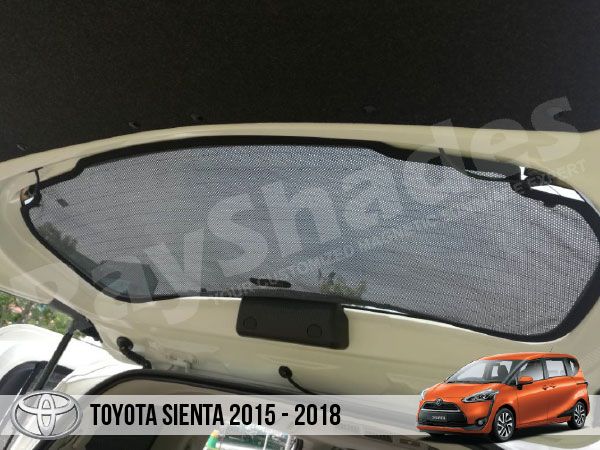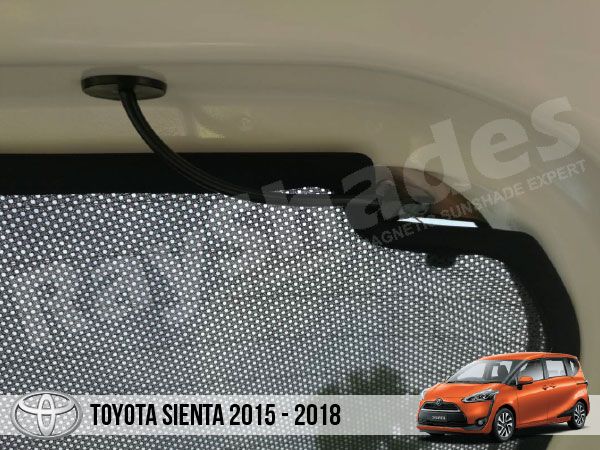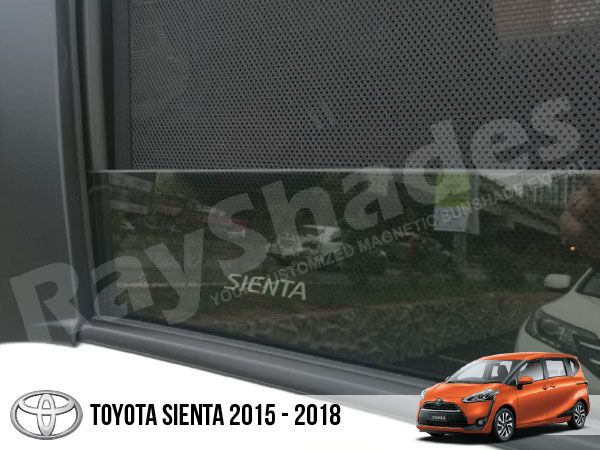 (MOST CARS) RayShades USA UV Proof Custom Fit Car Vehicle Door Window Magnetic Sun Shades
RayShades are magnetic car window shades developed by employing the latest 3D Laser scanning technology. These perfectly fitted car window shades are of the highest quality and can be quickly fitted and removed. RayShades help keep your entire vehicle's interior temperatures down while protecting it from the sun's damaging effects. The RayShades include 4/5/6/7 pieces per package (depending on the vehicle model).
RayShades are custom design fit just for your vehicle window shape. OEM material used to produce this Sun Shade (Polyester Mesh Fabric), you can trust in its quality that can protect you as OEM built in Sun Shade. RayShades is located parallel with door window glass without disturbing the window slide up or down. No need to take off when want to close/open window.
Why I need RayShades?
Special Customised - Designed to fit perfectly the contours of specific vehicle models / design window's shape.
Special Cut Off Corner Edge - Special round corner edge for driver side, to easy access at passing highway toll or parking lot ticket dispenser.
Ultra Violet (UV) Protection - Block harmful UV radiation and glare from sunlight.
Easy, Simple and Clean Installation - Attach RayShades to the window, the magnet inside steel frame will auto attached it to the door window, no drill, no clip.
Window Friendly - Window operations are not affected as RayShades are attached to window frames only, no disturbing when window glass slide up or down.
Personality Upgrade - Enhance the appearance of the car, be different then the other.
Prevent Dust and Bug Entry - RayShades act like a net shield, prevent road dust and bug entry.
Lowered the Temperature - Keep your vehicle's interior temperatures down while protecting it from the sun's damaging effects.
Transparent Vision - Able to see through RayShades while driving in sunlight or night time.
Removable - RayShades can be removed easily without any tool, just take it off the window and keep it a side.
Privacy Protection - Provide privacy for car cabin from passersby's view.
OEM material Guarantee (Polyester Mesh Fabric) - Non toxic, no smell, recycling material, thicker and more durable than a typical cheap generic Sun Shade.
FQA
Are RayShades Sun Shade legal in Malaysia ?

Yes they are, as written in The Star (Metro) on 27 September 2012.

What materials are RayShades Sun Shade made of ?

RayShades Sun Shade are made from high quality OEM materials (polyester mesh fabric). This OEM materials are thicker and more durable than a typical cheap generic sun shade. Handled well, it will last the lifetime of your vehicle.

Can I used the window glass when RayShades Sun Shade is installed ?

Yes, RayShades Sun Shade are perfectly fine to be used with the windows down, ensuring that you still get some protection from the sun while having a breath of fresh air.

I already have an expensive tint installed, will RayShades Sun Shade help ?

Yes, RayShades Sun Shade will make your vehicle more comfortable by further reducing heat and blocking out glare from sunlight. The sun shades are also certified to block out 65% of ultraviolet (UV) radiation as tested by TÜV Rheinland. If your vehicle is parked under the sun, sun shades will lower the temperature inside the vehicle slightly as well as allow your air conditioning to work more efficiently to cool the cabin quicker.

What is the warranty on RayShades Sun Shade ?

While each RayShades Sun Shade is meticulously checked to ensure that it is free of defect, we will provide warranty in the case that your RayShades Sun Shade arrives with manufacturer defect. There is no warranty for wear and tear or mishandling of the sun shade.
Features:
Brand: RayShades

65% UV coated

Fully Magnetic, zero clips required

Pieces per package: 4/5/6/7 Pcs Windows

Ease of installation and removal

The shade material creates a layer of protection that will block heat and radiation, allowing the car to cool quicker and STAY COOL.

This RayShades have high strength magnets embedded in the shade frame to allow quick and easy attachment to the window frame of a vehicle.

As the magnets are inbuilt within the shades, there is no need for use of clips* or any add-on for the shades to work, ensuring a fuss free installation process with no possibility of losing any clips* or add-on.

The perforated shade material maintains visibility through the glass even in the dark.

Coupled with a half-piece design for the front row seat shades, RayShades ensure that the driver's able to views left/right side mirror when driving.

Special cut off corner edge for driver side, for easy access to parking ticket dispenser.

Durability, Effectiveness and Safety

Weight with box: 4Kg to 7Kg

Made in USA
NOTE:
4pcs is for 4 window

5pcs is for 4 window + 1 rear windshield

6pcs is for 6 window

6pcs is for 6 window + 1 rear windshield
Applicable:
BMW
F10 5-Series 2010 - 2017 (2pcs)

F30 3-Series 2011 - 2018 (6pcs)
FORD
FIESTA MK7 2008 - 2017 (5pcs)

RANGER T6/T7 2011 - 2018 (4pcs)
HAVAL
H1 2014 - 2017 (6pcs)

H2 2016 - 2017 (6pcs)
HONDA
BR-V 2015 - 2017 (7pcs)

CITY GM2/GM3 2008 - 2013 (4pcs)

CITY GM6 2014 - 2018 (5pcs)

CIVIC FD 2006 - 2011 (5pcs)

CIVIC FB 2012 - 2015 (4pcs)

CIVIC FC 2016 -2017 (5pcs)

CR-V 2007 - 2011 (7pcs)

CR-V 2012 - 2016 (6pcs)

CR-V 2017 - 2011 (7pcs)

HR-V / VEZEL 2014 - 2018 (5pcs)

JAZZ GK 2014 - 2018 (6pcs)
HYUNDAI
ELANTRA MD 2010 - 2016 (5pcs)

ELANTRA AD 2017 (7pcs)

GETZ 2002 - 2011 (4pcs)

I10 2013 - 2017 (6pcs)

IONIQ 2016 - 2017 (7pcs)

MATRIX 2001 - 2007 (7pcs)

SANTA FE 2002 - 2012 (7pcs)

SANTA FE 2013 - 2018 (7pcs)

STAREX 2007 - 2018 (7pcs)

TUCSON 2009 - 2014 (7pcs)

TUCSON 2015 - 2018 (7pcs)
ISUZU
D-MAX 2002 - 2011 (4pcs)

D-MAX 2012 - 2018 (5pcs)
KIA
CERATO K3 2012 - 2017 (4pcs)

CITRA RS 1999 - 2006 (7pcs)

FORTE 2008 - 2012 (4pcs)

OPTIMA K5 2010 - 2015 (7pcs)

SUTERA 2006 - 2011 (6pcs)

SORENTO BL 2003 - 2011 (6pcs)
MAZDA
MAZDA 2 DEMIO 2007 - 2013 (4pcs)

MAZDA 2 DEMIO Sedan 2014 - 2018 (5pcs)

MAZDA 2 DEMIO Hatchback 2014 - 2018 (5pcs)

MAZDA 3 2008 - 2013 (4pcs)

MAZDA 3 Sedan/Hatchback 2013 - 2018 (5pcs)

MAZDA 5 PREMACY 2010 - 2018 (6pcs)

MAZDA 6 2012 - 2018 (5pcs)

MAZDA 8 MPV 2006 - 2016 (6pcs)

BIANTE 2008 - 2018 (7pcs)

CX-3 2015 - 2018 (7pcs)

CX-5 2012 - 2016 (7pcs)

CX-5 2017 - 2018 (7pcs)
MERCEDES BENZ
W210 E-Class 1995 - 2003 (6pcs)

W211 E-Class 2002 - 2009 (6pcs)
MITSUBISHI
ASX 2010 - 2018 (7pcs)

LANCER GT 2007 - 2018 (5pcs)

OUTLANDER 2012 - 2018 (7pcs)

PAJERO SPORT 2008 - 2016 (7pcs)

TRITON 2005 - 2014 (4pcs)

TRITON 2015 - 2018 (4pcs)
NISSAN
ALMERA N17 2011 - 2017 (7pcs)

GRAND LIVINA 2006 - 2018 (6pcs)

LATIO Sedan 2011 - 2017 (4pcs)

NAVARA 2004 - 2015 (5pcs)

SENTRA N16 2000 - 2006 (4pcs)

SERENA C24 1999 - 2012 (7pcs)

SYLPHY 2005 - 2011 (5pcs)

X-TRAIL 2013 - 2018 (7pcs)
PERODUA
ALZA 2009 - 2017 (7pcs)

AXIA 2014 - 2018 (5pcs)

BEZZA 2016 - 2018 (5pcs)

KANCIL 1994 - 2009 (5pcs)

KELISA 2001 - 2007 (5pcs)

KEMBARA 1997 - 2006 (6pcs)

KENARI 2000 - 2009 (6pcs)

MYVI SE1/SE2/LE 2005 - 2011 (5pcs)

MYVI LAGI BEST, ICON 2011 - 2016 (5pcs)

MYVI 2017 - 2018 (7pcs)

VIVA 2007 - 2014 (5pcs)
PEUGEOT
208 2012 - 2018 (4pcs)

308 2013 - 2017 (4pcs)

408 2010 - 2017 (4pcs)

2008 2013 - 2017 (6pcs)
PROTON
EXORA 2009 - 2017 (7pcs)

ERTIGA 2016 - 2017 (7pcs)

GEN2 GEN-2 2004 - 2012 (5pcs)

INSPIRA 2008 - 2018 (5pcs)

IRIZ 2014 - 2018 (5pcs)

PERDANA 1995 - 2013 (5pcs)

PERSONA 2007 -2015 (7pcs)

PERSONA 2016 - 2017 (5pcs)

PREVE 2012 - 2017 (5pcs)

SAGA ISWARA 1985 - 2007 (5pcs)

SAGA BLM SE FL FLX 2008 - 2015 (4pcs)

SAGA VVT 2016 - 2017 (5pcs)

SUPRIMA S 2013 - 2017 (4pcs)

SATRIA 1994 - 2005 (5pcs)

SATRIA NEO 2006 - 2015 (5pcs)

WIRA Sedan/Hatchback 1993 - 2007 (5pcs)

WAJA 2000 - 2011 (5pcs)
SUBARU
FORESTER 2012 - 2018 (7pcs)
TOYOTA
ALPHARD ANH10 2002 - 2007 (7pcs)

ALPHARD VELLFIRE ANH20 2008 - 2014 (6pcs)

ALPHARD VELLFIRE ANH30 2015 - 2017 (7pcs)

ALTIS E140/E150 2006 - 2012 (4pcs)

ALTIS E170 2013 - 2017 (5pcs)

AVANZA 2003 - 2010 (7psc)

AVANZA 2011 - 2018 (7pcs)

CAMRY XV40 2006 - 2011 (4pcs)

CAMRY XV50 2012 - 2016 (4pcs)

ESTIMA ACR30 2000 - 2005 (7pcs)

ESTIMA ACR50 2006 - 2018 (7pcs)

FORTUNER 2004 - 2014 (7pcs)

FORTUNER 2015 - 2018 (7pcs)

HARRIER XU30 2003 - 2012 (7pcs)

HARRIER XU60 2013 - 2018 (7pcs)

HILUX VIGO 2004 - 2014 (4pcs)

HILUV REVO 2015 - 2018 (4pcs)

INNOVA 2004 - 2014 (6pcs)

INNOVA 2015 - 2018 (7pcs)

RUSH 2006 - 2017 (7pcs)

SIENTA 2015 - 2018 (7pcs)

VIOS 2002 - 2006 (5pcs)

VIOS 2007 - 2012 (5pcs)

VIOS 2013 - 2018 (5pcs)

WISH 2009 - 2017 (7pcs)
VOLKSWAGEN
JETTA MK6 2010 - 2018 (5pcs)

PASSAT B7 2005 - 2014 (4pcs)

PASSAT B8 2015 - 2018 (5pcs)

POLO MK6 Hateback 2017 - 2018 (5pcs)

POLO MK6 Sedan 2017 - 2018 (5pcs)

TIGUAN 2016 - 2018 (7pcs)

VENTO 2010 - 2018 (6pcs)

Last Updated @ 2/28/2018 11:51:56 AM
Buy with confidence
| | | | |
| --- | --- | --- | --- |
| Buyer | Item ID | Date | Ratings |
| Ai**** | 195987620 | 7/18/2018 10:23:00 AM | Good seller. Item received as displayed. Will buy from seller again. |
| re**** | 203334383 | 7/10/2018 7:59:00 PM | A+++ |
| nc**** | 203815943 | 7/5/2018 10:18:00 PM | - |
| mw**** | 194282667 | 7/5/2018 5:50:00 PM | - |
| fa**** | 203336485 | 6/9/2018 4:23:00 AM | Item received. Thanks seller!! Trusted. |
| xm**** | 203815972 | 6/7/2018 7:16:00 PM | Good seller |
| CK**** | 149221330 | 5/28/2018 1:31:00 AM | Professional Seller. |
| CK**** | 145155798 | 5/28/2018 1:31:00 AM | Professional Seller. |
Questions & Comments











---

Net Pay (Credit Card VISA MASTER,

Maybank2u, CIMBclicks, Hong Leong Bank, Bank Simpanan Nasional, FPX)

Maybank2U

Maybank Cash Deposite Machine

Paypal

Cimb Clicks

Cimb Cash Deposite Machine
Contact Us
Company Name:

Max Audio Online Sdn. Bhd

E-mail: lelongmaxaudio@gmail.com

Office Phone:

+603-92878259
Phone: +6016-3375742/ +6012-3375742/ +6016-6681432/ +6016-2053415
Our Location:

Max Audio Online Sdn. Bhd. 74 Ground Floor, Taman Maluri, Cheras, 55100, Kuala Lumpur Malaysia

Drive by Waze: http://waze.to/hw283fcjst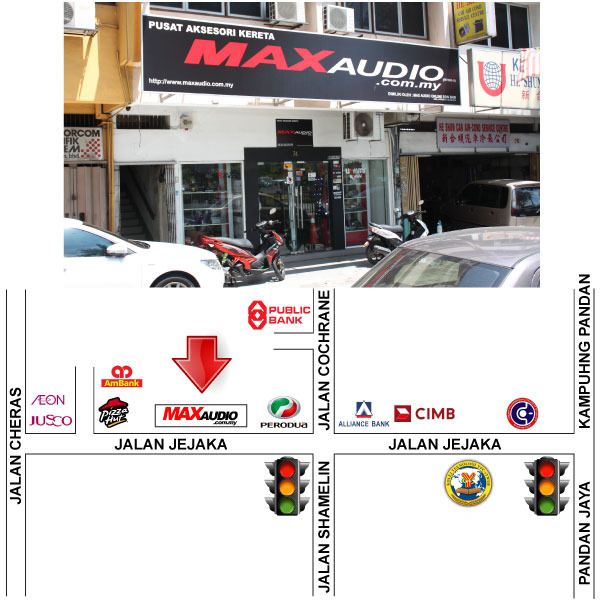 SkyNet Courier Service (

www.skynet.com.my

)

5 - 7 Working Days

Skynet will not ship to P.O. BOX Addresses

We Only Deliver on Monday to Friday

We will check all products, test before postage

Shipping and Handling Charges depends on Item(s) Weight Size

Seller is not held responsible for mistakes made by buyers/bidder if they provide wrong or incomplete mailing address, contact information and etc

Payment must done Up Front before delivery

Seller is not held responsibility for any demand or lost parcel during shipping (Please Contact Skynet if your parcel is demage or lost for claim)
Terms Condition:
All Payment must be cleared within 3 days after Auction Buy It Now

No Joy Bidder or Joy Buyer (Account will be suspend after 3 Reminder Sent)

We will exchange or replace similar product if the item is

Out Of Stock

No Money back refund after payment done

No Combine Shipping or Cash On Delivery (We will only ship the item after payment receive)

All Shipping Handling Fees is bear by Buyer or Bidder

Seller Owned the rights to cancel all bids if Item is

Out Of Stock
Warranty Return Policy
Sales Item - 1 Year Warranty

Auction Item - 1 Week Warranty

All Shipping Handling Fees must be paid by Buyer or Bidder




Please Kindly Provide Full Shipping Information inside the Parcel for Warranty
Questions & Answers
Do you have any questions to ask merchant about this product
Ask Seller
| | | |
| --- | --- | --- |
| 5 star | | 0 |
| 4 star | | 0 |
| 3 star | | 0 |
| 2 star | | 0 |
| 1 star | | 0 |
Share your thoughts with others
Write a review
Only buyers who purchased the product may leave a review