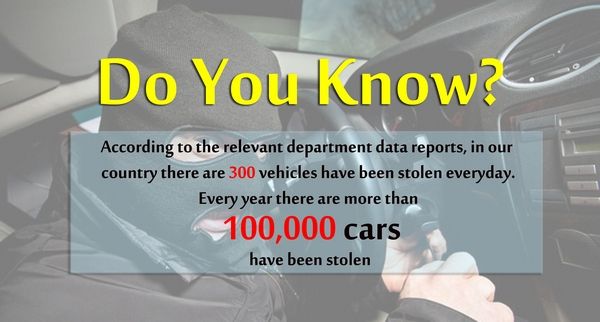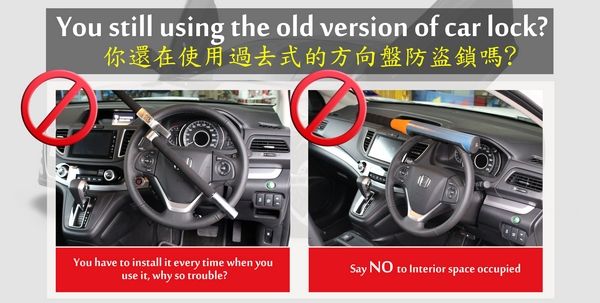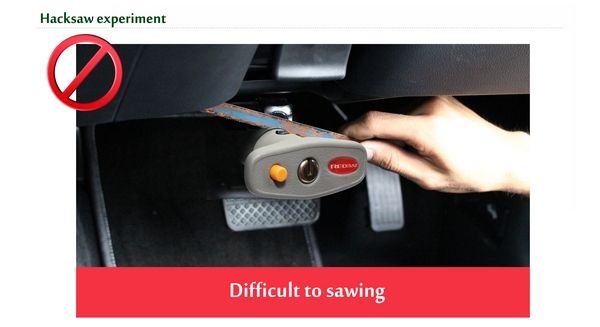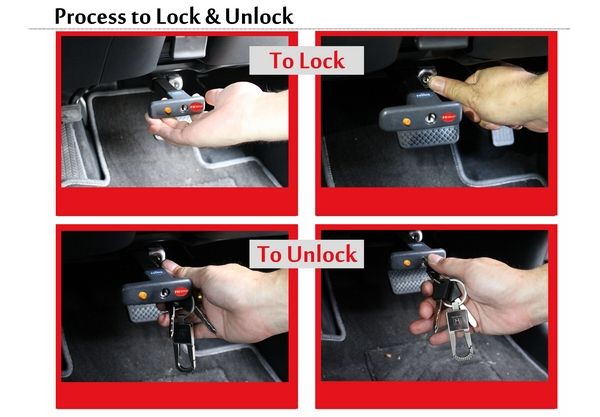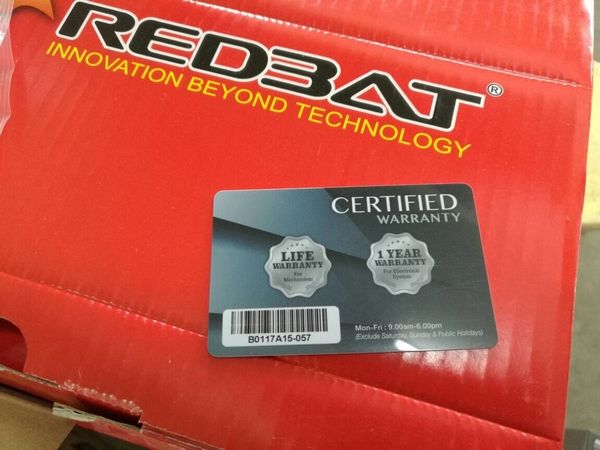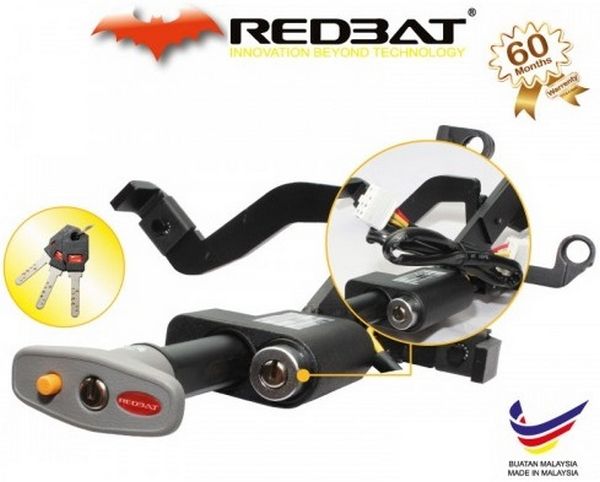 (MOST CARS) ORIGINAL REDBAT High Security Double Brake & Clutch Pedal Lock with Starter Immobilizer Socket & Special & Key Pedal Lock
Today just having a car alarm doesn't guarantee your car's safety. The REDBAT Car Lock is the ultimate and complimentary theft protection for your valuable car. Your loved car is vulnerable to theft when left unattended. With the REDBAT Car Lock you can drive your special car without worrying about where or how long you'll park it.
One of the best car anti-theft products. It is a good deterrent against car thieves. Car theives would rather pick a car without this than the hassle of disarming this. If you don't have this, you're practically giving your car away.
Stop worrying, the REDBAT Car Lock will protect your vehicle while out on the streets and in your garage. The Car Lock is all you really need. It's easy to use, quick to install and effective. Thieves will not be able to drive a car secured with the REDBAT Car Lock.
This product will protect your vehicle from theft and making it impossible to be driven.
The unbreakable lock's hardened steel construction and protective coating make it strong, secure, easy to use and highly visible.
The lock users the brake or clutch pedal arm. Their solid steel construction makes them one of the strongest of your vehicle and virtually impossible to cut. Plus on many vehicles, the brake or clutch pedal must be depressed before the vehicle can be put into gear.
When properly installed, the lock prevents the brake or clutch pedal from being depressed, thus making your vehicle undrivable to thieves.
Start Switch Cutting System Immobilizer
An innovation works to disable car engine being started while under locked condition. Users are encouraged to cover together with switch during installation time to prevent an accident. There will be under user own risk if the installation is w/o switch.
Original Started Switch Socket
No interface with structure of wiring system.
Anti Duplicate
Twins Lock uses a magnetic keyed lock mechanism that utilizes the North/South Poles combination to push or pull the locks internal tumblers.
With the usage of different combinations of polarity, orientation and strengths of the magnet found at the edge of the key blade, the key is impossible to be duplicated just by sight or by conventional key cutting machines of locksmiths.
Duplication of lost keys may only be made by manufacturer and only with the available security card of manufacturer's authorized personnel.
Anti Break
As the magnetic tumbler pins with the lock is made of chrome nickel steel while the key is made of nickel silver, they are both resistant to wear and tear as well as tempering.
Even after attempts of temper and pry or if the lock cylinder is broken, the lock still cannot be opened without the corresponding key.
It is tested in accordance to EN1303, the European Standard of a lock's.
Anti Pry
Traditional lock pricking is impossible as the tumblers within the lock do not operate with the conventional up and down action, rather magnetically operated, which is activated by its magnetic oriented counterpart, found in its key.
Anti Drill
Twins Lock's lock cylinder is made of a unique combination of metals and alloys, chrome nickel steel, which cannot be drilled through by ever power drills unlike normal locks.
THE SECURITY DEVICE CHOICE FOR DRIVERS
Secure

Reliable and durable

Solid steel construction

Resistant to attack

Easy to arm and disarm
Features:
Brand: REDBAT

Double lock meaning one will lock the pedal and the other locks the pedal mechanism.

OE plugs so no wiring modifications are necessary.

When lock is engaged, car will not start.

Made from high strength steel.

Custom fit based on vehicle.

2 Times vehicles Protection from theft compare to others lock in the market

Strong & secure to all types of cars

Security Car Lock for Your Car

No cutting or wire soldering to provide manufacturer warranty

The 2nd lock still working even the 1st lock was destroyed

Cannot start engine while in locking position (Built in immobilizer function)

Connecting to car electronic system using socket

Intelligent key design prevent from being copied

Easy to use

Steel construction material

Customized to different car model

Start switch cutting system immobilizer

Original starter switch socket

1 years warranty for Electronic parts, Life Time Warranty for mechanism

Made in Malaysia

Higher Grade quality compare to Locktact & Locktech & Dr. Lock

Weight: 5Kg
Car Model Available:
CHERY
CHEVROLET
Chevrolet Colorado 2012 - 2017 (Key Start)
DAIHATSU
Daihatsu Lorry 1 Ton & 3 Ton
FORD
Ford Fiesta 2010 - 2013 (Key Start)

Ford Fiesta 2014 - 2017 (Push Start)

Ford Ranger 2001 - 2011

Ford Ranger T6/ T7 2011 - 2017 (Key Start)
HINO
Hino 300 Lorry 2008 - 2014 (WU342R WU302R)

Hino 300 Lorry 2008 - 2014 (WU710 WU720 XZU720 XZU730)
HONDA
Honda Accord 2004 - 2007

Honda Accord 2008 - 2012

Honda Accord 2013 - 2017 (Key Start)

Honda Accord 2013 - 2017 (Push Start)

Honda BRV

Honda City 2003 - 2008

Honda City GM2/ GM3 2009 - 2013

Honda City GM6 2014 - 2017 (Key Start)

Honda City GM6 2014 - 2017 (Push Start)

Honda Civic ES 1.7cc 2001 - 2005

Honda Civic FB 2012 - 2015 (Key Start)

Honda Civic FB 2012 - 2015 (Push Start)

Honda Civic FC 2016 - 2017

Honda Civic FD 2006 - 2011

Honda CRV 2002 - 2006

Honda CRV 2007 - 2012

Honda CRV 2013 - 2017 (Key Start)

Honda CRV 2013 - 2017 (Push Start)

Honda CRZ 2012 - 2017

Honda Freed 2010 - 2014

Honda HRV/ VEZEL/ XRV (Key Start)

Honda HRV/ VEZEL/ XRV (Push Start)

Honda Insight 2011 - 2014

Honda Jazz GD 2002 - 2007

Honda Jazz GE 2008 - 2013

Honda Jazz GK 2014 - 2017 (Key Start)

Honda Jazz GK 2014 - 2017 (Push Start)

Honda Odyssey RB1/ RB2 2004 - 2007

Honda Odyssey RB3 2008 - 2013

Honda Stream 2002 - 2007

Honda Stream RSZ 2008 - 2014
HYUNDAI
Hyudai Getz 2013 - 2013

Hyunda IONIQ 2016 - 2017

Hyundai Accent 2007 - 2011

Hyundai Elantra HD 2008 - 2011

Hyundai Elantra MD 2012 - 2017

Hyundai Matrix 2001 - 2010

Hyundai Santa Fe 2013 - 2017

Hyundai Sonata LF 2015 - 2017

Hyundai Sonata YF i45 2010 - 2014

Hyundai Starex 2007 - 2017

Hyundai Tucson IX35 2010 - 2013 (Key Start)

Hyundai Tucson IX35 2010 - 2013 (Push Start)

Hyundai Tucson IX35 FL 2014 - 2017 (Push Start)
ISUZU
KIA/ NAZA
Kia Naza Carnival 2003 - 2010

Kia Naza Cerato K3 2013 - 2017

Kia Naza Citra 2004 - 2011

Kia Naza Forte (Key Start)

Kia Naza Forte (Push Start)

Kia Naza Ria 2003 - 2010

Kia Naza Rio 2012 - 2017 (Key Start)

Kia Naza Rio 2012 - 2017 (Push Start)

Kia Naza Sorento 2011 - 2012

Kia Optima K5 2012 - 2013

Kia Optima K5 FL 2014 - 2017

Kia Sportage 2012 - 2013

Kia Sportage 2014 - 2017
LEXUS
Lexus CT200H 2011 - 2014

Lexus ES250 2014 - 2017

Lexus RX270/ RX350 2008 - 2013

Lexus RX270/ RX350 2014
MAZDA
Mazda 2 DE 2008 - 2014

Mazda 2 DJ 2015 - 2017

Mazda 3 BL 2009 - 2013

Mazda 3 BM 2014 - 2017

Mazda 6 GH 2008 - 2011

Mazda 6 GJ 2012 - 2017

Mazda 8 2010 - 2014

Mazda Biante 2013 - 2017

Mazda BT-50 2013 - 2017

Mazda CX5 2012 - 2017

Mazda CX7 2010 - 2014

Mazda Fighter 2001 - 2014
MITSUBISHI
Mitsubishi ASX 2010 - 2014

Mitsubishi Attrage 2013 - 2017

Mitsubishi Grandis 2004 - 2011

Mitsubishi Lancer GT 2007 - 2017

Mitsubishi Lancer Sportback 2010 - 2017

Mitsubishi Mirage 2012 - 2017

Mitsubishi Pajero Sport 2009 - 2014

Mitsubishi Storm 2001 - 2005

Mitsubishi Triton 2007 - 2014

Mitsubishi Triton 2015 - 2017
NISSAN
Nisaan Vanette C22 2006 - 2011

Nissan Almera 2012 - 2017 (Key Start)

Nissan Almera 2012 - 2017 (Push Start)

Nissan Frontier 2003 - 2014

Nissan Grand Livina 2007 - 2017

Nissan Latio 2007 - 2017

Nissan Livina X-Gear 2011 - 2017

Nissan Sentra N16 2000 - 2014

Nissan Serena S Hybrid C26 2013 - 2017

Nissan Sylphy 2008 - 2013

Nissan Sylphy 2014 - 2017

Nissan Teana J32 2008 - 2014

Nissan X-Trail 2003 - 2009

Nissan X-Trail 2010 - 2014

Nissan X-Trail 2015 - 2017
PERODUA
Perodua Alza 2009 - 2013

Perodua Alza 2014 - 2017

Perodua Axia

Perodua Bezza (Key Start)

Perodua Bezza (Push Start)

Perodua Kelisa

Perodua Kenari

Perodua Myvi 2005 - 2010

Perodua Myvi Icon 2015 - 2017

Perodua Myvi Lagi Best 2011 - 2014

Perodua Viva 2007 - 2012

Perodua Viva 2013 - 2014 (Air Bag)
PROTON
Proton Ertiga 2016 - 2017

Proton Exora

Proton Gen2

Proton Inspira

Proton Iriz

Proton Iswara/ Saga2

Proton Perdana V6

Proton Persona 2006 - 2015

Proton Persona 2016 - 2017

Proton Preve Campro (Key Start)

Proton Preve CFE Turbo (Push Start)

Proton Saga 2016 - 2017

Proton Saga BLM 2008 - 2010

Proton Saga FL/ FLX/ SV 2011 - 2015

Proton Satria Neo 2006 - 2014

Proton Suprema S

Proton Waja

Proton Wira/ Satria/ Satria Gti/ Putra
SUZUKI
Suzuki Grand Vitara 2005 - 2017

Suzuki Swift 2005 - 2012

Suzuki Swift 2013 - 2017 (Key Start)

Suzuki Swift 2013 - 2017 (Push Start)

Suzuki SX4 2007 - 2017
TOYOTA
Toyota Alphard ANH10 2002 - 2007

Toyota Alphard ANH20 2008 - 2014

Toyota Alphard ANH30 2015 - 2017

Toyota Alphard ANH30 2015 - 2017

Toyota Altis 2001 - 2007

Toyota Altis 2008 - 2013

Toyota Altis 2014 - 2017 (Key Start)

Toyota Altis 2014 - 2017 (Push Start)

Toyota Avanza 2004 - 2011

Toyota Avanza 2012 - 2014

Toyota Avanza 2012 - 2014 (Defender Only)

Toyota Camry 2002 - 2006

Toyota Camry 2007 - 2011 (Key Start)

Toyota Camry 2007 - 2011 (Push Start)

Toyota Camry 2012 - 2014 (Key Start)

Toyota Camry 2012 - 2014 (Push Start)

Toyota Estima 2000 - 2005

Toyota Estima ACR50 2006 - 2008

Toyota Estima ACR50 FL 2009 - 2017

Toyota Fortuner 2005 - 2015

Toyota Fortuner 2016 - 2017

Toyota Harrier XU-10 1997 - 2003

Toyota Harrier XU-30 2003 - 2013

Toyota Harrier XU-60 2014 - 2017

Toyota Hiace 2008 - 2014

Toyota Hilux Revo 2016 - 2017

Toyota Hilux SR Turbo 2001 - 2004

Toyota Hilux Vigo 2005 - 2015

Toyota Innova 2005 - 2015

Toyota Innova 2016 - 2017

Toyota Land Cruiser FJ100 1998 - 2006

Toyota Land Cruiser FJ200 2007 - 2014

Toyota Prado 120 2003 - 2008

Toyota Prado 90 1995 - 2002

Toyota Previa ACR50 2014 - 2017

Toyota Prius 2010 - 2011

Toyota Prius 2012 - 2014

Toyota Prius C 2012 - 2014

Toyota Rush 2007 - 2013

Toyota Sienta 2016 - 2017

Toyota Vellfire ANH20 2008 - 2014

Toyota Vellfire ANH30 2015 - 2017

Toyota Vellfire ANH30 2015 - 2017

Toyota Vios 2003 - 2006

Toyota Vios 2007 - 2012

Toyota Vios 2013 - 2017 (Key Start)

Toyota Vios 2013 - 2017 (Push Start)

Toyota Wish 1.8/ 2.0cc (Key Start) 2009 - 2017

Toyota Wish 1.8/ 2.0cc (Push Stat) 2009 - 2017

Toyota Wish 1.8cc 2003 - 2008

Toyota Wish 2.0cc 2003 - 2008

Toyota Yaris 2006 - 2012
VOLKSWAGEN
Volkswagen Beetle 2013 - 2017

Volkswagen Golf Gti MK6 2010 - 2013

Volkswagen Golf TSI MK6 2010 - 2013

Volkswagen Jetta 2011 - 2017

Volkswagen Passat 2011 - 2017

Volkswagen Passat CC 2012 - 2017

Volkswagen Polo 2009 - 2017

Volkswagen Polo 2014 Polo Sedan 2009 - 2017