Product Description
Features
Heat resistance
The Philips AVENT glass bottle is heat and thermal shock resistant. It can therefore be safely stored in the fridge, warmed, and is also suitable for sterilization.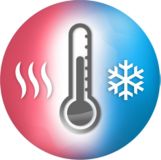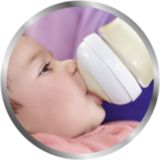 Natural latch on due to the wide breast shaped nipple
The wide breast shaped nipple promotes natural latch on similar to the breast, making it easy for your baby to combine breast and bottle feeding.
Unique comfort petals for an extra soft and flexible nipple
Petals inside the nipple increase softness and flexibility without nipple collapse. Your baby will enjoy a more comfortable and contented feed.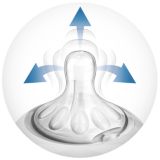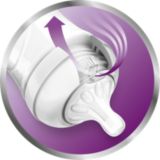 Advanced anti colic system with innovative twin valve
Innovative twin valve design reduces colic and discomfort by venting air into the bottle and not baby's tummy.
Compatible with the Philips AVENT range
The new Philips AVENT Natural bottle is compatible with the Philips AVENT range, excluding Classic bottles and cup handles. We advise to use the Natural bottles with Natural feeding nipples only.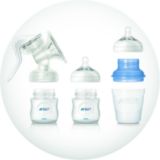 Pharmacopoeia grade glass from France
Fully recyclable, premium quality borosilicate glass from France. The Philips AVENT glass bottle is printed using organic ink and made from only virgin raw materials, to ensure the highest quality for ultimate purity.
This bottle is BPA free*
This bottle is made of glass - a BPA free material.