Item Specification
Model / SKU
: EB-C 136TLD
Product Description
Selling Brand New
Philips Electronic Ballast for 36W/40W Fluorescent Lamp
Product Catalogue: http://download.p4c.philips.com/l4bt/3/330202/eb-certalume_for_tl-d_lamps_330202_ffs_aen.pdf
How to use this Electronic Ballast to replace my old magnetic ballast?
Please take at look at this link:
http://forum.lowyat.net/topic/745469
Are you looking for electronic ballasts for the 36W/40W fluorescent lamps? The reason for being that they are more energy efficient, and also do not have any flicker.
Very good, save electric. More bright, instant start.

Please see picture... No more starter & capacitor needed.
Savings 20% energy at least.

Don't think about how long you get pay back. Think about the advantage and convenience.

Electronic Ballast appeared abt 10 yrs ago.

When introduced, it had a bad reputation of breaking down easily and frequently.

Now, 10 yrs down the road, a lot would have changed and i am sure they don't breakdown easily.

If they did, the industry would have chucked eballast technology into dustbin.

What I personally like best abt e-ballast is the no blinking and flickering.

E-ballast go no "blinking" effect, I'm not talking abt the blinking when you just turn on the light but the high frequency blinking when using iron core ballast, they say this extends the life of the tube (no more black burn out at the ends of the tube) and because of no blinking you get more light output.


Flip the switch and they are on....

Saving electricity is one thing, another advantage of using e-Ballast is the temperature issue. The iron core type ballast gave out too much heat.


Actual item:
This is a Genuine Philips brand electronic ballast, excellent performance.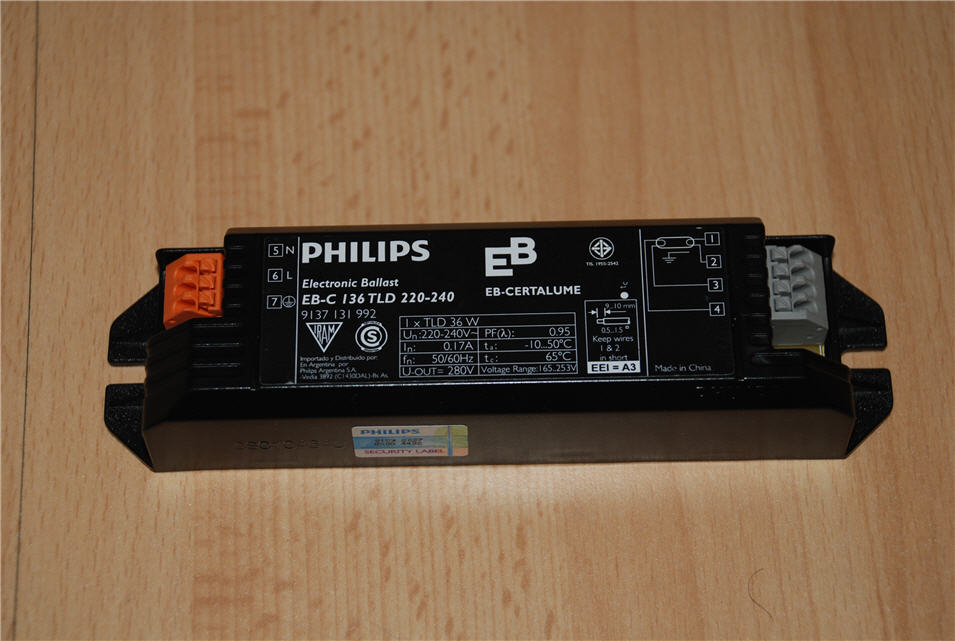 I have ready stock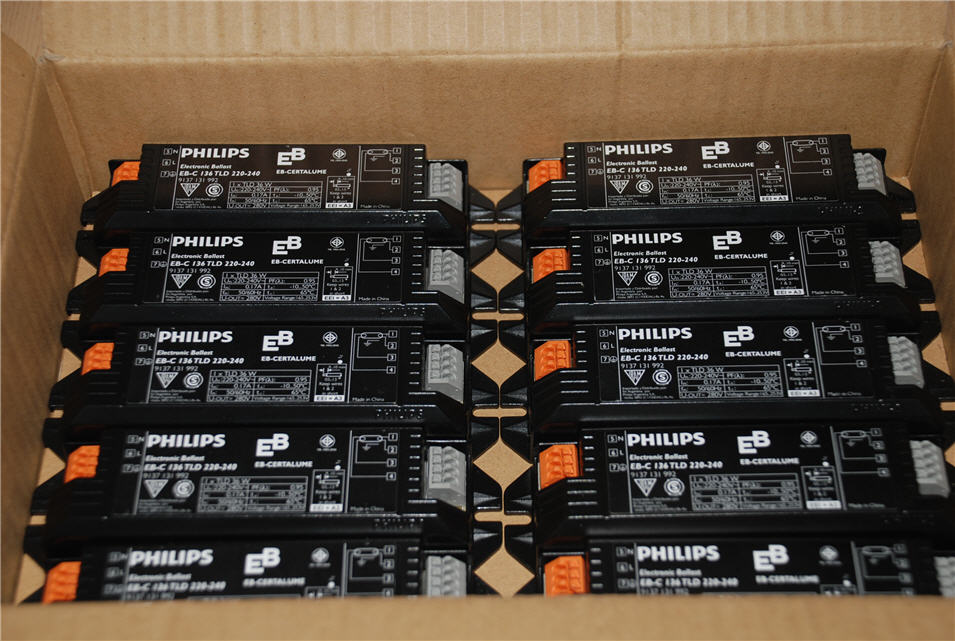 It has Philips Security Label on it, confirm 100% Genuine Philips Product!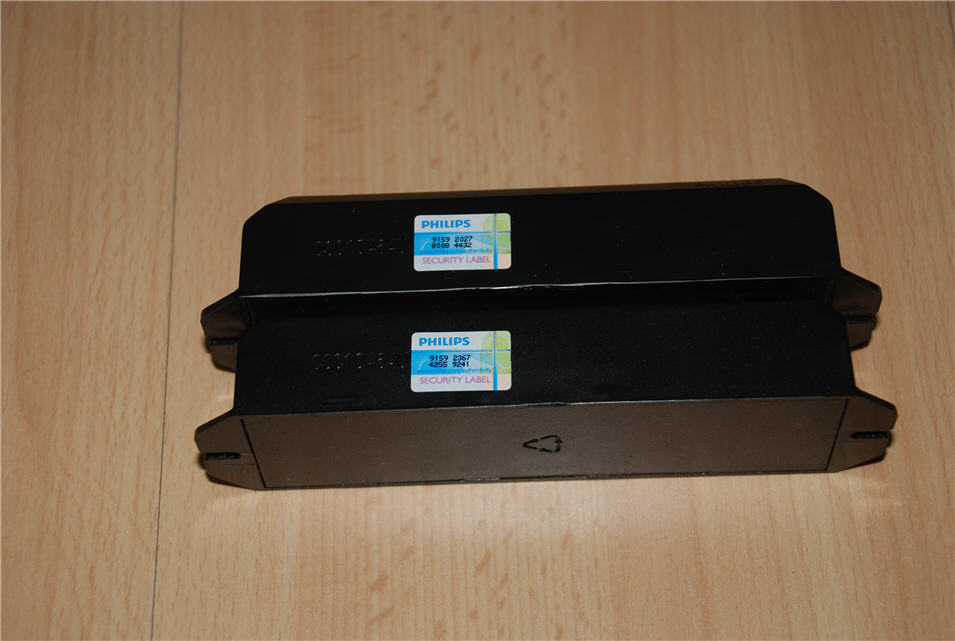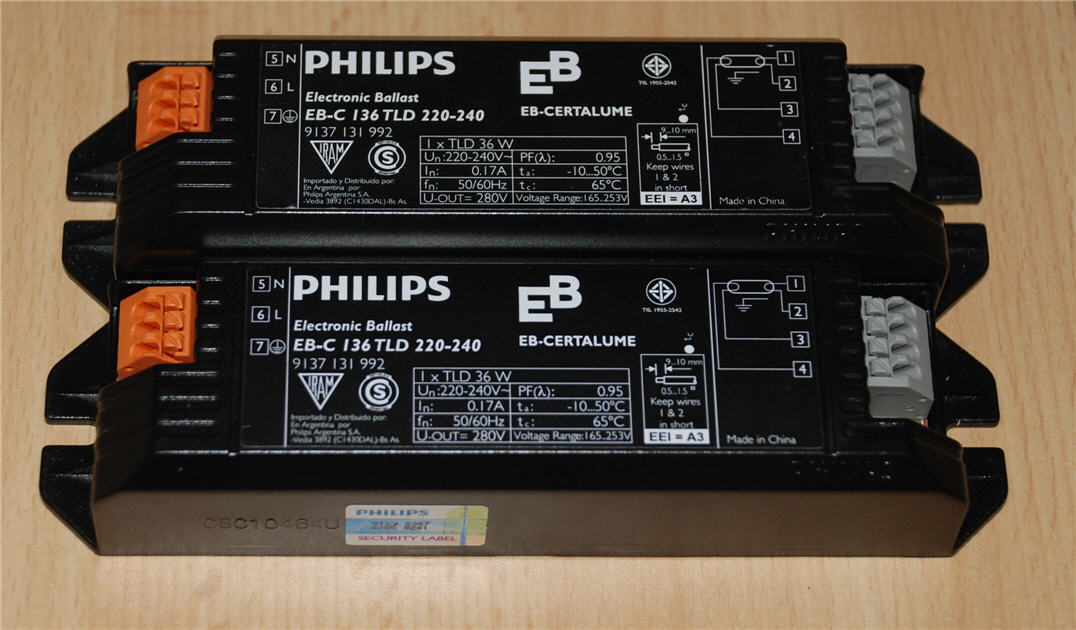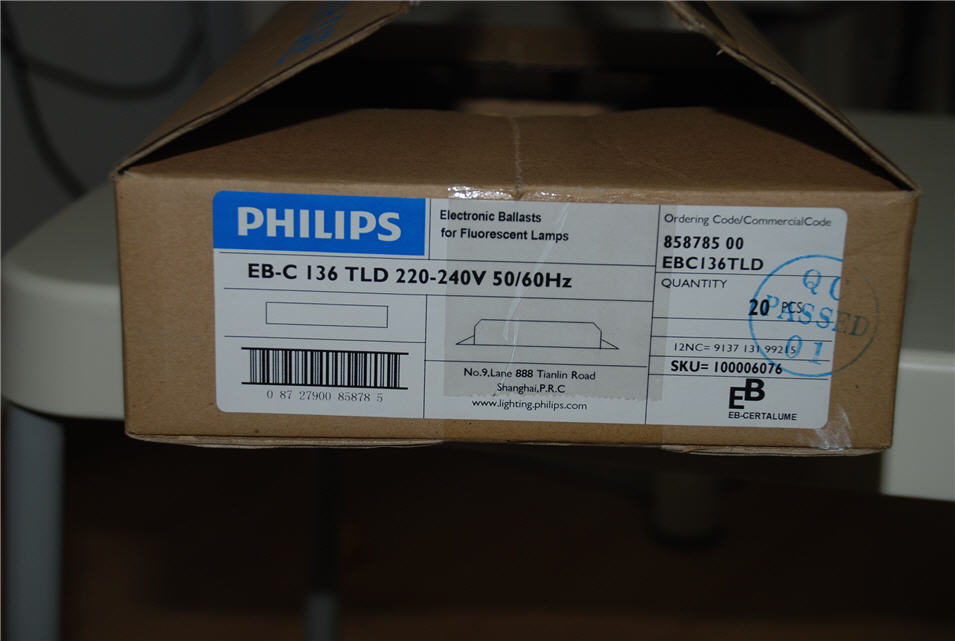 inside the ballast: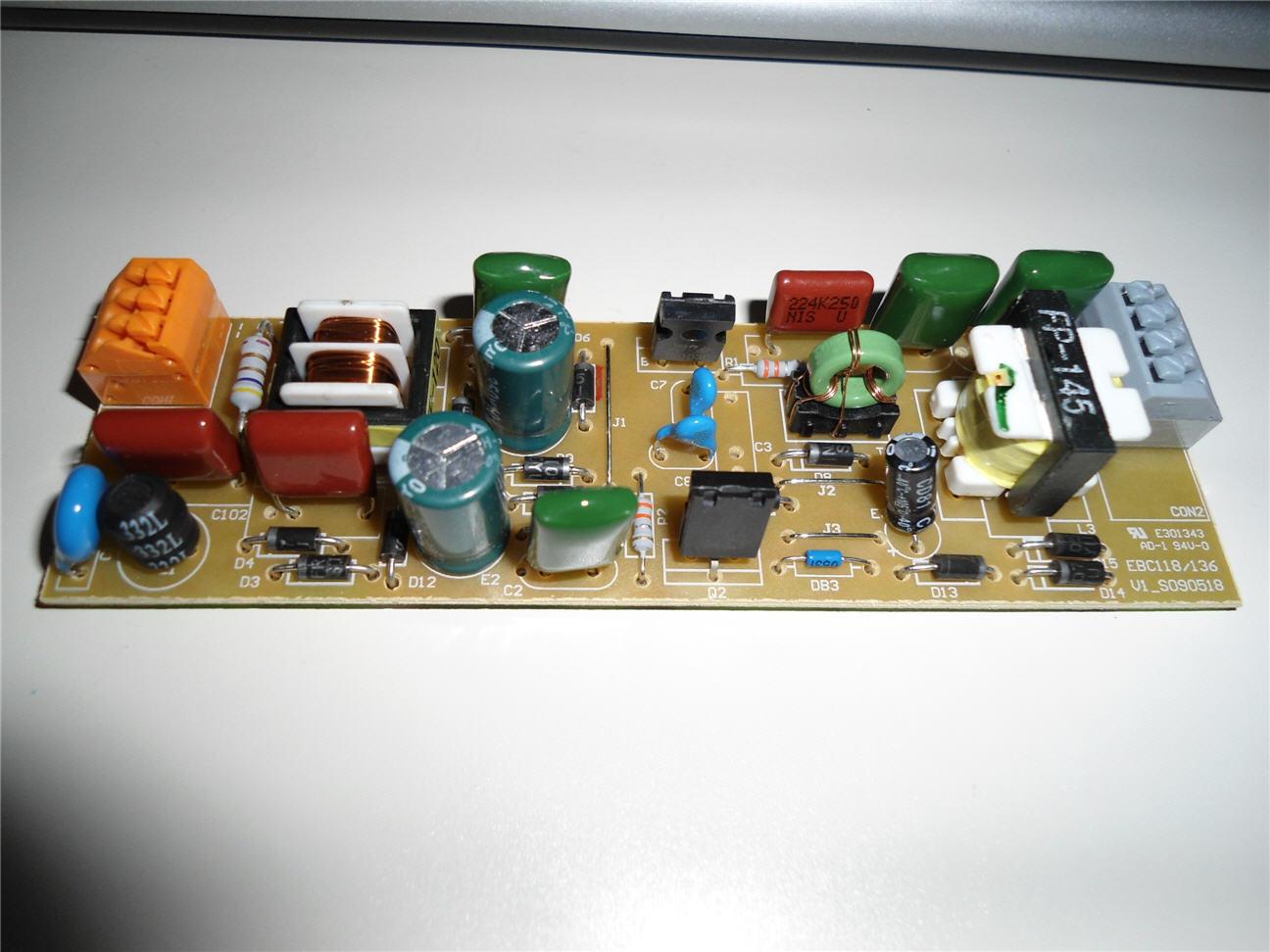 Product Description

EB-Certalume for TL-D lamps

Affordable, reliable, high frequency electronic ballast for TLD fluorescent lamps, ideal alternative for electromagnetic (EM) ballasts

Benefits

• Energy efficient, saving 25% energy compared to electromagnetic ¡°Ctype¡± ballasts

• The EB-C TLD range has a robust design and meets safety, EMC and Immunity tests including safety approbation via an external testhouse covering IEC/EN 61347.

• Same size as electromagnetic ballast ideal alternative for electromagnetic ballast, no ignitor needed

Features

• Energy efficient CELMA A3

• Complying to CCC certificate including safety acc IEC 61347

• Robust design for 20.000 hour lifetime and 3.000 on/off switches on one lamp.

• Rapid, flicker-free lamp start (< 1.6 s)

• Lamp ignition at -10 C

• High power factor 0.95 with THD <25%

• EMC compliant to EN 55015 2006 + A1 2007

• 45 degree connector for easy connection with push button release

• Wide voltage range for ignition and operation (165V-253V)

Other model available on Philips website:

http://www.ecat.lighting.philips.com/l/catalog/catalog.jsp?staticPage=staticFamilyPage&userLanguage=en&userCountry=aa&catalogType=LP_PROF_ATG&catalogLocale=en_AA_LP_PROF_ATG&categoryid=GE01GAF_CA_AA_LP_PROF_ATG&filterState=null&topicType=null&browseBy=null&sortBy=null&familyid=LP_CF_EBCTLD_EU_FA_AA_LP_PROF_ATG&lpType=Gear&pageType=family


I am Lelong.com IC verified, please email me for fast deal / quantity order.








Last Updated @ 7/12/2011 8:30:50 PM