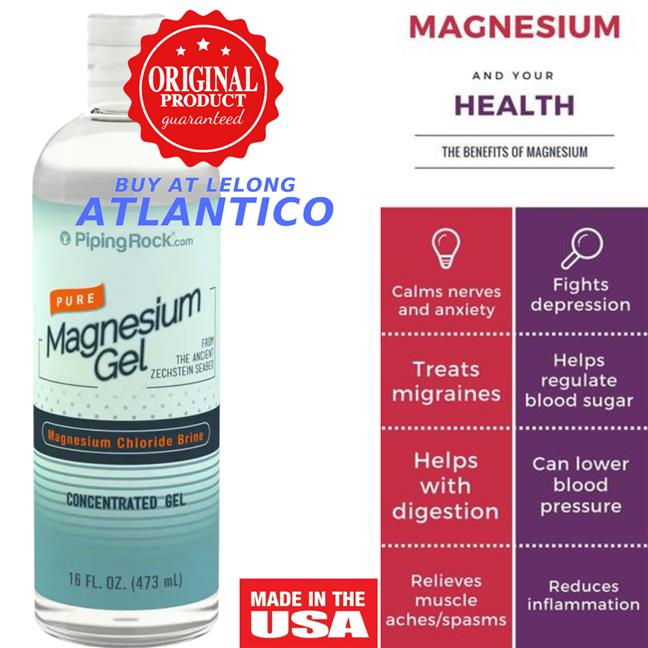 MADE IN USA
Our Magnesium Body Gel is a highly concentrated formula. Derived from the ancient Zechstein Seabed, it can be easily applied to the skin, and massaged until absorbed. Soothing and cooling, this 100% pure gel is great to use daily. Add it to your routine today!
Ingredients:
100% Pure Magnesium Chloride Gel (with Brine from the Ancient Zechstein Seabed in the Netherlands).
Directions:
Apply gel generously to skin and massage until absorbed. After a while, you may see a slight white residue forming on the areas where you have applied the gel. It is from the salt that has stayed behind on the skin and can be wiped or washed off.
WARNING:
FOR EXTERNAL USE ONLY. Do not ingest. Avoid contact with eyes. Do not apply to broken or irritated skin or areas affected by rashes. Discontinue use and consult your doctor if skin sensitivity occurs. Do not use on children or animals. Keep out of reach of children.

Last Updated @ 5/5/2019 12:49:14 PM
OUR WARRANTY
Product Quality Guarantee
We guaranteed that our products are 100% original and genuine. If at any time you discovered the product to be fake or non-original, you may return the product without any question asked. We will refund the full price you paid for the product, including any shipping charges. All we asked is you drop us a note to let us know why you think the product is not original.
Product Satisfaction Guarantee
If you are not happy with the product you ordered, you may return to us the product (unopened) and we will be glad to refund you the price you paid for the product (less any shipping charges). You will need to do this within 15 days from the order date.
OUR SHIPPING POLICY
We ship your items on the same day that you order them, as long as you place your order before 12pm noon. Orders received after 12pm noon will be shipped the next business day.
Depending on your location, your order should normally arrive 1-3 business days after it is processed. To keep you posted, we'll update your shipment at the shopping portals as soon as your order leaves our warehouse that will include a tracking number for your order.
We never drop-ship our products. By keeping all shipping in-house, we can guarantee quality, speed and accuracy in your order fulfillment.
OUR RETURN POLICY
We are proud of the quality of our products and want to make sure you are completely satisfied.
All Atlantico purchases are backed by our 100% satisfaction guarantee. If you are not satisfied with any item you have purchased from us, you may return it within 15 days of the date of your order. The items can only be returned for refund if they are unopened and are in their original packaging. All shipping costs will be the responsibility of the customers. However, you may keep any free gifts that comes with the purchases.
When you receive your order, please check to make sure these items are in good condition, and let us know right away if there is a problem with your shipment. You may either PM (Private Message) us or email us at myee8780@yahoo.com.my
Once your return has been received, a credit or refund will be issued.
We will not be responsible for shipping and handling on returned items. We recommend using courier companies for returns as we cannot be responsible for items that do not arrive at our warehouse.
If you have any questions about our domestic return policy or about a specific return, email us at myee8780@yahoo.com.my
Initial shipping charges are not reimbursed except as stated in Our Product Warranty. Returns may be refused on an individual basis due to repeated patterns indicative of abuse.
OUR PERSONAL PRIVACY COMMITMENT
Personal privacy is critically important to us. Since we started our business, we have never sold, leased or shared any customer information with third parties. Your personal information remains entirely confidential.
OUR CUSTOMER SERVICE POLICY
We are also reachable by email to answer questions and resolve issues with your order. Of course, nobody's perfect. We may get quite busy at times and we ask for a little patience. We'll do our best to take care of things promptly, efficiently and courteously - this is what our customers deserve!
Atlantico
Policy Update 29 August 2017
GENERAL
1. All the Products sold by Atlantico through this site are sold subject to these Terms and Conditions.
2. All pictures and images of the Products displayed on this site are for illustration purposes in order to help the Customer to recognise the Products only. The actual size, dimension and colour of the Products may differ and these may not reflect exactly on the pack you receive due to packaging redesign and improvements.

PRICE
1. Unless otherwise stated, all prices quoted are in Malaysia Ringgit. Where applicable, you shall be charged according to the prices stated in this site and such other miscellaneous charges such as shipping charges. Goods and service tax (GST) is already included in the price listed.
2. Atlantico shall make every effort to ensure that the prices, details and sizes of Products detailed are correct at the time when the information was inputted onto the system but Atlantico reserves the right to vary the price and other details, descriptions or specifications of the Products without notice.

PAYMENT
1. Payment for Products ordered through Atlantico can be made by a valid debit or credit card. Atlantico shall not be liable for any credit card fraud.
2. All payment in respect of an Order must be cleared before delivery of the Products.
3. If payment to an Order has already been made but the Order is rejected by Atlantico or cancelled by the Customer before Atlantico accepting the Order, you will be entitled for your refund but the receipt of the refund will depend on the period of time your financial institution takes to finalise the refund. Atlantico shall not be liable with respect to any loss, damage, cost or expense that you or any person may incur as a result of any delay in your financial institution processing the said refund.

DELIVERY
1. Atlantico shall use reasonable endeavors to deliver Products of acceptable quality to the delivery address specified and keyed in by the Customer but Atlantico cannot guarantee any firm delivery time and Atlantico shall not be liable for any delay in its delivery services, if the delay has been due to causes beyond the control of Atlantico.
2. Your Order will be delivered to you via the service of a courier service company of our choice. At this juncture, delivery service is extended to Malaysia only. Please allow three (3) working days for Peninsular Malaysia and five (5) working days for East Malaysia including Labuan for processing from date of Atlantico's confirmation of acceptance of an Order within the aforesaid areas unless otherwise notified by Atlantico
3. No delivery services shall be available on Sunday and public holidays.
4. The Customer is to notify Atlantico immediately of a change to his delivery address and contact number.
5. Where Customer is not available to receive the delivery, a notification card by our courier company will be left at the delivery address. An attempt will be made to contact the Customer for a second delivery. If Customer is still not reachable at second attempt, the item will be returned to Atlantico. If delivery is delayed due to the Customer's undue delay or unreasonable refusal to accept delivery or if the Customer fails or refuses to collect the Products within seven (7) days from the date of second notification, the Order will be deemed void and has no further effect but the Customer shall bear all the relevant cost incurred by Atlantico (including but not limited to the delivery cost and administrative charges).
6. If the Customer is not personally available to accept delivery, a representative may accept delivery on behalf of the Customer provided always that the said representative must be over 18 years of age and capable of receiving the delivery. The Customer or its representative may be required to produce proof of identity on delivery or collection of Products and all deliveries shall be signed off by the Customer or its representative on the delivery invoices.
7. Atlantico reserves the right to withhold delivery of the Products to the Customer if it has any doubts whatsoever as to the Customer's insufficient identification.

CANCELLATION OF ORDER
1. The Customer may cancel the Order up to the point in time before Atlantico has confirmed its acceptance of the Order and the Customer will not incur any cost in doing so. If the Customer wishes to vary its Order, the Customer is required to first cancel the said Order and to replace it with a new Order thereafter. Such cancellation and/or variation of Order is only allowed if the same is performed and notified to Atlantico within 24 hours from the initial Order is made by the Customer.
2. Subject to the Customer's consent, Atlantico may substitute a Product for another similar Product if the initial Product ordered by the Customer is unavailable.
3. If there is no prior consent from the Customer for a substitution, no substitution shall be made.

PROPERTY RISK
1. All risk in the Products shall pass to the Customer upon delivery to the Customer's delivery address but Atlantico shall retain title in the Products until such time as payment for the Products has been effected.

RETURN AND REFUND POLICY
1. Atlantico shall use its best efforts to ensure that Orders are correctly fulfilled. Should there be any discrepancy of Products delivered and the Customer wishes for return and refund, please notify us by email, sms, private messages or telephone call within seven (7) days upon receiving the Products. We will contact the Customer within seven (7) days after receipt of the return notification. The Customer is advised to wait for our instruction for the next course of action. In the event the Customer does not receive any reply from us after the aforesaid period, please contact us through email myee5126@gmail.com for enquiries.
2. If the Customer opts for replacement or exchange of Products, the affected Products MUST be returned to us via courier or post. All replacements or exchange of Products shall be effected subject to stocks availability.
3. Return/Exchange of Products or refund can be arranged under the following reasons:
a. If any Product has been delivered in a damaged or defective condition; or
b. if the Product is out of date or expired; or
c. if the wrong Product which is different from the Order is delivered
Provided Always that the Customer shall return or caused to be returned to Atlantico the aforesaid Products unused and in its original condition, quantity and packaging as it is first delivered to the Customer together with the proof of Order, payment and delivery of the Products.
4. If a Product which was ordered and invoiced is not included in the delivery, Atlantico shall either refund the Customer the value of that Product, or replace the Product.
5. If any Product which was not included in the Customer's Order is delivered to the Customer, the customer shall return the Product to Atlantico.
6. If the Customer has been charged for a Product which has not been delivered, Atlantico shall refund the Customer the value of the Product as originally charged to the Customer.
7. The return of a Product by a Customer does not automatically warrant for a refund. Atlantico will inspect the returned Products upon receipt of the same. If the conditions in Item No. 3 of this Return and Refund Policy have been fulfilled, refund will be made to the Customer and we will reimburse the Customer of its courier charges for returning of the Products to us provided always that the courier payment slip is furnished to us upon seeking refund.
8. All refunds will be made via the same mode of payment within 2 months and depending on the appointed bank refund policy in which your receipt of the refund will depend on the period of time your financial institution takes to finalise the refund. Atlantico shall not be liable with respect to any loss, damage, cost or expense that you or any person may incur as a result of any delay in your financial institution processing the said refund.
9. The Customer is required to send back the affected Product(s) to us via a reliable courier service company.
10. The Customer shall be responsible for the risks and condition of the Product to be returned until it reaches us. Atlantico will not be liable for any loss or damage to the Product prior to the Product is received by us. The Customers are advised to pack safely the Product to prevent any loss or damage to the Product or its box or its original packaging.

WARRANTIES
1. No agent or representative of Atlantico is authorized to make any warranties, representations or statements regarding the Products and Atlantico shall not in any way be bound by any such unauthorized warranties, representations or statements.

LIABILITY
1. The liability of Atlantico whether in contract, tort or otherwise for any loss, damage or injury arising directly or indirectly from any defect in or non-compliance of the Products or any other breach of Atlantico's obligations hereunder shall not in any event exceed an amount equivalent to the price of the Products.
2. Subject to any rights the Customer may have under any consumer protection law and to the fullest extent permitted by law, Atlantico, its parent, subsidiaries, affiliates or successors or their respective officers, directors, employees, agents, representatives, contractors or vendors shall not be liable to the Customer or any other person for any consequential, indirect or special damage or loss of any kind whatsoever nor shall Atlantico, its parent, subsidiaries, affiliates or successors or their respective officers, directors, employees, agents, representatives, contractors or vendors be liable for any damage or loss caused by the Customer's servants, agents, buyers or other persons whatsoever.
3. The Customer shall ensure that the Products are not used for any purpose for which they are not suitable and shall be responsible for using all necessary skill and care in handling and using the Products. The Customer expressly acknowledges and agrees that Atlantico assumes no obligation or liability for any advice or information given with the Products and Guardian shall not be responsible for any inaccuracy or misstatement of any such information. The Products shall be accepted by the Customer entirely at the Customer's risk.

FORCE MAJEURE
1. If the performance by Atlantico of its obligations is prevented by reason of "force majeure" (which shall include prevention occasioned by epidemic, fire, explosion, casualty, accident, storm, flood, drought, weather conditions, earthquake, act of God or other natural disaster or any law, order, proclamation, regulation, demand or requirement of the government of Malaysia or of any of its government agencies, insurrection, riot, civil commotion, war, strikes, labour disputes, shortage of labour or lack of skilled labour, shortage or unavailability of Products or raw materials, mechanical breakdown, delay in transit, failure or problems with public utility supplies including electrical, telecommunication or Internet failure or other causes whatsoever (whether similar to the foregoing or not) beyond the reasonable control of Atlantico), Atlantico shall be excused from such performance to the extent of such prevention.

VARIATION OF TERMS AND CONDITIONS
1. Atlantico reserves the right to amend these Terms and Conditions from time to time or at any time in its sole discretion. Atlantico may, but does not undertake, to notify the Customer of such changes. It is the Customer's responsibility to review the Terms and Conditions prior to submitting any Order and Atlantico shall have no responsibility to notify the Customer of any changes to the Terms and Conditions prior to the coming into effect of such changes or otherwise.

CONTENT
1. All reasonable efforts are made to ensure that the information provided on this site is correct and up-to-date. However, the information may contain any errors, mistakes, omission or inaccuracies and Atlantico reserves the right to correct any errors, mistakes, omission or inaccuracies.
Atlantico
All rights reserved