Product ID : 204949637
Brand : Uniqfactory
Model / SKU : 999149-B
Conditions :

New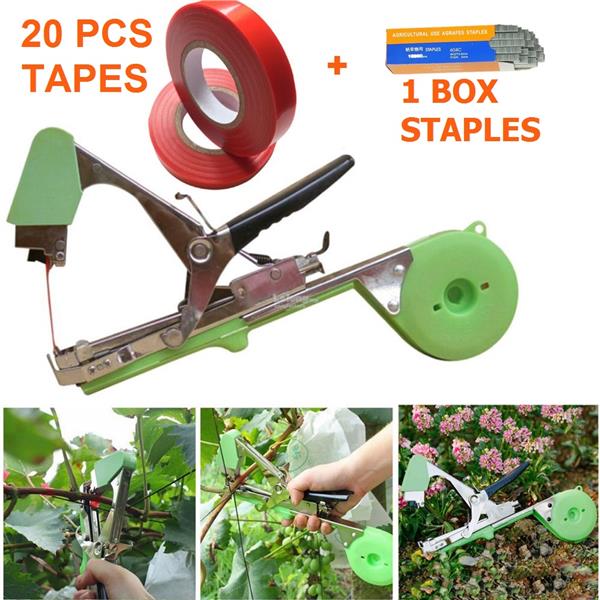 Description:
Vine Branch Tying Tape Hand Tool Tie Stapler Plant Fruit Vegetable

This tape binding machine with plastic belt as the binding material and stitching needles to fix the belt. Farmers can operate it with only one hand.
Binding machine is easy to operate and convenient to take, it works with high efficiency and would not hurt the plant.
Specification :
Size : 31*6*33cm(L*W*H)
Material : Taiwan Imported Stainless Steel + Plastic
Tape Color : Randomly send ( blue, red or white, make sure you do not mind with colour before you buy)

Feature :
Binding machine is only 0.7 kg, very convenient to take.
Cost recovery very fast. One binding machine can save 3 labour.
Labour saving, it can bind 3-4 times more plant than by hand in a unit time.
It cost less time, so when farmers busy with the planting, we can have more time to do the other things like sprinkle. And we can also increase the plant area because of it's high efficiency.

Steps of Operation :
1. Hold handgrip and press down with force, when you hear a voice of "da". the tape is hooked by hook, loose handgrip to take out the tape, pay attention taht you can't use an excessive force.
2. The branch of crop need to bind overlap from wire and other materials, and tie both them with the tape, and quickly press down the handgrip by force.
3. After cut the adhesive tape off you should loosen the handgrip quickly and make redundant small tape to spring out.
4. Attention: Tape bound should be parallel with nail groove.

Maintenance Method :
1. If the tying hand machine of the blade is not able to cut the belt, please use a long flat nose plier to pull out the used blade, and change a new one.
2. When the hand tying machine of stitching needle is blocked, you can use nipper or small screw driver to get it out. (If 1 section break into 2 section, we also can use one by one section avoid be blocked.)
3. Add lubricant oil to every joint after tying hand machine are long time using.

Package Included:
1 x Plant Tying Machine
20 x Tapes
1 x Spare Spring
1 x Spare Blade
1 x Staples
1 x English user manual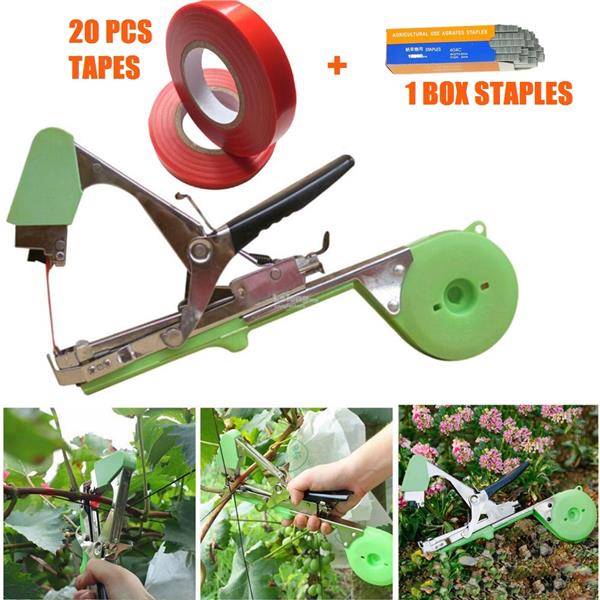 Last Updated @ 6/13/2018 9:41:37 PM
Customer Support
Thank you for visiting our store. We are committed to offer high-quality and low cost overseas products. Our primary mission is your satisfaction with our products and services. We try our best to ensure all customer satisfaction and make your shopping experience a great one.
---
Delivery
FREE Shipping - Registered Express Airmail. Ship Worldwide. Shipping is Free !
FREE Custom Clearance - No import duty or SST charges.
Delivery Time - 7 to 10 working days
All items are direct ship from our overseas warehouse to you after payment, direct from factory !
* We Appreciate Your Patience To Receive Your Item *
---
Why choose us?
We offer

Free Shipping & Free Custom Clearance

for all items.
We are SSM Registered & Lelong Verified Seller, buy with confidence.
We provide 1 to 1 exchange if defective or faulty is found on the shipped products provided not scratched based on our discretion.
We sell 100% Brand New & High Quality overseas product at lowest price.
We have our own warehouse in overseas such as China, Netherland, Korea etc.
We provide specific warranty for every product.
---
Have a question???
Contact us: 014-9357995 (Phone, SMS, Whatsapp, WeChat )
Email us: uniqfactory@gmail.com
WE WELCOME
BULK ORDER!!!
CHEAPER PRICE GIVEN



---
For Direct Bank In Payment Details:
Customer also can make direct payment to us.
After payment to us, please provide your :
Ordered item product name and product ID

Full name

Shipping address

Phone number

Email

Photo of Bank transaction slip / receipt
to our WhatsApp 014-9357995 / email us:uniqfactory@gmail.com
Bank Account:
Account Holder Name: LxxxxxxxxUI
Maybank: 164249163859
CIMB Bank: 7061088760
Thank you~
Please read our terms and conditions before order.
PRODUCT WARRANTY -
If you encounter quality issues within the warranty period you will be covered. Every product has a specific warranty period.
WARRANTY EXCLUSION -
All warrantees begin from the date the product is received. If a product develops a fault during the warranty and the fault is due to a quality issue rather than your own breakage or misuse, we will accept a return. However here are situations you are unlikely to be covered for.
a) The user voids the warranty if they
- Flash the firmware of a device
- Opens the body in an attempt to fix, otherwise
- Modify remove or swap parts of a product
- Uses the device in a way that it is not intended for
- Continues to use once the fault occurs and causes more damage
- Fail to contact us when the problem first occurs
b) Warrantees do not cover cases of damage to products from accidental breakage, misuse, or general wear and tear.
c) Returns without prior discussion and will not be accepted.
d) If your product is covered by warranty and a repair is impossible and we can't offer a replacement due to stock or an outdated model,we will credit you what you originally paid so that you can choose to purchase another item.
e) For health reasons certain adult and clothing products cannot be returned if opened
RETURN POLICY -
Did your item arrive damaged or not working? If so you are protected and can make a claim, the procedure is outlined below.
1) Contact us within 3 days after you have received your item in defective condition
2) Show us photo of front and back side of packaging box
3) Show us photo or video of problem, defective area of the issue
4) We will review the claim and our sales manager will contact you
5) We refund or replace as your choice
You are agreed with the terms and conditions stated when you placing the order.

Thanks.