WATCH PLAY-DOH Sweet Shoppe Cake & Ice Cream Confections Set DEMONSTRATION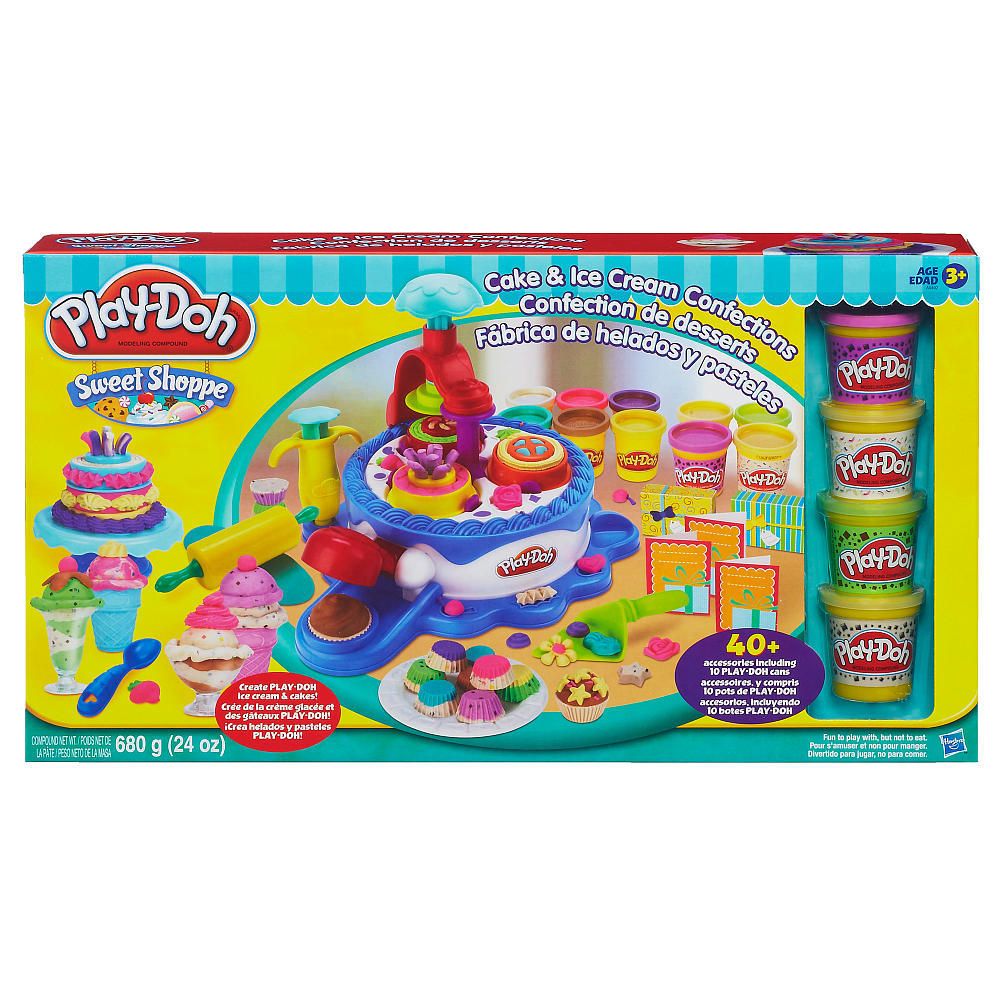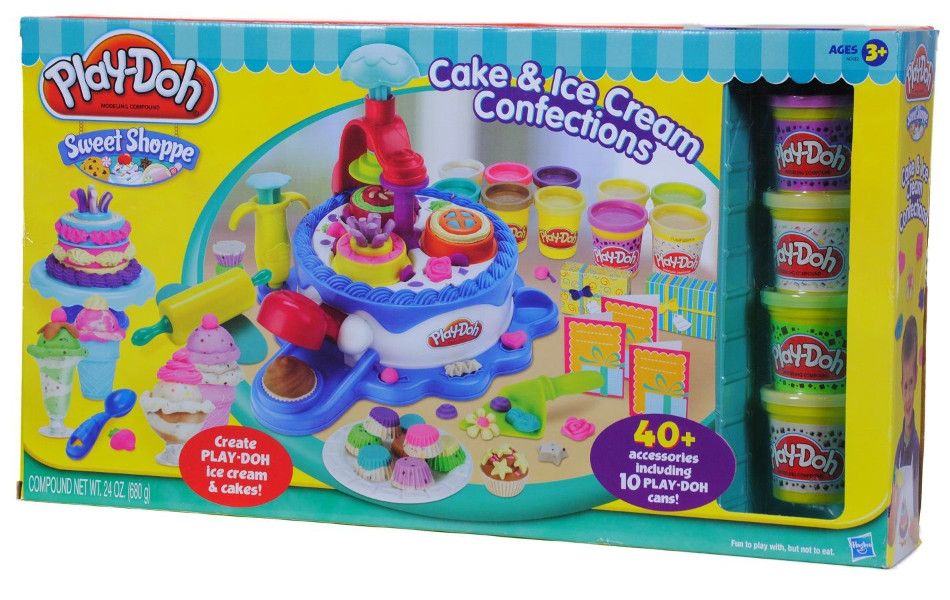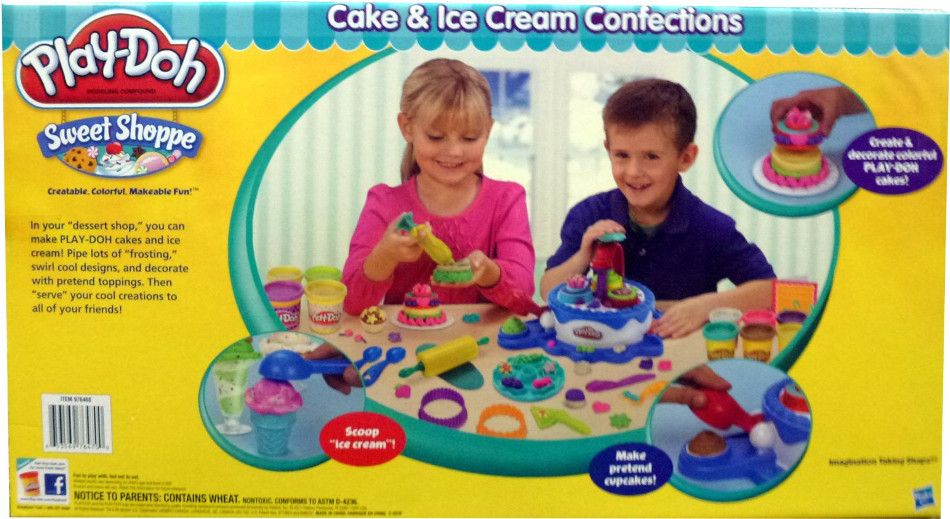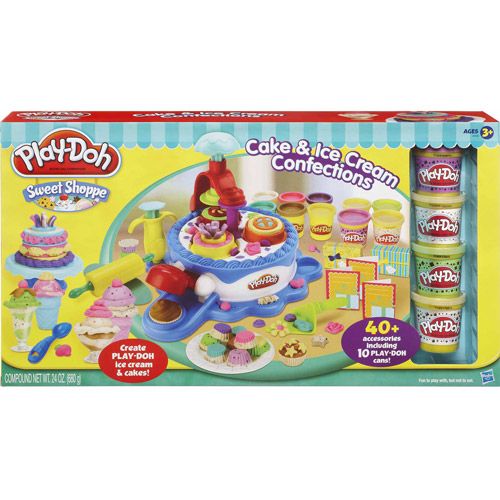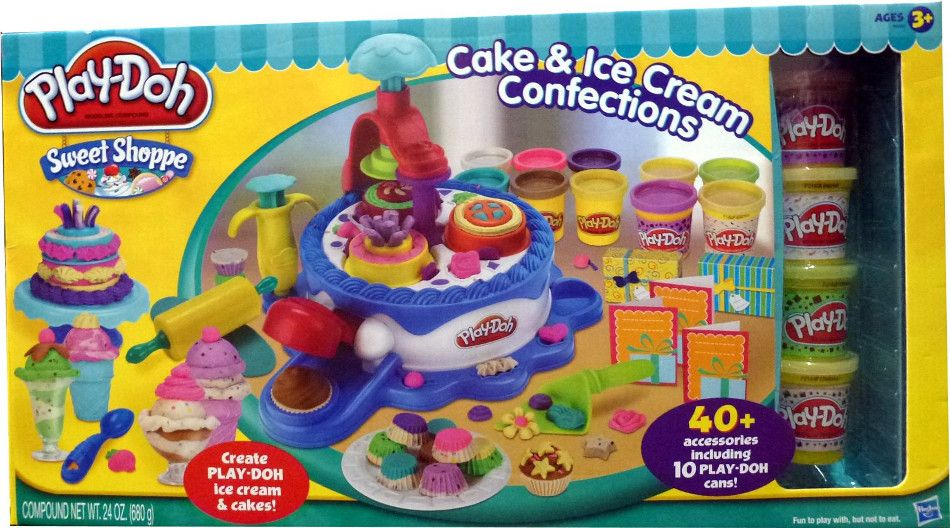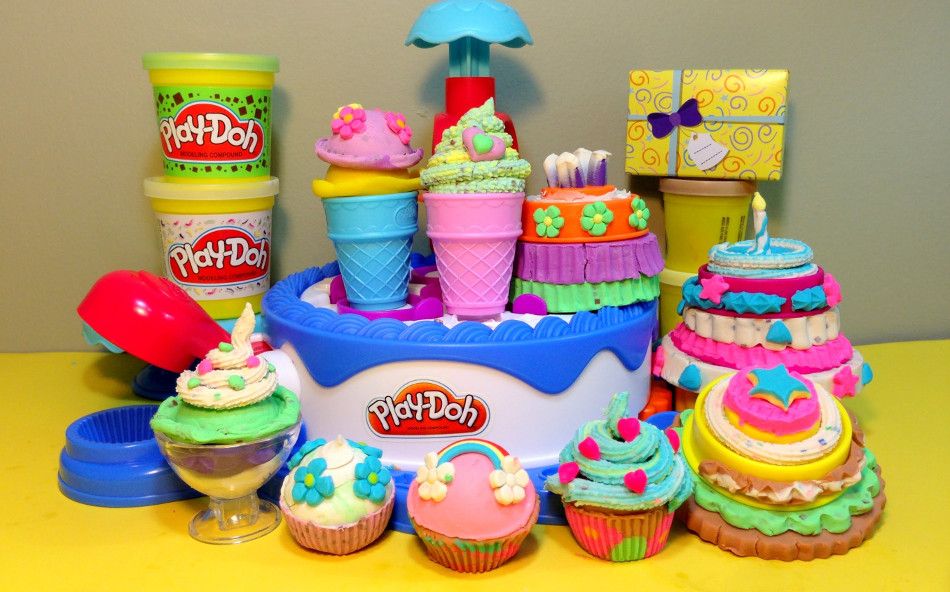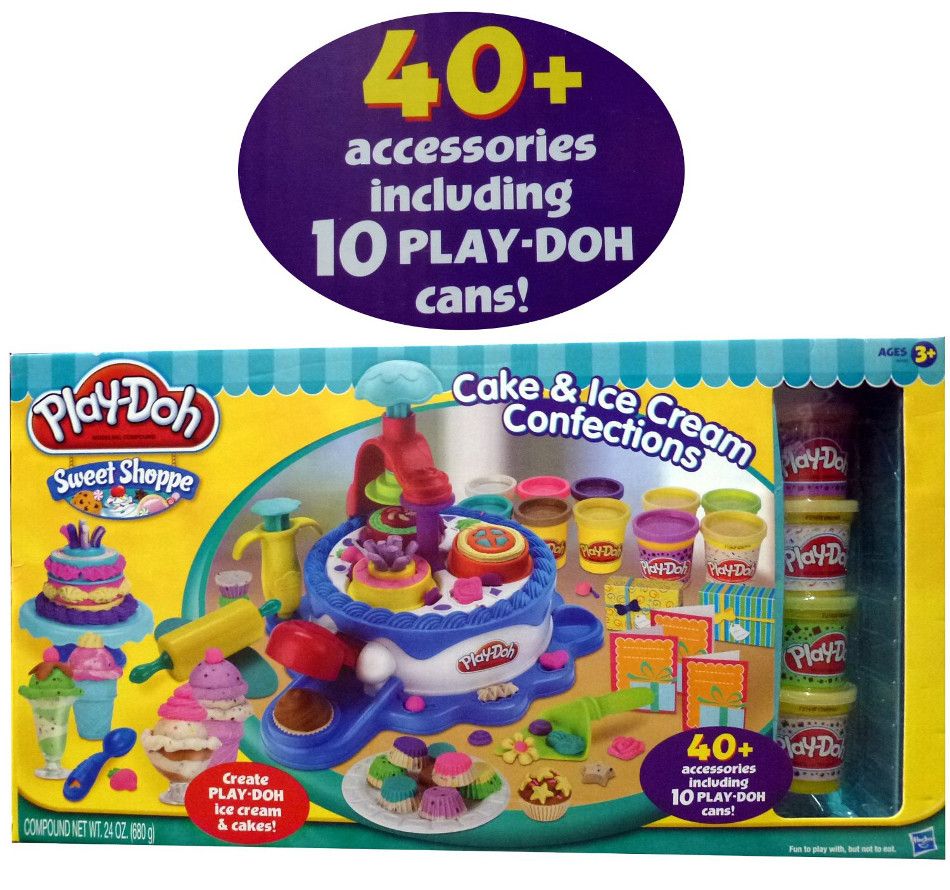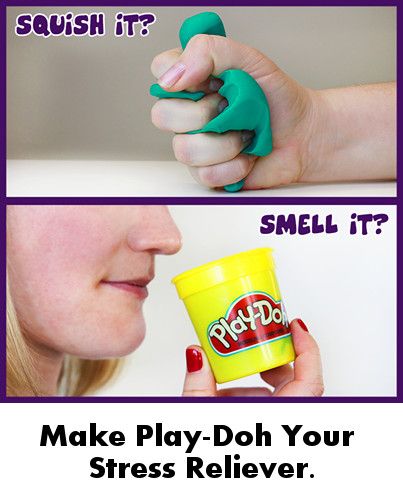 REAL UN-ENHANCED PHOTO (NO-FLASH & FLASH PHOTOGRAPHY)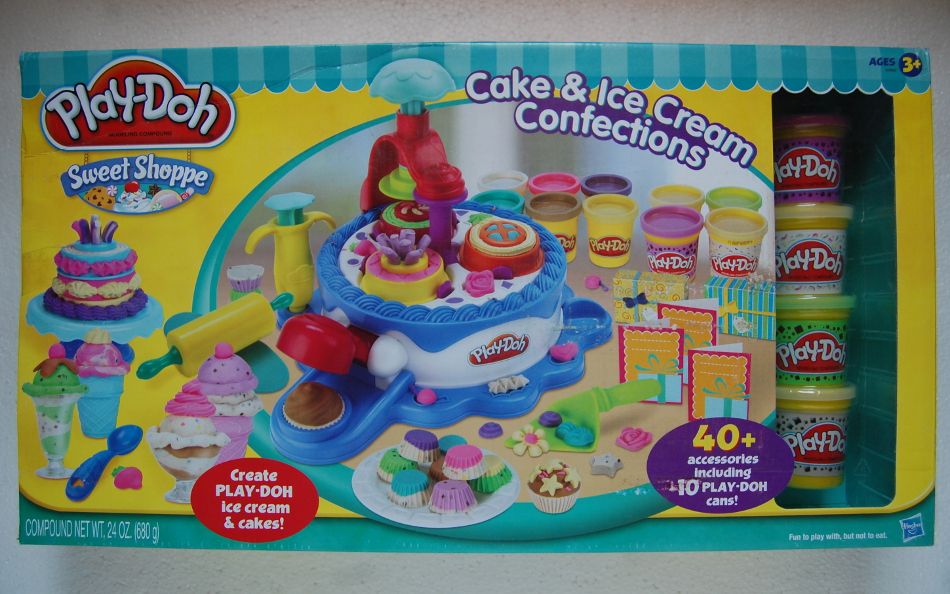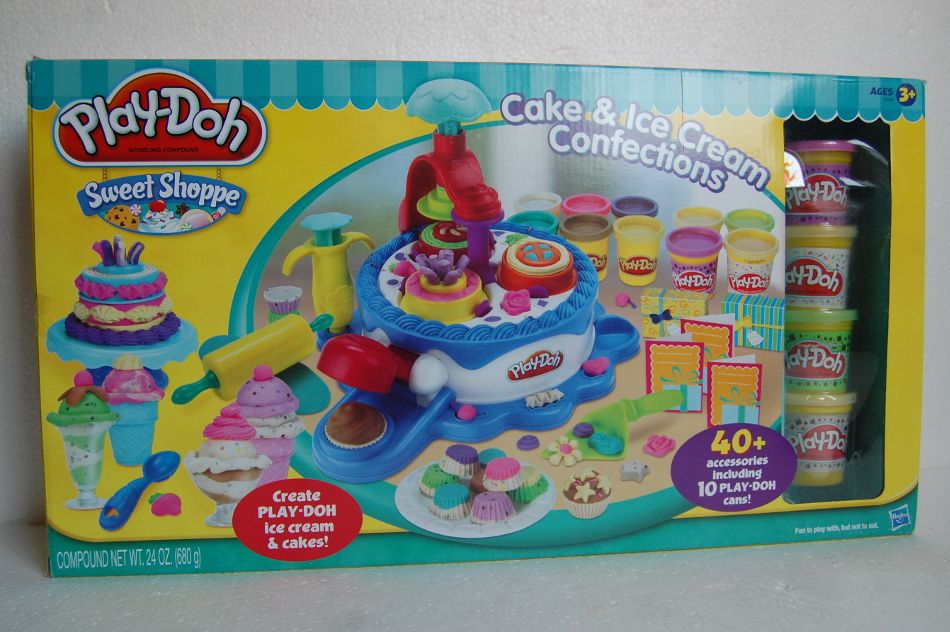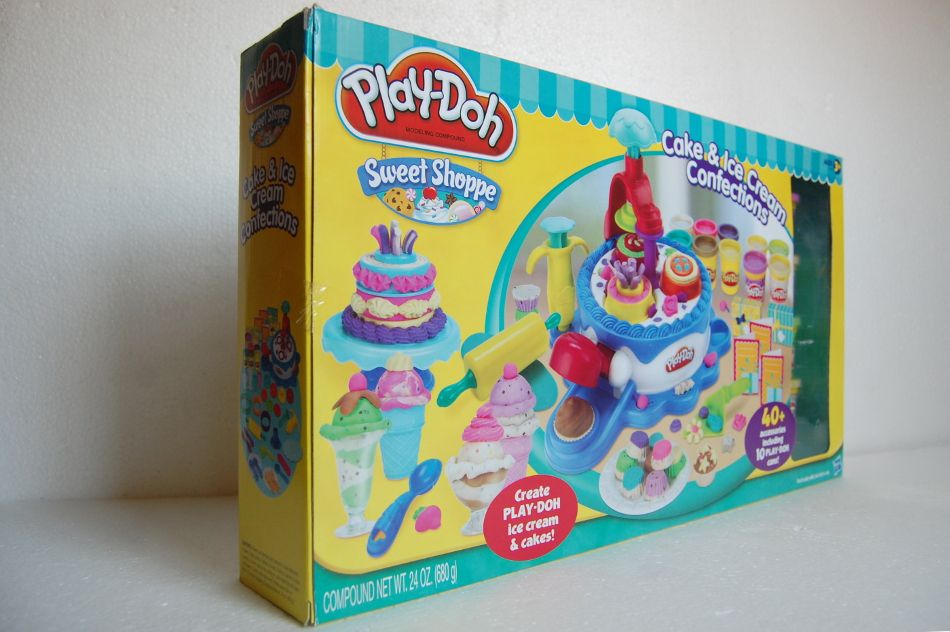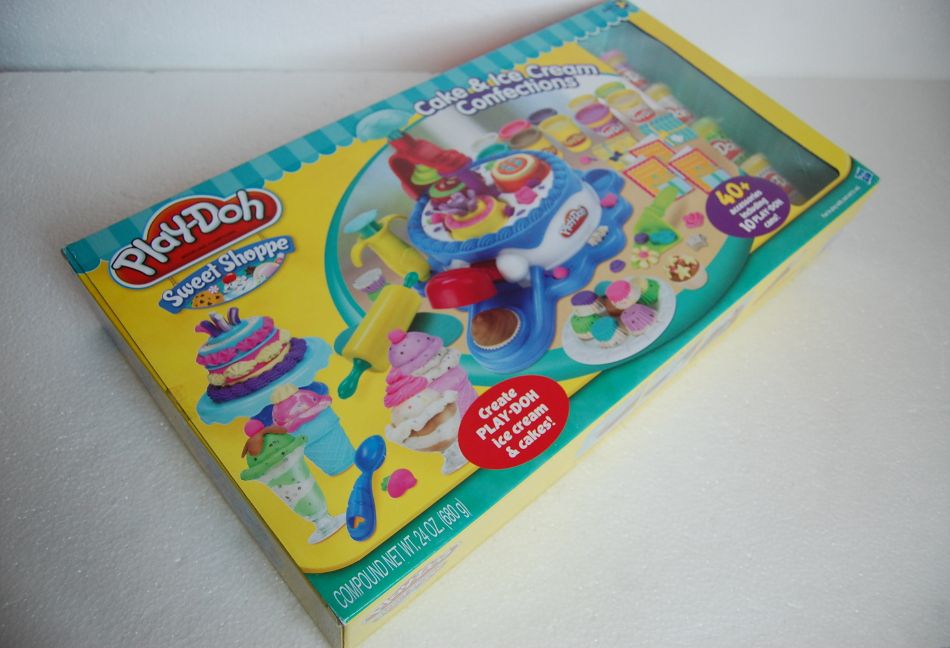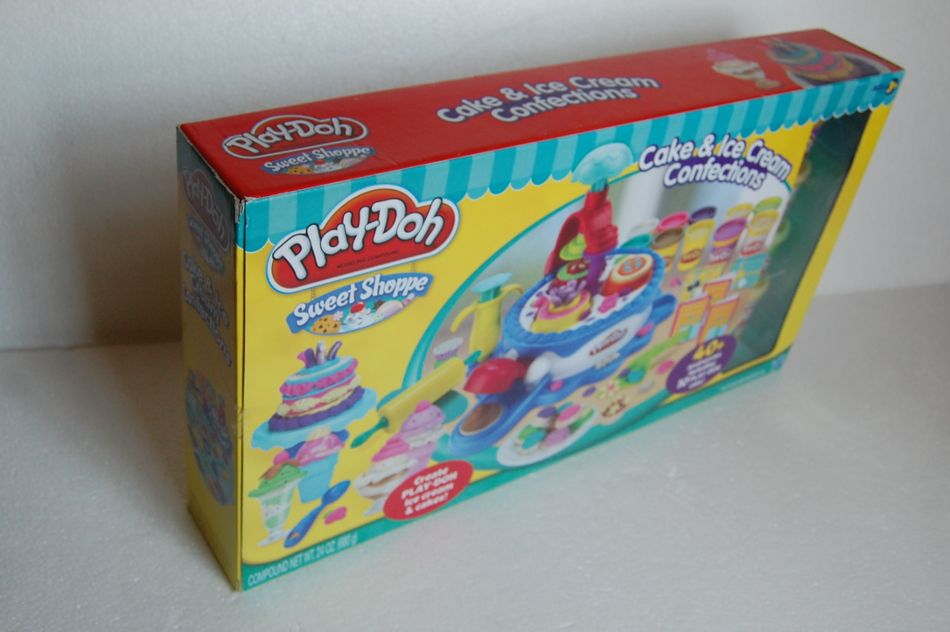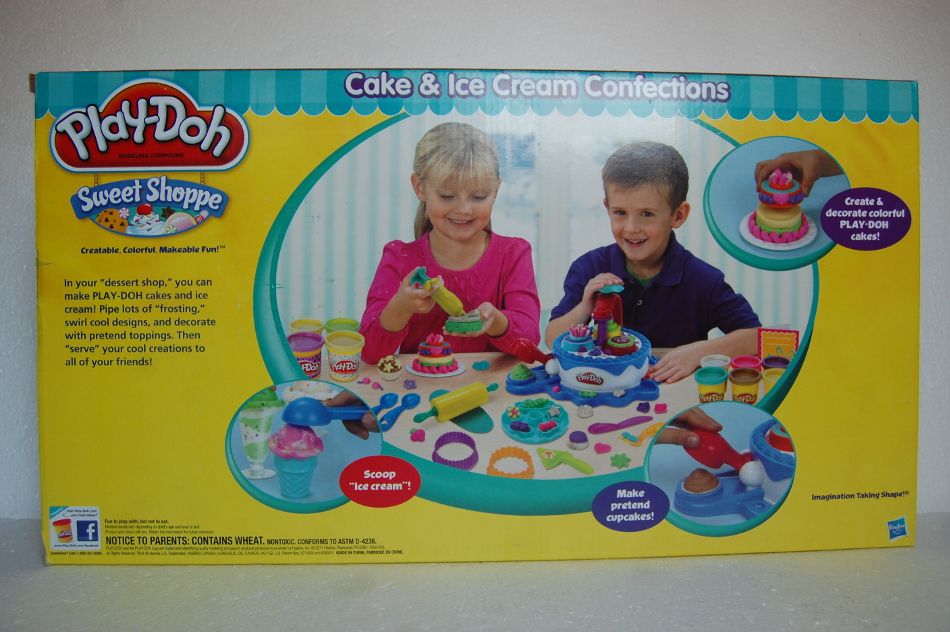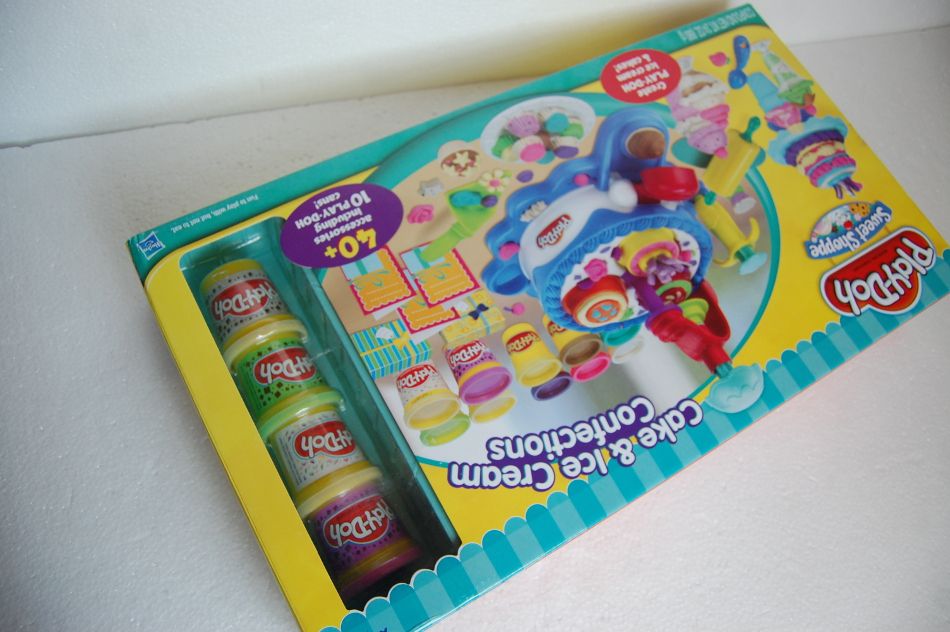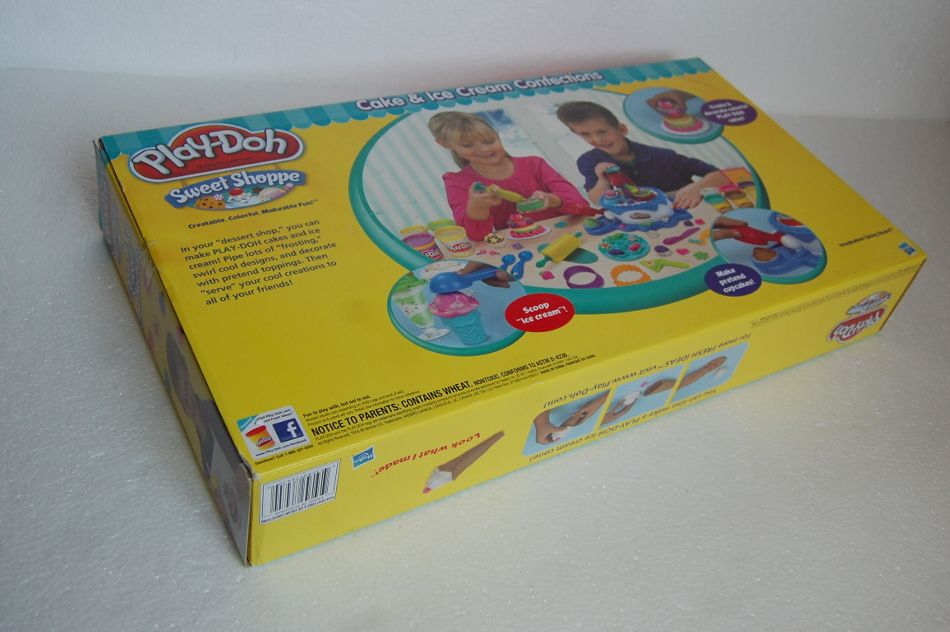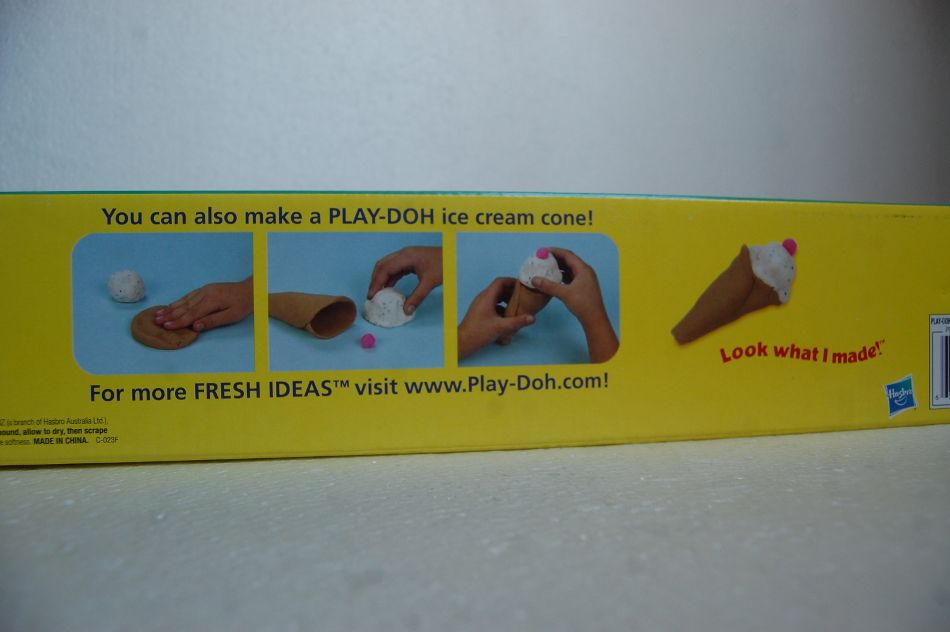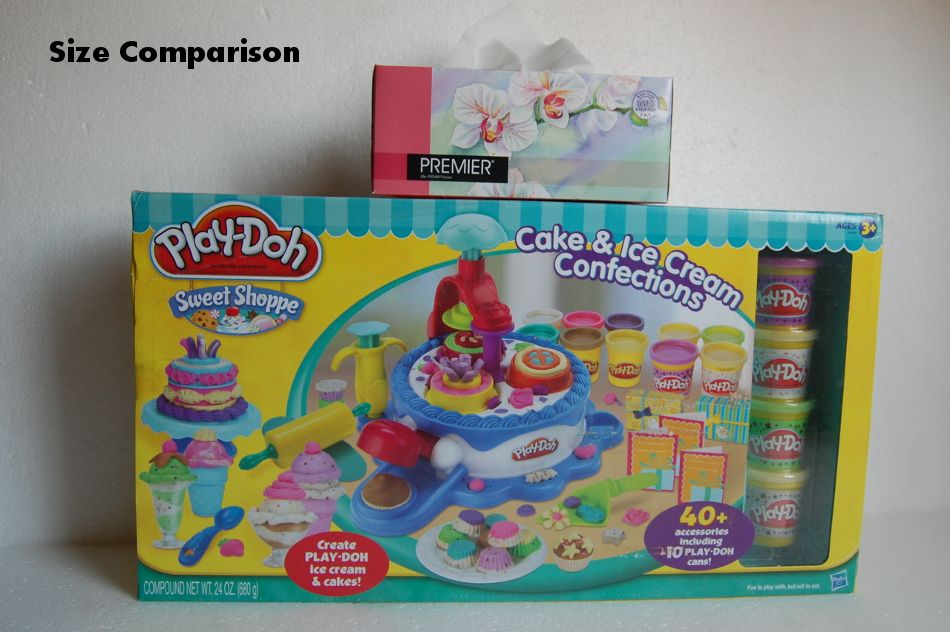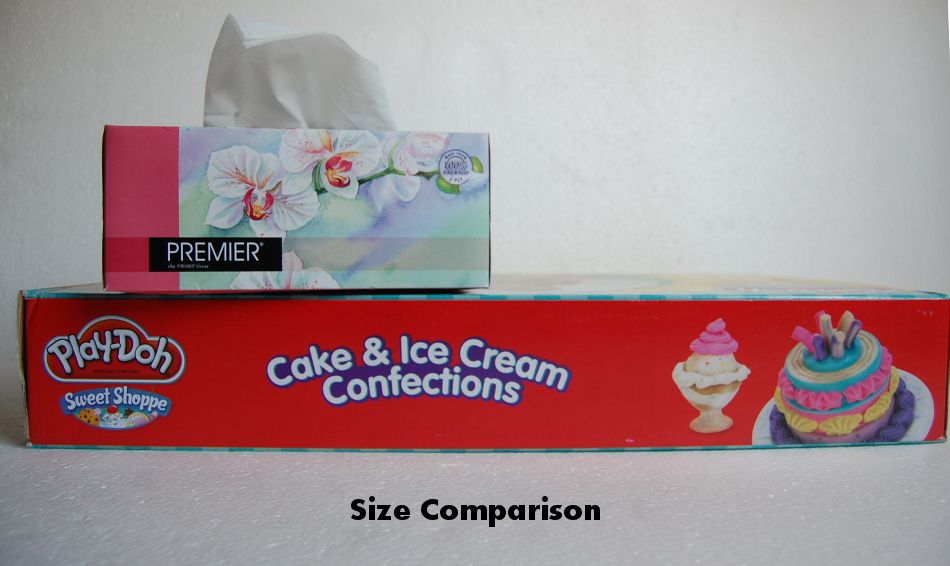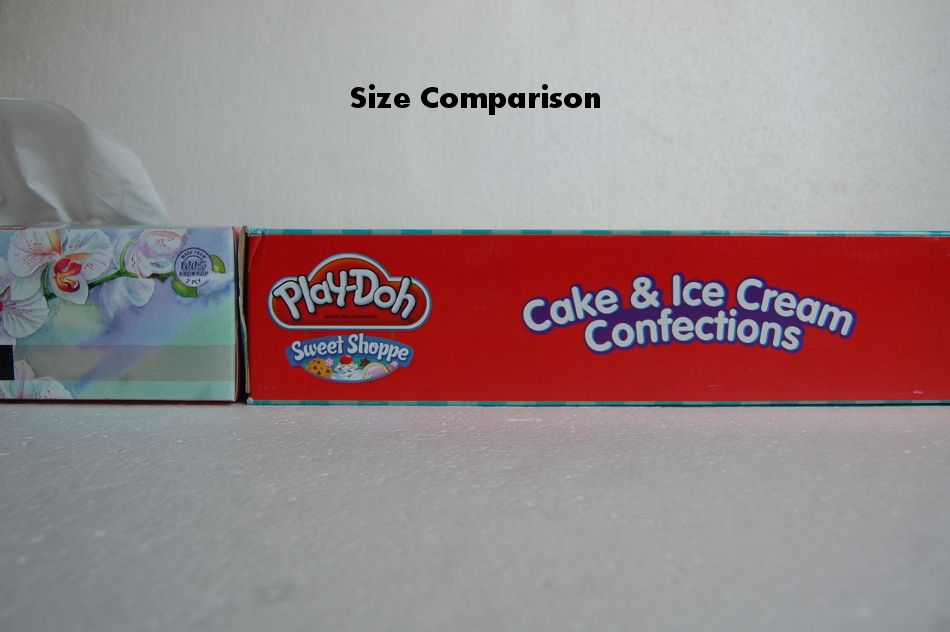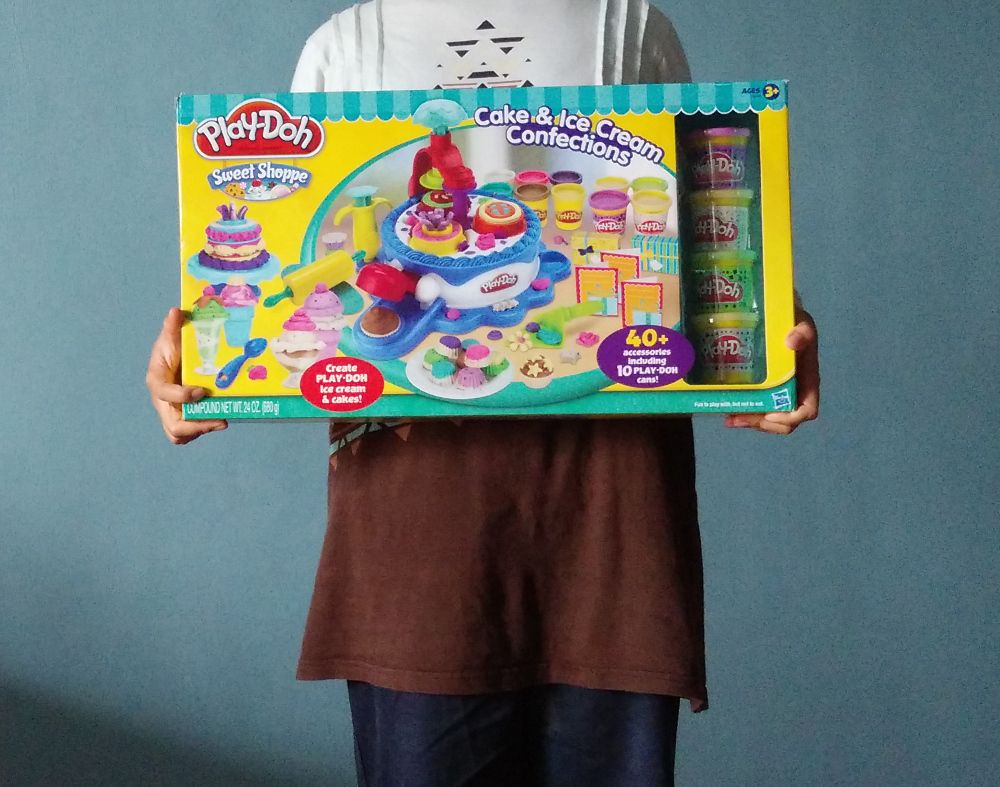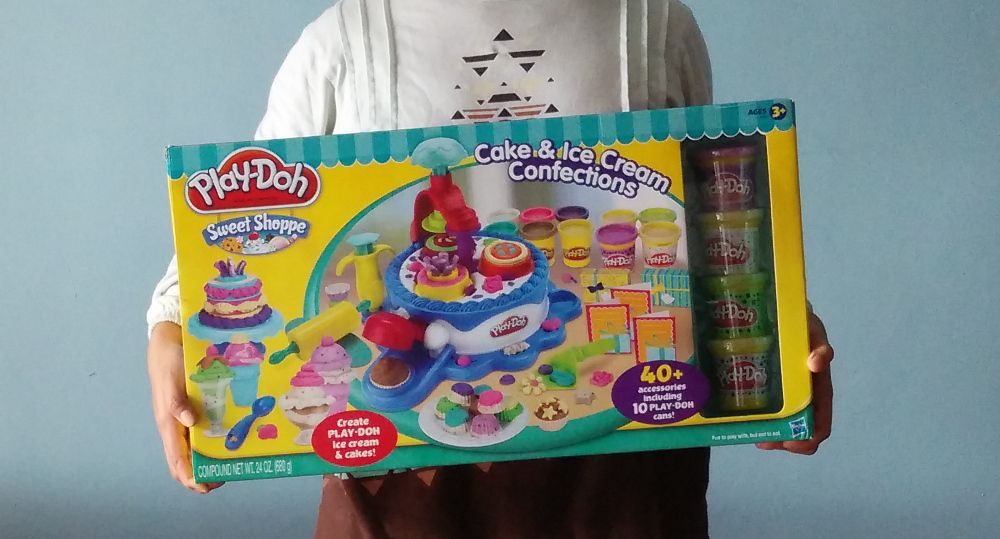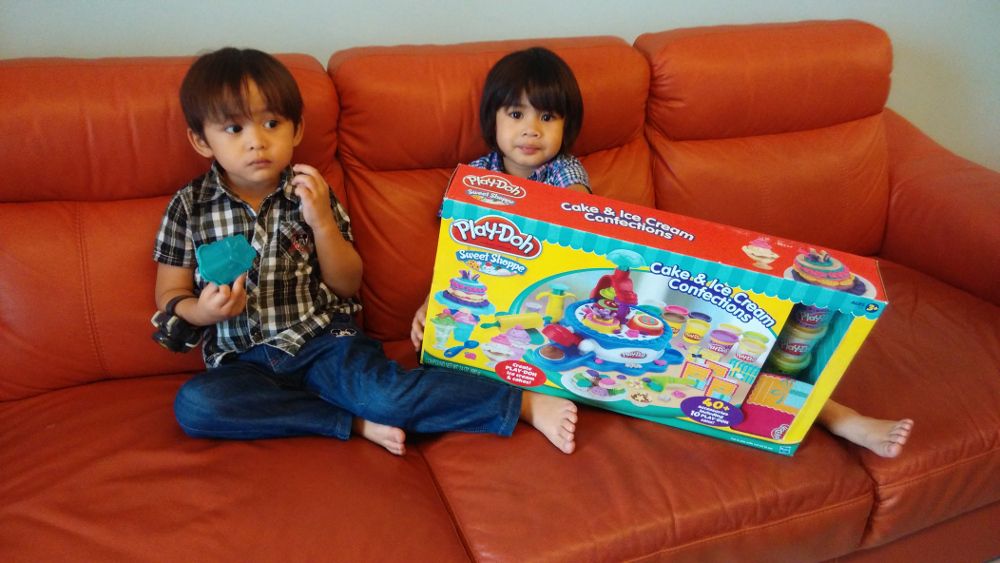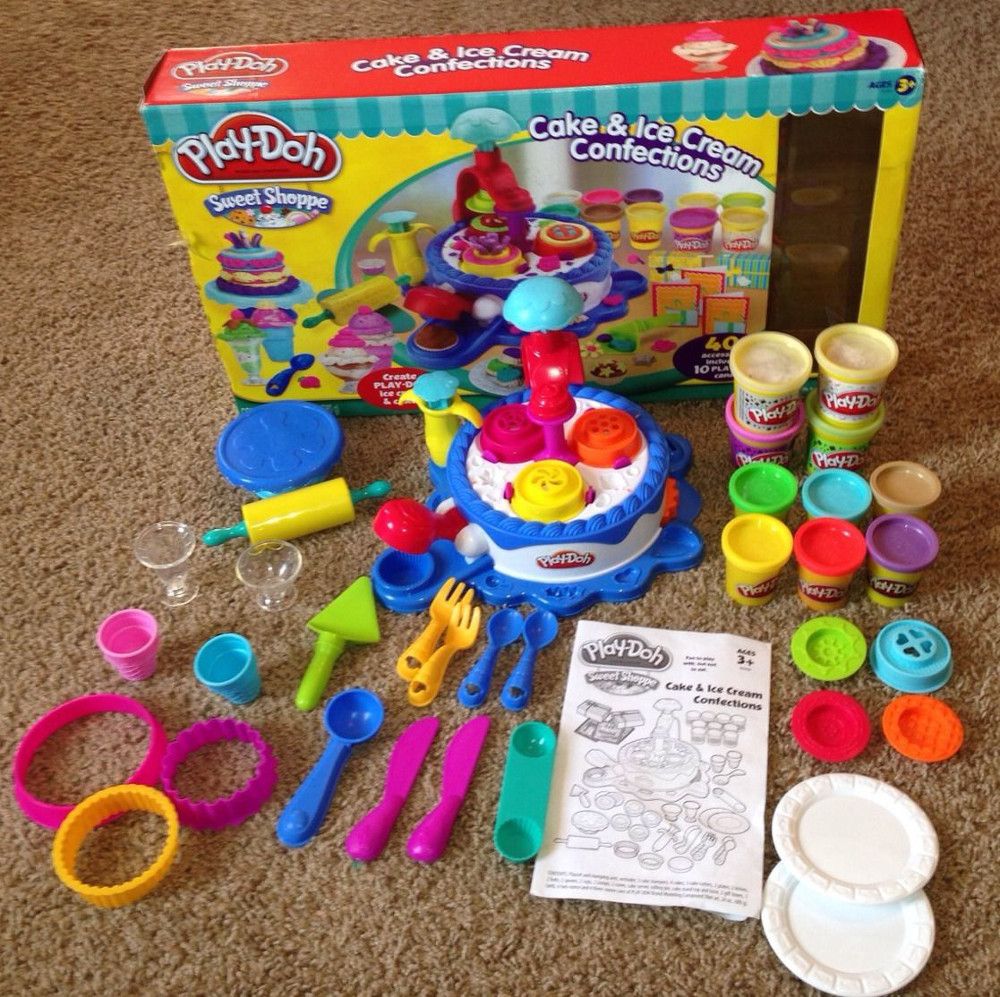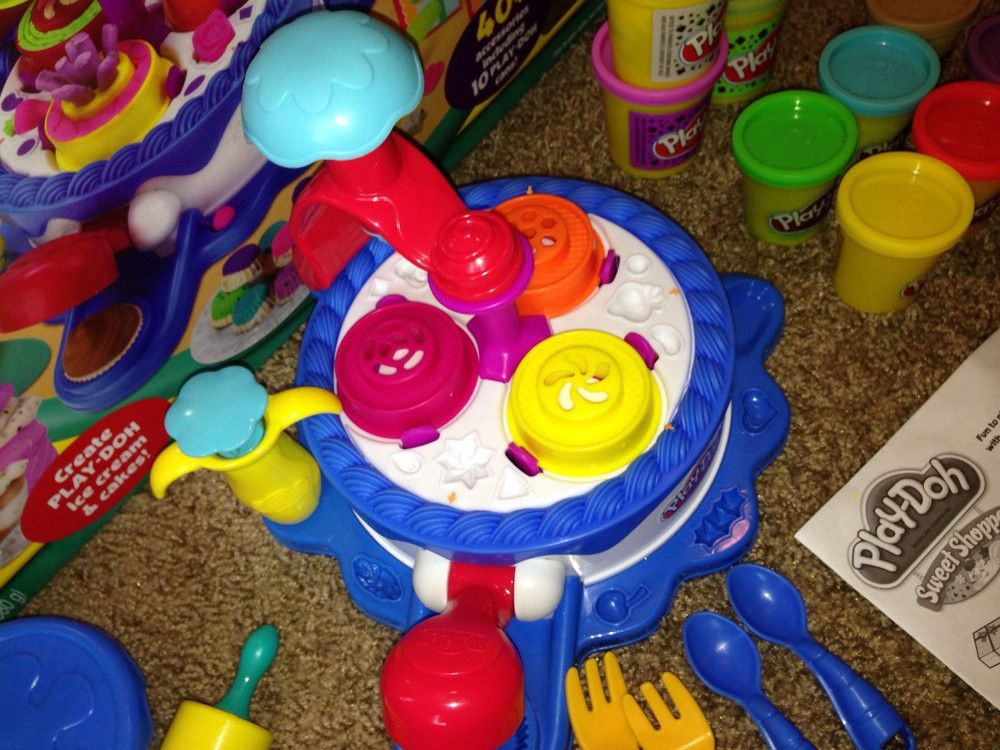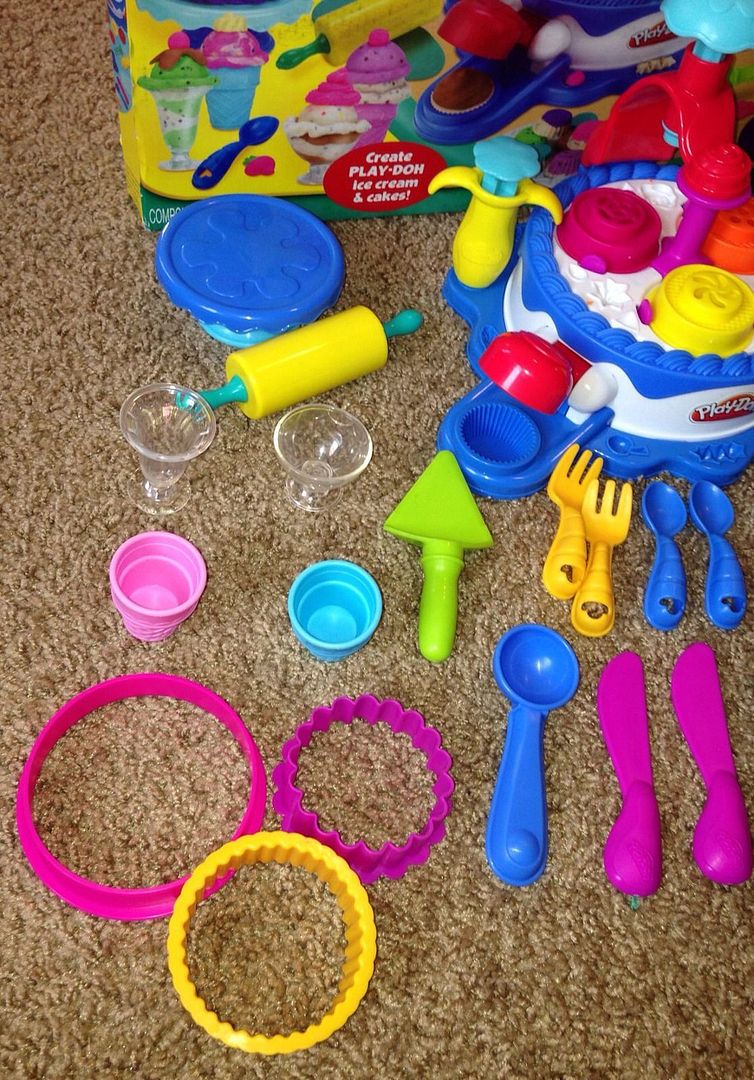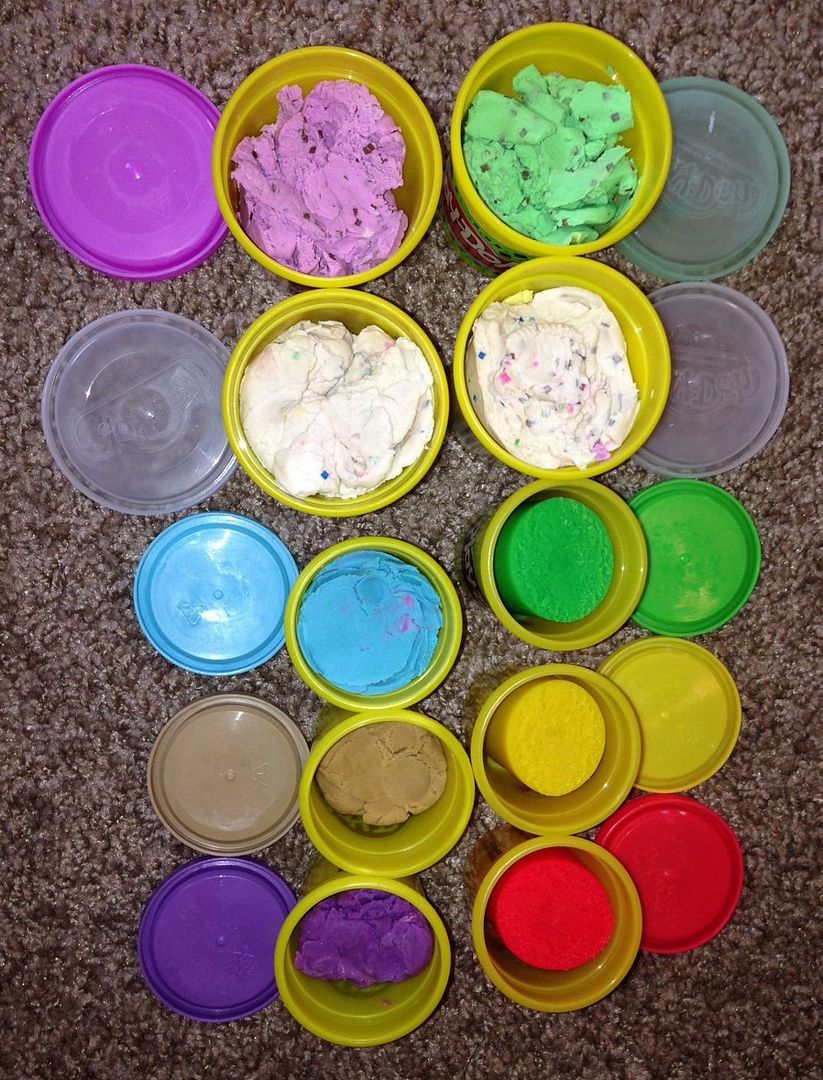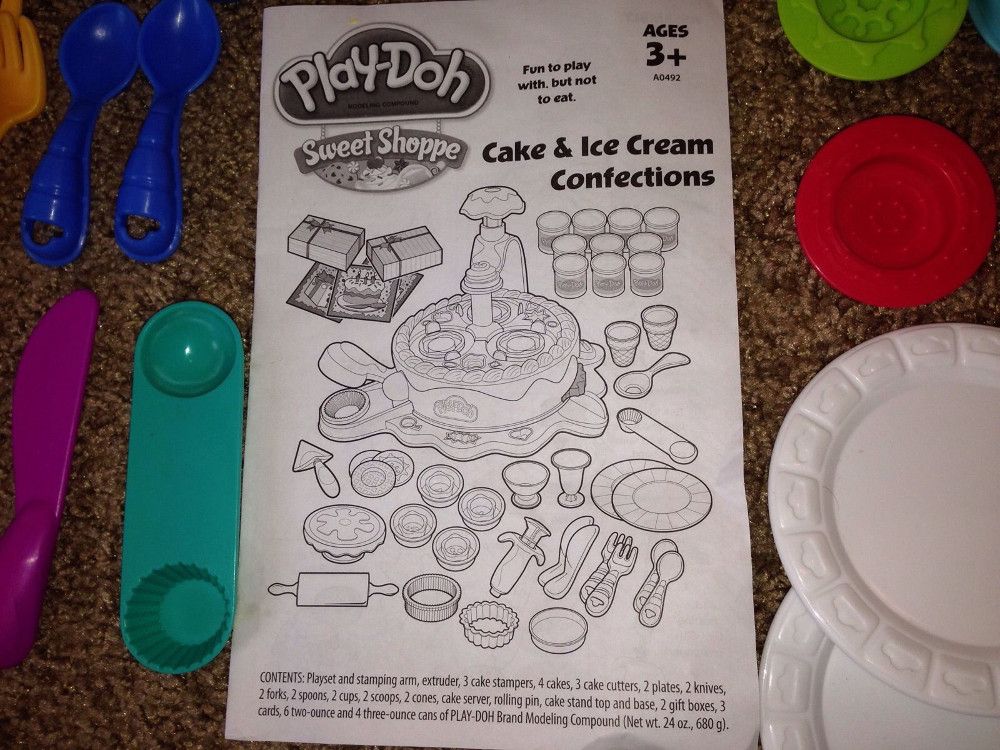 QUICK TIPS: Cut a piece of old newspaper according to item measurement to get the idea of how big or small an item is.
Item: Play-Doh Sweet Shoppe Cake & Ice Cream Confections with 40+ Accessories & 10 Cans of Play Doh
Condition: New
Brand:Hasbro
Genuine Product?Yes
Released Date: Christmas 2013 in the US
Origin Country: Made in China, but stock obtained from USA
Model No:A0492
Box Size (Length x Width x Height): 22.13inch x 3.5inch x 12inch (app. 56cm x 9cm x 30cm)
Item Weight: 2.1kg
PLAY-DOH Brand Modeling Compound Weight:680 gram
Manufacturer Recommended Age: 3 years +
Product Description
Make all kinds of tasty-looking Play-Doh treats with the Cake & Ice Cream Confections Set! Use the tools to pipe lots of Play-Doh frosting, swirl cool designs and decorate with pretend toppings. Scoop Play-Doh ice cream, make pretend cupcakes and create and decorate colorful Play-Doh cakes. Then pretend to serve your cool creations to all of your friends! Play-Doh and all related characters are trademarks of Hasbro.
Play-Doh Cake & Ice Cream Confections Set:
― Includes more than 40 accessories to create pretend Play-Doh ice cream and cakes.
― Use the extruder to make Play-Doh frosting.
― Make pretend ice cream cones with the included scoops and cones.
― Put creations in the included gift boxes.
― 10 cans of different coloursof Play-Doh modeling compound and 3 different cake stampers.
― Playset includes:
• Stamping arm
• Extruder
• 3 cake stampers
• 4cakes
• 3 cake cutters
• 2 plates
• 2 knives
•2 forks
•2 spoons
•2 cups
•2 scoops
•2 cones
•Cake server
•Rolling pin
•Cake stand top and base
•2 gift boxes
•3 cards
•6 two-ounce and 4 three-ounce cans of PLAY-DOH BRAND modeling compound
― Notice to parents: contains wheat
― Nontoxic. Conforms to ASTM D-4236
MORE ON PLAY-DOH & HELPFUL TIPS
WHAT ARE THE INGREDIENTS IN PLAY-DOH COMPOUND?
The exact ingredients of PLAY-DOH compound are proprietary, so we cannot share them with you. We can tell you that it is primarily a mixture of water, salt and flour. It does NOT contain peanuts, peanut oil, or any milk byproducts. It DOES contain wheat. PLAY-DOH compound is not a food item and is not intended to be eaten.

PLAY-DOH compound is non-toxic, non-irritating & non-allergenic except as noted: Children who are allergic to wheat gluten may have an allergic reaction to this product. Also, due to the high salt content in PLAY-DOH compound, the product can be harmful to pets if ingested.

There is no MSDS (material safety data sheet) sheet required for PLAY-DOH compound."
MY PLAY-DOH COMPOUND IS DRYING OUT. HOW CAN PLAY-DOH COMPOUND BE SOFTENED OR MOISTENED?
To restore the softness to PLAY-DOH compound, try adding water one drop at a time and working it in to moisten the PLAY-DOH compound.
You can also try wrapping the PLAY-DOH compound in a damp paper towel, returning it to the container and replacing the cover. Let it sit overnight.
HOW CAN I PRESERVE A PLAY-DOH COMPOUND CREATION?
PLAY-DOH compound is designed to use over and over again. If allowed to harden (to preserve a creation) it will most likely crack.
Look for oven curable clay at your local craft stores to make long lasting creations.
HOW DO I REMOVE PLAY-DOH COMPOUND FROM CARPET, UPHOLSTERY OR FABRIC?
When attempting to remove PLAY-DOH compound do NOT use hot water or cleaning solutions of any kind. To remove PLAY-DOH compound from carpet or fabrics, allow it to dry completely, and then loosen with a stiff brush.
It may be necessary to vacuum clean or wash with gentle soap and cold water. You may need to repeat the process in order to completely remove the PLAY-DOH compound.
ADDITIONAL CLEAN UP TIPS
1. Pick up the Pieces Part 1
Playtime is done. Here are ways to make the cleaning up fun.
Remove small pieces of moist PLAY-DOH Compound from your work surface -- and even some carpets -- by gently pressing a larger piece of moist PLAY-DOH Compound against them and lifting them away.
2. Pick up the Pieces Part 2
Dry pieces of PLAY-DOH Compound can generally be picked off of hard surfaces. DO NOT USE SOAP AND WATER, as that will make them dissolve and become harder to remove.
3. Cleaning Carpets
If PLAY-DOH Compound gets into the carpet, let it dry. When it's dry, loosen the pieces with a stiff brush, then pick them up by hand or with a hand-held or regular vacuum. DO NOT WET THE PLAY-DOH COMPOUND. DO NOT USE HOT WATER OR CLEANING SOLUTIONS.
4. Keep a Lid on It
Store PLAY-DOH Compound in the can with the lid completely closed. If left exposed, PLAY-DOH Compound will eventually dry out.
5. Take a Picture...It Lasts Longer
Your child creates a masterpiece you want to cherish, but PLAY-DOH Compound creations will eventually dry and crack if left out. Preserve your child's work of art by taking a photo of it. That way you can admire it always. You can even post it the PLAY-DOH Facebook page for your friends and family to see!
6. Engage Your Child
Turn cleaning up into a game. Ask your child to find all the blue pieces and put them in a can, then all the mixed-color pieces and put them in a can, and so on. Sing a song while you do it to make the time pass even more quickly. Make it a race to get it done even faster.

Last Updated @ 7/15/2018 2:08:00 PM