PlayStation
\u00ae

Move Motion Controller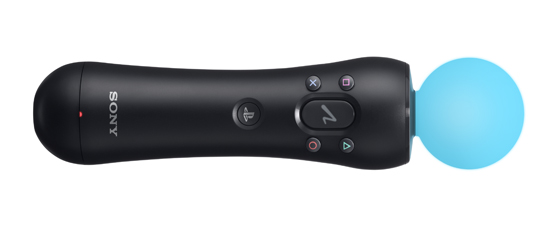 Immerse yourself in the most innovative games ever created with the PlayStation\u00aeMove motion controller.
The corner stone of the PlayStation\u00aeMove, the PlayStation\u00aeMove motion controller is your gateway into a gaming experience like none other. Combining advanced motion sensors, a dynamic color changing sphere, vibration feedback, and an easy to use button interface, the motion controller delivers the most immersive gaming available. Move and play your way through Blu-ray powered HD worlds and innovative experiences that only PlayStation\u00aeMove can deliver.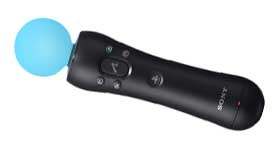 Performs as the player performs
Your every movement is registered by the motion controller's advanced motion sensors and the PlayStation

\u00ae

Eye USB Camera. Become the star of a PlayStation

\u00ae

Move title and use the motion controller as a blade to slay foes, a bat to hit the winning home run, or a brush to groom your fluffy pet.
Action you can feel
The motion controller's color changing sphere and built-in vibration feedback react to your actions and movements to create engaging experiences that are not only reflected on-screen, but also delivered directly to the palm of your hand. Watch as your sphere lights up when you cast the correct spell or mix the perfect paint color. Feel the timer run out or the recoil of your smoking gun.
Make movement from both hands count
Expand your gaming abilities even further by using two motion controllers to track movement with both hands. Punch and jab in the boxing ring, block and attack in the gladiator arena, or draw your arrow and release in an archery tournament. There are so many possibilities when actions from both controllers are being tracked.
Family Friendly, Social, Active, and Fun!
There's a fun and exciting experience for everyone. So get moving with the sleek, wireless PlayStation

\u00ae

Move motion controller.
Key Features
PlayStation

\u00ae

Move motion controller works with PlayStation

\u00ae

Eye USB Camera to accurately track player position.
Advanced motion sensors precisely track both fast and subtle movements.
Motion controller's sphere uses internal RGB LED to provide visual feedback
Vibration feedback is felt during specific actions
Includes DUALSHOCK

\u00ae

3 action buttons for advanced gaming.
Utilizes Bluetooth

\u00ae

technology for wireless gaming.
Built-in rechargeable Li-ion battery
Charge the controller and automatically pair with the PS3\u2122 system via a USB cable
Up to four motion controllers can be connected at once to the PS3\u2122 system.