5.0MP Camera High Speed Portable Document Scanner A3/A4 Scanning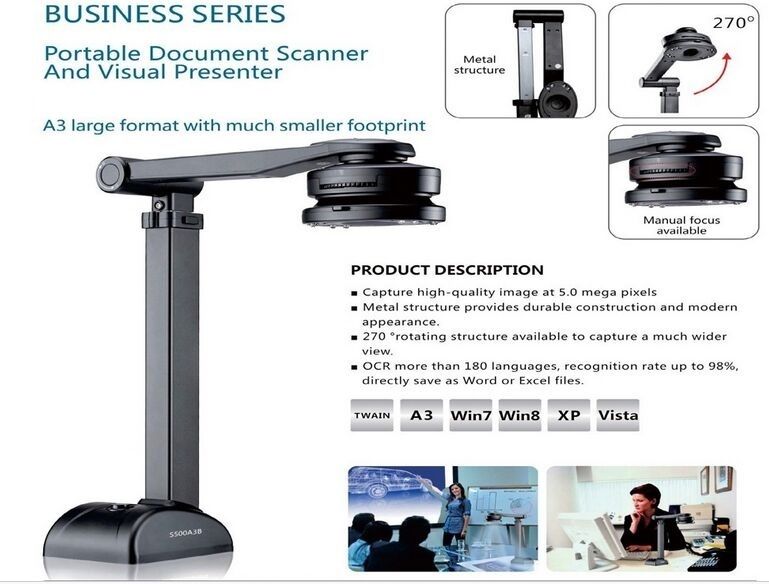 High Speed Portable Document Scanner with 5.0MP Camera & A3/A4 Size Scanning & 10 languages
OCR(optical character recongition)
High speed document camera is designed to be the new ultra portable low carbon office supplies.
The document camera should be connected by USB cable and controlled by software to edit the photos and finish the scanning job.
the functions of document camera is so convenience that far beyond the traditional scanner.
It has ability to scan documents and objects, finish scanning in 1 second, Has the timing video,
images taken, picture editor, and character recognition, PDF, print, on-line printer, network fax, email, and other functions.
The document is foldable design, USB plug to use, easy to carry, make office work easier, faster and more environmental protection.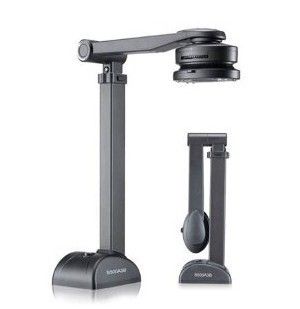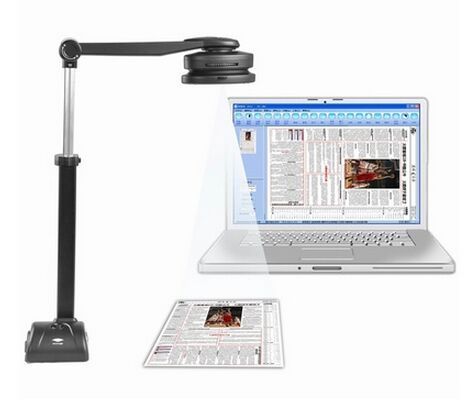 1) HD scanning, automatic focus
Adopt high quality 5mega HD CMOS, owns auto-focus function, imaging up to professional standard.
2) Real projection, vivid feeling
Connect with projector, match with the present platform, project the real object into the big screen, makes the meetings, courses,
3) Green environmental, low carbon energy saving.
Adopt USB connect with computer, no need extra power-supply and san High-quality image scan documents.
4) Professional manuscripts set, Fixed and flexible shooting
The cloth-table marked the size of ID, A3 paper and other standard documents just need put them to the right size when you scan, Quite convenience and time saving.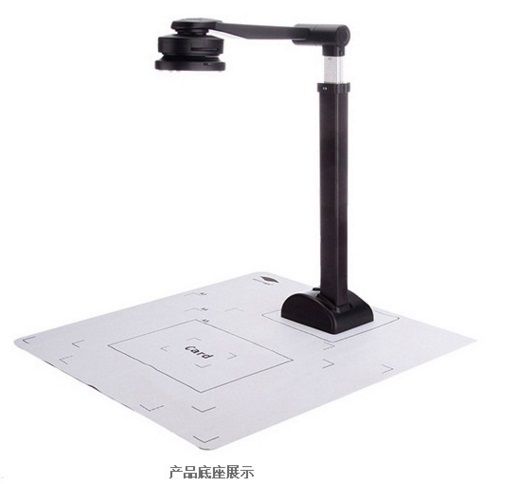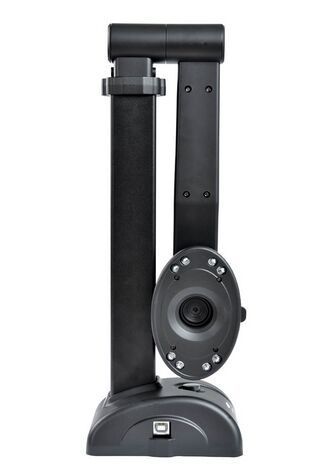 Picture Format: JPG, PDF, TIF, PNG, BMP, EXCEL, WORD
Size: 110 x 88 x 385mm(B x T x H)
Image Processing: Brightness, Contrast, Sharpness, Saturation, Gamma, Rotation, Mirroring, Etc
Capture size: Business card up to A3
Image Sensor: 5.0mega pixel CMOS
LED Light: Natural + LED supplement light
OCR: more than 180 languages
System Requirements: minimum CPU P4, Windows XP, MS Direct X9.0, Vista, Win7, Win8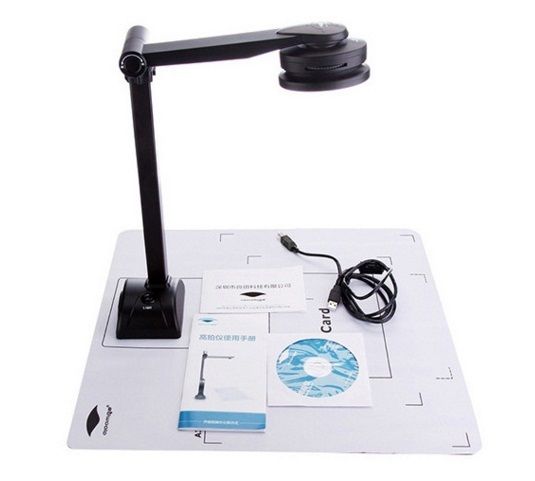 1) Speedy scan, one-click finished
click the scan button with the mouse, one-click to finish scan, just need one second.
Scan documents, data, bills, certificates, books, real objects etc.
3) Timing shooting, fast copying
setting the shooting interval time, automatic shoot by setting the software,
fast scanning books and lots of documents
4) Record and playback media
demonstration videos, apply to lab operation steps, Product training and demonstration.
The software owns strong image edit functions: image cutting, rotate, characters adding,
adjust saturation, Contrast Ratio and binaryzation
6) The remarkable recognition technology
Leading OCR technology. Recognize characters, tables, symbols;
supported many different country languages,
up to 98%, after OCR, directly save as word files.
Images convert to pdf file under one-click, they can be checked on different equipments.
8) Print, fax, email, Office integration
scan & print connect with printer, send web fax and emails, achieve office all-in-one.