Item Specification
Product Description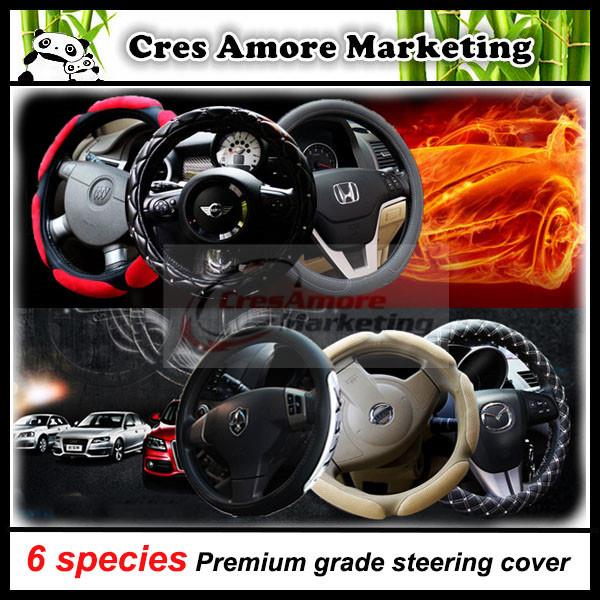 Product Price : 
Type A : Premium Grade Micro Fiber Leather -  RM 23.5
Type B : Diamond Black - RM 45
Type C : Europe Style - RM 23.79
Type D : Mesh PU - RM 13.1
Type E : Smooth PU - RM 13.1
Type F : Sporty Type R - RM 30
Why you need to Get a Leather Steering Wheel Cover?
Safety & Control
Over time, constant use can wear down the surface of your steering wheel – reducing your ability to grip it safely and securely.
 Increasing your clutch over the wheel can make all the difference, should your hands slip off suddenly due to an unexpected
pothole or dip in the road. Gives better grip, shock absorbtion & feel.
Protection & Resale Value
As well as adding a stylish new color and pattern to your vehicle's interior, a steering wheel cover will also protect it from
any damage that may occur while in use. Furthermore, the color of the wheel may become faded over time due to direct sunlight exposure.
Need we say more?
Designed in Taiwan

Color Option :  Black,Grey, Beige

Material        : 

Premium High Grade Micro Fiber Leather

Compatible with most steering wheel with approximate diameter 37-39cm,

fit 95% car model.

Improves the appearance of old or dirty steering wheels

Smooth Leather grip like luxurious sedan, more comfortable feel

Installs easily,anti-slip design for safety grap.

Protecting your steering wheel and easing the attrition caused by your palm

Cooling Holes over the cover that never feel hot even long driving
Designed in Japan

Color Option :  Black

Material        : 

Premium Grade Leather with Diamond

Compatible with most steering wheel with approximate diameter 37-39cm,

fit 95% car model.

Improves the appearance of old or dirty steering wheels

Smooth Leather grip like luxurious sedan, more comfortable feel

Installs easily,anti-slip design for safety grap.

Diamond clip deeply to rear cover that wouldn't fall easily

Protecting your steering wheel and easing the attrition caused by your palm
Designed in Euro

Color Option :  Black and Red line,Black and White Line

Material        : 

Premium High-Grade Leather 

Compatible with most steering wheel with approximate diameter 37-39cm,

fit 95% car model.

Improves the appearance of old or dirty steering wheels

Smooth Leather grip like luxurious sedan, more comfortable feel

Installs easily,anti-slip design for safety grap.

Protecting your steering wheel and easing the attrition caused by your palm
Designed in Taiwan

Color Option :  Black,Grey, Beige,Black & red

Material        : 

Premium Grade PU with Mesh touch 

sweat-absorbent grip pads

Compatible with most steering wheel with approximate diameter 37-39cm,

fit 95% car model.

Improves the appearance of old or dirty steering wheels

Smooth PU material grip like luxurious sedan, more comfortable feel

Installs easily,anti-slip design for safety grap.

Protecting your steering wheel and easing the attrition caused by your palm

Cooling Holes over the cover that never feel hot even long driving

6 velvet sweat-absorbent grip pads providing massage to your palm and mitigate your hand fatigue
Color Option :  Black,Grey, Beige,Black & red

Material        : 

Premium Grade PU with soft touch cotton

Compatible with most steering wheel with approximate diameter 37-39cm, 

fit 95% car model.

Improves the appearance of old or dirty steering wheels

Grip like luxurious sedan, more comfortable feel

Installs easily,anti-slip design for safety grap.

Protecting your steering wheel and easing the attrition caused by your palm

Cooling Holes over the cover that never feel hot even long driving

6 velvet sweat-absorbent grip pads providing massage to your palm and mitigate your hand fatigue
Color Option :  Chrome, Blue,Red

Material        : 

Premium Grade soft touch PU 

Compatible with most steering wheel with approximate diameter 37-39cm, 

fit 95% car model.

Improves the appearance of old or dirty steering wheels

Soft touch PU material grip like luxurious sedan, more comfortable feel

Installs easily,anti-slip design for safety grap.

Protecting your steering wheel and easing the attrition caused by your palm

Cooling Holes over the cover that never feel hot even long driving

Last Updated @ 4/22/2018 2:36:19 PM
Buy with confidence
| | | | |
| --- | --- | --- | --- |
| Buyer | Item ID | Date | Ratings |
| ah**** | 139616265 | 7/20/2018 12:19:00 PM | - |
| mo**** | 134016456 | 7/19/2018 12:13:00 PM | Good received fast..tq |
| da**** | 139993005 | 7/11/2018 9:34:00 PM | - |
| en**** | 153838404 | 7/11/2018 7:05:00 PM | - |
| al**** | 134016456 | 7/10/2018 6:56:00 PM | - |
| Ve**** | 153838404 | 7/10/2018 2:07:00 PM | 3rd time's the charm. |
| tw**** | 139514285 | 7/9/2018 9:27:00 AM | - |
| so**** | 133848808 | 7/5/2018 6:38:00 PM | like |
Recent Transactions
Buyer
Product
Details
ad****
Premium Grade Leather/Mesh&Smooth PU Leather/Diamond Steering cover


( Type E - Smooth PU Grey color+ Free Stand Holder )

1 pcs


19/07/2018

sa****
Premium Grade Leather/Mesh&Smooth PU Leather/Diamond Steering cover


( Type E - Smooth PU Black color+ Free Stand Holder )

3 pcs


17/07/2018

ja****
Premium Grade Leather/Mesh&Smooth PU Leather/Diamond Steering cover


( Type A - Micro Fiber Leather Grey color+ Free Stand Holder )

1 pcs


10/07/2018

li****
Premium Grade Leather/Mesh&Smooth PU Leather/Diamond Steering cover


( Type E - Smooth PU Black color+ Free Stand Holder )

1 pcs


06/07/2018

ch****
Premium Grade Leather/Mesh&Smooth PU Leather/Diamond Steering cover


( Type A - Micro Fiber Leather Beige color+ Free Stand Holder )

1 pcs


03/07/2018

kh****
Premium Grade Leather/Mesh&Smooth PU Leather/Diamond Steering cover


( Type F - Sporty Type R Chrome Color + Free Stand Holder )

1 pcs


23/06/2018

Kh****
Premium Grade Leather/Mesh&Smooth PU Leather/Diamond Steering cover


( Type A - Micro Fiber Leather Black color + Free Stand Holder )

1 pcs


09/05/2018

Kh****
Premium Grade Leather/Mesh&Smooth PU Leather/Diamond Steering cover


( Type A - Micro Fiber Leather Beige color+ Free Stand Holder )

1 pcs


09/05/2018

ma****
Premium Grade Leather/Mesh&Smooth PU Leather/Diamond Steering cover


( Type D - Mesh PU Beige color+ Free Stand Holder )

1 pcs


18/04/2018

an****
Premium Grade Leather/Mesh&Smooth PU Leather/Diamond Steering cover


( Type E - Smooth PU Black color+ Free Stand Holder )

1 pcs


30/03/2018
Product Review
| | | |
| --- | --- | --- |
| 5 star | | 3 |
| 4 star | | 1 |
| 3 star | | 0 |
| 2 star | | 1 |
| 1 star | | 0 |
Share your thoughts with others
Write a review
Only buyers who purchased the product may leave a review
Variant: Type A - Micro Fiber Leather Black color + Free Stand Holder | Shipping Method: Poslaju | Estimated Arrival: 1-3 days
| | |
| --- | --- |
| | I think beige colors are better than black for steering protectors because of beige colors for Myvi and black for vios. It's like wasting my money. |
Variant: Type E - Smooth PU Black color+ Free Stand Holder | Shipping Method: Poslaju | Estimated Arrival: 1-3 days
Variant: Type E - Smooth PU Black and Red color+ Free Stand Holder | Shipping Method: Poslaju | Estimated Arrival: 1-3 days
| | |
| --- | --- |
| | 1 week use, leather feel great while no unpleasant odour. Some of the steering cover i brought before have this problem. Thanks seller. |
Variant: Type D - Mesh PU Beige color+ Free Stand Holder | Shipping Method: Poslaju | Estimated Arrival: 1-3 days
Nice and comfortable. Nice Quality
| | |
| --- | --- |
| | Steering cover fit properly to my Myvi and no unpleasant smell after 1 day unlikely the one i brought before.Fast delivery and recommended seller. |
Variant: Type D - Mesh PU Black and Red color+ Free Stand Holder | Shipping Method: Poslaju | Estimated Arrival: 1-3 days
| | |
| --- | --- |
| | Received in good condition. Mesh pad join to leather area have excess place, the mesh pad can move around little. |



---
Questions & Answers
Do you have any questions to ask merchant about this product
Ask Seller
| | | |
| --- | --- | --- |
| 5 star | | 3 |
| 4 star | | 1 |
| 3 star | | 0 |
| 2 star | | 1 |
| 1 star | | 0 |
Share your thoughts with others
Write a review
Only buyers who purchased the product may leave a review
Variant: Type A - Micro Fiber Leather Black color + Free Stand Holder | Shipping Method: Poslaju | Estimated Arrival: 1-3 days
| | |
| --- | --- |
| | I think beige colors are better than black for steering protectors because of beige colors for Myvi and black for vios. It's like wasting my money. |
Variant: Type E - Smooth PU Black color+ Free Stand Holder | Shipping Method: Poslaju | Estimated Arrival: 1-3 days
Variant: Type E - Smooth PU Black and Red color+ Free Stand Holder | Shipping Method: Poslaju | Estimated Arrival: 1-3 days
| | |
| --- | --- |
| | 1 week use, leather feel great while no unpleasant odour. Some of the steering cover i brought before have this problem. Thanks seller. |
Variant: Type D - Mesh PU Beige color+ Free Stand Holder | Shipping Method: Poslaju | Estimated Arrival: 1-3 days
Nice and comfortable. Nice Quality
| | |
| --- | --- |
| | Steering cover fit properly to my Myvi and no unpleasant smell after 1 day unlikely the one i brought before.Fast delivery and recommended seller. |
Variant: Type D - Mesh PU Black and Red color+ Free Stand Holder | Shipping Method: Poslaju | Estimated Arrival: 1-3 days
| | |
| --- | --- |
| | Received in good condition. Mesh pad join to leather area have excess place, the mesh pad can move around little. |