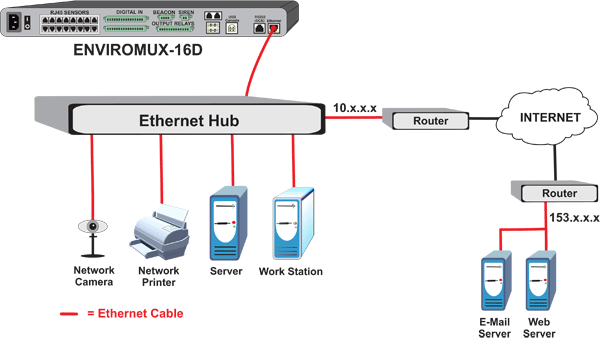 Pressure Switch Sensors
Diaphragm-actuated, pressure-indicating gauge with built-in electrical switch for tripping alarms and/or shutdown devices.
Specifically designed for protecting engines/equipment in oil field, marine, irrigation, construction and trucking applications to monitor engine lube pressure, water pump pressure, hydraulic pressure, air pressure, etc.
Measurement range:

ENVIROMUX-PS50: 0 to 50 psi
ENVIROMUX-PS150: 0 to 150 psi

Maximum pressure:

ENVIROMUX-PS50: 100 psi
ENVIROMUX-PS150: 300 psi

Accuracy: ±1.5 psi
Polycarbonate, break-resistant case and lens.
Process connection: 1/8-27 NPTM brass.
Accuracy and protection from moderate overpressure is assured by unitized diaphragm chamber.
Built-in pulsation dampener helps eliminate pointer flutter and is removable for cleaning.
Operating temperature: -40 to 150°F (-40 to 66°C).
Process temperature: -40 to 250°F (-40 to 121°C).
Screw terminal connection.

For outdoor applications, use the Outdoor 2-Wire Sensor Cable (ENVIROMUX-2WO-x) to locate the sensor up to 1,000 feet away from the ENVIROMUX unit.

Compatible with the ENVIROMUX-2D/5D/16D.
Regulatory approvals: CE
IMPORTANT NOTE:
**All prices quoted are subject to USD exchange rate fluctuations and may change without prior notice.
**Prices quoted in this document are exclusive of GST (if applicable) and Primalcom Enterprise Sdn Bhd shall reserve the right to charge and add on GST on the quoted prices,where the delivery or performance of services is made on or after 1 April 2015 and issuea tax invoice to you.
Primalcom GST no: 000164380672
Hear from you soon!
Thanks in advance!

Regards,
Noorshida Kamarullbahrin (6012-6067699)
PRIMALCOM ENTERPRISE SDN. BHD. (GST No: 000164380672)
21-3, Jalan Tiara 3, Bandar Baru Klang,
41150, Klang, Selangor, Malaysia.
Tel:  +603-3343 1708/ 9,    
fax:  +603-3343 1711
Email: shida@primalcom.com
Web: www.primalcom.com
Sole Malaysiandistributor for NTI, Verax NMS & Hiperwall, Nagios Sole Featured Partner