Item Specification
Product Description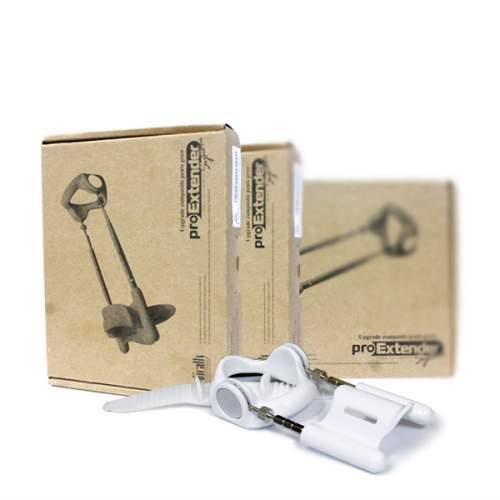 Pro-Extender Sesuai Untuk Semua Lelaki 

Pro Extender mudah digunakan dan boleh dipakai pada bila-bila masa tanpa diketahui orang lain yang anda sedang memakainya. Dengan memakai seluar yang sedikit longgar, orang sekeliling anda tidak akan perasan anda sedang menggunakan Pro Extender. 

Dan yang lebih menakjubkan, lebih kerap anda pakai Pro Extender,
lebih cepat zakar anda besar dan panjang. Anda mampu memiliki 
saiz zakar idaman anda tanpa perlu berjumpa doktor mahupun melakukan pembedahan yang mahal. 

Pro Extender Terbukti :- 

** menambah kepanjangan zakar anda sebanyak 24% secara purata. 
Ianya mungkin lebih bergantung pada individu.

** menambah kelebaran zakar anda sebanyak 19% secara purata.
Ianya mungkin lebih bergantung pada individu.

** meluruskan zakar anda jika zakar anda bengkok.

** membantu anda memuaskan pasangan anda kerana zakar yang
panjang mampu menyentuh makam wanita dengan lebih dalam.

** membantu anda menjimatkan ribuan ringgit pada pembedahan zakar.

Sangat Kecil Dan Mudah digunakan 

Soalan Lazim Berkenaan Pro Extender 

1. Berapakah umur yang sesuai?
Dari 18 tahun ke atas. Rawatan ini juga sesuai untuk golongan tua. 
Kajian menunjukkan lelaki yang berumur 60 dan 70 tahun juga menunjukkan kadar pertumbuhan ketara. Ini bermakna ia sesuai untuk setiap peringkat umur.

2. Adakah akan terdapat kesan sampingan?
Tidak, jika anda gunakan mengikut kaedah yang diberi, 
tiada sebarang risiko dan kesan sampingan akan berlaku.

3. Adakah alat ini mengakibatkan mati pucuk atau lemah tenaga batin?
Tidak, zakar akan menegang dalam keadaan normal tanpa sebarang masalah.

4. Adakah pembesaran berlaku ketika tegang atau ketika zakar lembik?
Ya, pembesaran akan berlaku ketika zakar dalam kedua-dua keadaan tersebut.

5. Bolehkah ia merawat zakar bengkok?
Ya. Dalam kadar masa 6 hingga 7 bulan rawatan, ia dapat membetulkan 70% 
dari kadar bengkok tersebut. Kesan dapat dilihat dengan mata kasar.

6. Adakah kesan-kesan ini bersifat kekal?
Ya, ini kerana tisu zakar yang telah bertambah.

7. Adakah memanjangkan zakar membuat zakar jadi kurus?
Tidak, pembesaran adalah bersifat sekata. Ia menjadikan 
zakar memanjang dan membesar sekaligus.

8. Sakit atau tidak?
Tidak, ia produk dicipta khusus untuk keselesaan. Untuk permulaan anda akan rasa tidak selesa, lama kelamaan perasaan tersebut akan hilang.

9. Saya ada kanser prostat bolehkah saya menggunakan rawatan ini?
Tidak, peralatan ini tidak sesuai untuk pesakit prostat.

10. Bolehkah saya menanggalkan peralatan jika saya hendak kencing?
Ya, sudah tentu, selesai sahaja, pasang balik peralatan.

11. Boleh saya guna pada waktu tidur?
Tidak. Kami tidak mengsyorkan anda memakai Pro Extender waktu tidur, sebab kebiasaannya zakar akan menegang secara spontan ketika tidur. 
Lagipun ketika tidur kita bergerak tanpa disedari ini akan membuat zakar kita melecet.

12. Apa akan jadi jika tiba-tiba zakar saya tegang ketika memakai alat ini?
Tiada apa akan berlaku. Alat ini akan berubah secara automatik.

13. Bolehkah saya memakai seluar jean atau pakaian yang ketat ketika menggunakan alat ini?
Anda boleh pakai jean, tetapi jika terlalu ketat anda buatlah 
andaian anda sendiri, janji selesa.

14. Jika saya pada kebiasaannya duduk untuk jangka waktu yang lama, bolehkah saya guna peralatan ini?
Ya, tapi disyorkan anda berdiri untuk seketika agar perjalanan 
darah anda sempurna.

15. Bolehkah peralatan ini dibasuh? Adakah ia akan berkarat?
Adalah disyorkan anda membasuh peralatan seminggu sekali. 
Ia tidak akan berkarat.

16. Perlukah saya letak minyak atau pelincir?
Tidak perlu.

17. Perlukah saya berjumpa pakar urologi sebelum memulakan rawatan?
Tidak perlu, hanya bagi mereka yang benar-benar perlu mendapatkan 
pengesahan doktor.

18. Berapa lama perlu saya memakai perlatan ini dalam sehari?
Peralatan ini harus diguna selama 2-3 jam sehari. 
Bagaimanapun anda boleh mengubah masa yang bersesuaian dengan anda. 
Kami juga mencadangkan anda berehat sekurang-kurangnya 10 minit 
selepas 2 jam memakainya. Dan kemudian anda boleh teruskan memakai 
pro-extender. Ingat, rehat 10 minit utk setiap 2 jam anda pakai 
pro-extender.

19. Adakah sakit bila menggunakan Pro Extender?
Tidak, produk ini adalah alat biasa tanpa bateri dan penggunaan 
bebas dari sebarang rasa sakit. Pengguna akan mengalami rasa tidak selesa pada tahap awal penggunaan tapi akan hilang setelah 2 atau 3 hari memakai Pro Extender. 

Hari pertama memakai ProExtender adalah agak tidak berapa selesa. 
Ianya terasa seperti sengal- sengal kerana keberkesanan teknik "penarik otot" yang diaplikasikan oleh ProExtender. 

Cara untuk memakai ProExtender ini adalah dengan memakainya secara berterusan selama satu jam atau dua jam. Kemudian, bolehlah dibuka selama setengah jam atau satu jam untuk merehatkan otot-otot yang telah dilatih itu. 
Kemudian bolehlah dipakai kembali untuk mendapatkan matlamat asal agar otot menjadi bertambah dari segi saiz dari sudut diameter dan kepanjangannya.



Last Updated @ 8/12/2016 10:46:41 AM
Buy with confidence
| | | | |
| --- | --- | --- | --- |
| Buyer | Item ID | Date | Ratings |
| pi**** | 184072519 | 7/18/2018 6:25:00 PM | Very good product..5 stars.. |
| Ma**** | 184072519 | 7/4/2018 6:44:00 PM | - |
| kk**** | 202744973 | 6/26/2018 10:09:00 PM | Received. |
| am**** | 184072519 | 6/12/2018 5:19:00 AM | Good and fast delivery |
| mf**** | 184072519 | 6/6/2018 1:16:00 PM | - |
| 53**** | 202744973 | 6/6/2018 11:08:00 AM | - |
| ma**** | 184072519 | 5/4/2018 9:58:00 PM | too fast delivery good service |
| ok**** | 196873198 | 5/4/2018 2:06:00 PM | - |


















---
PAYMENT METHOD
CASH PAYMENT
Maybank2u
Maybank CDM
CimbClicks
CIMB CDM
RHB Now
RHB CDM
iRakyat
Bank Rakyat CDM
ATM Transfer
IBG Transfer
NetPay
http://www.lelong.com.my/merchant/Default.asp?UserID=adamma&show=Announcements&newsid=16061
Jaminan Penghantaran
Pesanan anda akan diproses dalam masa 24 jam selepas pembayaran anda disahkan. Kami akan UPDATE Tracking Number Di Dalam WebSite www.lelong.com.my atau yang beli terus dari saya (bukan melalui web lelong) akan dihantar Tracking Number melalui SMS. Jika selepas 24 jam anda masih tidak menerima sms dari kami, sila hubungi 0192278312 atau Email kepada kami: adamma@rocketmail.com
Kami hanya menggunakan perkhidmatan Poslaju, Kangaroo Ekspress, GDex Express dan CityLink untuk penghantaran pesanan anda. Bagi semenanjung Malaysia, setiap pesanan akan sampai ke tangan anda dalam 1-3 hari. Manakala bagi Sabah dan Sarawak antara 2-4 hari.
Selepas kami pos pesanan anda, kami akan sms anda untuk memaklumkan anda. Jika anda masih tidak menerima pesanan anda dalam masa 3 hari bekerja selepas menerima sms pengesahan penghantaran, sila hubungi kami. Kami akan periksa jika terdapat masalah dengan penghantaran anda.
Kami galakkan anda memberi alamat pejabat anda jika tiada sesiapa dirumah pada hari bekerja. Ini untuk memastikan barang selamat sampai ke tangan anda. Jika tiada sesiapa dirumah, maka pos laju akan tingalkan kad kutipan dirumah anda. Anda perlu menuntut bungkusan anda dipusat serahan pos laju yg ditetapkan.
HARGA PENGHANTARAN:
RM 6.60 SEMENANJUNG MALAYSIA (Untuk 500gram pertama saja)
Kami akan maklumkan jika perlu ditambah (melebihi 500gram)
RM 9.00 SABAH/SARAWAK
Free Combine Shipping...... Beli banyak mana pun boleh......
About Combine Shipping
We allowed Combine Shipping helping customers to save some shipping charge.
How it work?
Lets explain with an example:-

You buys 3 items using the Shopping Cart (add all items you need into shopping cart, do not click BUYNOW separately) :
Item A: Shipping fee RM8
Item B: Shipping fee RM20
Item C: Shipping fee RM12

System will pick up the most expensive Shipping fee, which isRM20 in this case, and add RM3.00 to each additional items.
RM20 + RM3 + RM3
You only need to pay RM26.00 instead of RM40.00
PLEASE READ THE FOLLOWING BEFORE BUYING THIS ITEM
All confirmation order will be delivered on the next day subject to stock availability.
Goods sold are

NOT RETURNABLE

or

EXCHANGEABLE

.
We will only send out the item after the payment has credited into our bank account.
Please note that Interbank/Giro Transfers have 24 to 48 hours delay before payment credited into our bank account.
At the moment, we only accept bank in / fund transfer to our Maybank and CIMB Bank account as a method of payment. For the time being, we

DO NOT

accept Credit Card Cheque.
Any information please email to
ad
amma@rocketmail.com
or
Please accept all the above terms and condition before buying.
Questions & Answers
Do you have any questions to ask merchant about this product
Ask Seller
| | | |
| --- | --- | --- |
| 5 star | | 0 |
| 4 star | | 0 |
| 3 star | | 0 |
| 2 star | | 0 |
| 1 star | | 0 |
Share your thoughts with others
Write a review
Only buyers who purchased the product may leave a review