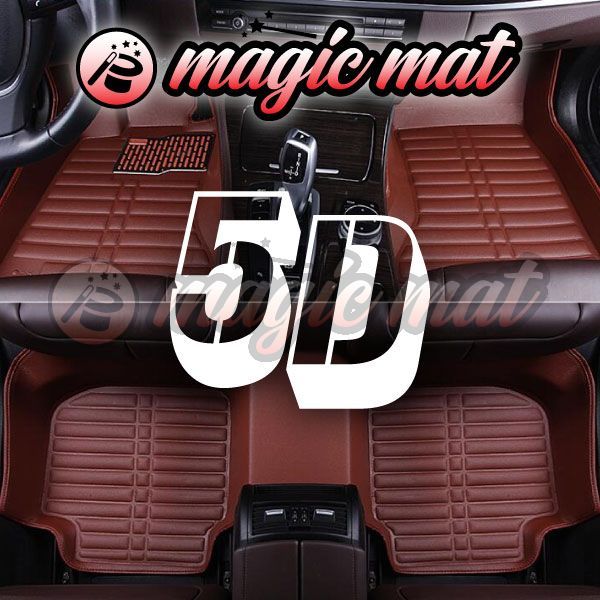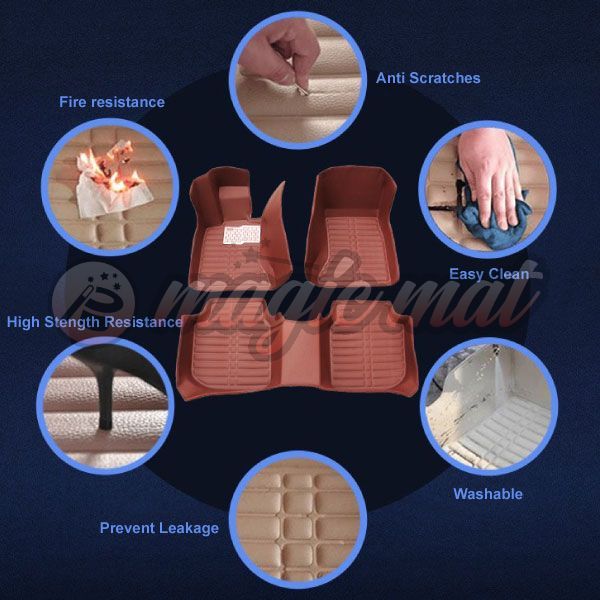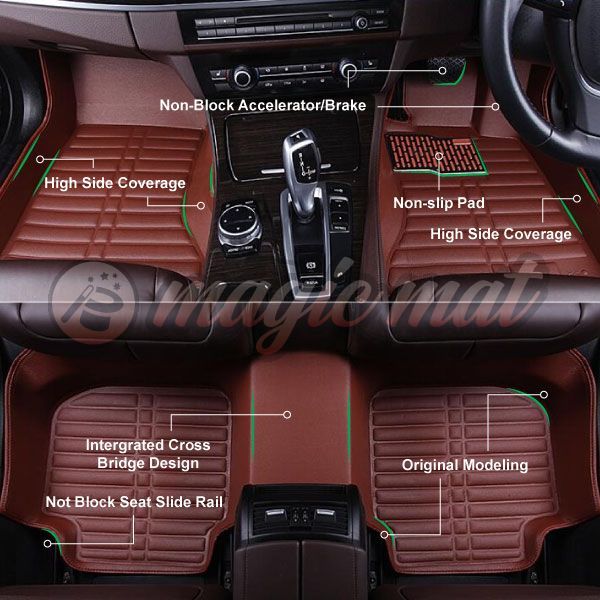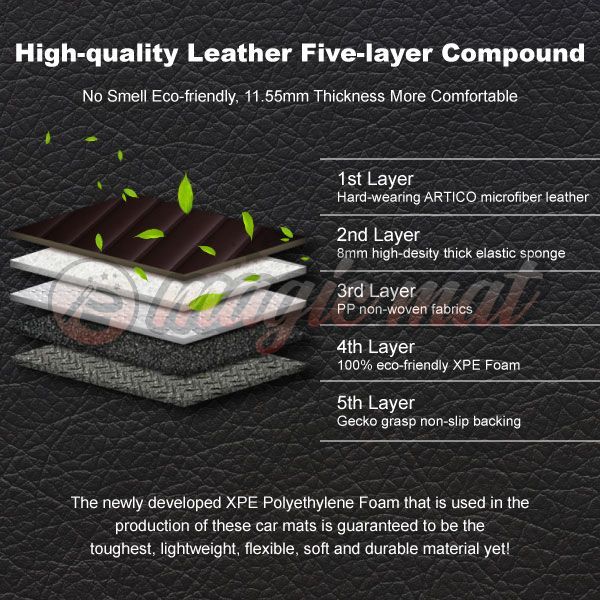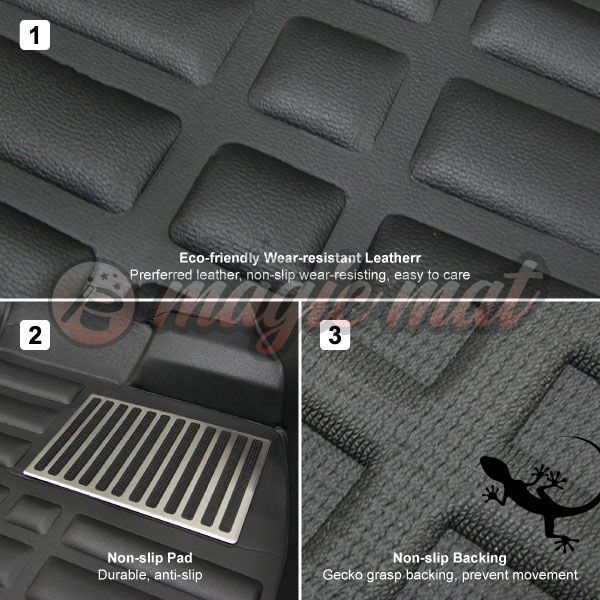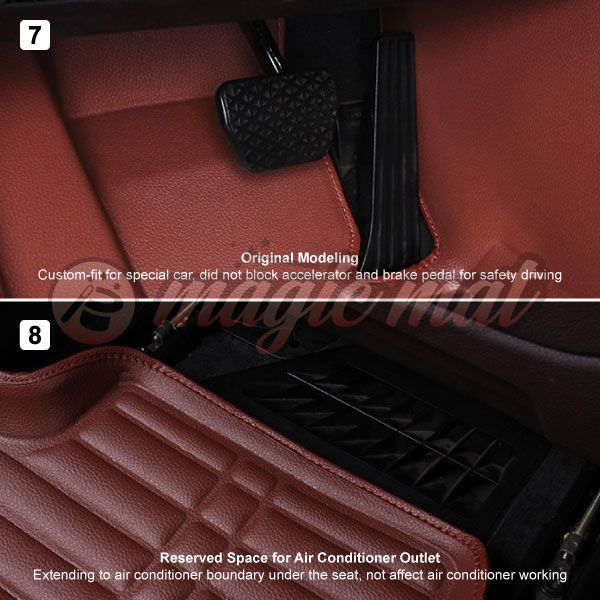 [MOST CAR] HONDA NISSAN PERODUA PROTON MAGIC MAT 5D OEM PU Leather Car Vehicle Floor Mat Anti-Slip Waterproof Easy Clean Carpet
The Perfect Mat for Your Car!
Are you tired of water or other beverages spilling over your precious car floor?
How about always having to clean your car when it's rainy or snowy outside?
And what about all those times you went to the beach and brought all that pesky sand with you in the car?
Magic Mat has just the solution for your troubles and it's a high-quality, new generation, luxury 5D car mat!
The newly developed XPE Polyethylene Foam that is used in the production of these car mats is guaranteed to be the toughest, lightweight, flexible, soft and durable material yet!
When it comes to car mats there are plenty of cheap alternatives, but here is why you should go with Magic Mat:
Elegant, deluxe design and complete protection for your car's interior

Specially made and customized to fit YOUR vehicle

100% dirt and weatherproof mat

Anti-slip and anti-skid bottom for safe driving

Easy to clean by simply shaking it or rinsing it with water

Heavy duty, resilient design
Every Moment You Waste Is Another Moment You Could Have Protected And Kept Your Precious Car Spotless!
HIGHLIGHT:
CUSTOM FIT: This deluxe car mat is designed with a cutting-edge 5D technology that guarantees perfect fit and protection for your car!
DRIVE SAFE: With an gecko grasp anti-skid and anti-slide base, the Magic Mat is truly the perfect car mat to ensure a smooth ride every time!
100% WATER & DIRT PROOF: This unique, customized floor mat will protect your favourite car by keeping away mud, sand, liquids, grease and dust!
ECO-FRIENDLY, DELUXE & DURABLE: We want the best ride for you, so we've come up with a customized mat that is made from the toughest, lightweight, flexible, soft and eco-friendly materials!
THE LAST CAR MAT YOU'RE GOING TO BUY: The Magic Mat car mat's quality is simply peerless. Just wipe it with a damp cloth and it's as good as new.
FEATURES:
100% Dirt, water and weather proof

Anti Scratches

Prevent Leakage

Clean Nice

No Toxic, No Smell

Easy to clean and wipe it

100% safe for children

Fire Resistance

Like Comfort
SPECIFICATION:
Skin: Quality PU Leather

Material: XPE Polyethylene Foam

Pieces: 5 Seater (3pcs) and 7 Seater (4pcs)

Color: Red Black and Full Black (Special Brown Black only for PROTON X70)

Weight: 5 Kg

Made by Taiwan
(Picture maybe different from actual product due to car fitting and cutting and device display color brighness)
Available Model:
HONDA
HONDA BRV (7 Seater)

HONDA CITY GM6 2014 - 2019 (5 Seater)

HODNA CIVIC FC 2016 - 2019 (5 Seater)

HONDA CRV 2017 - 2019 (7 Seater)

HONDA HRV (5 Seater)

HONDA JAZZ 2014 - 2019 (5 Seater)
NISSAN
PERODUA
PERODUA ALZA (7 Seater)

PERODUA ARUZ (7 Seater)

PERODUA AXIA (5 Seater)

PERODUA BEZZA (5 Seater)

PERODUA MYVI 2005 - 2010 (5 Seater)

PERODUA MYVI 2011 - 2017 (5 Seater)

PERODUA MYVI 2018 - Onward (5 Seater)

PERODUA VIVA (5 Seater)
PROTON
PROTON EXORA (7 Seater)

PROTON GEN2 / PEROSNA 2007 - 2015 (5 Seater)

PROTON PERSONA 2016 - 2019 / IRIZ (5 Seater)

PROTON 1985/ SAGA2/ ISWARA/ LMST (5 Seater)

PROTON SAGA BLM/ SE/ FL/ FLX/ SV (5 Seater)

PROTON SAGA 2016 - 2019 (5 Seater)

PROTON WAJA (5 Seater)

PROTON WIRA (5 Seater)

PROTON X70 (5 Seater)
TOYOTA
TOYOTA CHR (5 Seater)

TOYOTA VIOS 2007 - 2012 (5 Seater)

TOYOTA VIOS 2013 - 2018 (5 Seater)

TOYOTA VIOS / YARIS 2019 - Onward (5 Seater)